I love the movie, "How the Grinch Stole Christmas!"
No, you don't understand.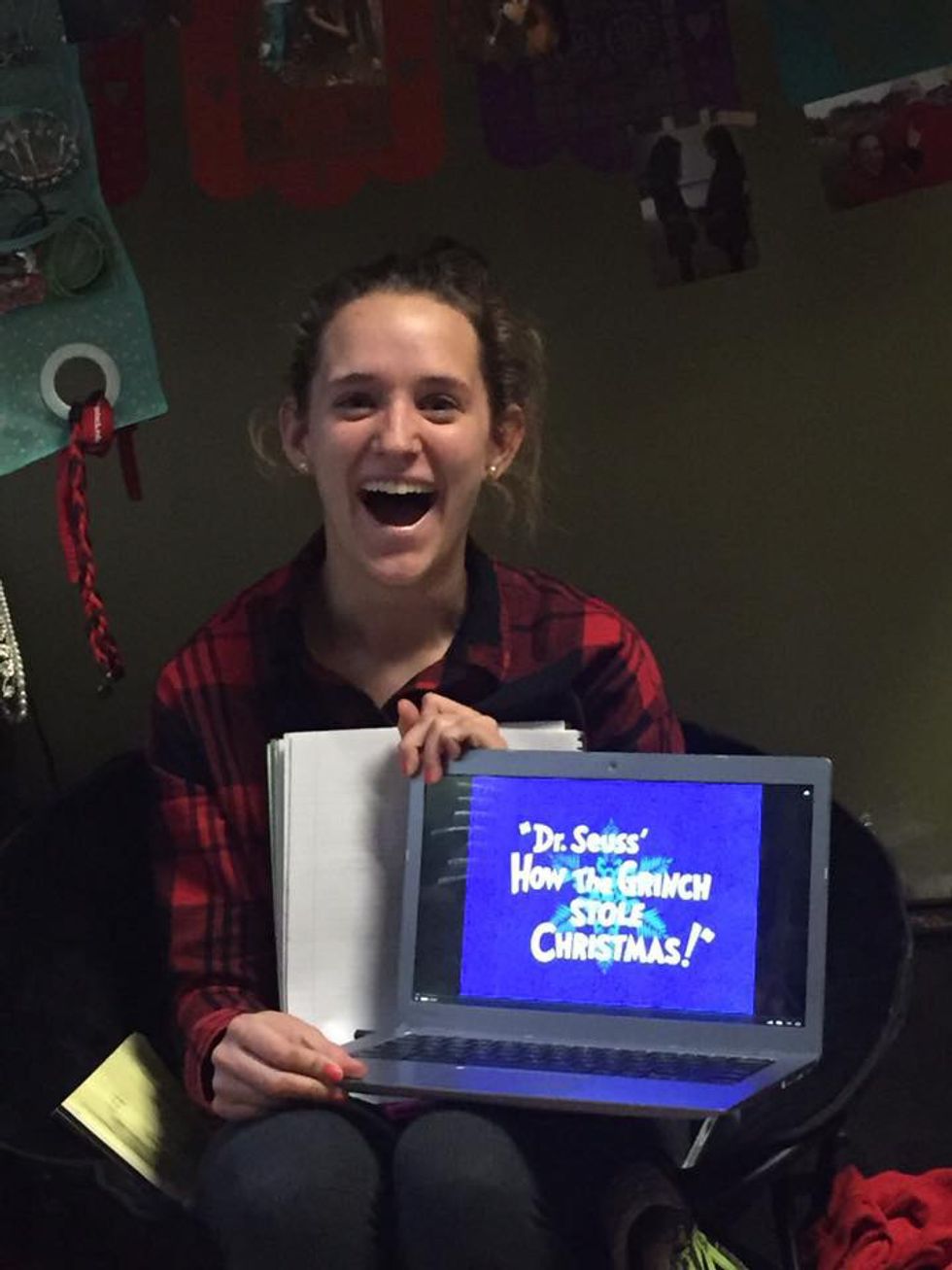 I love it.
Of course, I'm talking about the animated product of Dr. Seuss and Hollywood from the year 1966. I have vivid memories of curling up under and blanket on my grandmother's couch, loaded up on sugar and love, sipping hot chocolate, and watching this beloved cartoon. It meant that my favorite season of all time, the Christmas season, was here. As I have grown, my love for both the Christmas season and How the Grinch Stole Christmas! has grown with me. As I continue enduring the transition between childhood and adulthood, watching this movie has become a nostalgic source of comfort for me. Hence, the joy on my face that comes from watching it. As I have gotten older, I have come to realize that there are a few lessons that I, as a Christian, can learn from this particular tale, besides that there's more to Christmas than presents. After all, we learned that by watching the movie.
The first of these is the importance of giving. The Whos in the movie are all very ready to exchange gifts with each other, as is evident from the musical number. Seeing how happy the Who children are to play with their toys is simply heartwarming.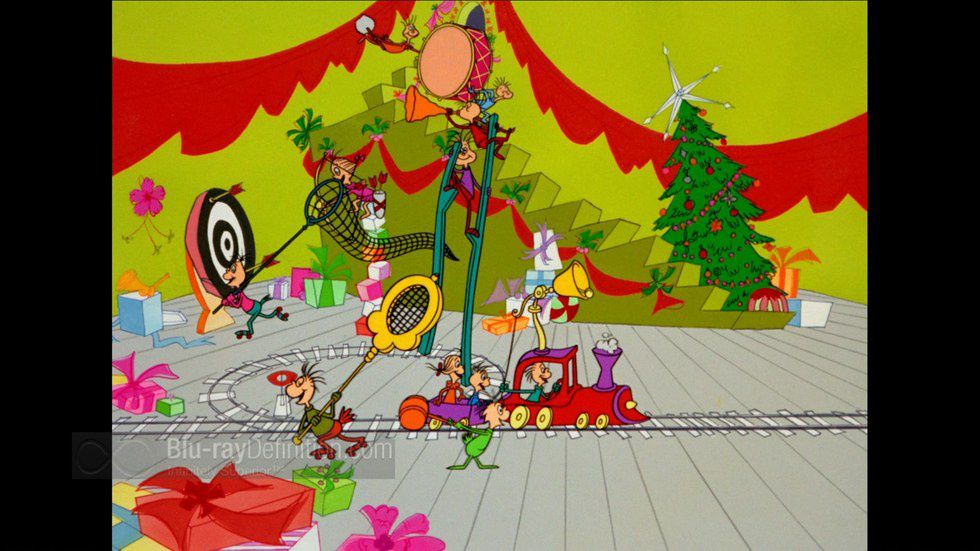 Obviously, it is important to give. There are countless verses on the subject. One of my favorites is Proverbs 21:26 – "The righteous gives and does not hold back." Many times, we give because we feel obligated because the Bible says we need to. We may not give with a cheerful heart, as we ought to. That's where my other favorite comes in Deuteronomy 15:10 – "Give generously to him and do so without a grudging heart; then because of this the Lord your God will bless you in all your work and in everything you put your hand to." Just as the God the Father gave us his son, we must give to others.
Along those same lines, giving shouldn't scare us. I don't know a single person (especially college students) who are without financial strain. You may not have a lot of money to give. That's alright, you can give other things, too, like time and love and support. It is important to remember that your giving will not go unnoticed by the Lord. Deuteronomy 16:17 – "Every man shall give as he is able, according to the blessing of the LORD your God which He has given you." As you bless others by your giving, the Lord will bless you in return.
Another important lesson to learn from this movie is that stuff isn't everything. As we can see, the Whos are very excited to receive their gifts. That's a wonderful thing! Receiving gifts can bring joy to the giver and recipient. It's a blessing to get a gift. Not only is it okay if you enjoy it, but it's encouraged! That's the whole point of a gift! However, there's a fine line between being joyful and thankful for your blessings and obsessing over them.
I used to have a pastor that would say, "It's okay to have stuff, as long as your stuff doesn't have you." In this age of materialism, it can be very easy to be consumed in your possessions. Do I wear the right clothes? Is my house decorated well? Is my TV big enough? Is my car fast enough? It can be a bit overwhelming. In times like this, remember Matthew 6:19-20, "Do not store up for yourselves treasures on earth, where moths and vermin destroy, and where thieves break in and steal, but store up for yourselves treasures in heaven, where moths and vermin do not destroy, and where thieves do not break in and steal." Gifts and blessings on Earth are wonderful to give and get, but they aren't everything. Having a good, lasting relationship with God the Father is.
The final lesson, and my personal favorite, is to love. Even though the Grinch stole all of the Whos' Christmas presents, they welcomed him with open arms and invited them to his feast. He made things right, so they forgave him and invited him to become a part of their family, even though he was different than you.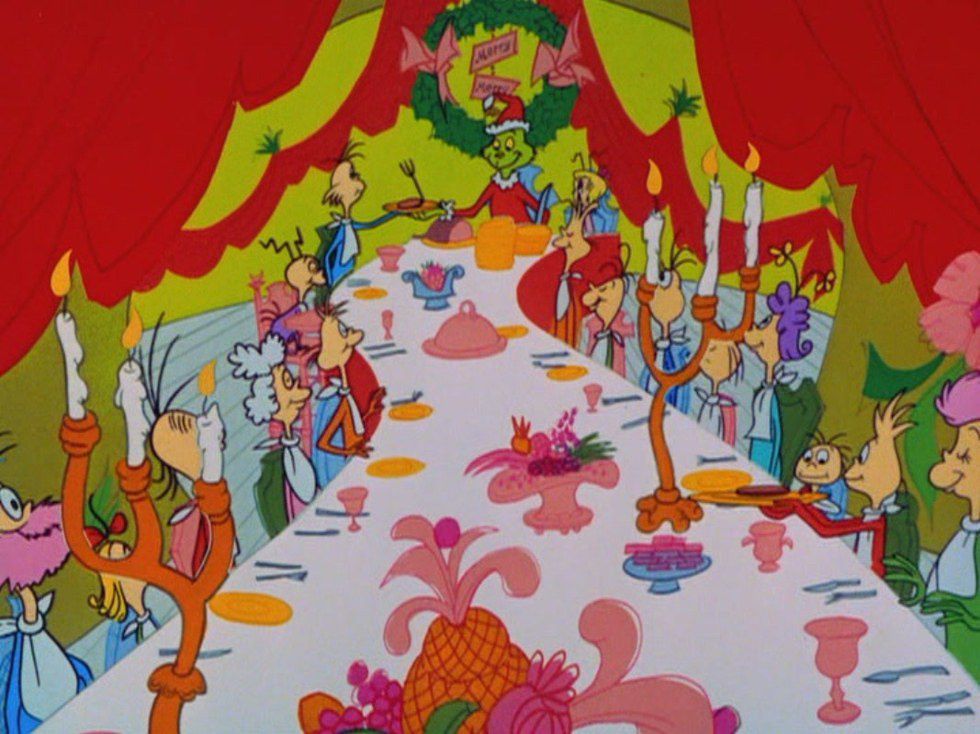 Luke 10:7 says, "You must love the LORD your God with all your heart, all your soul, all your strength, and all your mind. And, Love your neighbor as yourself." Oftentimes, it is difficult to love someone who is different from you. Someone may make different choices from you or live a different life than you. That just isn't important. It's important that we love everyone, no matter who they are or how different they are from us, just as the Whos teach us.
"Welcome, Christmas, bring your cheer. Cheer to all Whos far and near. Christmas Day is in our grasp, so long as we have hands to clasp. Christmas Day will always be just as long as we have we. Welcome Christmas while we stand, heart to heart, and hand in hand." -Boris Karloff, narrator, "How the Grinch Stole Christmas!"
Merry Christmas, everyone!