20-Year-Old Theresa Nguyen is not your average mogul. The Oakland, CA native is the driving force behind Go To Town, the name of her clothing and art line. Nguyen has begun taking the brand mobile by hosting art and music events around the country.
The Chicago installment of Go to Town occurred this past weekend. On May 3rd from 7 p.m. to 12 a.m., visual and musical artists put their talents on display in a tastefully minimalist warehouse in Chicago's Garfield Park neighborhood. The visual artists hung their paintings, collages, prints, and photographs on the blank walls, while the musicians performed on a raised stage.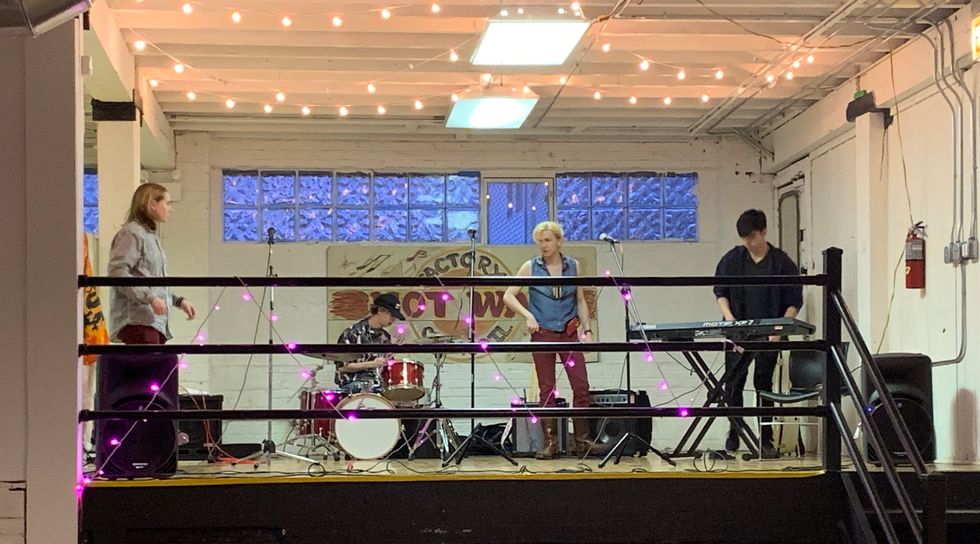 Violet Ibis getting ready to perform at Chicago's Go to Town show.
Asher Jaffe, a musician and dancer attending Columbia College in Chicago, helped Theresa organize the event. He and his band, Violet Ibis, followed after the rap performance by SoloCelo and Goldenboy Mny. Asher was essential in recruiting visual and musical acts, according to Theresa.

Nguyen was completely involved in all aspects of the show. Her Go To Town brand started last year while she was living in New York City. She co-founded Go to Town with Celina Buban. Their vision behind the brand was to help bring creative folk of all races, genders, and backgrounds together to celebrate art.
Since its establishment, Go To Town has visited four cities: Oakland, Los Angeles, New York, and Chicago. Nguyen is planning on bringing the show to New Orleans, next.
"Selecting a city is easy," Nguyen said. "Usually it's a place I'm familiar with or have (connections) with someone who can help me put on a show with the amount of love that is necessary."
Nguyen says that the G2T shows have been evolving over time. "The shows are much more intimate now, however, I'm getting ready to throw a bigger show within the next few months."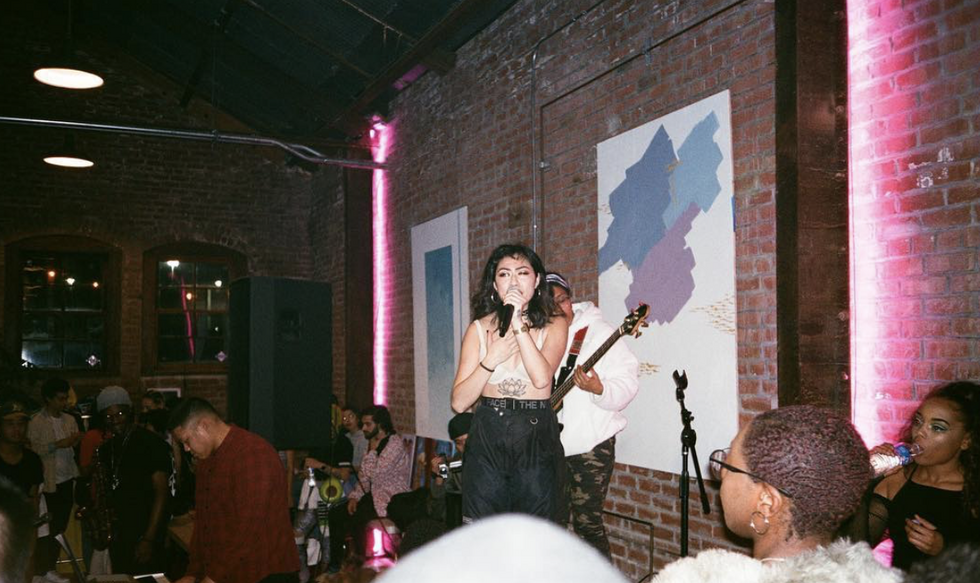 Nguyen performing.Photo by @whatisbroke on Instagram
The Chicago show charged a $7 pre-cover and $10 at the door. The crowd drew close to the stage, especially when SoloCelo and Goldenboy Mny performed on the floor instead of the stage. The make-shift quality of the show gave it an admirable quirk, as the lighting for the stage was controlled by a small, handheld disco projector.
Theresa Nguyen and her Go to Town brand is definitely one to watch. Her message is an important one- bring artists together, and bring art to the youth. You can keep up with her artistic pursuits on her Instagram, @reezyens. Keep your eyes peeled for the next Go to Town show.