If you already know what genderbending is, feel free to skip this paragraph. For those of you unfamiliar with the term, allow me to provide a working definition. "Genderbending" is the act of taking a person (usually fictional, though not always) and re-imagining them as the "opposite" gender. Oftentimes this is done by drawing them, though there are people who write or cosplay genderbent characters as well. For example; drawing Dracula as a woman, dressing up as "Cruellton Deville", or writing a story in which Tom Sawyer becomes Tina Sawyer.
At this point, you're probably thinking "Alright, sounds kinda weird, but the internet is a weird place, and this seems relatively harmless. What's the big deal?"
Excellent question, hypothetical reader. Here's what I think.
Genderbending is an interesting concept. Gender is, unfortunately, a huge part of society. People are socialized differently depending on their assigned gender which leads to observable discrepancies in behavior and even specific neurological effects.
We've come a long way from assuming that all girls love pink, dresses, and dolls, and all boys love blue, sports, and cars, but people en masse still make shockingly misinformed and unfounded assumptions based on gender.
The first problem I have with genderbending, and the one that the least amount of people are aware of, is that when a character is genderbent the person doing the genderbending is operating under the assumption that the character, and all characters that matter, are inherently cisgender.
"That's a bit of an overreaction." You might be thinking. "I mean... most people are cisgender. It makes sense that most characters are too! Plus, if an author hasn't STATED that a character is trans, you can't just MAKE them trans."
Au contraire, my dear strawman. Fans have been making assumptions and making characters their own since literature was invented. Sherlock Holmes NEVER said "elementary, my dear Watson" in any of the novels, but it's his most famously quoted line. Dorothy said, "Toto, I've a feeling we're not in Kansas anymore." Not "I don't think we're in Kansas anymore, Toto." Nowhere in Wall-E does it say that Wall-E is a boy and Eve is a girl. In fact, they're robots. They don't have genders.
"Well, that's different." You might scoff. "Robots aren't people. We can tell the gender of HUMAN BEINGS by LOOKING AT THEM and OBVIOUSLY Dracula is a man because he is described as a man and everyone calls him a man."
Thank you for providing me with my next point, imaginary reader, but once again, you are wrong.
In most stories, very little time is spent by the characters talking about their gender identity, or gender assignment, for that matter. The exceptions to this are stories ABOUT gender identity, but those are exceedingly rare. Nowhere in Harry Potter does Hermione step forward and say "I'm a muggleborn witch with a vagina" because that would be weird.
"But she LOOKS like a girl."
Ah, but what does a girl look like? There are girls that look like boys and boys who look like girls and some of both who look like neither. Regardless of your assigned gender, your perceived one can be different. Makeup, clothes, and wigs can all help alter people's perceptions.
For example;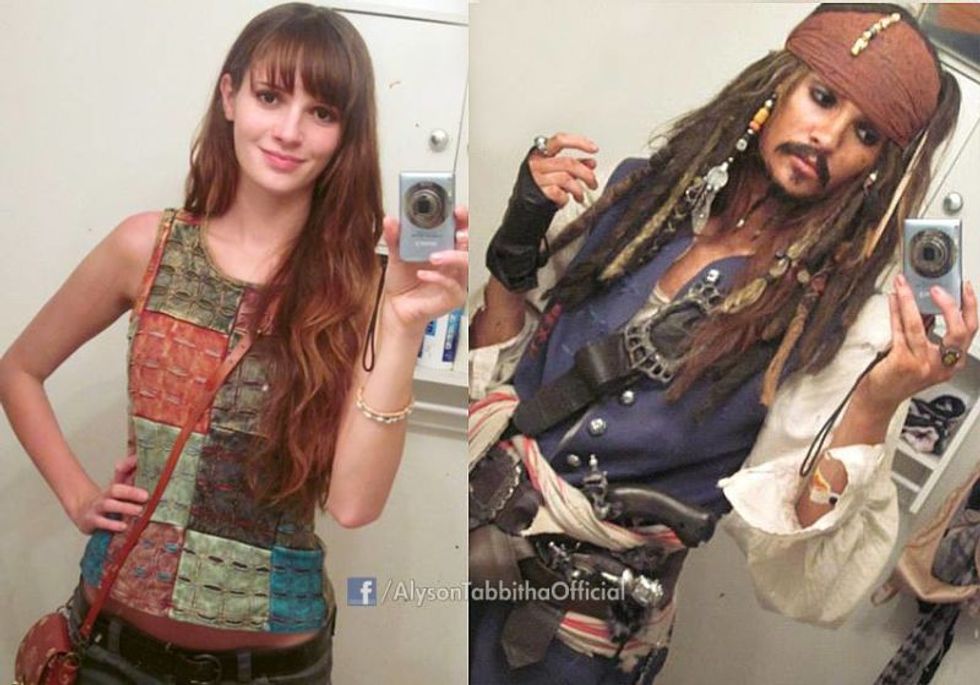 This girl, Alyson Tabbitha, is a master of cosplay. She looks more like Jack Sparrow than Johnny Depp looks like Jack Sparrow.
Are you going to argue that it's different when a man dresses up like a woman? Ok.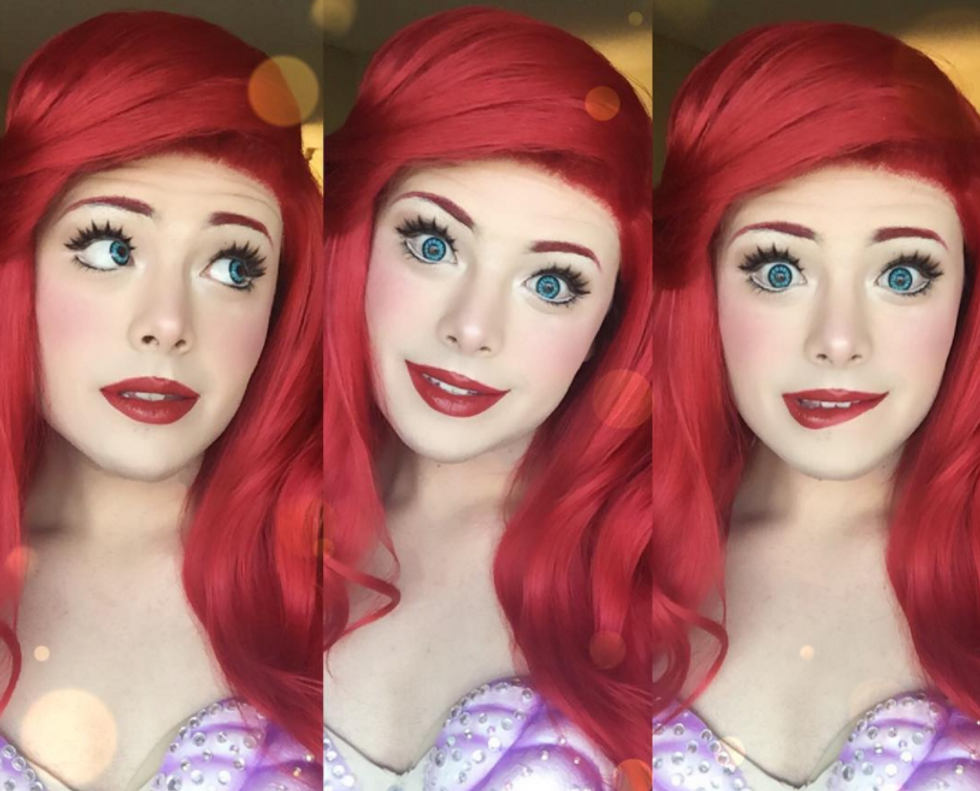 That is Richard Arthur, a man with bone structure sharp enough to drill through Fort Knox and makeup talent that haunts Kim Kardashian's nightmares.

For a more realistic anecdote; I am a trans man. I was assigned female at birth and have been on hormones for almost a year. When people see me, they assume I'm a cis man, which means they assume I have a flat chest and a penis. I don't introduce myself by describing what's in my pants, so most people continue this line of thought.
"But if what genitals people have isn't important, why does it matter at all? What's wrong with looking at a character who is referred to as "he" and who has a beard and a wife and three kids and assuming that he's a cis man?"
Because representation matters, and life imitates art. Imagine a world where you only saw 98-year-old Polish women in media. Every book, tv show, movie, magazine, sculpture, poem, painting, and design was of, or about, 98-year-old Polish women. It would be a little disappointing, no? You might be bored and uninterested in these things, and rightfully so. I highly doubt anyone reading this is a 98-year-old Polish woman, or has much in common with one.
If, in fact, you are a 98-year-old Polish woman, cześć and przepraszam. You'll have to think up another example.
For the rest of you; that's how most trans people feel all the time. Sure, we've got a few characters, but most of them are played by cis actors, end up meeting some tragic end, or are just written terribly. Remember Buffalo Bill from "Silence of the Lambs"? No? Take a second. Google it. I'll wait.
...
Yeah. Not the best representation.
So in the void of trans characters being written and presented as blatantly trans, fans have taken to reading between the lines and headcannoning certain characters as trans despite no blatant say so. Captain America is a popular one, due to the fact that his transformation process is a similar, though highly exaggerated, version of what trans men go through when they start on hormones.
Imagine YEARS of dealing with 98-year-old Polish women being the focus of EVERYTHING, and you come across a book where the main character isn't EXPLICITLY described as a 98-year-old Polish woman. Maybe they like a lot of things that you like, maybe their experiences are similar to yours, and maybe there's some things that point to them not being a 98-year-old Polish woman, like the fact that they enjoy skateboarding, or listening to Adele.
Now imagine you, starved for content and representation, tentatively log onto your social media platform of choice, and post "Hey, what if (character X) WASN'T a 98-year-old Polish woman?"
Imagine then getting comments and messages telling you how wrong you are, or how stupid that idea was, or blatantly threatening and insulting you, telling you to delete your account, or take more drastic measures, all because you were desperate for representation.
Inversely, imagine you're not alone. Imagine telling your friend and having them wholeheartedly agree. Imagine spending hours creating art or writing stories about this character, but in YOUR version, they are EXPLICITLY not a 98-year-old Polish woman. Imagine meeting more and more people who agree with you and starting to think that maybe, just maybe, one day there will be enough of you that a story is made with a character you can love and identify with.
Now imagine seeing dozens, or hundreds, or thousands of other people saying "I know (character X) is a 98-year-old Polish woman... but I drew them as a 98-year-old AMERICAN woman!"
Imagine their drawing is of the character as the stereotype of an American. Cowboy boots, Confederate Flag belt buckle, gun in one hand, cheeseburger in the other, and an e-cig in their mouth.
You might be a little annoyed, not only that the artist re-asserted that the character was, in fact, a 98-year-old Polish woman, but that instead of making a nuanced and thought out re-imagining of them, like you and so many others have, they just slapped down a bunch of stereotypes and erased everything you loved about the character in the first place.
Think I'm exaggerating?
Let's look at how some people draw genderbends.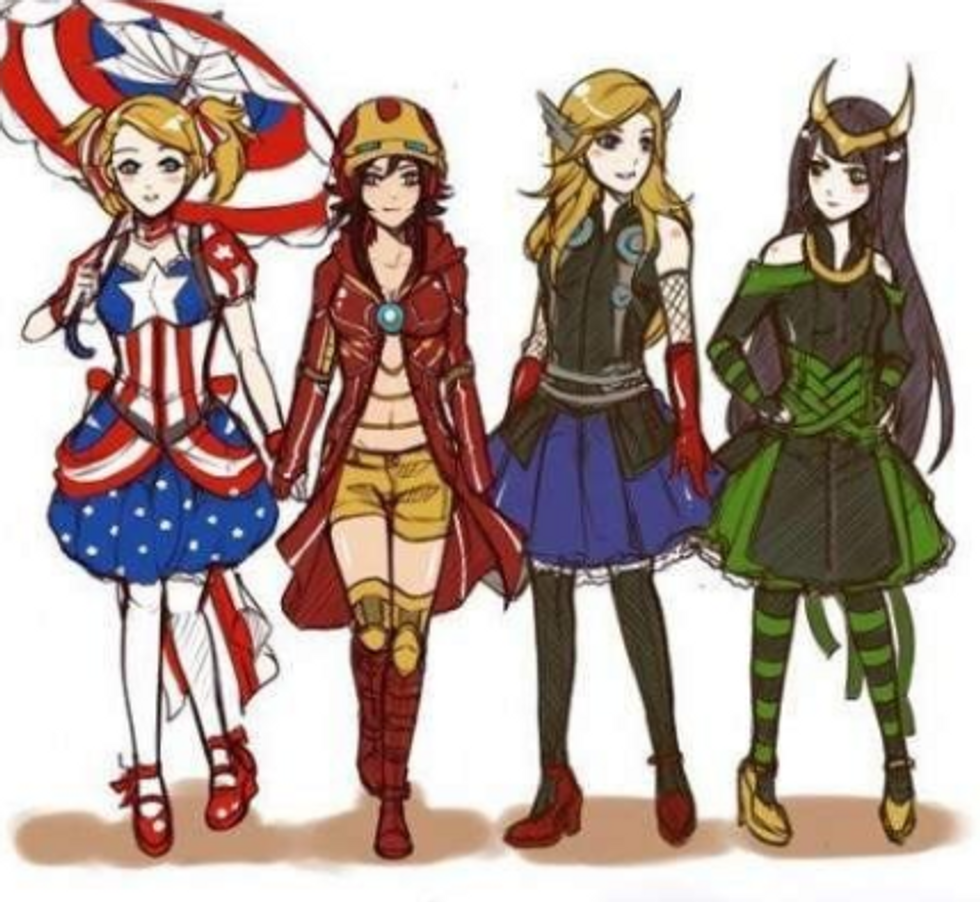 Why?!
Why are they all wearing high heels and why are their costumes infinitely more revealing and why does Captain America have a parasol instead of a shield?
Imagine Tony Stark wearing the above Iron Woman outfit. Doesn't look very flattering, or badass, does it? But Pepper Potts was able to put on the Iron Man suit with no issue, and she looked AMAZING. Curious, isn't it? Maybe it's because we see "male" as the default and anything feminine has to be ridiculously floofy, needlessly complex, and overtly sexual/revealing!
I blame the comic book industry for this entirely. They practically invented the concept of an "alternate universe" and they DEFINITELY popularized the "oversexualized gender swap".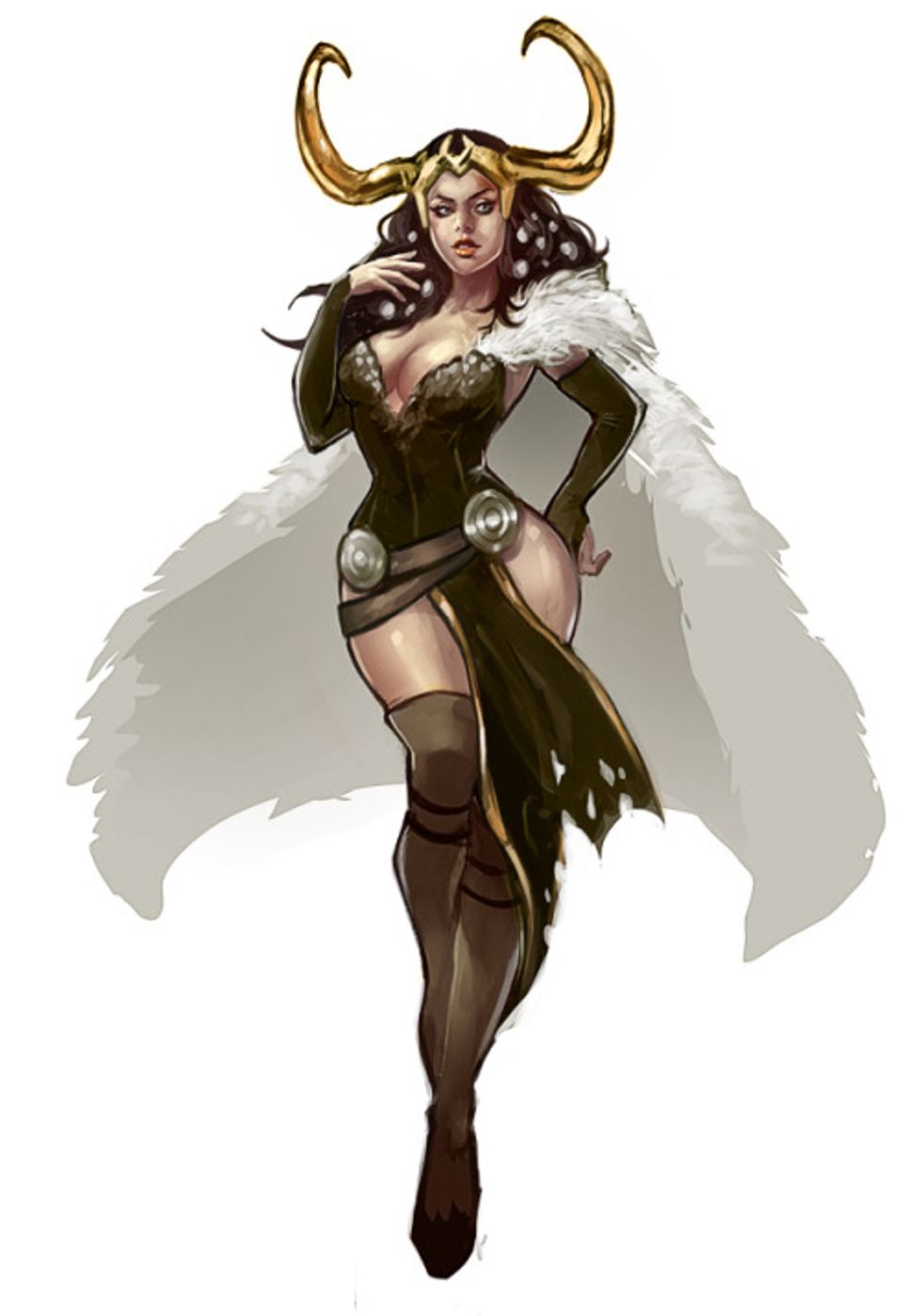 That image is CANNON! Some Marvel employee got the bright idea to make a "Lady Loki" and churned out the above art. The reason for the genderbend was supposedly that Loki had possessed the body of Lady Sif, becoming "Lady Loki". Sif is a shield maiden, the leader of the warrior's three, and a generally badass warrior. Would you like to see an accurate depiction of what a shield maiden would wear?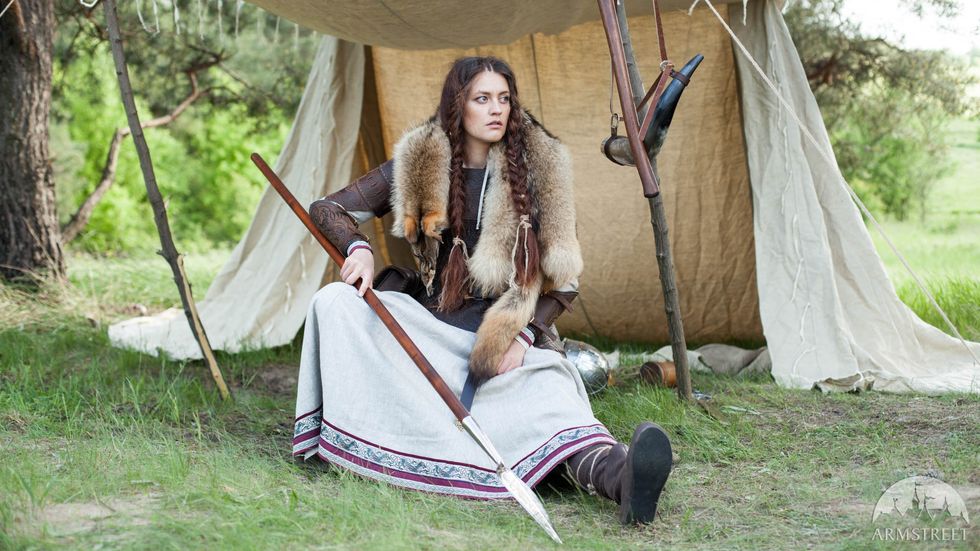 [Side note; this is not 100% accurate as we have a disappointing lack of knowledge on Viking apparel because the conditions in Scandinavia are pretty much ideal for fabric deterioration. The wealthy may have had chain mail but most would have leather armor, and seeing as it's SCANDINAVIA, there would be a LOT OF FABRIC so you don't FREEZE. Also; everything was "pattern cut" meaning HUGE swaths of fabric. Nothing was tailored, so fabric would bunch up and be generally loose fitting, making Lady Loki's "corset" (?) even more ridiculous.]

Before you jump down my throat about "empowerment" let me say that GOD am I a fan of the "if you've got it, flaunt it" school of thought. I think REAL (read; not fictional) women should be able to dress however they want without being grossly sexualized or labeled as sluts (people, in general, should be able to but women bear scrutiny many other groups do not).
That being said; drawings and characters are NOT REAL PEOPLE! It is not their "choice" to dress like that, it is the choice of whoever is drawing them, and many times, the person drawing them MAKES that choice based off of stereotypes and prejudices they might not even be aware of!
Do I have examples? YOU BET YOUR ASS I DO.
As I said before; there's a semi-popular headcannon that Captain America is trans and I love this because it fits into his past pretty neatly without a lot of extra OOC/world changing alterations, BUT the art I've seen of "trans captain America" vs ""normal" Captain America" is… upsetting.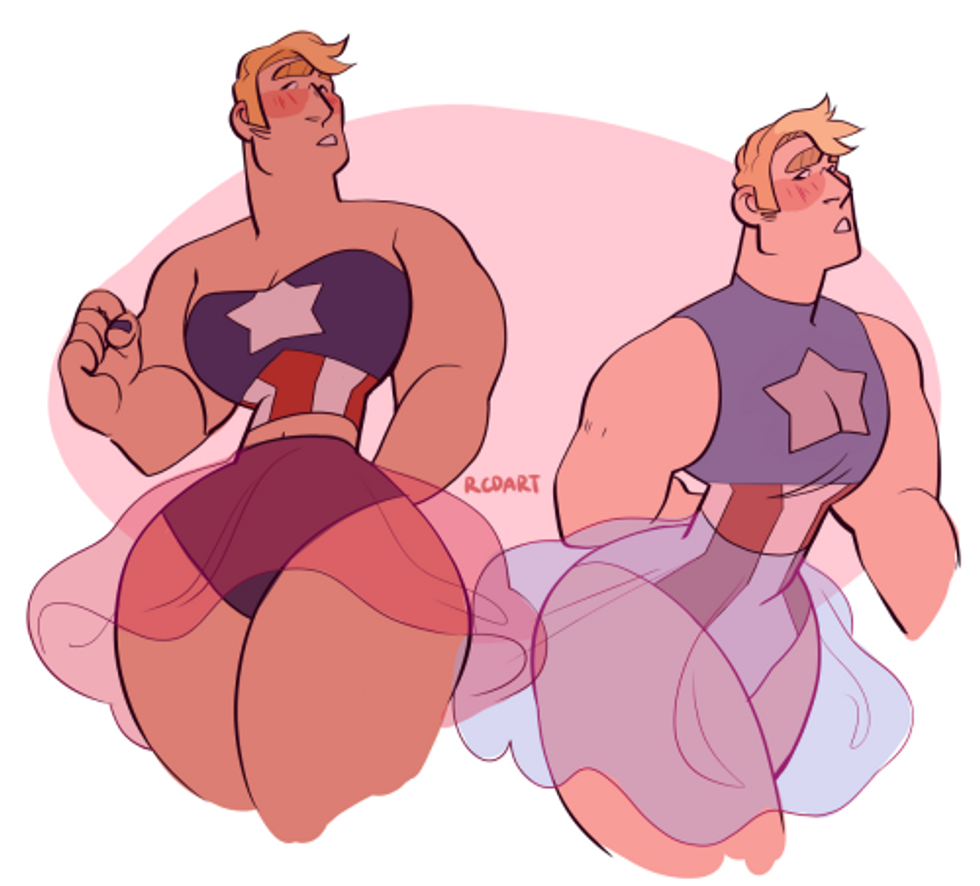 The caption on this photo is "I love sexualizing men", which... is fine, I suppose. What's glaringly not fine is the fact that the artist only draws Steve this way. This artist specifically draws trans Captain America, and they draw them like the STEREOTYPE of a cis woman. If you're thinking "well what if that's the artist's style!" you're wrong.
Here's an example of one of their cis male characters: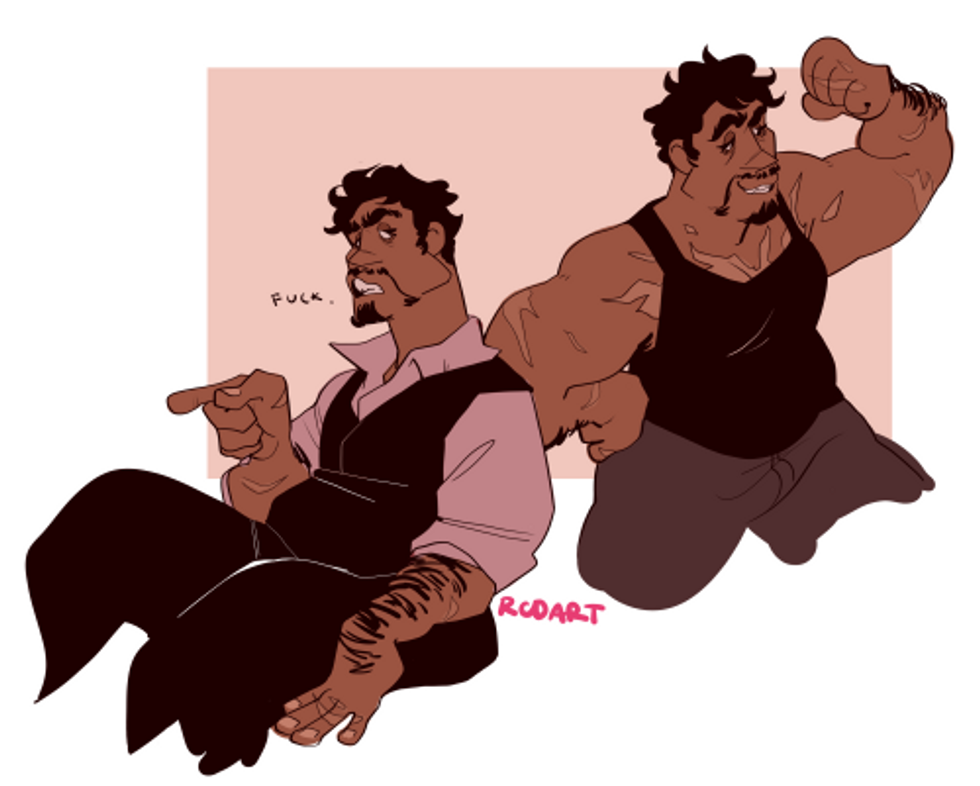 And here's more trans vs cis character contrast

They're sexualizing Steve the same way most comic book artists sexualize women: narrow waist, huge hips, huge tits, and strategically ripped clothes to show ~just enough~ of their body without actually drawing them nude. You can SEE the way they drew Tony's arms and body with straight lines and harsh angles, giving him dark body hair and dark swaths of body hair, while Steve is drawn with soft lines, huge eyes, NO body hair, and HUGE LIPS. They're drawing Steve as a stereotype of a woman, which would be problematic if he was a woman, and is only made worse by the fact that he is a man.
They get away with it under the guise of flipping the script and sexualizing a MAN instead of a woman. Again: I'm all for that. I'm all for sexuality. What I have a PROBLEM with is treating a TRANS MAN in the same way you'd treat a CIS WOMAN when you shouldn't be treating cis women like that in the first place.
Wanna draw trans Captain America? Draw Captain America! Say he's trans! There you go, you're done. Want to sexualize him? Try showing off his abs! or muscles! Draw him in a binder instead of a pushup bra! Sure, yeah, draw him with breasts, a lot of trans men have them, but DON'T make it his defining feature! Men aren't triangles and women aren't hourglasses. Women can be hairy and angular and buff, and men can be soft and curvy and doe-eyed. Trans women can be curvy and busty and slim and trans men can be square and ripped and furry.
Wanna see an awesome drawing of a trans character?

TADA! Kudos to ccfaustart on tumblr for HANDS DOWN the best depiction of a trans comic character I've ever seen. And check it out! He's still sexy! He's showing skin! He's recognizable as the character while being trans and showing the reality of trans-ness through binding!
Wanna see an example of a good genderbend?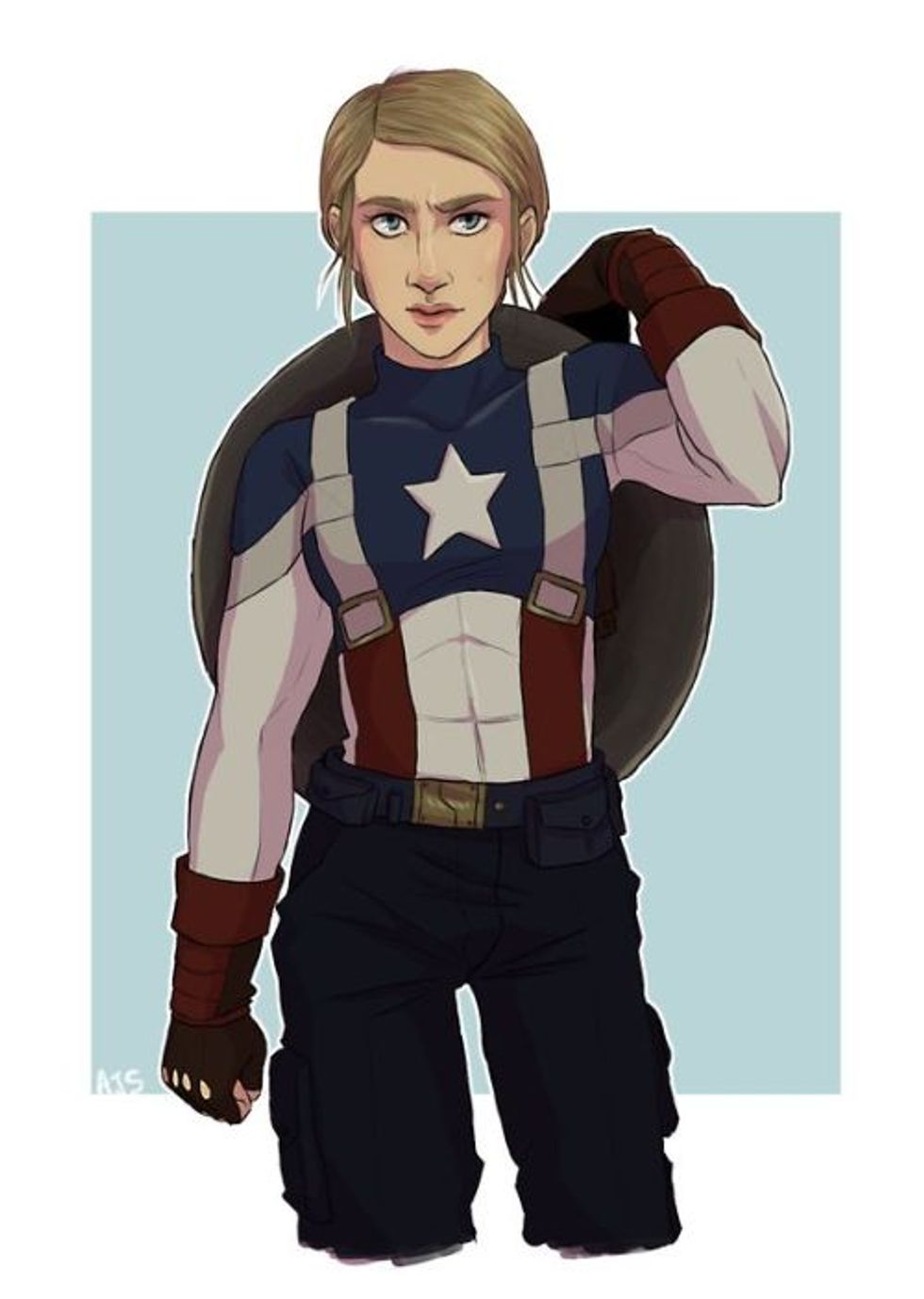 Note the practical hair and uniform, the recognizable and not exaggerated features, and the fact that they drew her clearly as a her while still giving her the MUSCLES we all expect from Captain America. Also, note the lack of a &@#%$ parasol.

Moral of the story? Genderbend away! Make trans headcannons! Draw characters! But make sure to take a few steps back and ask yourself "does this image look like it could appear in Playboy? Am I treating this character like their assigned gender instead of their actual gender?" and if you answer "yes" figure out how to fix it!