Once upon a time, there was a One Direction-obsessed girl from Minneapolis. She had been lovestruck from the first time she had heard the very beginning chords of their No. 1 hit, "What Makes You Beautiful." That girl was me. And, on one magical day, all of my wildest dreams of meeting the five members (RIP Zayn) of One Direction were suddenly in reach.
I was a freshman in high school and because I almost religiously followed all One Direction information on every social media site you can possibly think of, I stumbled upon the news that One Direction would be coming to the Mall of America for a signing of their latest album, "Up All Night." Like any fangirl would do, I flipped out.
I then learned that in order to receive a wristband to get into the signing, you would have to be one of the first 2,000 to buy their album at Best Buy on a specific date. On that date, I had school because it was during the middle of the week. I felt my dreams slipping through my fingers, so what did I do? I turned to my mom. I begged her to let me skip school so that I could wait at Best Buy to get a wristband, but because apparently my education was more important than me meeting One Direction, she said no.
Not so fast - she said no to me going, but she agreed to go wait in line for me at Best Buy to get a wristband. (I think it's safe to say that I have the best mom ever.) So I went to school the day she went to Best Buy (at 4 a.m.), anxiously checking my phone to see if there were any updates from my mom. Finally, I received the text I was waiting for: my mom had gotten a wristband and I would be meeting One Direction.
Skip to a few days later and it was March 25, 2012. I woke up, got ready, and headed off to the Mall of America. Upon entering the Mall of America, I could hear the undeniable fangirl screams of thousands of teenage girls. In case you don't know, the Mall of America is huge. I headed to what we call the "Rotunda", which is where MOA's big celebrity signings and meetings happen. This was where One Direction would be coming out and meeting the fans.
I arrived at 9 a.m., and already people were lined up behind ropes in the Rotunda, but this line was so full that it extended into MOA's amusement park. Apparently, One Direction had drawn the largest crowd ever to the Mall of America; almost 11,000 people were there that day. So I headed to the end of the line in the amusement park and waited with my mom. The hours passed and suddenly One Direction arrived. I couldn't see them because I was in line at the amusement park, but I knew they had arrived because suddenly the teenage girl screams turned into shrieks, and the Mall of America was full of One Direction fueled chaos. I could hear their voices talking over the microphones, greeting everyone who had come.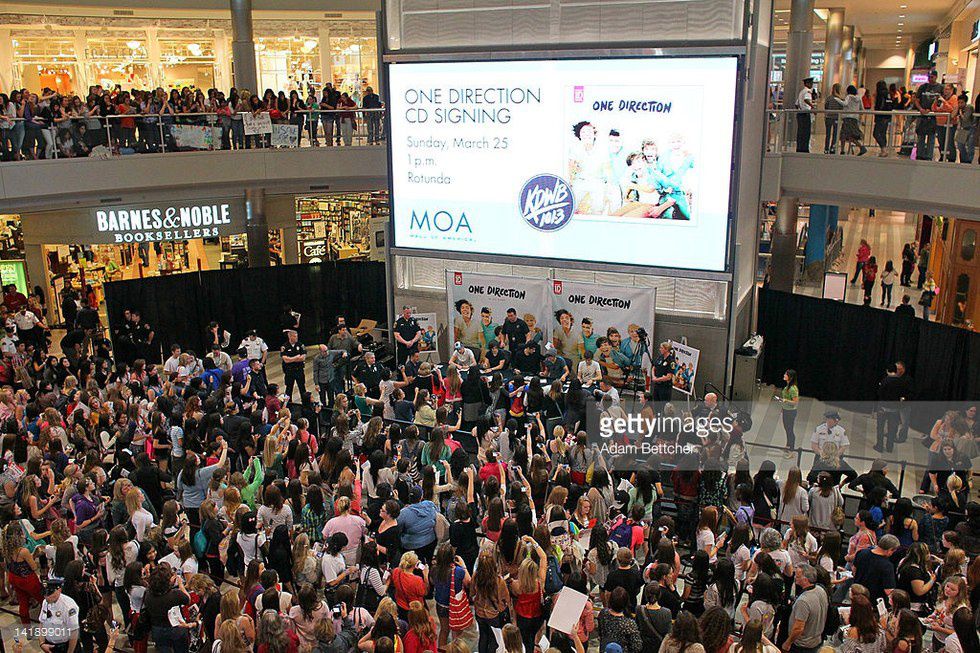 The line started moving, and I was getting closer to meeting One Direction. They were there. In real life. I don't know about everyone else, but whenever I see a celebrity in real life whether it be at a concert or wherever - I always have that moment where I just think, "Oh yeah, they're real people in real life, not just some image I see in a magazine or on TV or on the Internet." I had many of these moments looking at One Direction right there in front of me. As a pretty small person standing at only 5'1" (5'2" on a good day), I had to stand on my tippy toes to get glimpses of the five beautiful men of One Direction. But suddenly I was in the second row, and they were seated right in front of me. I could see them without the help of my tippy toes. It was surreal.
The other levels of the Rotunda were filled with more fans just trying to catch a glimpse of One Direction. Niall Horan grabbed the microphone and told everyone that they needed our help. There were cameras placed in different places of the Rotunda, and they wanted us to sing along to their single "One Thing" while they filmed. So we did. The thousands of One Direction fans in the Rotunda scream-sang to "One Thing". The video they filmed can actually be seen on YouTube , and if you look closely you can see me and my (bald) dad in the second row; me singing along and my dad plugging his ears.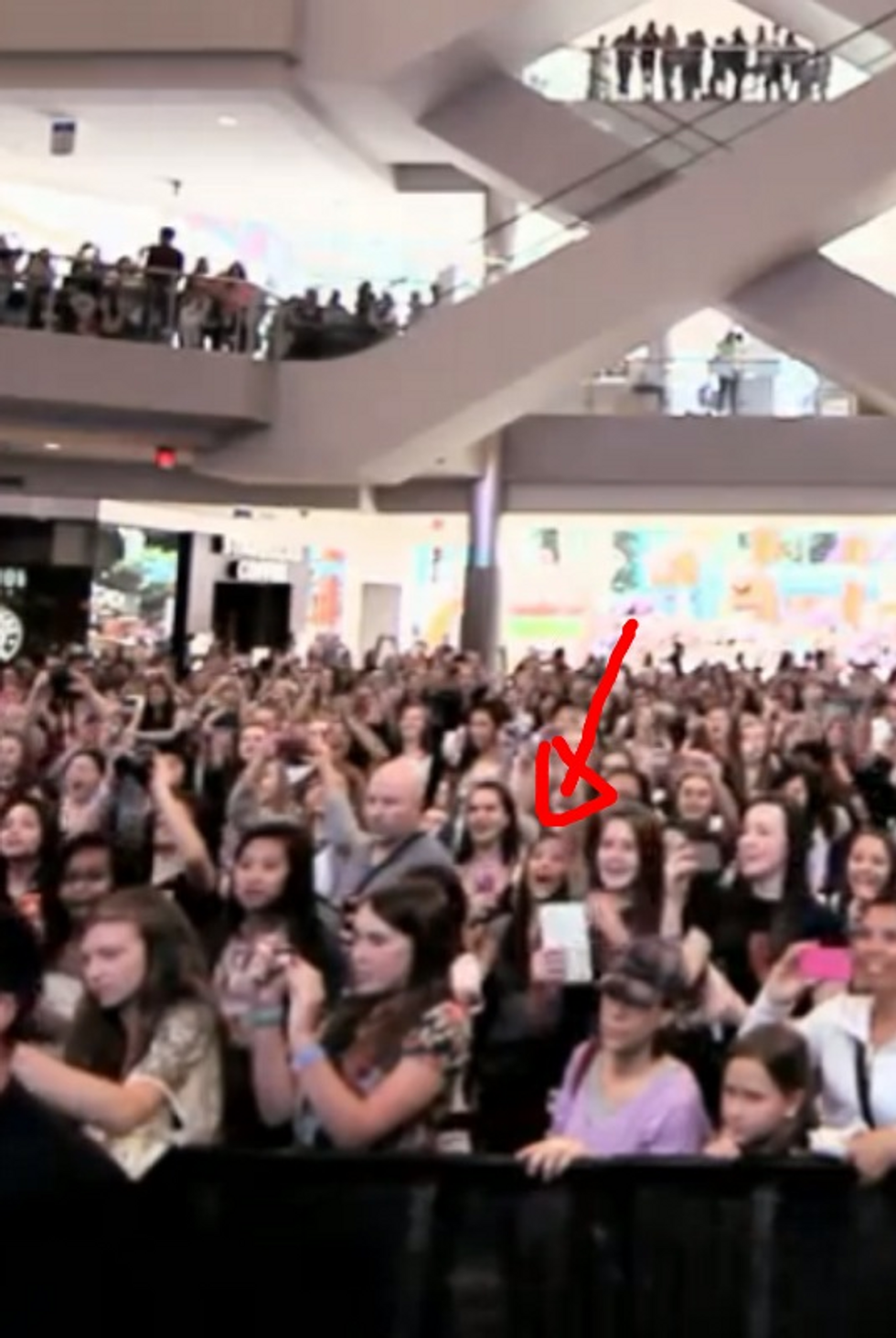 It was finally my turn to meet One Direction. I gave my albums to the security guards who handed it to One Direction for them sign. The whole thing was probably only a few minutes of my life, but they were definitely some of the best few minutes of my life. There they sat, from first to last it was Liam Payne, Louis Tomlinson, Zayn Malik, Harry Styles, and Niall Horan. They sat at a table on a platform, and I stood on the other side of the table along with the others who were meeting them. It was a little rushed, so I didn't say too much to any of them. I said "Hi" to Liam to which he smiled and said "Hi" back, then high-fived me. I then was in front of Louis, whom I find very intimidating. I said hi to him and gave him a letter I had written. I don't remember what I put in that letter but I'm sure it was something super lame and embarrassing. He said, "Thanks, babe!" and my heart melted. There's just something about British accents. Then I got to the beautiful Zayn Malik, who is so astonishingly gorgeous in real life it's a little ridiculous. I said hello and asked for a high five. We high-fived, his hands were extremely soft, and his beautiful brown eyes seemed to look right into my soul. Next was Harry, who was (and still is) my favorite. Little high school freshman me terribly stumbled over my words as I asked him to be my first kiss (I hate freshman me) and he said yes (probably out of pity). Didn't actually end up receiving that kiss, but I did get a high five from him and he bid me adieu with, "Bye, love!" Back at it again with the ridiculously adorable British accents. Then I arrived at Niall, who I would describe as a ball of sunshine. I said hello and told him I loved him, to which he replied, "I love you too!" in an adorable Irish accent. I spoke longer with Niall while I waited for my albums to be signed. He asked how I was and I said I was good, then asked him to come to Minnesota for a concert since, at that time, they had never come done a concert in Minnesota before. He said he would try, and then I thanked him and said goodbye - taking with me my five freshly signed albums.
I walked out of the Rotunda with my face glowing from excitement, and my eyes slightly teary. I'll forever have the memory of meeting them ingrained in my mind, and can honestly say it was one of the best days of my life thus far. Since then I have been to a few of their concerts and while I'm not the utterly obsessed fan that I was back then, One Direction will forever hold a special place in my heart. My mom is also the real MVP for going to Best Buy at 4 a.m. and waiting in line for my wristband. Thanks, mom. And thanks, One Direction, for the years I spent watching your videos, listening to your music, going to your concerts, and for, in general, bringing me happiness. Maybe we'll meet again one day. Maybe I'll be a little less awkward.
OK, I'll probably be just as awkward, but a girl can dream.