I'll never forget the first glimpse I had of the striking blue-green water. It felt like I was in another world for three days. Every time I get the chance to tell someone about the grandeur of this place, I light up and immediately float back there in my head. If there's one place in the United States I think everyone should go, it's here. It is what I envision as Eden or heaven on earth.

[instagram https://www.instagram.com/p/BFcYEPkmUEL/embed/captioned/?cr=1&v=8&wp=658#%7B%22ci%22%3A0%2C%22os%22%3A17522655.985%7D expand=1] People often reach out to me for Havasupai trip specifics and I often see people sharing articles and exclaiming to their friends, this is their next destination. I think every single person should plan a trip here but it does, in fact, take some planning. I've compiled my reasons that every person should go as well as the necessary information you'll need to plan the trip.

First, some context. Havasupai is much more than just a gorgeous place to see surreal waterfalls. It is home to the Havasupai tribe. "Havasu" means blue-green water and "pai" means people. This area is the most isolated Native American reservation in the continental U.S. They are the only area that still receives their mail by donkey or packhorse. This area is full of rich, moving history of the Havasupai. These people once had an area the size of Deleware but they were forcefully reduced to only a little over 500 acres. From there the Silver Rush and Santa Fe railroad ruined most fertile land they had. Once the Grand Canyon was established as a National Park, their land was further encroached upon as the National Parks Service utilized their land as their own. Thankfully, in 1975, the tribe utilized the U.S. judicial system and won back nearly 185,000 acres of their ancestral land.

[instagram https://www.instagram.com/p/BFXCMvjmUGh/embed/captioned/?cr=1&v=8&wp=585#%7B%22ci%22%3A0%2C%22os%22%3A17714926.045%7D expand=1]
This tribe is very isolated and poor. The main reservation here is 10 miles down from the rim of the canyon. The majority of the tribe lives in the Supai Canyon. The Havasu people like the fact that they have been able to remain fairly isolated in order to keep their ancestral traditions and way of life in such a beautiful natural setting. While they love where they live and their traditions, there are some issues that come with being isolated such as inadequate schooling for children, very limited access to healthcare, and limited land inside the canyon to provide food for everyone.

The tribe decided to open up tourism into the canyon to create revenue in order to offset some of the issues. For most years, this location was basically unknown other than to a few locals and boy scout troops. Word and photos started getting out and it became a highly desired international travel destination. On my trip to Havasupai, it was clearly known alcohol is not allowed and any trash you take in, you must take out. However, there were countless college-aged kids there hauling in beer cans and leaving them strewn about this gorgeous place. It was extremely frustrating.

[instagram https://www.instagram.com/p/BFW_3IdGUAY/embed/captioned/?cr=1&v=8&wp=585#%7B%22ci%22%3A1%2C%22os%22%3A17714929.540000003%7D expand=1]
Because tourists keep trashing the area and it is such a small area, the tribe started limiting availability. In order to enter, you must have a permit. The permit sale opens on February 1 each year. However, it is almost impossible to get through and purchase permits. Very few people are able to get permits. However, the tribe works with trusted guide companies and reserves a select amount of permits for those guide companies. That is essentially the only way to go, nowadays.

During my trip, I went with Arizona Outback Adventures guide company. They were exceptional. I cannot say enough positive things about this group. They know all of the coolest secret spots like the air bubble under the waterfall and Ash Canyon. They pack in and set up all of your camps. They cook your meals. They tell you about incredible history throughout the area. If you are considering a trip to Havasupai, I highly recommend AOA for your guide company needs. AOA had a film company, Revolver Creative, that went with our group and they filmed some incredible footage. One night they went set up their equipment and photographed Havasu Falls while "painting" it with a flashlight. It created a striking photo.

Don't expect to pull up in a car and walk up to the falls. It is much more of a journey but it is worth it. When you get there, there are a few options to get in and out of the canyon. It is 8 miles to reach the main area of the reservation where many of the tribe members live. There is also a little general store and a burger bar setup. From there, it is another 2 miles to the falls and campsites. The first 8 miles are full of switchbacks and elevation changes. The last two miles are a breeze. The last two miles are also where you start walking alongside the striking blue-green streams. We stopped and had lunch alongside the flowing water. It was heavenly.
To get to camp you can either walk, ride on a donkey or horse, or use the helicopter. We flew in on the helicopter because we wanted more time to adventure around the canyon. We hiked out. It was brutal. The first 8 miles out aren't bad but the last two up to the rim of the canyon are full of insane switchbacks and you climb 3/4 of the elevation in those last two miles. I'm glad I hiked it out to say I did but I don't honestly know if I would again. The helicopter is first-come-first-serve. We were in line at the top of the rim for just about 30 minutes before we got to fly in. The tribe members and supply deliverers get first priority. Because of the isolation of the tribe, packhorses, donkeys, and helicopters are how they receive their supplies. We watched a few helicopter trips come in with supplies which were cool. There were some older people on our trip who opted for the donkey or horse out of the canyon. It is a very rough and slow ride but it is an option.
[instagram https://www.instagram.com/p/BFXDijYGUKZ/embed/captioned/?cr=1&v=8&wp=585#%7B%22ci%22%3A2%2C%22os%22%3A17714933.775000002%7D expand=1]
Along the trek into camp, you're surrounded by monstrous red rock. They seem to go on forever. As the sun hits the red rock, you see hints of blues and greens.That color is created by the minerals in the rock. That mineral is what makes the water so shockingly blue-green. You start passing along the gorgeous streams and then eventually you come across Little Navajo Falls and a Fifty Foot Falls. They are gorgeous falls but the guide promised we were about to see something even better and we'd come back here tomorrow. As you keep trekking toward the campsite, you come to the edge of a path and your eyes grab hold of the most amazing thing you've ever seen - Havasu Falls. I just stood staring wondering if I was in Eden. It took my breath away and I've been to many beautiful destinations. I have never seen anything like this or this place before or since.
[instagram https://www.instagram.com/p/BFcX0dMmUDf/embed/captioned/?cr=1&v=8&wp=585#%7B%22ci%22%3A0%2C%22os%22%3A17384874.835%7D expand=1]
When we got to camp, AOA already had our camp ready to go. We got to spend the next few hours exploring before they had dinner ready for us. Camping alongside Havasu Creek is incredible. You hear the water bubbling by all day and night. During the day, in between exploring, you can hop in and enjoy the water that is flowing along the reeds, trees and rocks. Many set up their hammocks alongside the creek as well. I've never encountered such a relaxing scene.
[instagram https://www.instagram.com/p/BFcWR8zGUPh/embed/captioned/?cr=1&v=8&wp=585#%7B%22ci%22%3A3%2C%22os%22%3A17724932.990000002%7D expand=1]
The next day, we journeyed past our campground, along the creek. There was a good stretch of camping space and beautiful places to relax and explore. Eventually, you hit the edge of the cliff and you are met with another striking scene - Mooney Falls. Mooney Falls is 200 feet high. You see it first from the top. It is a booming, explosive and massive waterfall.
[instagram https://www.instagram.com/p/BFblcDBGUI8/embed/captioned/?cr=1&v=8&wp=585#%7B%22ci%22%3A0%2C%22os%22%3A18574682.275000002%7D expand=1]
If you want to explore further, you have to go through a pretty sketchy downward hike through the rock and then down the side of the rock. It's steep, slick and somewhat narrow. Years ago, they blasted a tunnel through the side of the rock in order to access this area. That is still the route you take. There are chains, poles and ladders installed to help you get down. It's still slightly unnerving though. However, it is beyond worth the 10-15 minutes of nervousness.
[instagram https://www.instagram.com/p/BFeU6kRGUPS/embed/captioned/?cr=1&v=8&wp=585#%7B%22ci%22%3A1%2C%22os%22%3A18574686.075000003%7D expand=1] Once you get down, you can stay and swim in Mooney Falls or explore the other surrounding area. There are countless mini-waterfalls, rope swings and more.
[instagram https://www.instagram.com/p/BFcSx4smUEl/embed/captioned/?cr=1&v=8&wp=585#%7B%22ci%22%3A0%2C%22os%22%3A20305257.435000002%7D expand=1]

One of my favorite places in Havasupai was Ash Canyon. We climbed up into the canyon and sat quietly. The canyon is eerily still. It has a reverence about it. It is secluded from everything and many people don't know it is there. In this canyon, long ago, the tribe used to send down the ashes of their deceased loved ones. It is rumored that is why many parts of the rock are still stained a darker shade from all of the ashes landing on the rock. Our guides had us sit and observe the stillness in this sacred area. It was spiritual and moving.

[instagram https://www.instagram.com/p/BFcVj7HmUNI/embed/captioned/?cr=1&v=8&wp=585#%7B%22ci%22%3A2%2C%22os%22%3A18574690.085%7D expand=1] We left Ash Canyon and kept journeying along the streams. Everywhere you looked took your breath away. I obviously couldn't stop taking pictures. There were so many small waterfalls to see or cool areas to explore. We didn't keep going to the final waterfall - Beaver Falls - but it is an option. I definitely want to do that next time I go back but our group ran out of time.

[instagram https://www.instagram.com/p/BFcVrPFmUNj/embed/captioned/?cr=1&v=8&wp=585#%7B%22ci%22%3A1%2C%22os%22%3A20305261.505000003%7D expand=1] We trekked back and scaled back up the side of the cliff to the rim towards Havasu Falls. We stopped by our camp for lunch and took a quick dip in the creek. It was perfect. Then we headed back to Fifty Foot Falls and Navajo Falls that we had passed on the way down the day before. The guides took us to Fifty Foot Falls first. We got out into the water about waist-deep. They started telling us about the air bubble that was under the waterfall. They would go and tread water along the side of the cliff of the waterfall. They would have us swim one at a time to them. They would then have us hold our breath and go under to find the hole to enter the air bubble. Swimming out to them was also a little unsettling. I was a little nervous, then there was the current from the cascading water pushing against me and lots of water splashing in my face. I finally went under and swam into the air bubble. It was really cool. It's literally a bubble in the cave. We stood there for a bit checking it out then the guides started sending people out one at a time. You have to be careful because you need to push off hard enough to get through the waterfall. You also need to make sure you get far enough down so the rock doesn't scratch you. That was the scariest part for me. It completely took my breath away. I barely scratched my leg but the current of the waterfall surprised me. It took me a second to catch my breath once I reached land. Regardless, it was one of the coolest experiences and I am glad I went while I had the chance.

[instagram https://www.instagram.com/p/BFcXgjAGUCg/embed/captioned/?cr=1&v=8&wp=585#%7B%22ci%22%3A2%2C%22os%22%3A20305266.07%7D expand=1]
It started getting cloudy but we went on towards the next waterfall on the way back to camp - Navajo Falls. This is the best and safest area to cliff jump if that's your thing. I am a big baby when it comes to cliff jumping and I had just had a really high anxiety experience so I decided to relax along the edge while the rest of the group jumped in. It started raining but none of us minded. After all, we were in paradise. We enjoyed the rain as we walked back to camp. It kept raining pretty steadily. The storm was picking up. Our guides brought us together for a quick chat. They needed us to be aware of what to do in the next few hours if the storm kept up. Due to the structure of the canyons and all of the water, it can be a flash flood nightmare and someone could get swept away. This is the reason it's so important to know when the flood season is and avoid booking a trip in that timeframe. Luckily, it died off and we were fine. We hung out around camp, had dinner and relaxed. The next day it was time to hike out. We just did the 3-day trip. I will definitely do the 4-night stay next time (the maximum day allowance from the tribe is 4 days).

[instagram https://www.instagram.com/p/BFcWEa_GUOt/embed/captioned/?cr=1&v=8&wp=585#%7B%22ci%22%3A3%2C%22os%22%3A20315342.695000004%7D expand=1] The next morning we took off on our hike out. After the first two miles, we stopped by the main reservation area to see how long the helicopter line was and decided to hike it. The next six miles were pretty steady and easy, no drastic changes in elevation. Once we got to the last two miles, it kicked my butt. I mean like really kicked my butt. I caught myself huffing and puffing along the switchbacks. I'm pretty sure I even said a handful of cusswords. It took us 3 hours and 50 minutes to do the entire 10 miles. The biggest and most difficult chunk of that was undeniably the last two miles. But we made it though, and it was really rewarding to say I hiked it out.

[instagram https://www.instagram.com/p/BFcYNuaGUEo/embed/captioned/?cr=1&v=8&wp=585#%7B%22ci%22%3A4%2C%22os%22%3A20315350.325000003%7D expand=1]
I spend many days and nights dreaming about this heaven on earth. I can't wait until I am back there soaking up the sunshine and swimming in the waterfalls. My trip was 2 years ago in May and I'm hoping to get back this summer. I encourage each and every person to go and experience this place for themselves. You won't regret it. Now go pack your bag ;)

[instagram https://www.instagram.com/p/BFcSDgumUCJ/embed/captioned/?cr=1&v=8&wp=585#%7B%22ci%22%3A5%2C%22os%22%3A20315355.425%7D expand=1]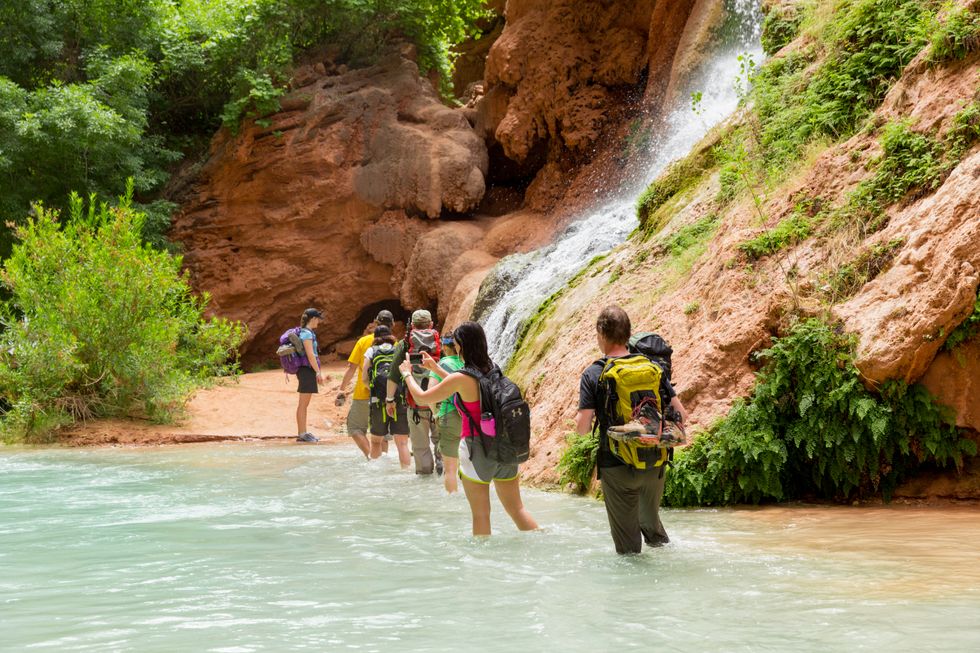 ---
Here are more of my photos from my trip.

[instagram https://www.instagram.com/p/BFcXt6vmUDL/embed/captioned/?cr=1&v=8&wp=585#%7B%22ci%22%3A6%2C%22os%22%3A20325346.540000003%7D expand=1]

[instagram https://www.instagram.com/p/BFcWNG4mUPM/embed/captioned/?cr=1&v=8&wp=585#%7B%22ci%22%3A7%2C%22os%22%3A20325356.080000002%7D expand=1]
[instagram https://www.instagram.com/p/BFcWEa_GUOt/embed/captioned/?cr=1&v=8&wp=585#%7B%22ci%22%3A8%2C%22os%22%3A20336339.490000002%7D expand=1][instagram https://www.instagram.com/p/BFcWAVSGUOd/embed/captioned/?cr=1&v=8&wp=585#%7B%22ci%22%3A9%2C%22os%22%3A20346344.325000003%7D expand=1] [instagram https://www.instagram.com/p/BFcVzagGUOA/embed/captioned/?cr=1&v=8&wp=585#%7B%22ci%22%3A0%2C%22os%22%3A20395508.535%7D expand=1]

[instagram https://www.instagram.com/p/BFcSro-mUEP/embed/captioned/?cr=1&v=8&wp=585#%7B%22ci%22%3A1%2C%22os%22%3A20395513.34%7D expand=1]

[instagram https://www.instagram.com/p/BFcSfdsGUDs/embed/captioned/?cr=1&v=8&wp=585#%7B%22ci%22%3A0%2C%22os%22%3A20428736.84%7D expand=1]

[instagram https://www.instagram.com/p/BFcSYRGGUDV/embed/captioned/?cr=1&v=8&wp=585#%7B%22ci%22%3A1%2C%22os%22%3A20428740.790000003%7D expand=1]