Galentine's Day, a day celebrating lady friends. This fictional, yet all so real holiday created by the wonderful Leslie Knope from Parks and Recreation is celebrated every February 13th, the day right before Valentine's Day. It's a day where you and your lady friends should leave your husbands and boyfriends at home and just go out and kick it with one another. As Leslie Knope would say, "it's only the best day of the year."
She wasn't lying either. It's an entire day dedicated to your raddest, loveliest gal pals which doesn't get better than that. A day to hangout and appreciate one another for all the things we do. Okay, sure, Valentine's Day is great and all but my lady friends were there for me way before the relationship era began in my life.
Like any other person in this universe, whether you have one person or more, I appreciate all my lady friends. My lady friends have been there for me through it all––quarter life crisis, mental break downs because of organic chemistry, and especially the milestones that I have conquered along the way. They would be my bridesmaids, support system, and even family. Whomever it may be in your life, we all have at least one lady friend that can relate.

Now every year, Leslie Knope chooses to gather her lady friends at the diner and kick it breakfast style all while giving them the best handmade gifts of all time. Now, I'm not saying you have to do exactly that but what I am saying is that you should most definitely go out with your lady friends and do something you all love doing. However you choose to celebrate it is all up to you, there's absolutely no wrong way of celebrating Galentine's Day. My lady friends and I typically exchange cards, sometimes flowers, and grabbing dinner somewhere.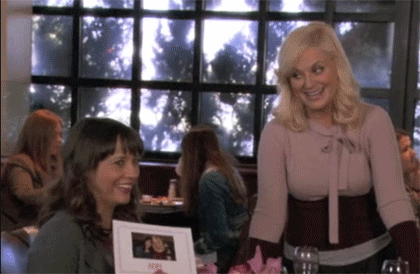 My point is, a day where ladies are celebrating ladies and appreciating one another for the individuals we are is super rad. It's the perfect time to gather everyone up and just treat yourselves for a day and create more memories that you can look back someday.
Usually the night just ends up with all of us reminiscing about our lives, the hypotheticals and eventually the conversation drifts into this really sweet moment of realization that we are individuals that are just trying to flourish into the best version of ourselves; Even though I make poor choices, have the worst luck, and stress out way too much, my lady friends are there with me every step pf the way and let's celebrate to that.
May you have the best Galentine's Day this year, from one lady friend to another!