As a former full-spectrum doula and midwifery student who's now pursuing degrees in medical anthropology and women & gender studies, I am hyper aware and forever learning of the complexity and enormity of the issues people face in the realm of reproductive health. There's an overwhelming need to mitigate and eliminate racism, sexism, homophobia, transphobia, and classism within the institutions that claim to provide quality medical and mental health care to our most vulnerable populations (My stance on race and class issues in doula work can be found in issue 22 of SQUAT Birth Journal).
So, what happens when the governmental public health infrastructure fails to deliver sufficient care? What happens when the establishment lacks any decent ethical oversight or the ability to successfully reform or even enforce evidence-based policies? The state and federal agencies with a collective mission to lower maternal/infant mortality rates are an illusion to keep us trusting the almighty white coat passively and compliantly. What's been erected to reassure us of a pending solution is simply a system that inevitably perpetuates our current condition of subservience by way of subtle pacifications. The real issue at the core of this system of domination is not simply racism, it's an issue of private control over resources.
"Real change does not come about only through conquering institutions, but through gaining support from a mobilized society."
Esther Vivas
It's naive to think that this government has an agenda of real health equity in mind when far too many supremacists hold positions of power; it's a hierarchal medical-industrial complex - a capitalist system with profit and power in mind, not authentic human health. It clearly works against the betterment of humanity. The key is to step back to view all of this from a sociological perspective. I mean, the idea of social progress is a nice sentiment. But if we want the real thing, we'll have to do it ourselves. What we need is incredibly moral and powerful forces committed to direct action. We need courageous people to stand up, to confront uncomfortable truths and to create a working health care system for all. When we're faced with ineffective, poorly constructed systems, we're left with nothing but the decision to take action to form new bones and build from the bottom up.
---
Disclaimer: The views and opinions expressed above are my own and do not necessarily reflect that of the interviewee.
---
With all that in mind, I'd like to introduce the beautiful and determined China Tolliver.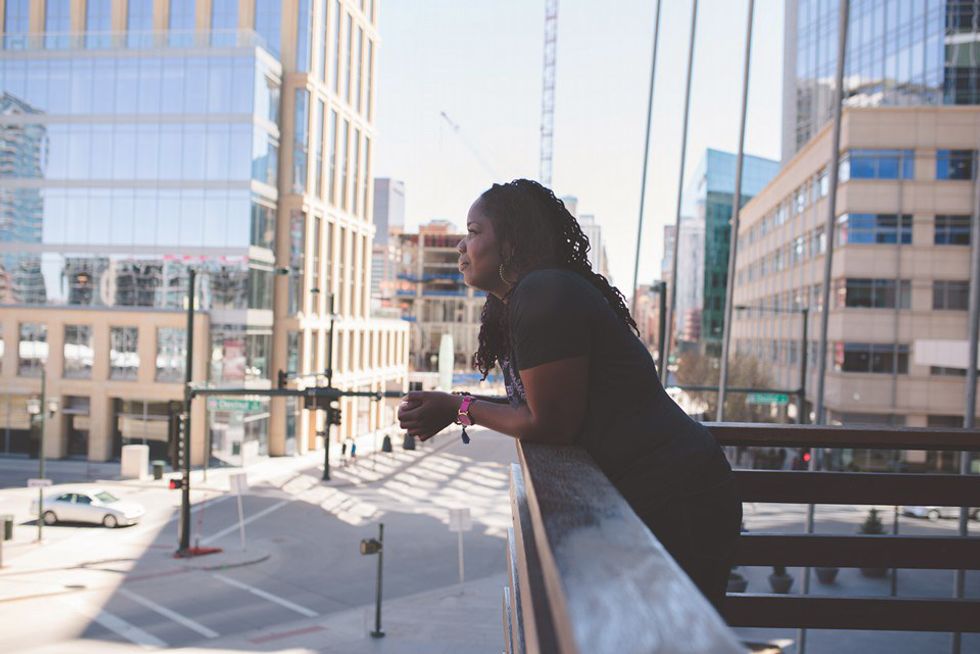 I recently had the pleasure of sitting with China, a.k.a. Urban Doula of Denver, over iced coffee for a productive and enlightening talk about the work she does and will do here in Denver. China moved to Colorado a mere 6 months ago and immediately took notice of the distinct need for a cooperative of doulas of color. Similarly, many low-income families in Denver are without viable access to quality maternity care options beyond the basics of Obstetrics and Nurse-Midwifery. Access to midwifery care/homebirth are paramount for a full spectrum of choice.
China Tolliver on viable options and accessibility:
"Families of color in Denver lack accessibility to complementary education, resources, and services. [Things that] are only afforded by upper-middle class families - complementary services like birth preparation workshops, doula services (both postpartum and birth), belly dancing classes, henna, alternative/herbal medicine groups, childbirth photography, prenatal yoga, and so much more. It's not within reach to many families. It's not marketed to people of color and those environments can feel unwelcoming."
China plans to shake things up in all the right ways and she is currently laying the foundation for The HIVE Collective, an innovative grassroots initiative to bring doulas and families together by creating space to connect, network, and grow together. The ultimate goal is for The Collective to evolve into a nonprofit by July 2017. In the meantime, there's a clear trajectory of impacting underserved populations, with emphasis on POC and the LGBTQ community. The plan is to usher in a culture of safety, education, empathy, and love.

Mission Statement:
"The HIVE Collective provides education, resources, and services to address birth disparities and promote healthy birth outcomes in communities of color throughout Colorado. Our Collective is dedicated to providing mentorship, scholarship, and service to any Birth Queen of Color who is devoted to birth justice, equality, and collective spirit."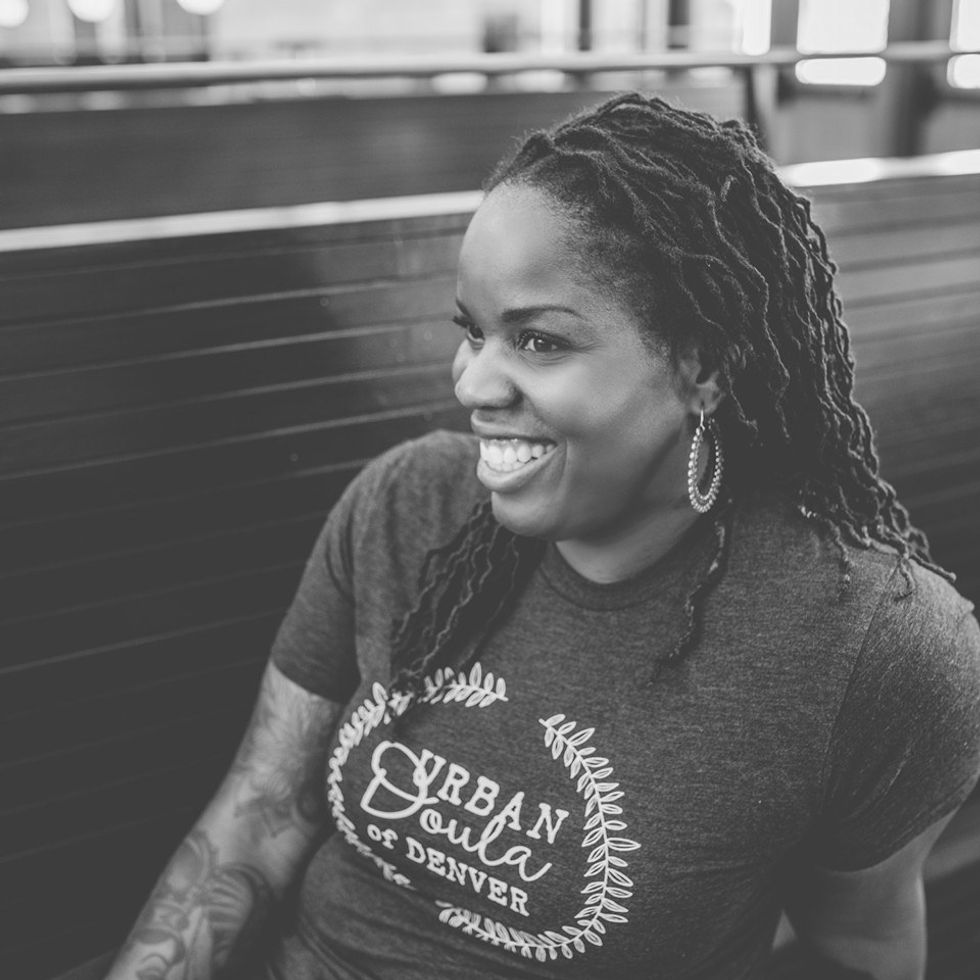 "Pregnant people of color are grossly under-represented and grossly under-supported. Black women have long been provided dismal prenatal care and we have the infant mortality rates to prove it."
China Tolliver
When discussing the main goals of this work, China shared that she plans to help lower infant morbidity/mortality while supporting and strengthening doulas and midwives. She also plans to create sustainable partnerships that foster awareness and create an open dialogue for evidence-based practices.
From Stanford Social Innovation Review's Creating High-Impact Nonprofits:
"Becoming a high-impact nonprofit is not just about building a great organization and then expanding it to reach more people. Rather, high-impact nonprofits work with and through organizations and individuals outside themselves to create more impact than they ever could have achieved alone. They build social movements and fields; they transform business, government, other nonprofits, and individuals; and they change the world around them."
With that said, The HIVE Collective has already partnered with Families Forward Resource Center and Healthier Beginnings for external projects including Feed My Soul: Honoring the Art of Black Breastfeeding, a movement dedicated to normalizing breastfeeding for black families across the nation.
Internal organization and strategy is at the forefront of gathering momentum for this movement right now. When compared to other initiatives, HIVE is unique in that outside "hand-out" campaign funding is discouraged and active fundraising is wholly encouraged. A kick-off fundraiser is taking place at the Colorado Breastival on Saturday, July 30th from 10a-1p at Ruby Hill Park in Denver. Come show your support!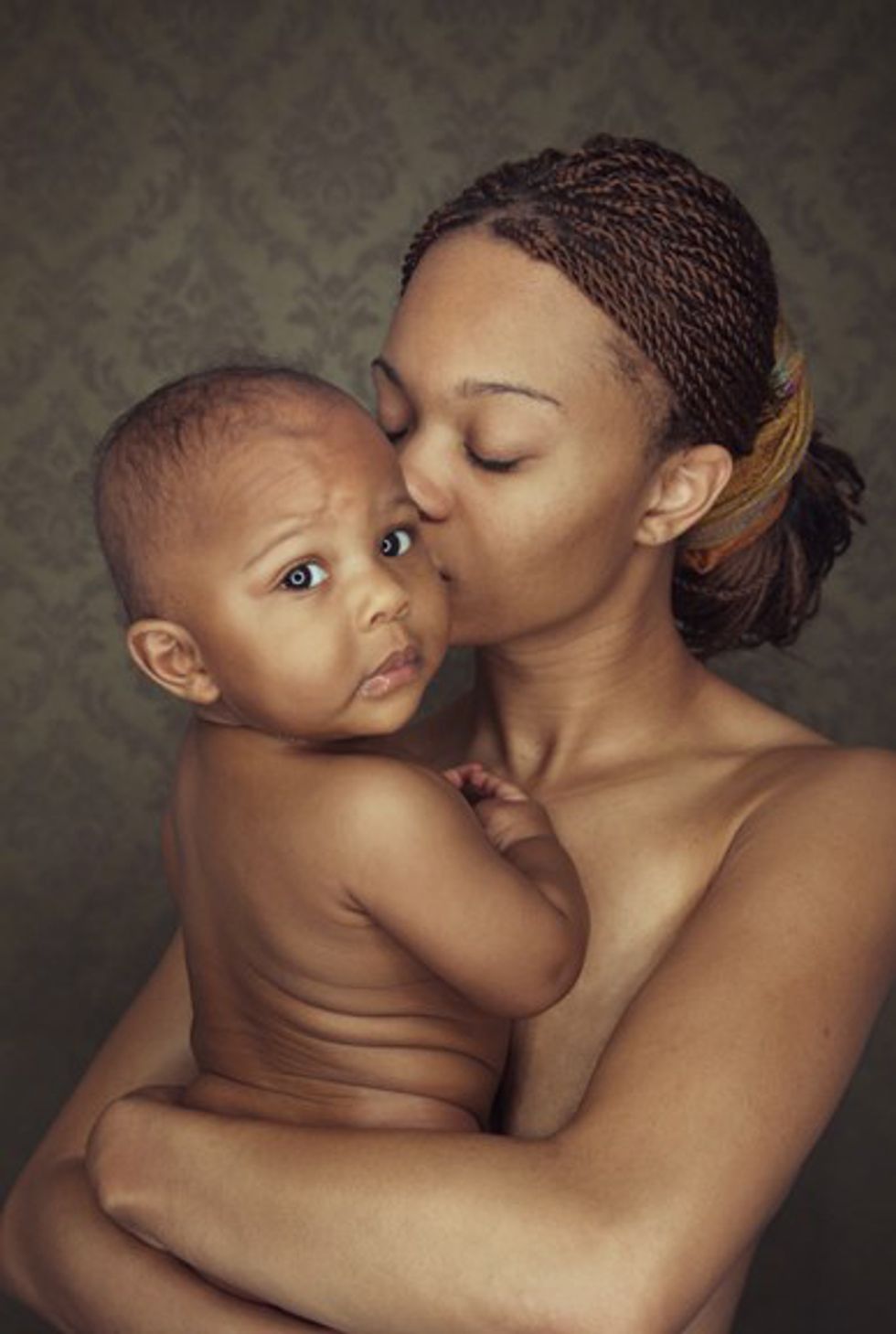 In the meantime, I'd like to touch on something called The Weathering Effect which I plan to dive into more next week. I spoke with postpartum doula and Denver native, Rebecca Green of Village Raised Postpartum Support, and she had the following to say:
"In looking at health disparities within communities of color, it is almost impossible to ignore the weathering effect study which connects early deterioration in African American bodies due to inherited and repeated stress/constant coping. With regard to the birth community, pre-term births and low birth weights among African Americans are now being attributed to the weathering effect. It is important to note that contrary to public opinion, education did not make a difference in this case. Rather, systemic racism and constant awareness and survival has placed the African American woman at an unanswered health disadvantage."
If you'd like to learn more about these issues, The HIVE Collective has partnered with Zoe Williams of SURJ (Showing Up For Racial Justice, the Denver chapter) and Heather Thompson of Elephant Circle for a series of gatherings called Courageous Conversations, an event providing intimate space to discuss topics like white privilege and birth inequality. Tickets are $25 and space is limited to 25 people.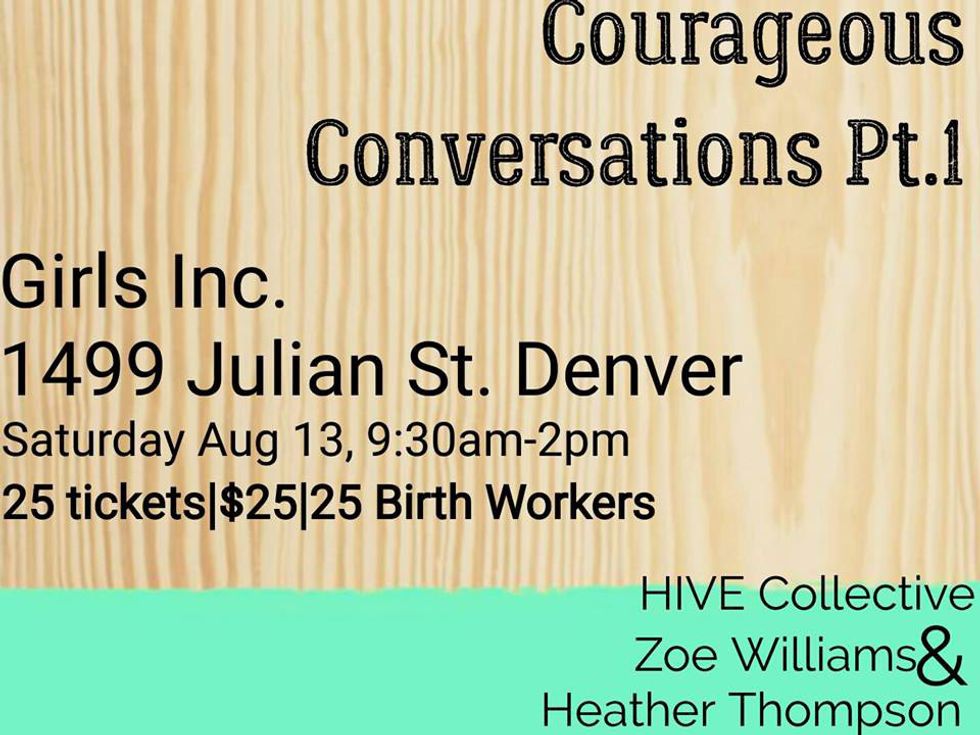 Courageous Conversations is a 3-part series. Workshops will take place August/September/October.
8/13 Part 1: Deconstructing White Privilege in Birth Work
"The first workshop explores the relationship between white privilege and birth outcomes in the United States. We will discuss differences between privilege, prejudice, and racism and how oppression functions within systems and individuals. Part 1 lays the groundwork for future workshops by digging deep into the privilege of whiteness while discussing how to move beyond words into action."