For me, home is wherever the nearest SoulCycle. By this rationale, I've been homeless for about six months now, and honestly Chloe Ting just doesn't cut it. Here's my current fave at-home workout videos to get a good sweat in.
Rumble IGTV Workouts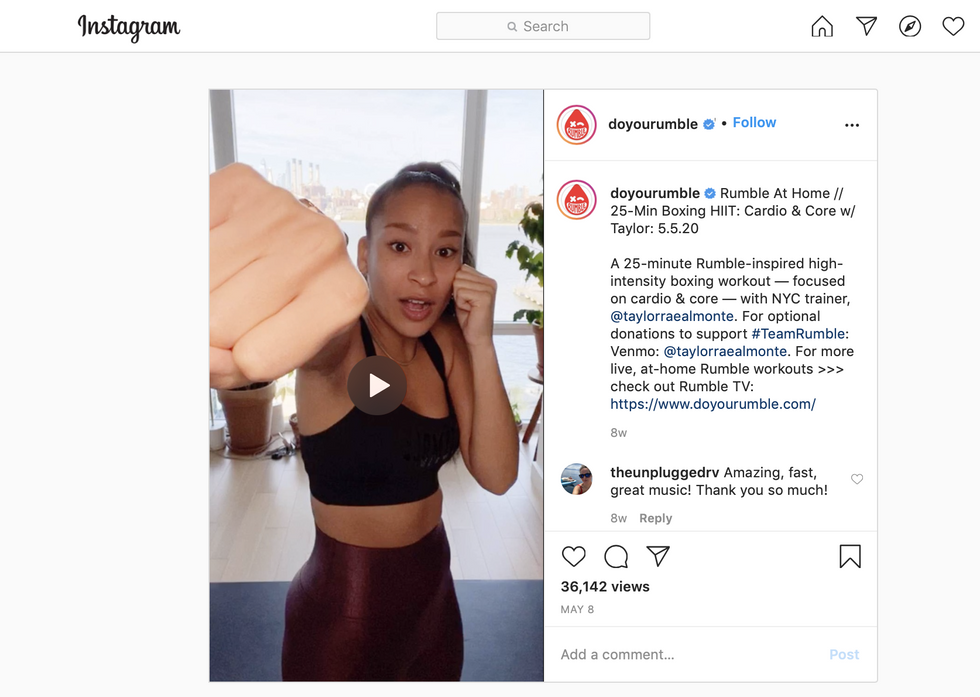 Bea Ross
Rumble IGTV workout videos are my secret weapon. There's a ton of options, and each one is super high energy. Without fail the instructors give off great vibes and play motivating music, and almost make it seem like you're in the studio. Following the style of their in-person classes the videos are boxing-based, making it great for a full-body workout.
Alana Blanchard's HIIT Workout

Bea Ross
This is one of the toughest workouts I've found on YouTube. Not sure why I underestimated the degree to which professional surfer's workout would challenge me--after repeating the video twice, I'm exhausted. The workout does require two pound weights, but you could easily use makeshift weights or skip them all together and repeat the series another time.
Natacha Oceane's 15 Minute HIIT Workout

Bea Ross
Natacha Oceane's 15 min HIIT workout is a great follow-along workout to get your heart rate up. The exercises are challenging but not discouraging, and the copyright free music isn't terrible! If you're looking to get in a full-body workout and you don't have a lot of time, this is a great pick.
Romee Strijd's 15 Minute Ab Workout

Bea Ross
Romee's targeted workout-videos are great if you're looking to combine a few shorter videos together. It's a fast-paced interval workout that definitely works your abs, especially if you focus on engaging your core. Also,
Alexis Ren's 10 Minute Ab Workout

Bea Ross
Ew I know I'm being super basic but I actually think Alexis Ren's ab workout is worth the hype. To make the exercises worthwhile, it's key to focus on engaging your abs for the duration of the video. Pair it with some cardio or resistance training and you've got a solid workout in for the day!