The end of October marks the end of National Bullying Prevention Month — a time to spread positivity through hopeful messages while acknowledging the struggles of those who have been bullied.
The organization Hey U.G.L.Y (Uniquely, Gifted, Lovable, You) focuses on empowering youth to be part of the solution of bullying, substance abuse, and suicide. For the 31 anti-bullying songs campaign for National Bullying Prevention Month, Hey U.G.L.Y has its own radio show called Choose To Change Radio. It was the nation's first radio show that allowed listeners to read the lyrics as the songs play.
For National Bullying Prevention Month the radio show shares one song per day for the entire month of October that has a hopeful message on friendship and togetherness. Here were the 31 anti-bullying songs that were played for the year 2020.
1. "Supa Bad," Brick Casey
Brick Casey says bullying is not cool. Casey then mentions how what goes around comes around.
2. "Can't Take That Away," Mariah Carey 
There is a light that shines brightly and those who want to take that light away can never take that away, according to Mariah Carey. This song has the right tempo and pacing to pay attention to the insightful words Mariah Carey sings about self-esteem and having power.
3. "Don't Laugh At Me," Luke Wills
The title of the song just says it all — don't laugh at me and have respect for everyone no matter how they look or their personality. It said in the song in God's eyes, we are all the same. This uplifting country tune is one not to miss.

4. "Mean," Taylor Swift
Why do you have to be so mean is what Taylor Swift questions in this song. With having elements of a catchy pop-country song this work of art captures the idea of positivity. Taylor is singing to someone else who is mean to her and says one day she will be living in a big city and all you will ever be is mean.

5. "Bully," Shinedown
Hearing the drums and guitar of this punk-rock tune will get you rocking. The song that sounds rebellious at times when the lyrics state "we don't have to take this and we can end this all." They want to end their experiences with bullying and are using this song as a way to cope and fight back.

6. "Mean Girls," Rachel Crow
Ever sat at a lunch table to have the people at that table leave because you arrived? This scenario sets up the song with how bullying at school within the female crowd is a thing. This song is all about releasing those feelings and providing hope for those who have been bullying in school.
7. "Hey Bully," Morgan Frazier
This song talks about the idea of why a bully causes harm with the words and hurtful comments they say. Frazier has a message about how names will never hurt her and she wants you to have that same idea.
8. "Who's Laughing Now," Jessie J
Standing up against bullying can be hard, but Jessie J sings how it is easy to stand up against bullying. One way Jessie J gets this through is by singing let the haters hate and when the bullies do not get that attention they desire by bullying she will say who is laughing now.
9. "Scars To Your Beautiful," Alessia Cara 
Alessia Cara brings in the positive reinforcement that we need to hear. The way how she says you're beautiful and how there is beauty found in everything is a message we need everyone to understand.
10. "People Like Us," Kelly Clarkson 
The title introduces the concept of how there are other people who are in the same boat and share the experiences of being bullied. Kelly Clarkson says how this is not a funeral and to keep your head up during these hard times.
11. "Run Away," Devyn Hush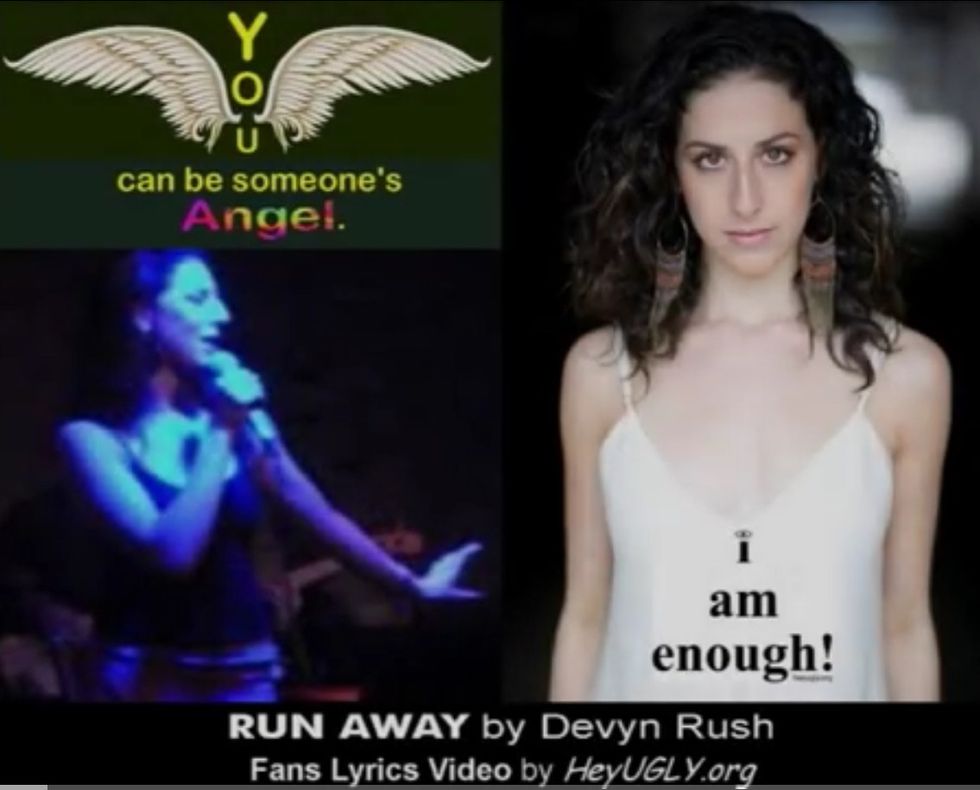 This song tells the story of a girl who is in a classroom all alone and she blames herself for not being liked by her classmates and peers. The students say hurtful comments and she is wishing to just be accepted. This melancholy tune introduces the fact of how these stories are found everywhere in schools and if you see someone struggling and are bullied to reach out and be their friend.
12. "Invisible," Hunter Hayes 
Hunter Hayes delivers a message of how you are not invisible. The sticks and stones may break your bones but words will never hurt you.
13. "Say It To My Face," Tina Shafer, Alisha Zalkin, and Ari Zizzo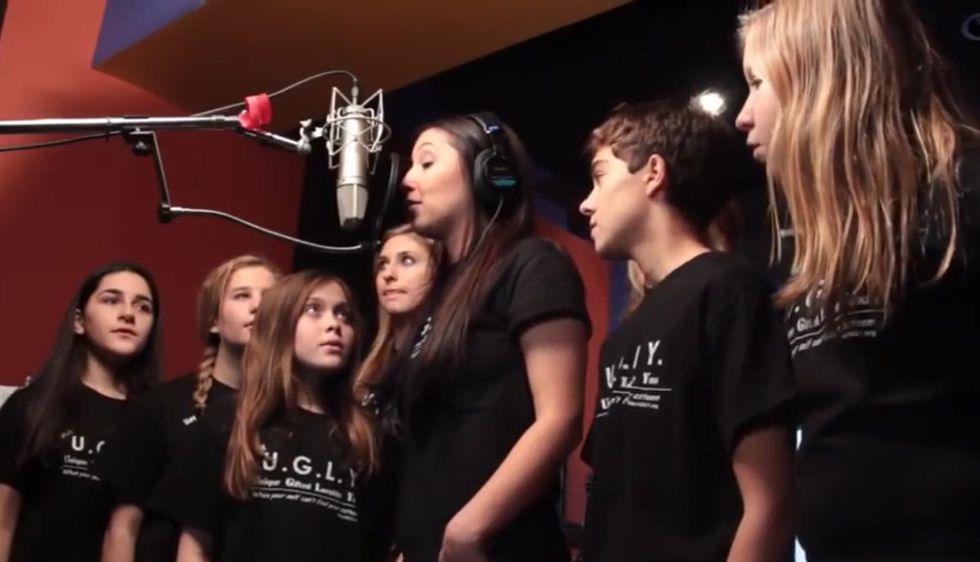 "Say It To My Face" is a song that gives a hopeful message of how you should not let mean words hurt you. This song has a good message to stand up against bullying.

14. "Nothing To Lose," Billy Talent 
Billy Talent has a message for you and that is how you should always be who you are and you have nothing to lose for showing others your true self.

15. "Beautiful," Christina Aguilera 
You are beautiful and Christina Aguilera wants you to get this message. This is a classic song and despite the hard times and if you feel insecure just know you are beautiful in every single way, no matter what people say.
16. "I Beg To Differ," Billy Talent 
We hear the sounds of the guitar and drums and Billy Talent says how you will wake up from this dream and realize how your life is not as it seems. As time goes on this will get better and Billy Talent wants you to know that things get better as time moves on and not to worry.
17. "Haters," Hilary Duff 
This song is to all the haters out there who are bullying. This song is addressing the haters how the way they bully does not affect them at all. Let's get rid of the haters.
18. "Outcast," Kerrie Roberts 
The song title has the idea of how Kerrie Roberts is an outcast, but she lives for something better. She mentions how she knows who she is and she will stand her own ground for how she is and she cannot change the way she looks or how others want her to act. A great song to remember to be yourself.
19. "The Beat Down," Willy D 
This song has a perfect beat and talks about how things will get better. It's all about positive thinking!
20. "Dem Haters," Rihanna 
Don't let the haters get in your way is the message Rihanna has for her listeners. She is not concerned about how people think of her and is so sad how haters hate and bully. She addresses how the haters want to bring you down but to not let that happen.

21. "Beautiful," Carole King 
A smile on your face and to show all the love in your heart is what Carole King has to say as soon as you wake up. This song offers positive affirmation on how being a friend and good person will allow for your own beauty to show. A theme we all need of being a good person and showing our love.
22. "Caught In The Crowd," Kate Miller- Hiedke 
This song tells the story of a high school teen who has a crush on a boy. Being young and caught in the crowd brings the idea of sticking to the status quo. The idea of bullying is brought up as those who see other people bully are known to repeat the behavior.
23. "Don't Let Them In," Kathleen Elle 
The listeners of this song are introduced with the soft strum of the guitar. Kathleen Elle sings how the words that people say are hurtful to not let them in. You may be too punk, too big, or too small but do not let those words in yourself. Just be you.
24. "Nothin Grows In Shadows," Jake Owen 
This song is a message for kids who bully at school. Jake Owen's questions who gave you the right to bully. He offers a message of how everyone shines like a diamond and how God's light shines for everybody.
25. "Stronger Than You Know," Wendy Martin 
Wendy Martin has a way of knowing how you are feeling. In the song, she mentions how there is a look of frustration in one person's eye. This hopeful message in the song is how you are stronger than you know. The difficult obstacle and in this case which is bullying is something you will fight back and rise from this.
26. "Shake It Off," Taylor Swift 
One of Taylor Swift's top songs offers a message of shaking off all the negative thoughts and bullies that you encounter in your life. This song will surely make you jam and shake off all the negativity in your life which includes bullying.
27. "Lift Your Head Up," Lil Sylnc 
This song offers a message to lift your head up with being tough during dark times and those instances where you think you cannot make it out okay. But do remember to have a positive attitude will make the journey easier. You got this!
28. "You Had To Pick On Me," Matt Kennon 
This country song tells a story of how not to be scared of a bully and when you are being bullied reach out to others so you can get the help you need. The idea of thinking about why you had to pick on me offers a route on why bullies pick on people.
29. "Hopeful," Bars and Melody 
The perspective of having a kid sing this song gives insight into how kids deal with bullying and why it is hard for them to cope in these challenging times. A kid does not want to be stressed, they are innocent and deserve a childhood that is stress-free.

30. "Hater," Korn 
You can't bring me down is the main theme this punk tune has. It is an encouraging song that offers a positive message that bullying is not the solution to solve problems. Make sure to give it a listen!
31. "We All Hurt Inside," Betty Hoeffner & Wendy Martin 
A message this song has is everyone, no matter how well-liked or respected, has rough times in their life when they are being brought down by negativity. Thus, the title of the song "We All Hurt Inside" captures this idea.