The 'Valley Girl': you know the trope. From Elle Woods, in "Legally Blonde," to Cher, from "Clueless," blonde girls from California have become subject to ridicule based off of their mannerisms. Imitations of the typical 'valley girl' imply a lack of intelligence, though what most people don't realize is that the 'valley girl' mannerisms are communication strategies used to better engage peers.
'Valley girls' are typically from California, but the stereotype has extended its application to any girl using the linguistic markers. The most commonly parodied aspect of the 'valley girl' stereotype is up talk. Up talk is the practice of raising the pitch of one's voice at the end of a sentence, as one would when asking a question, regardless whether the sentence is interrogative or not. As described by Patrick Ploschnitzki, in his study "Valley Girl - A dialect, its stereotypes, and the reality", uptalk is "a rising intonation for sentences which usually don't have this kind of intonation, such as declarative sentences.
So, a typical speaker of valley girl inadvertently makes many sentences sound like a question". Many are quick to judge uptalk, though it does serve a conversational purpose. The influx can be used as a signal that the speaker is not finished and not to be cut off. Similarly, the rising tone that reflects a question stimulates the listener to question their own thoughts regarding the subject, in addition to encouraging a confirmation or response.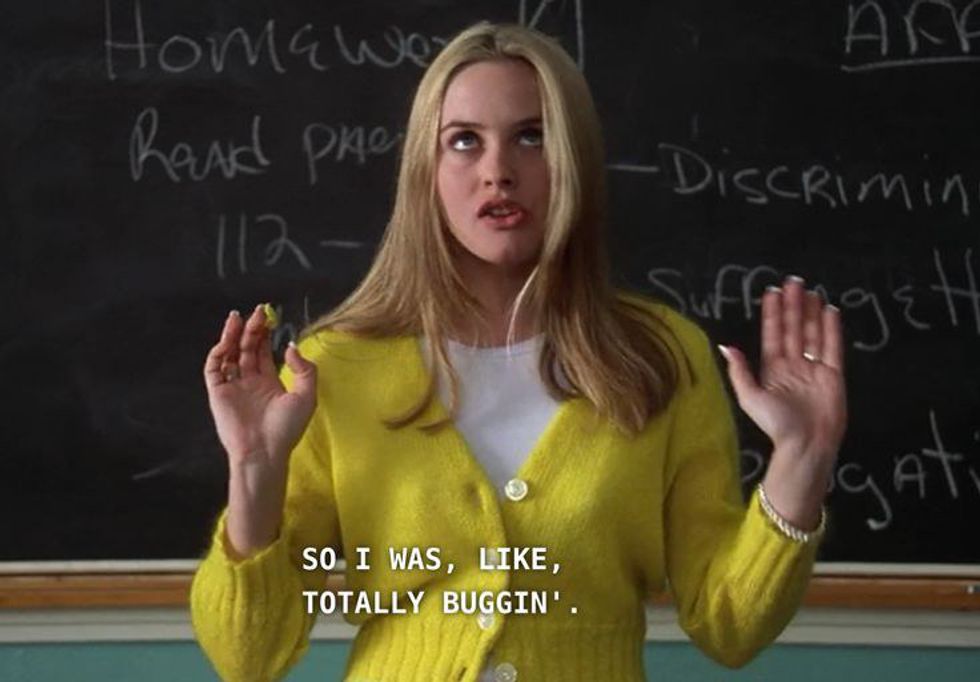 Possibly the most iconic marker of the 'valley girl' stereotype is generously using 'like' in sentences: "So I was like, totally buggin'" (Clueless, 1995) As exemplified by Cher, in the classic movie Clueless, the word 'like' is commonly used to introduce the main point or a change in direction of a sentence. Another use of the interjection is to give the speaker time to formulate what to say next. Interjections for this purpose are not uncommon, such as 'um' or 'so', but as 'like' is associated directly with 'valley girls', it becomes a sign of lack of intelligence. Because the 'valley girl' speech includes phonological habits and specific grammar characteristics, the stereotypical speech pattern should be classified as a dialect.
[rebelmouse-proxy-image https://media.rbl.ms/image?u=%2Ffiles%2F2015%2F12%2F04%2F635847874460617378-23281855_Elle-Woods.gif&ho=http%3A%2F%2Fcdn1.theodysseyonline.com&s=927&h=ca530b89c7aa6ee15ce799541ece835b325cf71565125be47427b953dfb1e39b&size=980x&c=490514819 crop_info="%7B%22image%22%3A%20%22https%3A//media.rbl.ms/image%3Fu%3D%252Ffiles%252F2015%252F12%252F04%252F635847874460617378-23281855_Elle-Woods.gif%26ho%3Dhttp%253A%252F%252Fcdn1.theodysseyonline.com%26s%3D927%26h%3Dca530b89c7aa6ee15ce799541ece835b325cf71565125be47427b953dfb1e39b%26size%3D980x%26c%3D490514819%22%7D" expand=1]

The stereotype of a 'valley girl' is unfair as the linguistic trends 'valley girls' are judged for, are not exclusively used by young, white, women. As shown by a study conducted in California by Amanda Ritchart, both men and women use uptalk, however, women use it about twice as often, and are the only ones regularly ridiculed for it. Movies and television consistently uses the 'valley girl' trope to assign ditzy qualities to female characters. The widespread usage in the media perpetuates the image of young women using these linguistic traits as vacuous and shallow. Ideally, as the use of 'valley girl' linguistic patterns spreads beyond women in California, the mocking will subside as the speech pattern provides nuance to the conversation.