Annapolis, Maryland is known to be home to some of the best restaurants in the state. These eateries are especially notorious for one major thing: seafood. A huge part of Annapolis culture is a nautical lifestyle, so it is not surprising that the city is home to some of the best seafood restaurants in the Delaware, Maryland, and Virginia region. Since Annapolis is so close to the bay, fresh supplies of fish and crabs are readily available to restauranteurs which makes for great seafood cuisine. I have an affinity for two types of cuisine: Asian and seafood. So, what do you get when you combine these two vastly different food cultures? Sushi. Some of you skeptics may be thinking, "Who would voluntarily choose to eat raw fish? Is that even safe?" Truthfully, when I step back and think about it, the premise is kind of weird. In a world where we have experienced so many advancements in the art of cooking, why has eating raw, uncooked fish gained so much popularity? Honestly, I don't know the answer to that question, but what I do know is that I am deeply in love with sushi. So much so that I could eat it for breakfast, lunch and dinner... which I have. Since my affinity for the food is so great, last summer I decided to do a crawl of all the best sushi restaurants in Downtown Annapolis. At each place I ordered Sashimi (also referred to as "a la carte" sushi) and one Maki roll. This crawl exposed me to three of my favorite eateries that I now frequent almost every weekend: Tsunami, Joss Cafe & Sushi Bar and Nano Asian Dining. In this article, I'll give you snippet of what my sushi crawl experience was like at each restaurant and what made the experience so enjoyable.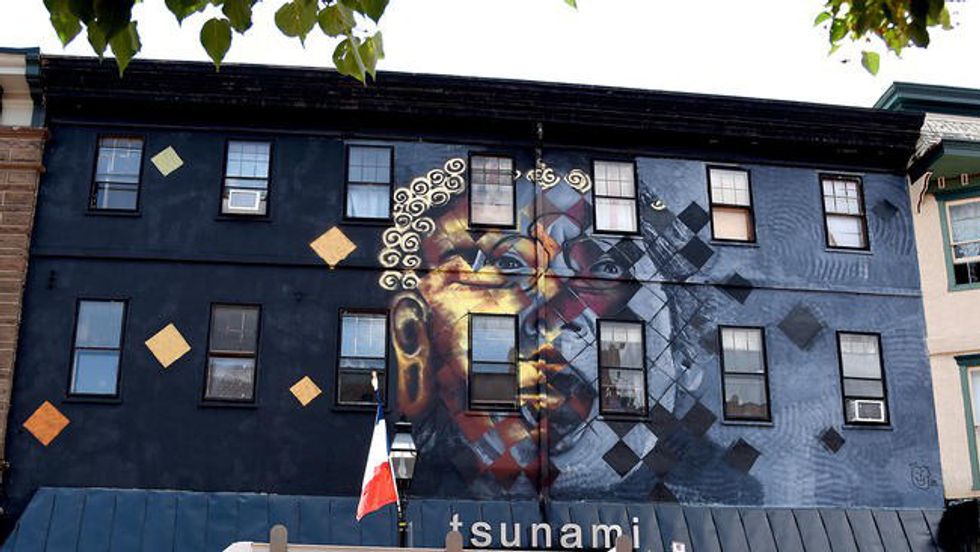 First stop: Tsunami
51 West Street, Annapolis, MD 21401
Website: http://tsunamiannapolis.com/
The first thing that struck me about this restaurant was the giant mural displayed on the front of the building as seen in the picture above. Personally, I think it is the coolest thing ever. Not many restaurants have giant pictures of multicolored faces on their building fronts nowadays. Another great thing about this restaurant is that they have a "happy hour and a half", which is exactly that. From 4:30pm to 6:00pm every Monday - Friday night, all sushi rolls and drinks at the bar are half-priced. It would be a stretch to say that the sushi was the best that I had ever tasted, but it was certainly up there and for $4.50 a roll, who can complain? The sushi a la carte was great and I would certainly recommend getting the Rainbow Roll, an avocado and crab stick roll with pieces of snapper, tuna, and salmon layered on top. It's a great place to spend your Friday night without emptying your wallet!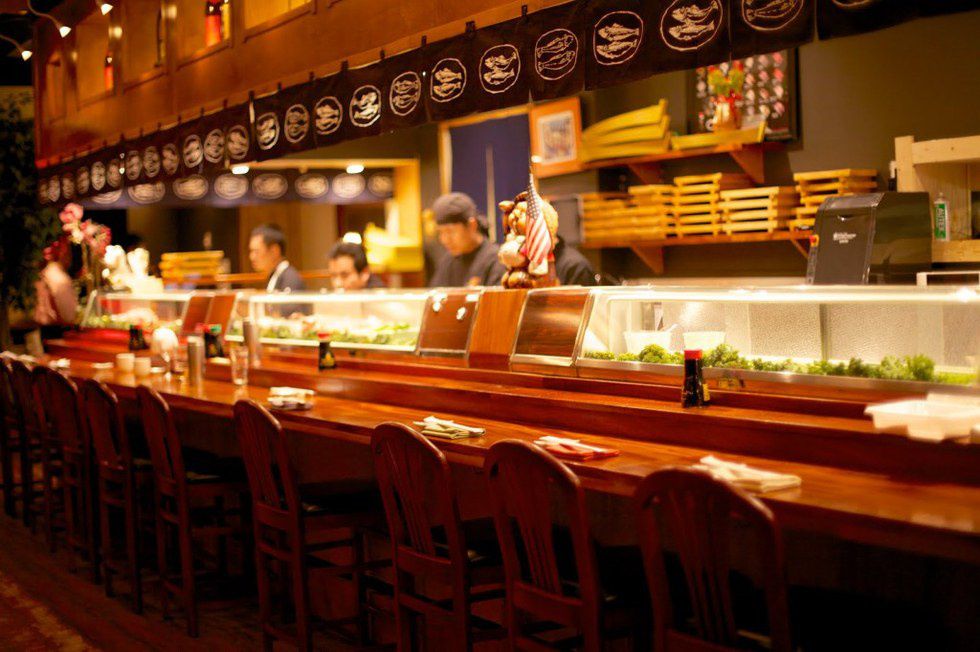 Joss Cafe & Sushi Bar
195 Main Street, Annapolis, MD 21401
Website: http://www.josssushi.com/
My next stop on the sushi crawl was Joss Cafe & Sushi Bar, a major hot spot for Annapolitans. If you are planning to dine at Joss, I would advise scheduling an early dinner because if you arrive after around 6:00pm on the weekend, you'll most likely be hit with a 30- 40 minute wait. It gets packed very quickly since the restaurant has a "no reservation" policy, so it's first come first serve. Based on my experience with the food, Joss has the best quality sushi in downtown Annapolis. They never fail to serve premium fresh fish. The Sashimi is fantastic and my personal favorite is the Rock N' Roll, a four piece roll made up of white fish, crabstick, calamari and fried scallion with eel sauce drizzled over top. Over all, it is a fantastic restaurant with fantastic seafood, although it is a little pricier than the other restaurants. Just remember that, when it comes to Joss, the early bird gets the sushi!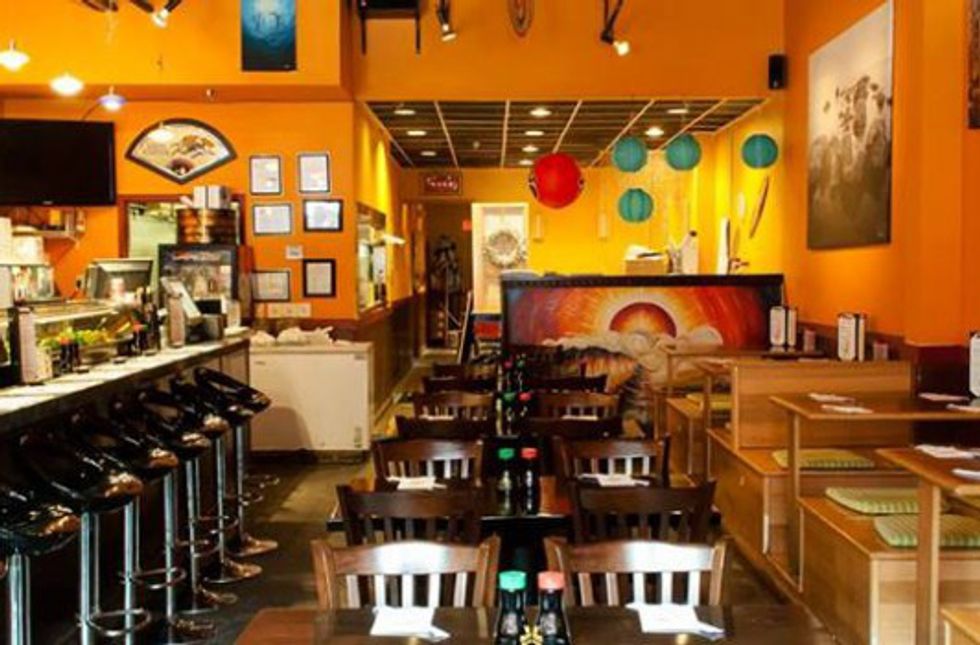 Nano Asian Dining
189 Main Street, Annapolis, MD 21401
Website: http://www.nanoasiandining.com/
Out of the three mentioned restaurants, I frequent Nano the most because of its seemingly endless menu options and absolutely incredible fried rice. The restaurant has great quality sushi at a slightly cheaper price than Joss, which is why it is yet another major weekend hot spot in Annapolis. My personal Nano favorites are the Superman Roll, which is a tempura shrimp and cucumber roll with salmon and avocado layered over top, and, of course, the fried rice. I have gotten to know the owners quite well from dining at the restaurant to frequently, and they are some of the nicest, most considerate people I have ever met. They are actively involved in restaurant happenings and care about getting to know the customer, so don't be surprised if they strike up a conversation with you! Another interesting element of the eatery is that they have a traditional tatami room in the back where you can sit on the floor and dine- just remember to take off your shoes!
Over all, my sushi crawl of Downtown Annapolis was an extremely enjoyable experience because I got to spend an entire day doing something I love: eating sushi! If you love this wonderful blend of Seafood and Asian cuisine and are planning on paying a visit to the beautiful city of Annapolis, Maryland any time soon, then I strongly suggest that you put these restaurants on your itinerary.