Last week, my news editor for Rowan's newspaper, The Whit, informed me of an event happening on campus that needed to be covered. She told me it was a fire safety presentation called, "After The Fire," and that it was some kind of short documentary. I was pretty much going into this blindly.
I got to the Student Center and took my seat in the ballroom, waiting for the presentation to start. The projectors were set up to display the documentary, and I noticed the title: "After The Fire, A True Story of Heroes and Cowards."
I looked around at all the students that were filing in, and the atmosphere started to become a little tense as the clock continued ticking away.
The Residence Hall Association (RHA) introduced the presentation, and I began to think that the documentary was just going to be a boring, typical, "stop, drop and roll," presentation that every school hosts. Then, the President of RHA introduced Alvaro Llanos and Shawn Simons as two of the worst burn victims from the Seton Hall fire of 2000, a fire which killed three and injured fifty-eight others.
Alvaro and Shawn stepped up on stage and I was instantly leaning forward in my chair. They introduced the documentary and gave the audience a forewarning of what was held in the film, including the points of view from their families, the nurses, and the investigation process of the arsonists responsible for the incident.
Then, the film began.
As someone who has never really seen the effects of a fire, sitting in that room watching the devastating results, I was in shock.
The fire was started by two students drunk after a sports win against a rival school. They tore down a bulletin board in the third-floor lounge and lit it on fire as a prank to set off the fire alarms. From there, the couches and furniture in the lounge caught fire and it spread quickly.
Students struggled to find exits in the thick smoke; one boy even jumped out the window of his third-floor dorm room.
I watched in horror at the effect it had on Shawn and Alvaro, as the burns to their bodies were quite extensive. For a while, the doctors and their families were afraid that they wouldn't make it.
But they did.
The documentary then showed their recovery process, and how they overcame the tragedy that had been forced upon them little by little.
But it wasn't just a physical obstacle that the two men had to now overcome; it was psychological as well. Having to now deal with the scars of the incident in a society full of judgment, I can't even begin to imagine what it must have been like.
What makes me angry is the "justice" served to the criminals who caused this disaster. Only five years in prison, for the murder of three, and the injury to so many more because the court deemed the event to be circumstantial. Even then, one of the convicted was able to be let out early on parole.
I see no real justice.
Really, what justice can you give to the families who lost their children?
After the documentary, Alvaro and Shawn gave a short presentation showing a statistic of college dorm fires, and Shawn read a small snippet of a book dedicated to the trauma they endured. Then, they held a Q&A; open to the students.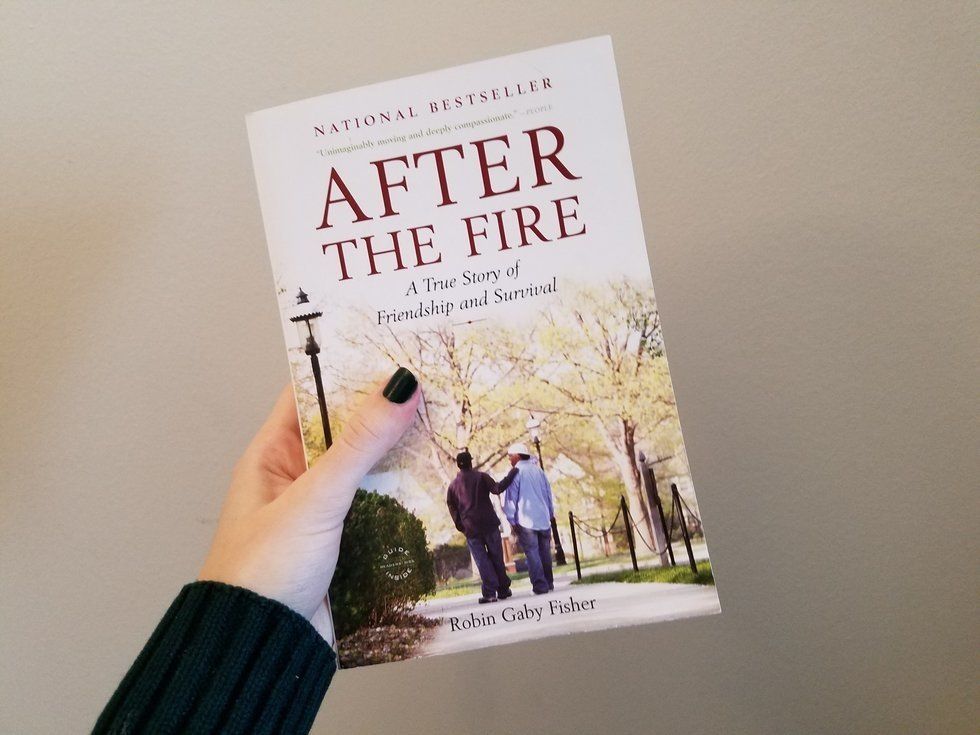 When the event ended, students got to individually talk to both Shawn and Alvaro, buy their book, and take pictures. I got to interview them for my article, and even just by talking to them, I could easily understand how much they have been changed, not just physically but mentally as well, through the entire experience. They are so grateful for the opportunity to have a second chance at life and it really got me thinking.

How many times does my dorm building have fire drills that I complain about? How many times do I take my time to leave my building because I assume it's just another drill, and I don't want to be stuck standing outside in the cold? Too many times.
I really understand now why fire drills and housing regulations are put in place. They may be "annoying" or "inconvenient", but they are there for a reason that outweighs any complaint anyone may have: safety.
People tend to really take life for granted. I know I have at one point or another in my life, but I won't take my life for granted through fire drills any longer. It's meant to prepare you for a real-life situation.
Because one day, "just another fire drill" could be something real, and I'm not about to lose my life out of ignorance.
So to all those who look at fire drills like they're stupid: take it seriously.