"Whenever I'm in the building, whether it's night time or broad daylight, if I'm in the building all by myself, then I'm hearing things or things are happening that I can't explain." –Scooter McMillian, Marketing Director, Interview with Chattahoochee Heritage Project, 2010.
Please keep in mind that this was not a solo investigation, as it was shared with Elise Wilson through its entirety. This is for you, Elise.
Let me first start this by saying that I do not believe in ghosts. But, when you devote your life to someone who claims to be sensitive to spirits, you choose to go along with it so that they stop fighting you about it. I hit my breaking point when my girlfriend claimed that a little girl was haunting the Springer Opera House in Columbus, Georgia. She and I live in Columbus, and I was not going to listen to her ghost stories about a local theatre when I could easily put this to rest. So, I decided to let Historical Evidence speak louder than words, and to prove this ghost right or wrong.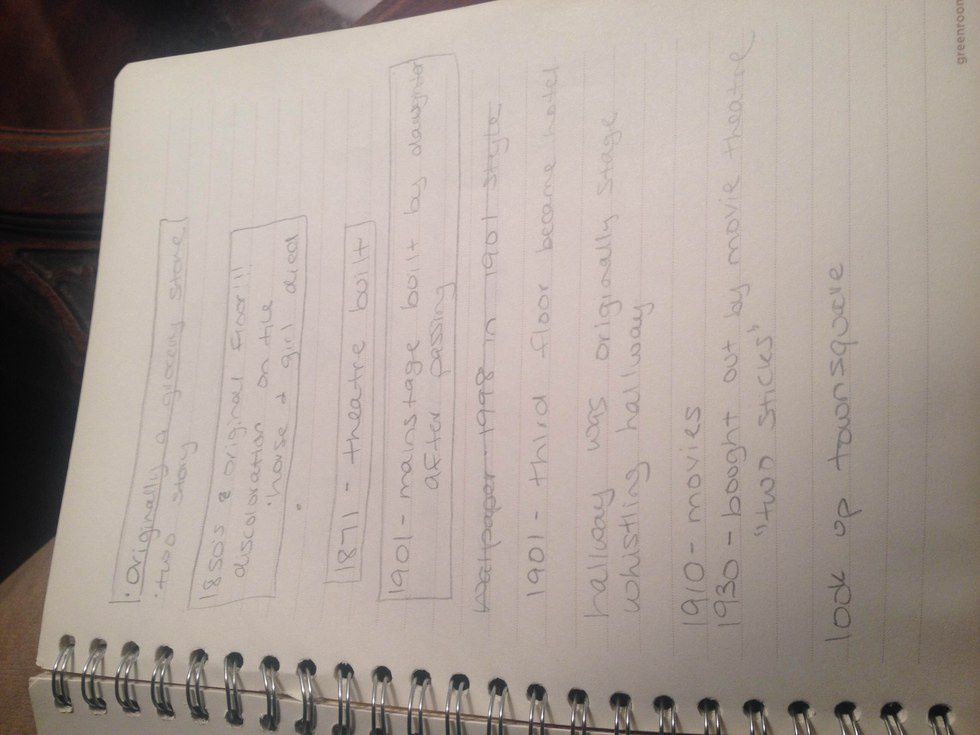 "I had originally heard the story of the little girl at Springer when my family had taken a tour of the Opera house in 2002. At that time I don't remember the staff going into much detail about the little girl other than that she had been trampled by a horse in the foyer which at one point had been completely open and accessible to horses. I then heard the story again when I was twelve." –Anonymous Interviewee
How can you historically prove a ghost right or wrong? By tracking down the legend behind the ghost. I have interviewed several people about the Springer's Ghost and have heard different details from each person, though they all have the same common story: back when the Springer was just a grocery store run by Francis Springer, a girl was killed by a horse, and now she haunts the place. More details to follow, but I found this to be a perfect scenario to track down the girl and prove if it even happened- fictional legend, fictional ghost.
"This was an open air market, and she ran inside on this very marble, and the horse followed her or chased her, whatever, reared up. The owner shot the horse, he died right here, on this spot, the little girl later died, and for whatever her little reasons are, maybe she loved the Springer like we do, she came back to haunt the Springer. A very friendly little girl." -Dianne Herpel, Springer Tour Guide, interview with Chattahoochee Heritage Project, 2010.
Diane was referring to a tile in the main lobby that has a stain on it- some say it is the blood of the little girl, some say the blood belongs to the horse, and of course some say that it isn't blood. I couldn't get a picture of the tile, so you'll have to go and look for it when you see a show there!
Again, over time the legend has suffered from miscommunication, as Melissa Hillier showed in her "Creepy Crawl Springer Opera House" video, where she says: "The Opera House is haunted by a little girl about 5 or 6 years old who was killed in the late 1800s by a horse carriage. She is friendly but likes playing little tricks on some off the staff and patrons." Was it a horse, or horse carriage? Does the horse even die in the theory she was told?
First, I turned to the Ledger-Enquirer and looked through archives for an article about a girl being killed by a horse in a supermarket. I couldn't find anything online or in local archives. I realized that I would be searching for a single article out of 200 years' worth of newspapers, which may not even be there. Before I looked for a news article, I first had to find the tightest time frame possible. To find that, I needed a death date. For that, the first thing I needed to do was find the girl.
Looking for the name of this "Springer Ghost Girl" was not easy. AT ALL. There is surely a hundred or more backyard family cemeteries that are not registered online, and hundreds more of unmarked graves that could contain this little girl. For my sanity, and for the fact that unmarked graves are usually from infants, I decided to write off all of them. This led my search to Linwood Cemetery and all surrounding cemeteries, private and public, that are registered online. I narrowed my time-frame to 1871-1900, which is the time that the Springer was just a grocery store, and then I narrowed the age to 5-10. To match the girls who fit this description, I printed out every single grave in Linwood Cemetery, and other public and private cemeteries. This took up a lot of paper, a lot of ink, and a Lot of time. I went through every grave, and circled every little girl who died age 5-10 in the years 1871-1900. In the end, I had about 30 girls.
Not all of these girls fit the description exactly, as it is very common for people to not have a birth and/or death date on their grave stone. So I took every name on the list and gave them a good old-fashioned google search. Every time I searched a girl that didn't have a birth and/or death rate, it was found through google searches and Ancestry.com. This was a great way to narrow people who were actually in their 50s/60s when they died. The biggest achievement of this practice was that I was able to narrow my list down to only 7 girls. While I looked at the list of these 7 girls, it was satisfying to know that one of them could be this "Springer Ghost Girl". It was even more satisfying to know that, if we could prove all 7 to not be the ghost, I could justify putting this matter to rest.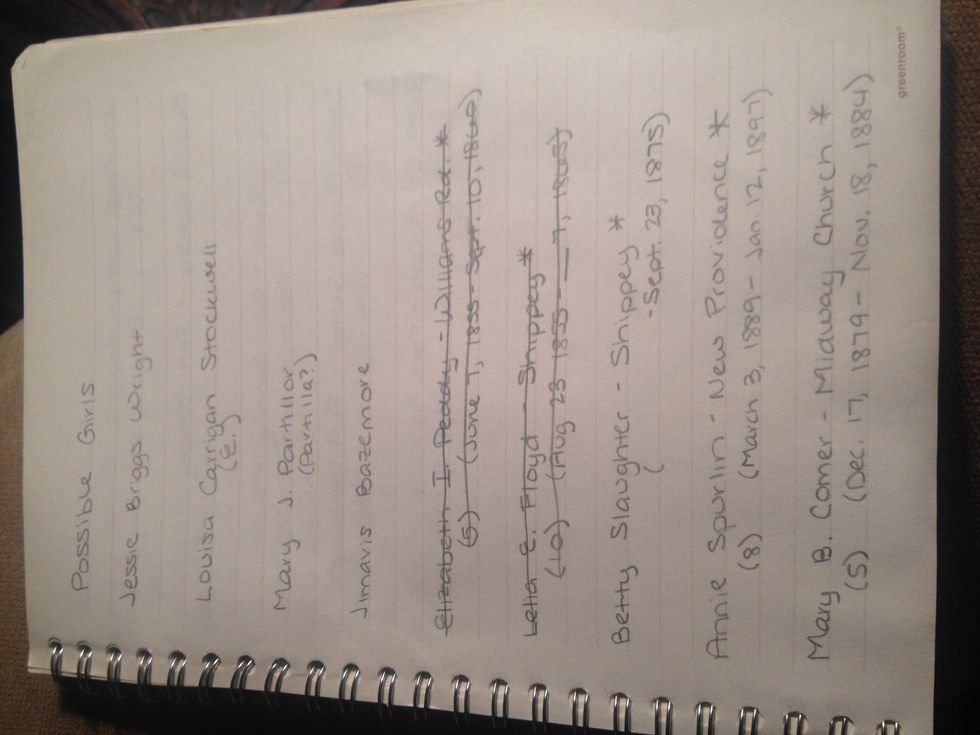 The next step in this story is where I started to actually be convinced that this ghost could be real after all. I was interviewing a friend of mine who claimed to have had an experience with one of the little girl while she was in a dressing room:

"I was in the Columbus Ballet's company and every year the Ballet performs their spring show at the Springer. That year we were performing Sleeping Beauty. My part was one of the last rehearsed so I would help clean up so we could all leave quicker. On the night before opening weekend I was hanging clothes up in the dressing room and I heard giggling. No one was in the room with me but I continued to hear giggling. I began to search around the room thinking it was another cast member trying to scare me but no one was there. I went about my work hanging and organizing clothing and I continued to feel as if someone wanted my attention. As I began shutting off lights I turned and caught a glimpse of a little girl in one of our costumes. When I turned the lights back on no one was there. So naturally I ran as fast as I could out of the room. Later other cast members started telling me that the little girl who was trampled to death likes to play in the dressing room and if you see her that means she wants to play with you. On one such occasion as I was relaying the story to another cast member one of the theatre staff members overheard me saying that I wished I knew her name. She informed me that her name was Louisa May. She then added in a spooky dramatic voice "It is said that ghosts only remain attached to a building or home if they have unfinished business. I wonder what hers is". I never saw her again but then again I didn't go looking for her." –Anonymous Interviewee
Knowing that I had not shown her my research or the list of names, I was astonished to find that one of the girls on my list was named Louisa. Of all registered graves in Columbus, I had 7 names, and one of them was named Louisa: Louisa Carrigan Stockwell, 1865-1874. Elise and I visited her grave in Linwood Cemetery, and had an anti-climactic Ouija Board experience. This could either be because ghosts don't exist, or because she wasn't there and was rather at the Springer? Could it be possible that this is the Springer Ghost, and that this horse incident occurred on August 22nd, 1874?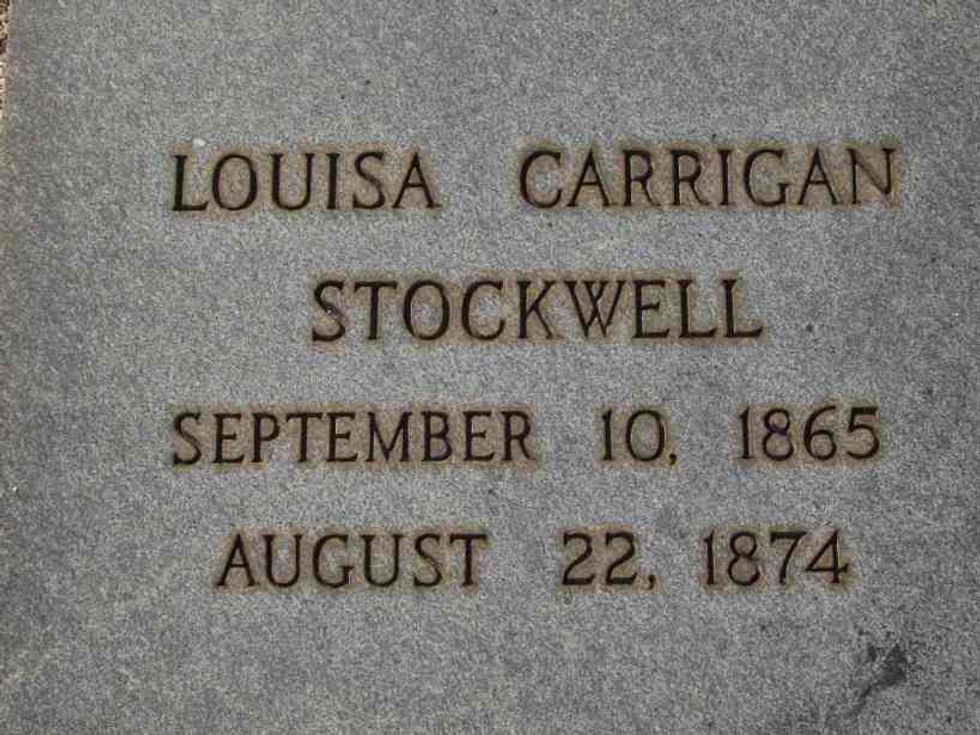 After I had my date, I again turned to find an article of some kind, talking about the horse incident- if I couldn't find that, maybe I could find an article about Louisa dying in a different way, and debunk her from the investigation. I called the Ledger-Enquirer, who directed me to the Columbus Public Library, who keeps every newspaper since the 1800s. I called them, they said that they have a huge amount of the records at Columbus State University's Library- I attend that University, so I go to the Archives. After searching through documents and not finding anything from August 1874, they direct me to the online records that have apparently been there this whole time. After searching for "Louisa Stockwell", "Springer Death", and "Springer Horse", I found absolutely nothing from 1870 to 1890. I took a small moment to feel bad for Louisa, who died without her name even being mentioned. But, I couldn't debunk her, because if it happened at all to anyone, it obviously wasn't on the Enquirer.
Lastly, I contacted the Springer once again with the information I had, in hopes to set up an interview with someone who could give me more information about the Ghost. Unfortunately, the person who would have been able to assist me is understandably a very busy man, and could not set up an interview with me. I decided this was a sign of a wall, and that I had done all that I could without going insane from research. This investigation has taken the better part of a full year, and it was time to collect everything and put it online for everyone else to see.
I visited the Springer a couple days ago, and walked on the lobby tile. Dianne Herpel was there, and she told me she had heard about my article/research and was excited to read about what I've found. What did I actually find? A girl that could possibly be one of the Springer Ghosts? I feel as if I let everyone down for not being able to find proof. But I will say this: I'm a believer now, and I will not stop here. I'll prove you are real, Louisa.

If you are in the Springer Opera House and see a little girl that doesn't belong, or if you see remnants of a girl playing dress-up in the costume rooms, or if you hear a little girl talking to you who isn't there- say hello to Louisa for me. I tried very hard to prove this little girl to be fictional, but historical evidence could not debunk this theory. There are several cases for this to be fictional: Newspaper never mentioned a death at the Spinger, for example. But, after all the stories I've heard, I have to say that this is pretty substantial. A part of me is happy that I left the final answer open to interpretation- please, try and find out for yourselves!