Spring has sprung and so has the itching for spring cleaning. Spring cleaning is usually when most of us get rid of our old clothes to fit some new ones. There's no better feeling than being able to shop till you drop for some new cute as heck outfits. And let's not forget the shoes because shoes are life.
But clothes aside, it's also important to clean the toxic people out your lives. And this article goes out to my best friend back at home who just did one of the most difficult, but probably one of the happiest decisions she has hopefully made. She made the decision to get out of a toxic environment that she was surrounded in for so long in her home.

And that has to be the most gut-wrenching experience for her to go through. Hell, it was difficult enough watching how frustrated she was in her home because her parents would simply not listen to her wishes and come to an agreement with her.
Everything she would tell me, I always gave her the best advice I could, but she became so wrapped in finding ways to make the people she loves happy that she was unhappy herself.
And feeling unhappy in your home, surrounded by your own family has to be the most sickening feeling all. But, at the end of the day, she made a decision to make herself happy. And it wasn't the way she wanted it to go down, especially with the lack of communication on her family's end that lead up to this point in her life.
The greatest downfall of any kind of relationship is a lack of communication and being able to come to a compromise together.
This is for anyone who had to cut someone toxic out of your life. Whether it was a close friend or family members. You did it to be happy, and that's okay. And there is nothing wrong if that toxic person is a family member, you do what you need to in order to be happy.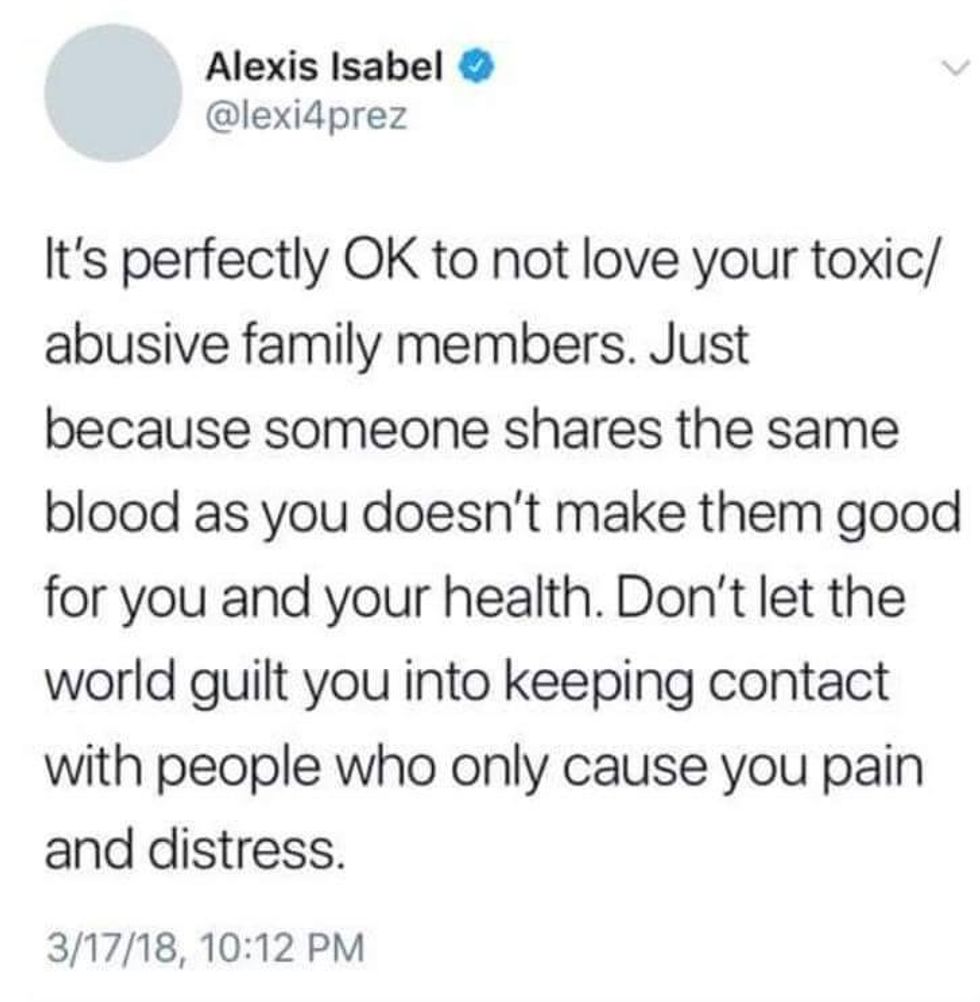 And hopefully, one day that person will see things from your perspective and try to come to an understanding of why you did what you had to do.
So never feel bad for cutting out toxic people, especially loved ones. Do whatever it in order for to grow and learn and just overall be happy with life. And if you are the one who that person trust the most, be there for them.
Give that person a support system and people they can lean on and trust to help them along the way.
The night my friend called me to tell me to come pick her, I was out the door in an instant wearing my pajama shorts, sandals, and a sweatshirt while it was snowing out. But I do know one thing, she seems to be happier now than how she was.
There will probably be days where she rethinks everything, and maybe thinks about different scenarios and how it could have been handled better, but I want her to know that at the end of the day she did what she had to do.
She gave more than she needed to try and fix things in the environment she was living in, but there's only so much a single person can do when the other party can't meet you halfway.
Don't ever feel bad for cutting out the toxic people, you're happiness deserves to be put first.