For twelve years they've been running. Every episode is filled with monsters that lurk through the night and a rush of adrenaline that can leave any viewer asking for more. One of America's longest running prime time television shows has been airing for so long that even fans who grew up watching the show are now introducing their own children to this horror-filled, adventure-packed program. Some are even working as crew members on the show. Despite it being the longest running sci-fi show in America, it's a program that's quite hidden from today's buzz like Game of Thrones or The Walking Dead. This not so well-known yet still running cult series is a show that started out as a flop but eventually rose to popularity thanks to its very devoted fans.
[rebelmouse-proxy-image https://media.rbl.ms/image?u=%2Ffiles%2F2016%2F10%2F30%2F636134140382766101-1393036493_supernatural-season-12-spoilers.jpg%3Fw%3D670%26h%3D377%26crop%3D1&ho=https%3A%2F%2Faz616578.vo.msecnd.net&s=712&h=7dfe6c4584ae7826c95f5e19484377d140cba8947f2f01a01cf04cf1bb3b9963&size=980x&c=252015027 crop_info="%7B%22image%22%3A%20%22https%3A//media.rbl.ms/image%3Fu%3D%252Ffiles%252F2016%252F10%252F30%252F636134140382766101-1393036493_supernatural-season-12-spoilers.jpg%253Fw%253D670%2526h%253D377%2526crop%253D1%26ho%3Dhttps%253A%252F%252Faz616578.vo.msecnd.net%26s%3D712%26h%3D7dfe6c4584ae7826c95f5e19484377d140cba8947f2f01a01cf04cf1bb3b9963%26size%3D980x%26c%3D252015027%22%7D" expand=1 original_size="1x1"]
Sam, played by Jared Padalecki (left), and Dean, played by Jensen Ackles (right)

As Halloween season is coming to an end, it's appropriate to write about one of the most well known series that have fans from all over the world and a household name when it comes to fandoms: Supernatural. First airing September 13th, 2005 on the WB network, the series was originally created by an interest in urban legends and went through several changes before it was successfully pitched. The story revolves around two brothers, Sam and Dean Winchester (played by Jared Padalecki and Jensen Ackles respectively). The brothers dedicated their lives as "hunters" after their father vowed to seek vengeance for his wife's death. Hunters are individuals dedicated to eradicating any supernatural creatures that were causing trouble. Some look up places that are experiencing problems with monsters while others are devoted to studying them.
The job itself is thankless, as those who are saved often are unaware of any supernatural existence. Hunters often have to take on jobs outside of hunting. Many steal or gamble in order to have some kind of income. The brothers, especially Dean, see themselves as heroes, and go by the family motto of "saving people, hunting things, the family business." After avenging their mother's death, an event that brought them into the world of hunting, the story transitioned to the setup of a biblical apocalypse, the return of a human eating species of monsters and the ancient battle between light and darkness.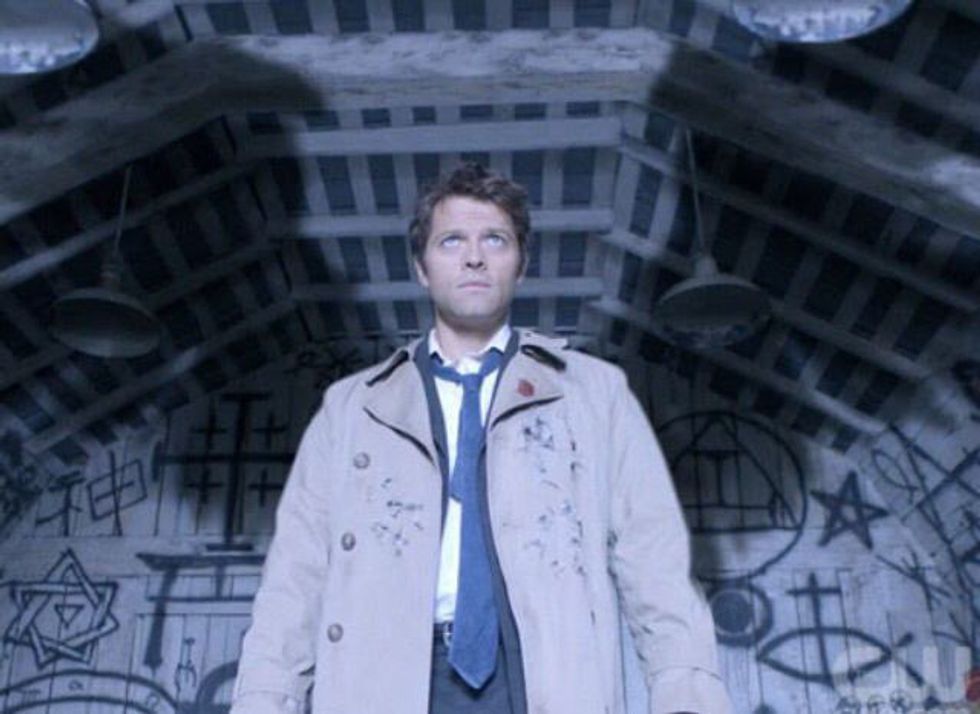 Misha Collins as Castiel, an angel of the Lord and a fan favorite character.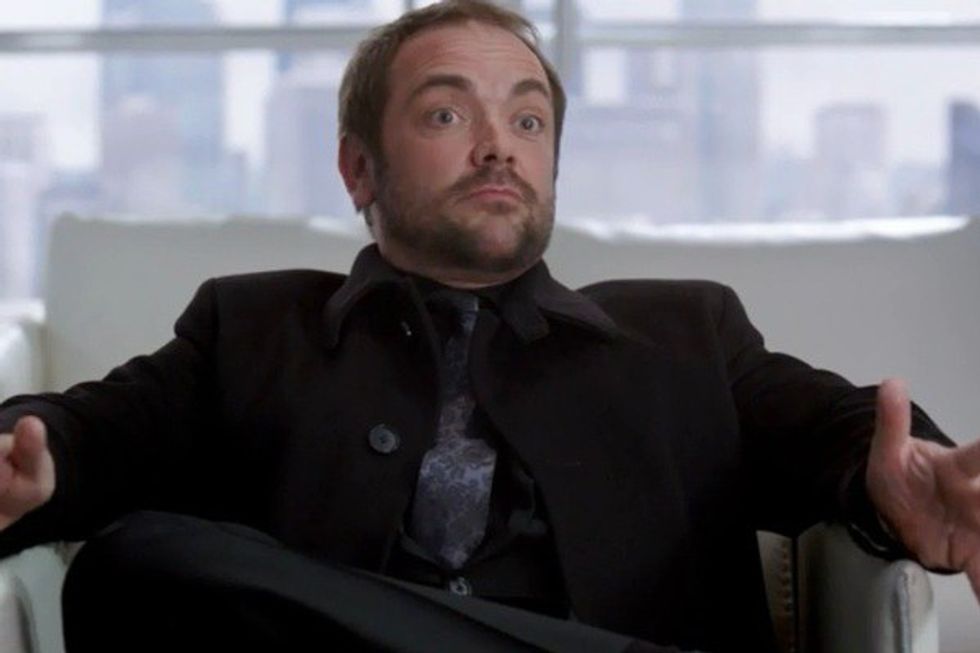 Mark Sheppard as Crowley, the king of Hell and recent addition to the main cast.

Even though the show's first pilot had low ratings, the show eventually grew, even after the CW network took over. A short-lived Anime series based on Supernatural and many spin-offs have been created throughout the show's history.
Originally, Supernatural revolved around Sam and Dean traveling to places known for their urban legends and saving any lives that fell victim to the monsters that made the legends famous. Each week, according to the creator Eric Kripe, was going to have a different legend as the focus of the episode. The vibe was going to be similar to modern version of a western filled with monsters and have a tone similar to horror movies. The duo would travel from state to state via their 1967 Chevy Impala while searching for answers of their father's whereabouts and possible reasons to their mother's death. Eventually, the series developed more into story arcs that include the fiery apocalypse, biblical monsters, and even more monsters from myths around the world. Occasionally, old and new references as well as humorous episodes will appear but still remain a part of the overall mysterious and shocking plot.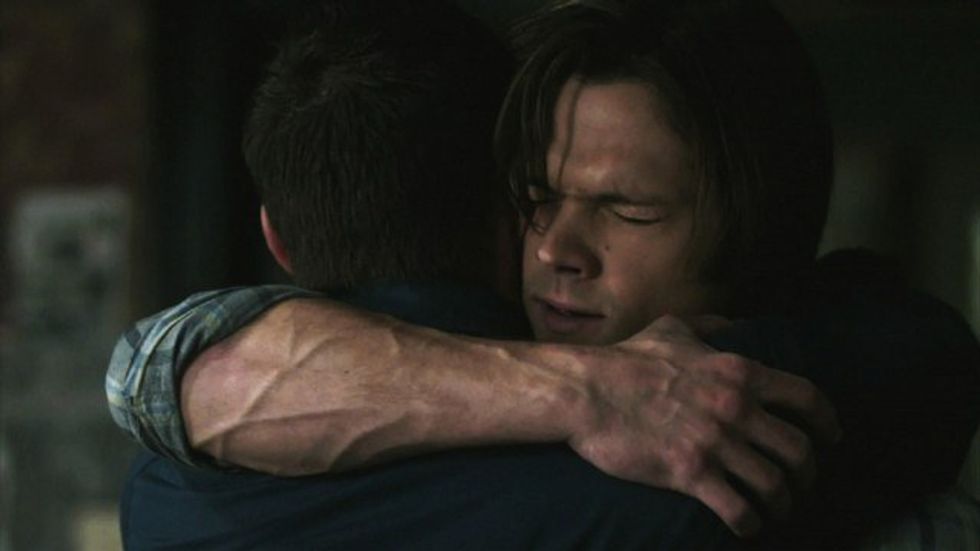 Both Sam and Dean can only rely on one another after experiencing traumatic moments throughout the series.

The themes in the show however, underneath all the masculine qualities of leather jackets and action-packed fight scenes, revolve around family and loyalty. The Winchester duo's brotherly love and loyalty towards one another stand out from all the blood and sweat. Throughout the series, they encounter individuals who eventually became part of their family and, as one character Bobby stated, prove that "family don't end in blood." It's probably one of the reasons why Supernatural is popular.
By tradition, fandoms call themselves nicknames that reference the show they are supporting-- like BeyHive for Beyonce fans and Tributes for The Hunger Games Series. Supernatural fans call themselves, in reference to Supernatural's theme, the SPN Family.
SPN family often consider their members as part of their own family. Many fans often praise Supernatural and their fandom for helping them out through tough times. Fans would often pour in support for members who need it, usually though donations or words of encouragement. They also often joke about the show's occasional absurdity-- like how GIFs created by clips from the show can be used to react to anything.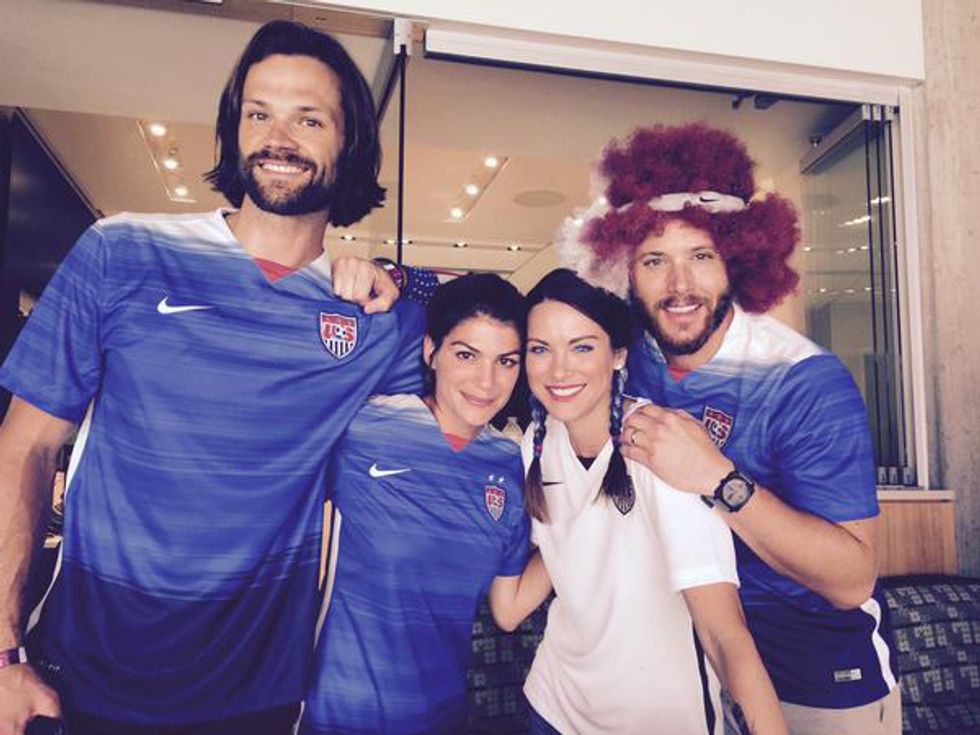 Padalecki and Ackles watching the 2015 FIFA Women's World Cup with their wives.

Even the actors consider themselves to be part of the SPN Family. The four main casts that includes both Ackles and Padalecki and two other actors Misha Collins and Mark Sheppard are very close to each other. The actors are known for their on-screen chemistry with one another since their first debut on the show. Padalecki often reminisces about how he met his wife, who was a former recurring actress on the show. Both he, Ackles, and Collins discuss about how their own children get along with one another. Though Mark Sheppard was a recent addition to the main cast, he was welcomed warmly by both casts, crew members, and even former guests from the show. Behind the scenes show both the casts and crew often mess around with one another but overall respect each other. Some actors and former actors even got the chance to be the directors in certain episodes. Former guests on the show would regularly interact with the main cast and some even hold viewing parties where everyone would watch the show together.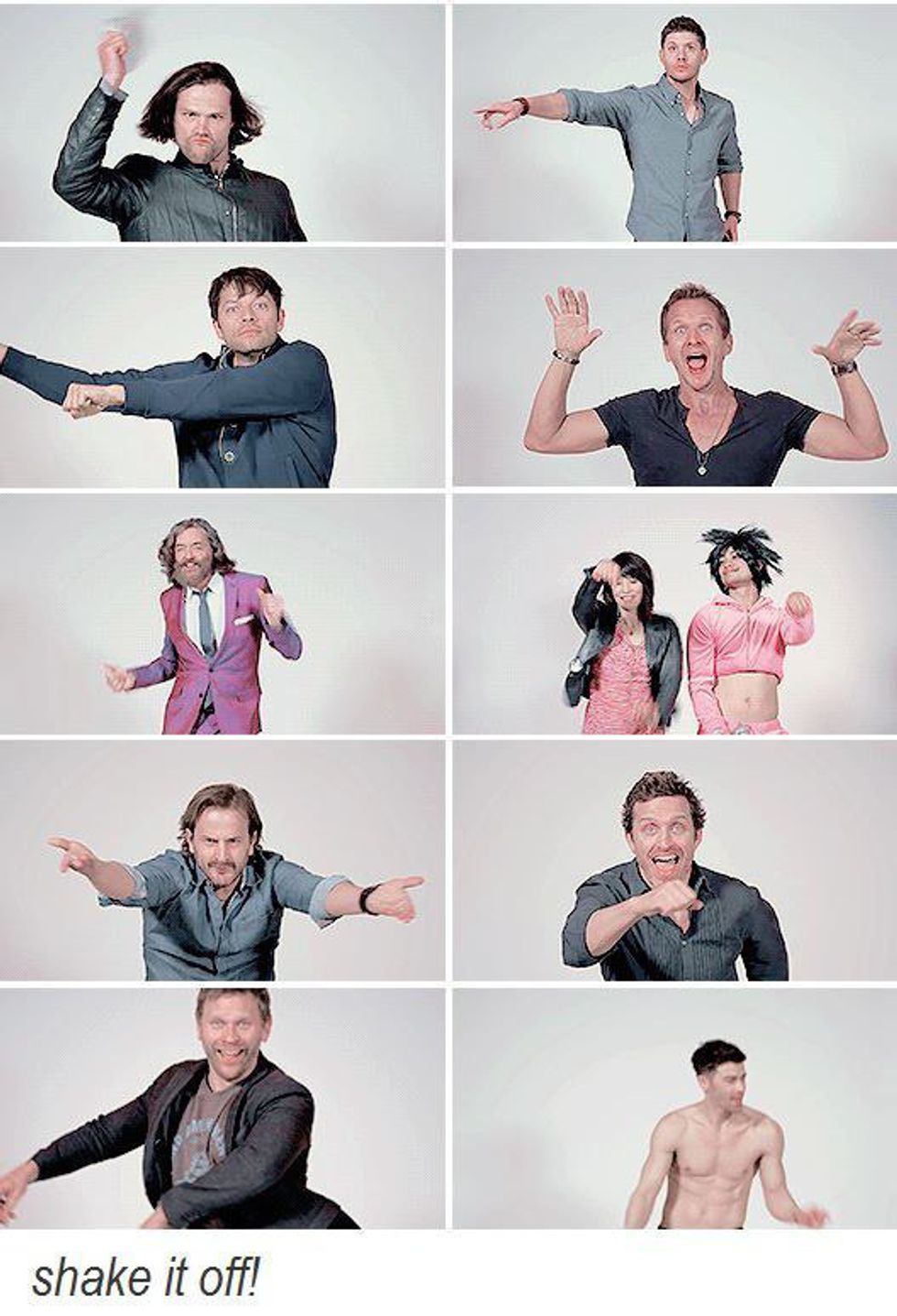 Current and former cast members participate in a parody video of Supernatural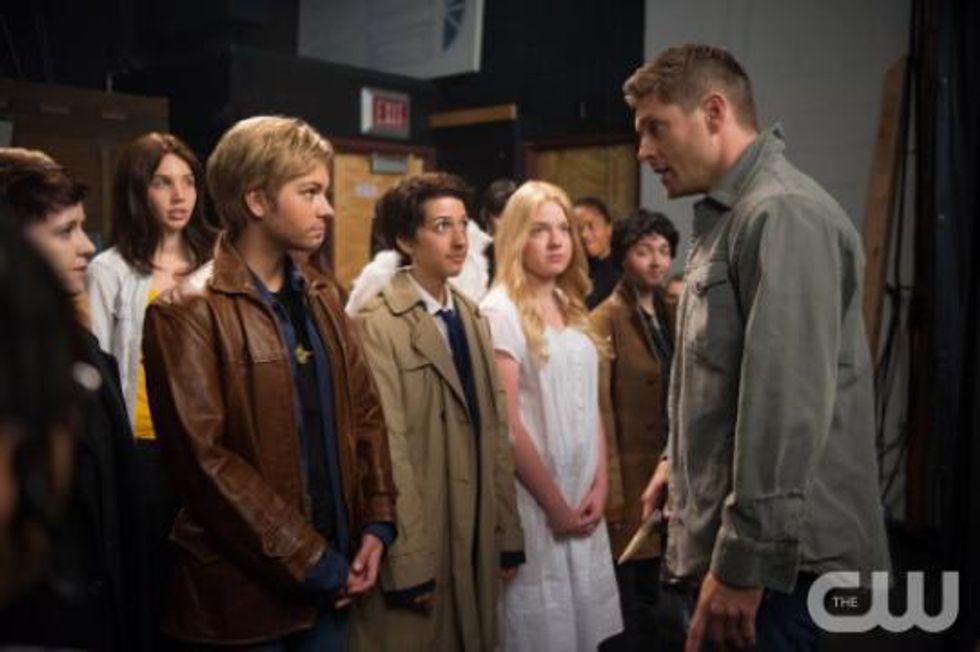 The series' 200th episode involving a group of students creating a musical based on the show itself.

What kept Supernatural running longer than expected was the devoted fans and how the show interacts with them. The show itself was expected to end after season five but continued to be renewed each year up to 2016 due to popularity. As a cult series, fans are also known for creating a variety of merchandises like artwork and creating costumes. The show itself has taken noticed and would often write the show's script based off the fandom's requests. From breaking the fourth wall multiple times to subtly putting in fanservice in their episodes, the fandom often appreciate the show's skill in writing the fandom's preferences into the show without compromising the plot's direction.
The show also engages in a lot of meetups that allow fans from around the world to meet the actors and interact with them-- sometimes even being involved with a fan's artwork. These conventions are held annually and also include San Diego Comic Con. Former fan favorite guests from Supernatural are also invited to the conventions and activities include asking questions, photo shoots, and a karaoke party. Actors openly discuss their personal lives outside of the show, and in an odd twist, fans are respectful enough to not violate it. Occasionally, their children will make appearances and interact with the fans too. As a dedicated fandom, many members often give gifts to the actors as a sign of gratitude. One fan even gave Jared Padalecki s a handmade game of chess that she personally designed and has hand-carved pieces representing characters and symbols of the show.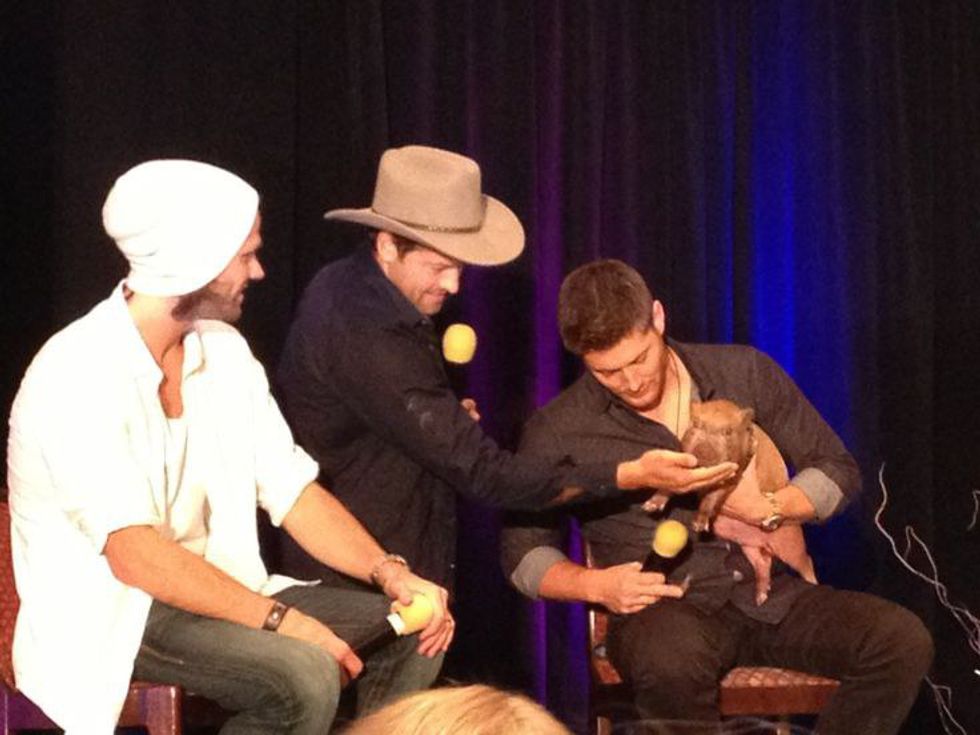 Ackles, Padalecki, and Collins interact with Icarus, an emotional support animal training at the time.

The actors have taken notice of how connected and powerful the SPN family are. During their conventions, they often auction off the show's costumes or props to the fans and donate the proceeds to charities. Many of them participated in charity acts outside of the show. Two main cast members, along with the help and support of all the other cast and crew members, are known for their current open charity projects.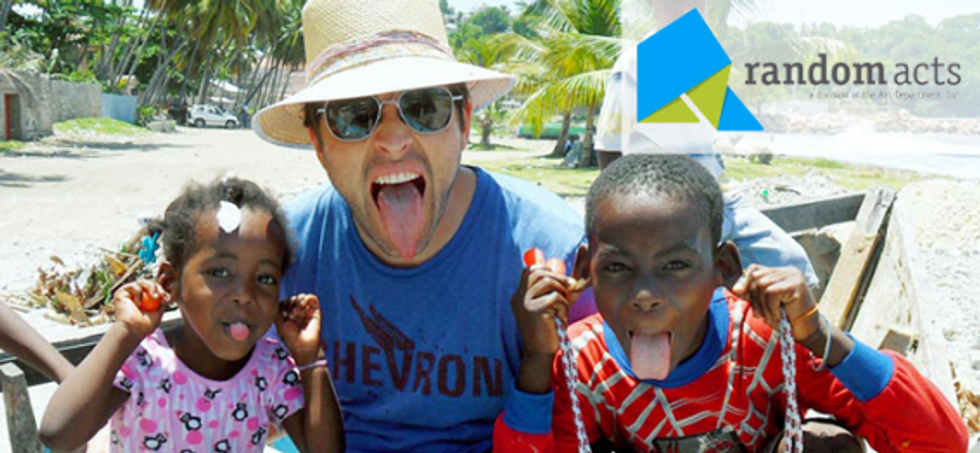 Collins dedicates to helping those in need and encourages others to do the same.
Collins, inspired by the people who generously helped his family in the past, created a charity known as Random Acts. Their motto is to conquer the world one random act of kindness at a time. Money that has been donated goes to programs that build schools in developing countries or random families from around the world that are struggling to get by. Their famous annual event, The Greatest International Scavenger Hunt the World Has Ever Seen (or GISWHES), is a scavenger hunt where participants must try to complete the most amount of activities listed within a week. These activities often reference to Supernatural but are usually very silly. Some activities include taking a picture of a nun going down a water slide to donating money to provide medical care and education for a refugee family. Activities are chosen by not only the GISWHES coordinators but also the actors on Supernatural. The event even broke some world records. Winners would be given a paid trip with Collins himself and money collected by the event are also donated to continue acts of random kindness around the world.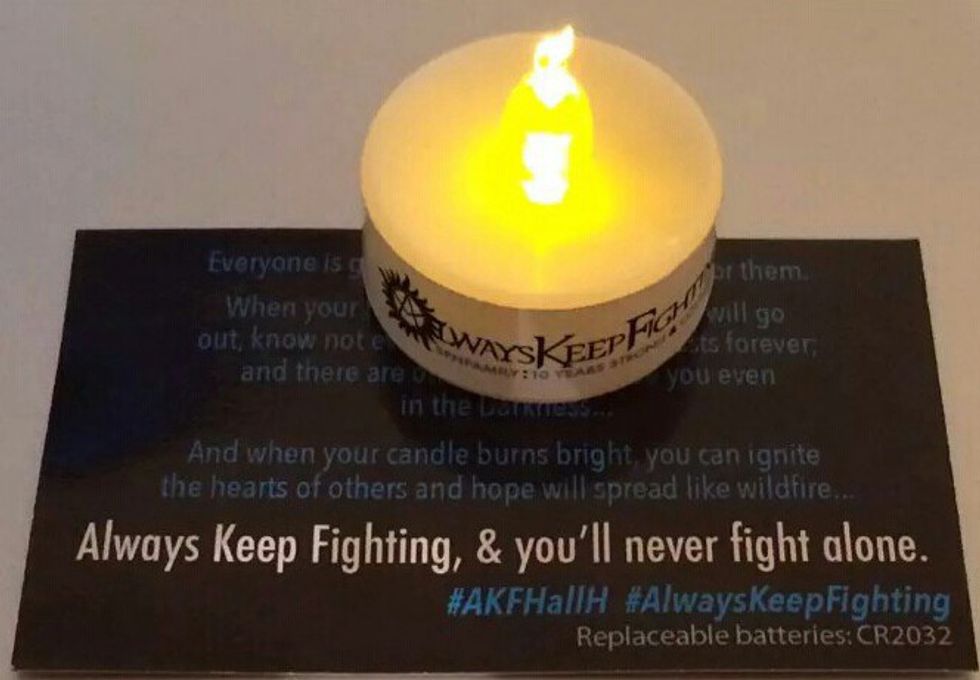 A surprise event during a San Diego Comic Con panel where fans showed gratitude to Padalecki for his campaign and courage.

Padalecki also created a campaign called "Always Keep Fighting." As a person who suffers from depression and lost many people to it, Padalecki was inspired to create this campaign as a way to spread support beyond the fandom. He, with the help of his co-stars, advertised and sold Supernatural themed t-shirts that sport the campaign slogan. Profit from the sales are donated to charities focusing on mental illness and suicide prevention. Many Supernatural fans who also suffer from depression applaud Padalecki for speaking openly about depression and the Supernatural cast and crew's support in helping individuals trying to overcome it. Other slogans like "I am enough" and "Family has your back" is also used on other t-shirts, and some are signed by the casts and given out by random.
If you're looking for a series to marathon this Halloween, Supernatural has the intensity seen in the zombie encounters of The Walking Dead but also the emotional and comical moments that mixes well within the series. You will enjoy seeing the Winchester brothers hunt ghosts, vampires, werewolves, shapeshifters, angels, demons, and other mysterious creatures of the night. While the action-packed scenes and touching moments brought fans in, the SPN Family's supportive environment and the cast's involvement with the fandom is one of the reasons why many viewers continue to stay in the fandom and continue watching the series. Season 12 just premiered about three weeks ago and the show airs every thursday at nine pm/ eight pm central. Older episodes are available on Netflix and DVDs are available up to season 11.