I shouldn't be surprised at the complete and utter idiocy coming out of a celebrity's mouth this week, but I am. Honestly, though, explain to me where in the world you come up with an idea to shoot a gun at a representation of the PRESIDENT OF THE UNITED STATES OF AMERICA and think it's a good idea. Just some background, the music video for his new song "Lavender" consists entirely of clowns. At one point there is a clown who very obviously is meant to be Donald Trump and Mr. Dogg pulls out a gun, aims it at the President, and pulls the trigger, releasing a cartoonish "BANG!" flag. Utterly ridiculous.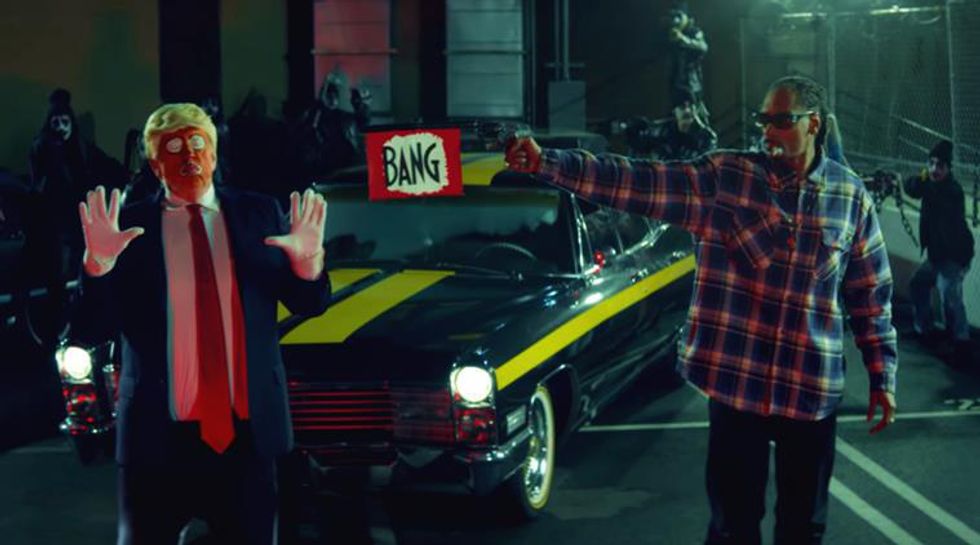 I don't care if he's "not your President," (which he is, btw) you need to grow up and act like a civilized human being and not fake assassinate our President. It's childish and if this happened during the administration of any other President who people respected, this would not stand.
But wait, just like a bad infomercial, there's more! Bow Wow (seriously, where do these people come up with these names?), Snoop Dogg's used-to-be-young protégé, wrote up a cute little tweet that he thought was oh so funny alleging that he and Snoop Dogg would "pimp," i.e. prostitute, Melania Trump, the First Lady of the United States.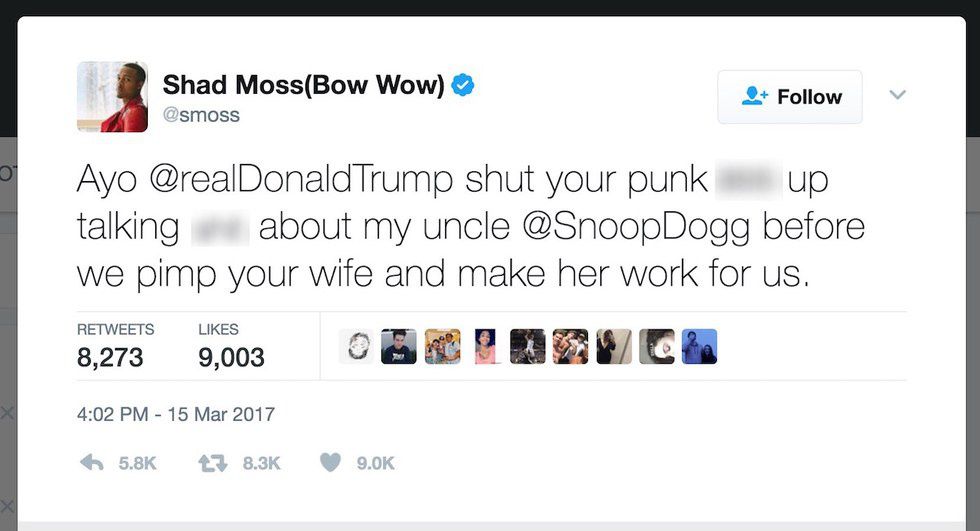 You're cool.
Obviously, you shouldn't be making threats about sexually abusing anyone, but the fact that this is Twitter makes it so much better. Because guess where that tweet is now. Not on Twitter. He deleted it, showing me my favorite thing about social media. The internet, the fact that you don't have to see the person to say those things makes you bold. I guarantee you that Shad Moss would not threaten the First Lady if he was standing in front of her or her husband.
Because Hollywood has expressed disapproval of our President and America has an approval of Hollywood, we sweep over this. It's fine. It's just two rappers doing what rappers do--make baseless threats and accusations that they have no intentions of following through on. And they better not. Just accept that Donald Trump is the President for the next four years and you can either through water or gasoline on the fire that is America. Choose wisely.