If you haven't heard the intoxicating beats in Slayyyter's mega-hit "Mine," your online presence is lacking and you're missing out. The single, which was released this past Valentine's day, has taken over the internet and launched Slayyyter into online super stardom. It's been well received by the public and has since taken over the club scene. There's a new wave of pop music, and Slayyyter is at the forefront of it.
Mine www.youtube.com
The 22-year-old singer has racked up just over 30,000 Twitter followers and officially started her music career because of the platform. The St. Louis native also provides a tasteful combination of post-2010s pop and mid-2000s aesthetics, which is why "stan Twitter" has taken a strong liking toward her eclectic style.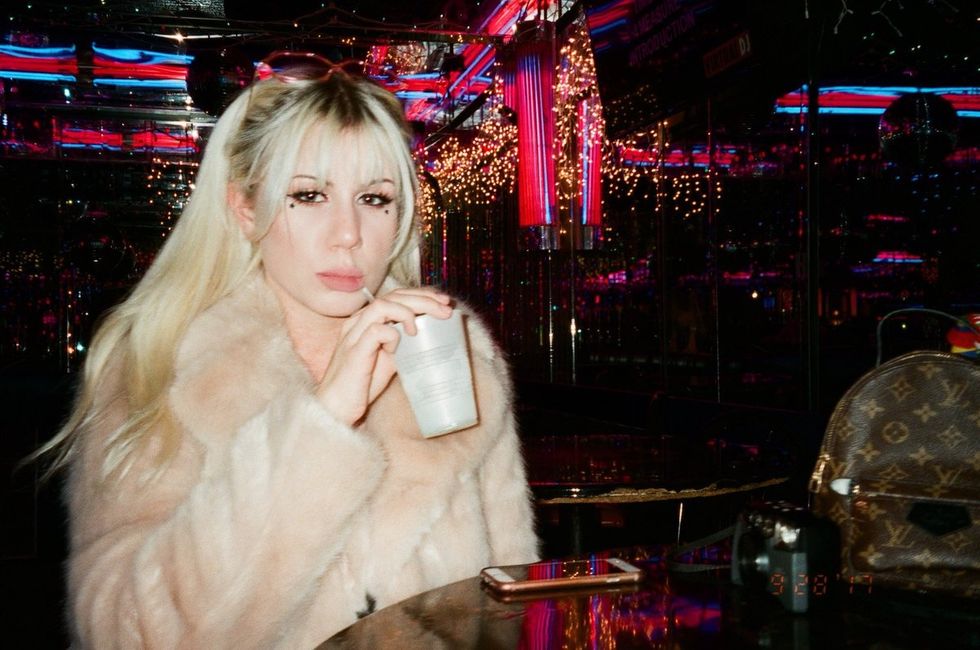 Slayyyter / Twitter
Here are four reasons why she's the internet's favorite pop star.
1. She's Charli XCX approved.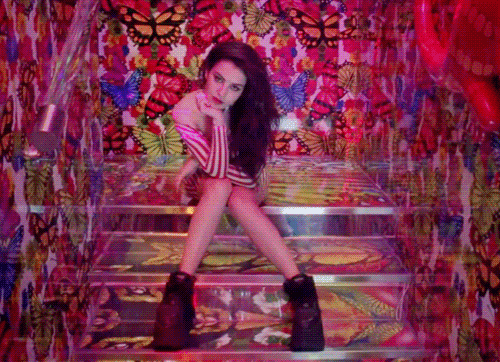 Charli XCX circa 2013.
Giphy
Slayyyter, whose fan base is primarily made up of mutual fans of Charli XCX, has received recognition and approval from the "Boom Clap" singer herself. Every so often, Charli XCX asks Twitter for their music recommendations to add to her personal playlist "THE MOTHERFUCKING FUTURE," and Slayyyter made the cut. Since Slayyyter's music style is slightly reminiscent of XCX's early synthpop club-banger days, it's no surprise that the pop stars are fond of each other. Here's to hoping for a Slayyyter x XCX collab!
2. She's all for equality.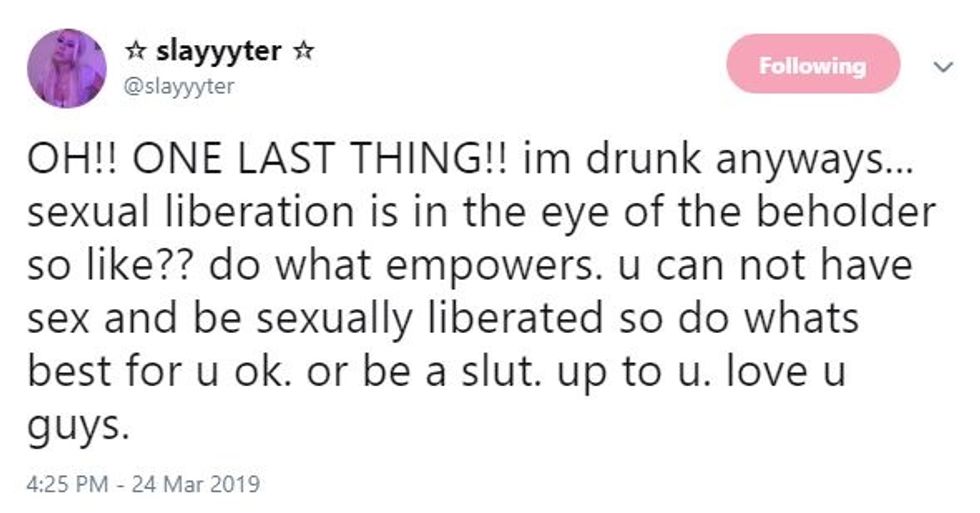 Slayyyter / Twitter
In the tweet above, Slayyyter expresses her perspective on sexual liberation. Though it's not explicitly stated, the underlying message of the tweet is highly impacted by feminism. At the end of the day, it's all about living your best life and doing "what empowers."
3. She's like 2000s Britney meets post 2010s internet culture.
The production on some of Slayyyter's most popular songs is highly influenced by The Neptunes' work with Britney Spears in the early 2000s. Slayyyter has exclusively worked with producer Ayesha Erotica, who takes inspiration from that era of pop music. Though most of Slayyyter's discography can take you back to the early 2000s club scene, "Alone" and "BFF (featuring Ayesha Erotica)" are the most reminiscent of Spears.
If you mix 2000s Britney with post-2010s internet culture, including slang inspired by "Stan Twitter," you'll get Slayyyter.
4. She's self-made.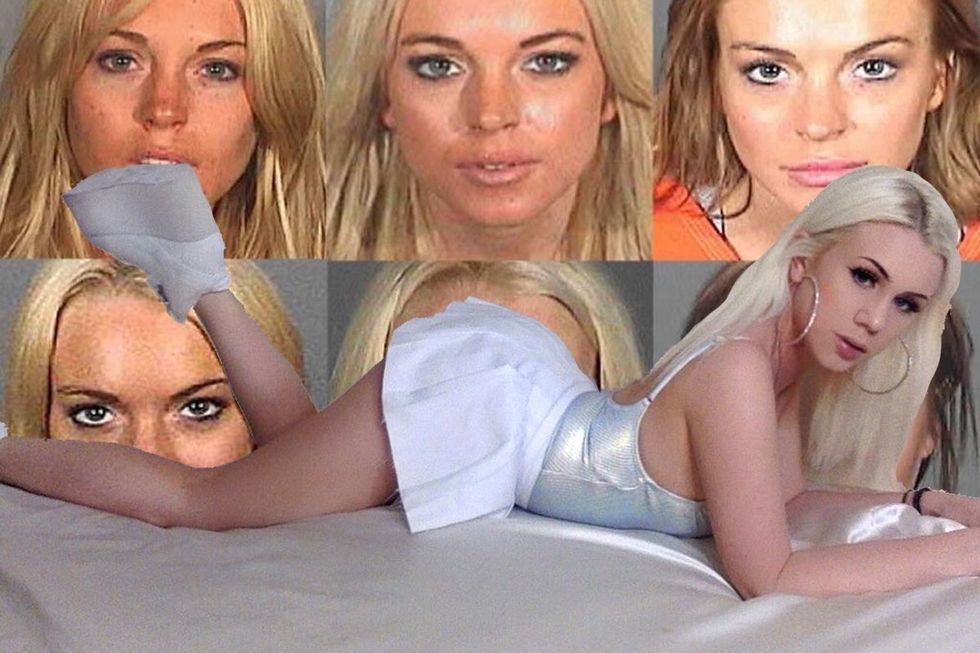 Slayyyter serves a mid-2000s aesthetic while she revolutionizes the future of pop music with post-2010s internet culture.
Churchofpop.net
Although the 22-year-old singer has skyrocketed into a well-received music career, she's still working a nine to five job. She's a receptionist at a hair salon in her hometown, St. Louis, Missouri. In an interview with PAPER magazine, Slayyyter said that when she gets home from work, she "just go[es] to [her] closet, which has a cute recording studio setup" and she makes music until she goes to bed.
Although she's lived in a small town her whole life, Slayyyter is producing exhilarating pop music on little-to-no budget with the help of stan accounts on Twitter. Despite being an independent artist, her music is fresh, exciting and sounds like it's being made with a large budget and high-up studio executives.
"People from labels have been reaching out lately, which is so weird. This is all really weird," the singer told The Fader.
If you don't know who Slayyyter is, buckle up. Soon, she'll be taking the world by storm.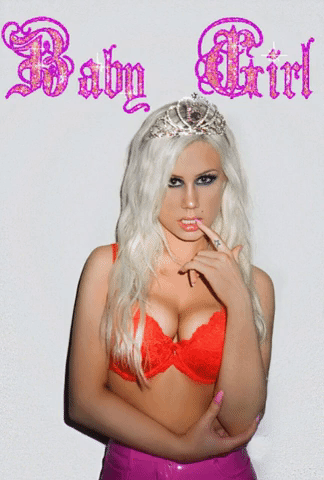 Slayyyter / reddit