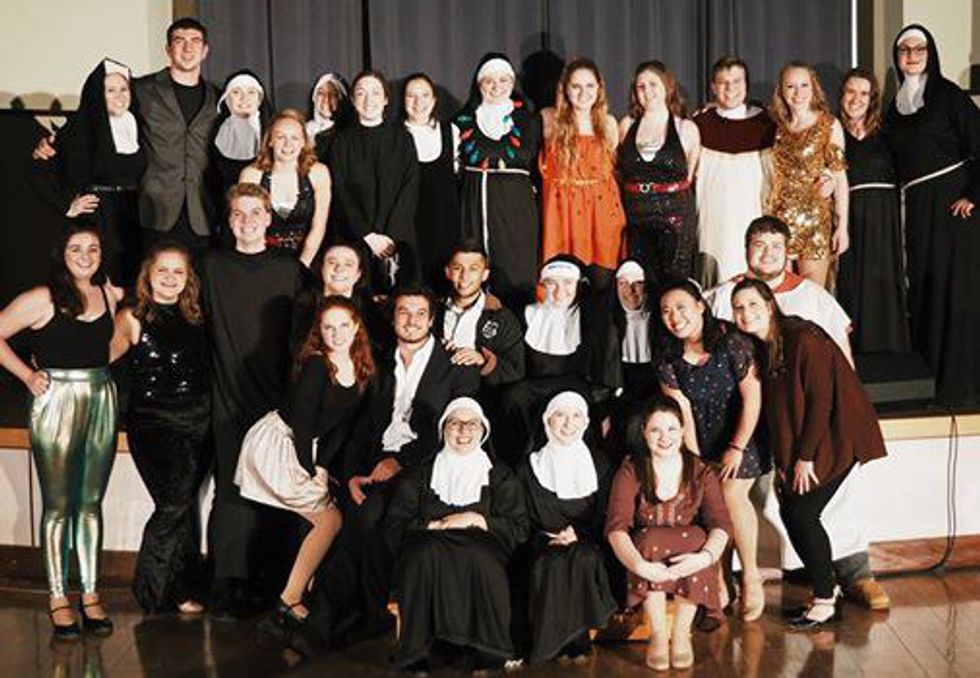 When you hear a musical features a cast of nuns, 'exciting' and 'lively' are not two words that come to mind. On January 27 and 28, Stonehill College put on the show Sister Act. Sister Act follows Deloris', the protagonist played by Jessica Dudra, desire to rise to fame. Deloris witnesses her boyfriend murder a man, and Deloris' boyfriend vows to kill Deloris as well so he won't go to jail. To protect Deloris from her evil boyfriend, she is put in a convent, a place nobody will expect to look for her because of her spunky and wild personality. Deloris transforms the convent from being dull and quiet to lively and fun. The show, filled with a variety of energetic yet touching music, colorful lighting, funny and endearing acting, was nothing less than perfection.

It was clear to the audience the hard work and care each member of the show put into Sister Act. Starting with the actors: they were flawless. Every person on stage was fully immersed in their characters. From the moment the curtain opened and the lights hit the stage, the show was bright and filled the room with energy and excitement. Deloris, played by Jessica Dudra, was a presence on stage. Dudra had full control of her voice and it was easy for the audience to get a sense of her character. Her back-up dancers and singers fit her well, and meshed with the scene. The dancers were obviously well practiced, and made the difficult choreography look easy. It was nothing but flawless onstage while the sparkling girls were dancing and singing around Deloris.
The nuns all had a different characters, which was realistic and made the show more interesting. Each nun embodied their characters' story, and became the nun they were meant to play. When they first came out on stage, screaming instead of singing, it was concerning that they were trying to sound good. But, then it was clear that the nuns needed the influence of Deloris to improve their sound together. The variety of voices in the nun choir was robust and worked well together. It was clear that each cast member in the nun choir was a singer and enjoyed being on stage in the presence of each other. The nun choir was relatable because of their struggles, but funny and light-hearted at the same time.
The mother of the convent, played by Lauren LoRusso, was incredible. She truly had mastery over her voice and controlled every note she hit. Her voice was soft yet strong and carried throughout the whole room. Her ability to draw in the audience and connect was noteworthy. It was clear that she was experienced and had a comfort on stage.
Along with the females in the show, the other male cast members were impressive as well. The gang, played by Jill Oliver, Matt Mullen and Jose Montalvo Ferreiro were the group trying to find Deloris and kill her. Played by one female and three males, their group formed well with each cast member and there was a natural connection between the cast members and characters. Their vocals were strong individually and as a group. In addition to the gang, Sweaty Eddy was a character that all audience members could relate with. He was a vulnerable character who was weak and rose to a strong and powerful place of confidence. Sebastian Patino, who played this character, had the perfect stage presence for Sweaty Eddy and really made the audience believe in his characteristics.
The show would not be possible without the people behind the scenes. From the lights, backstage crew and direction, I can only imagine the hard work into putting on a near flawless show like this one. It is commended and noticed that perfection is no accident. It is hard work and effort that go into creating a whole show and being the wind beneath the wings.
Overall, Sister Act was something that stuck with me for not only hours, but days. It was a fabulous show that made me excited to see future Stonehill performances. Congratulations to all who were in the show, and I cannot wait to see you in future shows!