Let's face it, friends: my bank account has taken a beating. Hard. Real hard. Being a sorority girl has completely drained my debit card, from swaps to date parties to feeling pressured to never wear the same outfit twice on my Instagram. I think I maybe have what, like $8 left in my account.
Last week it was makeup. This week it's athleisure skirts, because God knows I'm not gonna hit the gym with this bronze-y glow I bought in a bottle. I spent all summer working my first job that didn't pay me under the table only to spend my entire paycheck at the same place. The whole concept of "treat yo self" isn't lost on me. I have a slight problem, and it's only made worse by the fact that all my favorite stores have apps that are conveniently downloaded onto my phone, so then everything I could ever want is just one click away.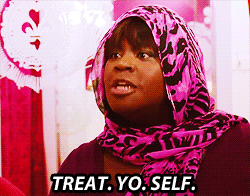 Giphy
As someone whose favorite holiday is Black Friday, you may be wondering why I am so tired of consumerism, besides my obvious bankruptcy situation. The fact of the matter is, I'm tired of constantly being berated by advertisements telling me I need all these new products. It seems like more than ever before, social media is becoming more and more just a string of advertisements, one after another. It's not just brands advertising anymore; it's influencers and friends and even those weird stranger girls that DM you on Instagram saying, "Hey gorgeous! You look poor and desperate! Would you like to make a small amount of money each month selling so-called "miracle" products you have to pay to even try out?"

And God, these products aren't even GOOD. Brands are so uncreative these days, they're not just copying each other (hello, Anastasia Beverly Hills and Maybelline); they're copying THEMSELVES. Tarte Cosmetics is literally releasing a holiday palette that is a copy of a palette they had in the summer. Too Faced Cosmetics thinks they can slap a happy face on a piece of fruit and all of a sudden it's "creative packaging."
I'm sorry, but the Annoying Orange already thought of that, what, like ten years ago? Don't even get me started on the unicorns and mermaids trend. As someone who is basically still a toddler, I absolutely love a good unicorn product. I have a unicorn lamp in my room. But I'm so tired of brands taking trends and running with them so much and for so long that the novelty wears off. Like if one brand does mermaids, maybe someone else should do fairies? Or trolls or gnomes or hobbits or something (I mean, who doesn't want to look like they guard a bridge?) People NEED to do their OWN thing. We love an original sister.
And then we have these influencers shoving these boring products down our throats like they're the next best thing since sliced bread. Like can they make it any more obvious that they have zero taste when they're trying to sell us ANOTHER red-toned eyeshadow palette? Been there, done that. Stop acting like it's new and cool because it's neither. It just makes it look like you're desperate for money. It may be your job, but you don't have to act like Schmeagle or whoever that character is from Lord of the Rings who freaks every time he finds money.
All in all, people need to stop pandering goods to us until they can actually think of a good reason why I should add another eyeshadow palette to my collection of forty. All my makeup is going to expire before I even have time to open half of these palettes, so I think it's time we all stop.