Allow me to start off by saying that I absolutely detest the "celebrity worship" mentality of our society. Personally, I find the obsession that the vast majority of my generation has with those in the limelight to be rather upsetting. That said, I just needed to write something about Shia LaBeouf and his strange antics as of late. You see, I'm interested to find out what exactly drives Shia, why he does the things he does, I want to delve into what I think is going on with him.
The goofy and at times awkward kid that I knew as Stanley Yelnats from the movie "Holes" has been all but erased from existence. As time as gone on in Shia's career and he's become a bigger and bigger star--playing the lead in the blockbuster "Transformers" films--it seems he's committed more and more to a very strange path in life.
Let's flashback to the early days of Shia's slow deconstruction of his public image when he was accused of plagiarizing the work of Daniel Clowes when he made a short film titled "HowardCantour.com," which was evidently an almost exact copy of Clowes' comic book "Justin M. Damiano." Shortly after this revelation, Shia went on to apologize through his Twitter account, AND each apology he posted was clearly (and possibly intentionally) plagiarized from the likes of Kanye West and Tiger Woods.
---




Top: Shia channels Tiger's apology following his cheating scandal.
Middle: Shia repeats Kanye's apology to Taylor Swift.
Bottom: Shia uses Robert McNamara's comments on the Vietnam war.
---
After all the plagiarism was said and done, Shia announced his retirement from the public eye and appeared at a press event for one of his films with his face hidden under a brown paper bag which featured the words, "I AM NOT FAMOUS ANYMORE" written across it. A move which honestly drew even more attention to him and quite possibly increased his fame and presence in the minds of the public.
---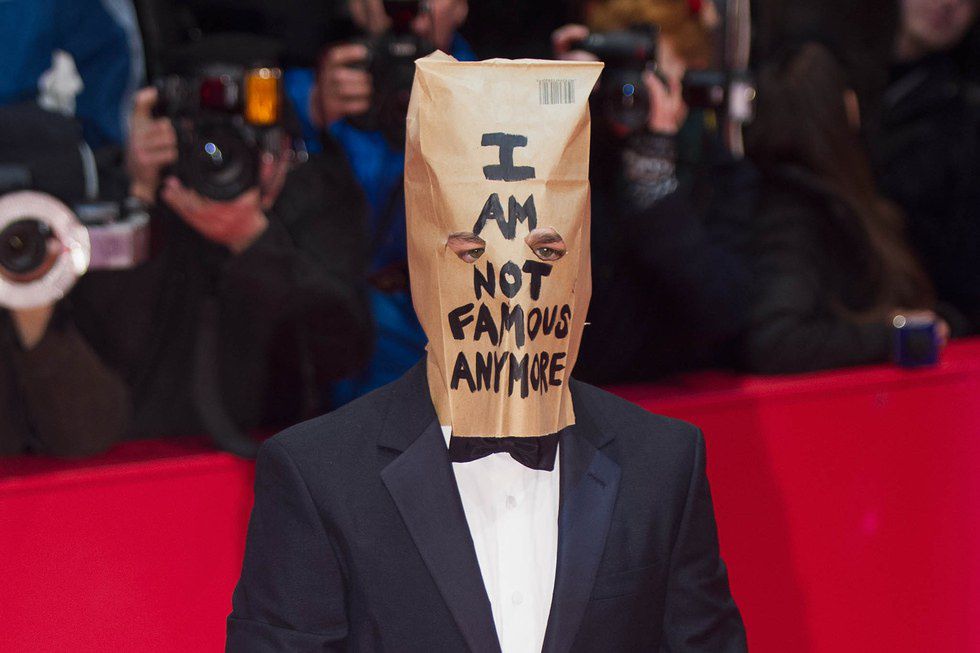 Shia goes public to announce that he will no longer be public.
---
Shia's strange behavior didn't stop there; our man would go to great lengths to prepare for his role in the 2014 World War II thriller "Fury." Shia's method acting included joining the National Guard, taking up the Christian faith and getting baptized, cutting his face with a knife, pulling out one of his teeth, and abstaining from personal hygiene for four months. I actually saw "Fury" and thought that Shia did a great job, so perhaps the level of preparation that many would consider crazy really did give Shia the edge in his performance.
---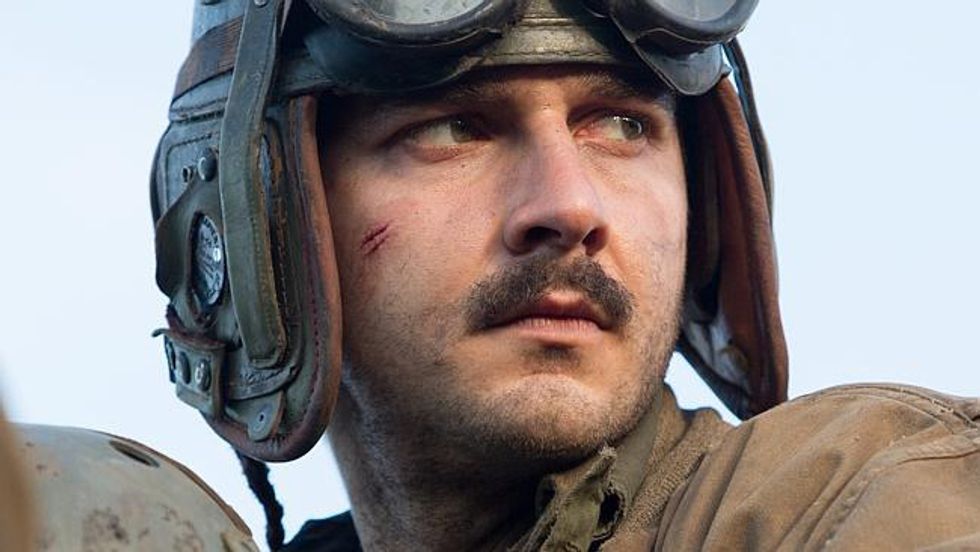 Shia LaBeouf's character in "Fury," notice the self-inflicted cuts on his face.
---
Just recently we were graced with another addition to the ever growing list of Shia's odd actions. Shia recently helped out some students at London art school Central Saint Martins. These students were tasked with producing short scripts on any number of topics, "with the emphasis on expressing the feeling and tone of the work being introduced." Well, Shia took it upon himself to act out 36 of these scripts in front of a green screen, the most notable of which is his intense motivational bit, which has become known as "Just Do It" (WARNING: intense emotion in video).
At this point I feel as though Shia is completely aware of how nuts he has been acting and is just going with it because that's just the person he wants to be. If that is truly the case then I have nothing but the utmost respect for his resolve and dedication to his chosen path in life. A lot of people would argue that all the fame has gone to Shia's head and he has slowly lost it and is crashing and burning in front of us; I would disagree with that sentiment. I'd like to think that Shia is just one of those people that no one will ever be able to crack, he's just a weird guy. While I set out to try and discover what makes Shia tick it seems I've reached the conclusion that I can't really do that, no one can, he's an enigma.

In a generation where everyone is obsessed with the lives and actions of their favorite glamorous celebrities, I feel as though Shia LaBeouf is the both hero we need and the one deserve.