After years of being treated like a sex object in high school and college, I've come to the sickening realization that, although boys do have to stop treating girls like sex objects, it's up to the rest of us to make it happen.
It is objectifying and wrong for boys to view girls only in terms of how they can benefit and service boys sexually. We know this. And it's safe to say that most college girls have been sexually objectified by boys multiple times throughout their lives. But how do we stop it?
Although it is entirely up to the boy, his personality, and how he treats girls, there is one way to make the blatant sexual objectification stop: we must stop enabling it.
If a boy slides in your DMs and asks to "chill," run away as fast as you can! Newsflash, girls: if he wants to "Netflix and chill," he's going to try his darndest to get in your pants. Unless meaningless hookups are your thing (you do you, girl!), do not fall into these traps where boys get you alone in their dorm room and take the chance to take advantage of you.
In my personal experience, I've seen that most college boys feel extremely entitled, as if they have a right to your body. As if, just because you came to his dorm room when he invited you, or just because he bought you dinner or alcohol, or just because he's acting like a nice guy- that he is entitled to sexual favors. That's not how consensual sex works.
HE IS NOT ENTITLED TO YOUR BODY.
It does not matter who he is. It doesn't matter if he's the guy you have a crush on, your FWB, your boyfriend, or even your fiance or husband. Regardless of your relationship with him (or lack thereof), you NEVER HAVE to give in to his sexual desires if YOU DON'T WANT TO. The only person who has the right to your body is YOU. There is no reason for you to give that up. YOU own your body, and you get to decide what to do with it.
Resist sexual pressure, when he says things like, "How am I supposed to go to work like this?" in regards to his mythical "blue balls"- which don't exist by the way. Sure, any sexual human being can get sexually excited and not have that desire satisfied. It happens all the time. It is not your job to sexually please a guy, even if you are in a committed relationship. If you don't want to do something, you don't have to do it. Period.
Don't let him pressure or guilt you into giving him a blowjob if that's not something you want to do. If he's trying to have sex with you, don't take the headache excuse cop out with a "not tonight, sweetie." You can be of perfect physical health and say no to sex. You never have to give a reason for saying no.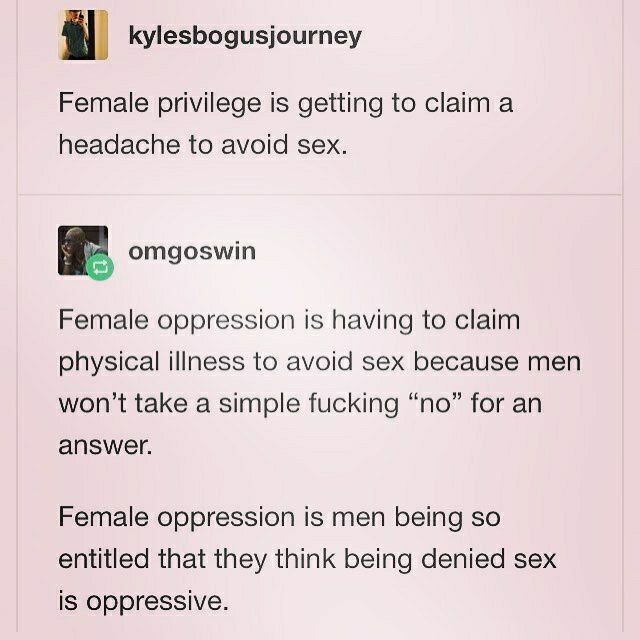 Even though we run the risk of being called a "prude" or a "bitch" or even a "slut" for refusing to give sexual favors to a guy, (that makes sense right? Saying no makes you a slut?) stand up for yourself. Resist rape culture.
When a boy you don't want to be sexually intimate with asks for sexual favors, or tries to cover himself by asking you to "just come over and cuddle and watch a movie" or to "help him with his homework," just say no. When boys make sexually revolting comments, suggestions, or even demands, if you're not into that, call him out on his disgusting behavior. As long as girls let boys say these things to them, the longer they will go thinking this behavior is OK, and will help them get girls.
Take Tinder for example. Both boys and girls download the app in hopes of finding nearby hookups. If you match with a boy, most likely he is going to send you some sexual, disgusting message, whether it be the first message or further along in the conversation- before you even begin to get to know this boy.
Boys in this generation think they are entitled to girls' bodies without even getting to know them first! You meet at a party, or you match on Tinder, and all of a sudden he thinks you're automatically going to sleep with him. If that's what you want to do, then, by all means, go for it girl! But this is for the girls who are turned off by such direct sexual advancement. Personally, the more obvious a guy makes it that he is talking to me just trying to get in my pants, the less likely it is I am going to take an interest in him.
So make your stance known. If he is asking for oral sex within two minutes of talking to him, take that as a sign and tell him the truth. Say it's disgusting to behave that way, and it's very disrespectful to women, and that's definitely not the way to get girls. Stand up for yourself and your fellow women: we are not sex objects. We are human beings. And if you're not going to treat me as such, you can only dream about getting with me.
Say it with me girls: no one has a right to my body but me.