It seems that Michael Scott GIFs can describe or relate to anything going on in someone's daily life, whether happy, funny, or sad. These are just a few I picked out that relate to thoughts I had throughout last week.
1. My reaction when I was assigned to write a paper in my Natural Science class last Monday....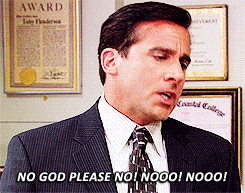 http://www.hollywood.com/tv/michael-scott-gifs-for...

Communication major + science = an absolute nightmare, Communication major being assigned to write a paper on science = Really? I have to use my writing skills on a subject I'm not good at? Torture, torture I say. However, I shall prevail, no matter how difficult it will be.
2. When I realized that Walsh's production of the musical GODSPELL starts next week....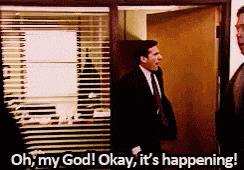 https://www.tenor.co/view/itshappening-theoffice-m...

Side note: If you are around the North Canton area next weekend and would like to see yours truly playing John the Baptist in this musical, stop by Walsh and see this marvelous show that my castmates and I have worked incredibly hard on perfecting. Dates are Thursday March 30th, Friday March 31st, and Saturday April 1st and all three of these showings start at 7. Okay, free advertising over!
3. When I had a great play practice for GODSPELL last Thursday and was given the day off for last Friday's rehearsal because of that....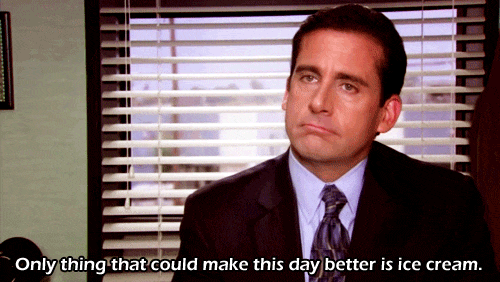 https://www.pinterest.com/kiyumii/gifs-the-office/

Sure, spring just started and summer's not even here yet. However, there's no better treat to reward myself for a great day of play practice than ice cream. By the way, that's exactly what I got from Walsh's C-Store ("The Bucket") after my rehearsal. So, ice cream did make that Thursday better for me.
4. When my supervisor asked me if I could work an extra four hours during my shift last Monday....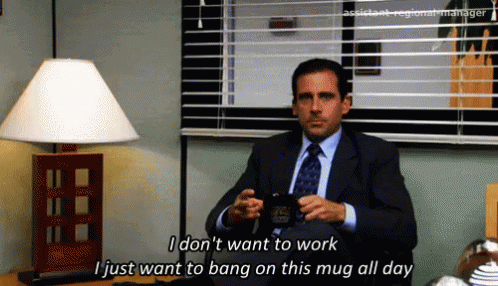 https://www.tenor.co/view/work-michael-scott-offic...
Of course I told her yes, even though I really didn't want to, because I'm a reliable and good employee. Also, instead of wanting to bang on a mug all day and not go to work like Michael's doing in this GIF, I wanted to keep playing on my roommate's Xbox One all day and not go to work since I had no homework, but I ended up flipping burgers till 10:30 anyway!
5. When I tried to comeback at my roommate after he made a joke about me last week and I failed, miserably....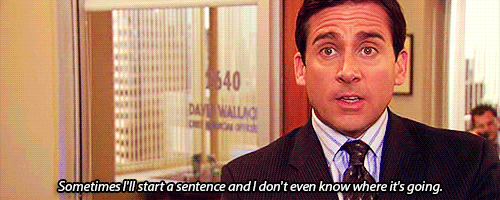 http://www.rockcomedyfilm.com/comedyblog/2014/8/18...

Did I say failed, miserably? Okay, that's what I thought. All I know is that I need to work on my comebacks and think before I speak. Otherwise, embarrassment happens.
6. When I found out last week that my FAFSA was completed for financial aid....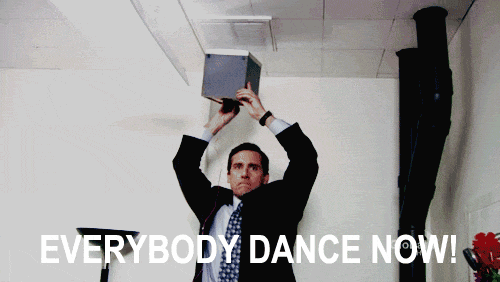 https://wifflegif.com/tags/1633-michael-scott-gifs...
You know it! I was doing cartwheels when I got that email telling me this news. Okay, maybe not cartwheels, but I at least did a fist pump!
7. What I thought once the weekend came and ended my hectic, stressful, but overall decent week....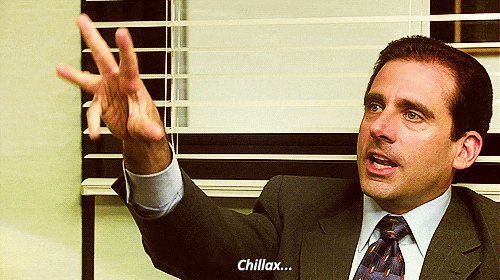 http://giphy.com/gifs/scrabble-krlCPTKzMbbzi
Despite this crazy past week I had, I knew I could finally relax over the weekend and just chillax like Michael says, and boy was it nice! In the words of Rihanna in her song "Cheers (Drink to That)," "Cheers to the freakin' weekend." Can't wait to see what next week has in store for me!