On September 30, 2016, I logged onto Twitter to see alarms that a new Solange album had been released. Following her sister, Beyonce, and her incredible Formation tour, Solange released the album at the perfect time. Talk about "A Seat at the Table" spread across the internet like wildfire with people giving it the highest of praises. Previously, I hadn't listened to a lot of Solange's music, but the new album release changed everything for me. I added it to my TIDAL playlist, plugged in my headphones, and began listening to what was one of the best albums I've heard all year.
The first song, Rise, began with a vibe that permeated throughout the entire album. There was a sense of healing in the music Solange created. From the title alone, the black community knew it would be an intense love affair between the skin we are in and the feelings we experience. The short interludes to the songs were narratives specific to the black talking self-love and acceptance of Blackness.
The turning point in "A Seat at the Table" for me happened at only the fourth song on the album: "Cranes in the Sky." This song's lyrics moved me beyond the other three songs before it. "Cranes in the Sky" details something Solange was struggling with. She never explicitly said what it was she was struggling with, instead, she replaced the issue with "it." Because of this, anyone singing or listening to the song can replace it with whatever they're dealing with. The song expressed that the "cranes in the sky" are the things we struggle with that are looming over our lives, in which she sings "sometimes I don't wanna feel those metal clouds." Solange addressing the things that Black women go through on a global basis, but also personally. Whether it be depression, poverty, or financial crisis, anyone listening to this song can relate to everything said.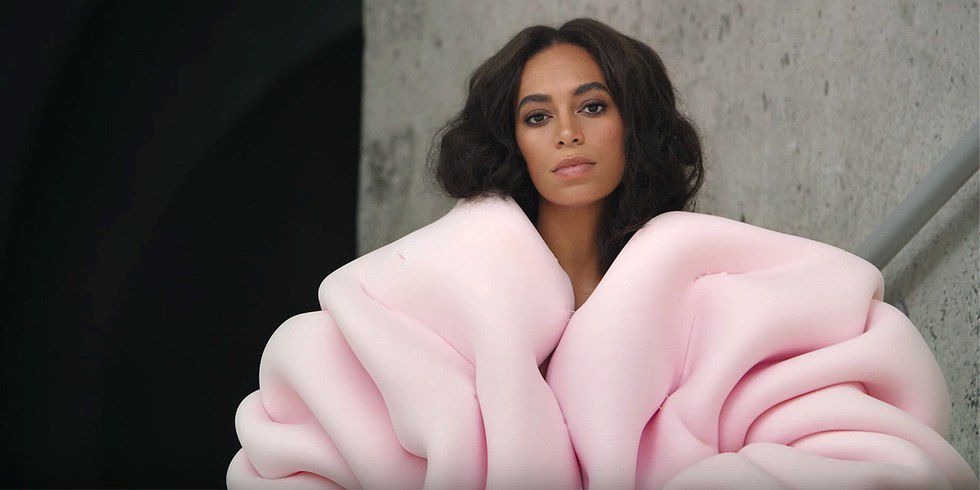 "Mad" was a surprising track for me. The moment it began, I knew it would be the one that was my favorite on the album. Li'l Wayne is my favorite rapper. Period. To hear him on Solange's album after announcing his retirement made my eyes water. The way Wayne's lyrics flowed with the song in a way that no one would expect makes me shiver each time the intro begins. In this particular song, Solange examines the angry black woman stereotype. "Why you always blaming? Why you can't just face it?" are the questions Solange is asked, which is our reality as black women. Considering everything black women have gone through, it's not irrational to be angry. In fact, we should be angry. What other subgroup has been through as much as black women and still rise to the height of success?
Though there were other tracks that influenced me in unimaginable ways, the last song that I will forever remember is Don't Touch My Hair. As a black woman, I could relate to this song on an entirely different level. When people ask to touch my hair, I freeze and cringe. "It looks so cool!" they exclaim. It makes me uneasy because fifty years ago, we, as black women, were told our hair was too kinky and unprofessional. Solange points out that those who aren't women of color or black women don't understand what black hair means to us, to our ancestors, and to our heritage, crooning, "They don't understand what it means to me. Where we chose to go. Where we've been to know." Solange singing and telling people assertively to not touch our hair was empowering on a different level. Not to mention, the hair in "Don't Touch My Hair" was ICONIC. From Black women jumping into swimming pools, which is a symbol in it of itself, to braids, Solange adventured through Black hair from 1920-2016. One look after another, we were reminded that it was okay to say no.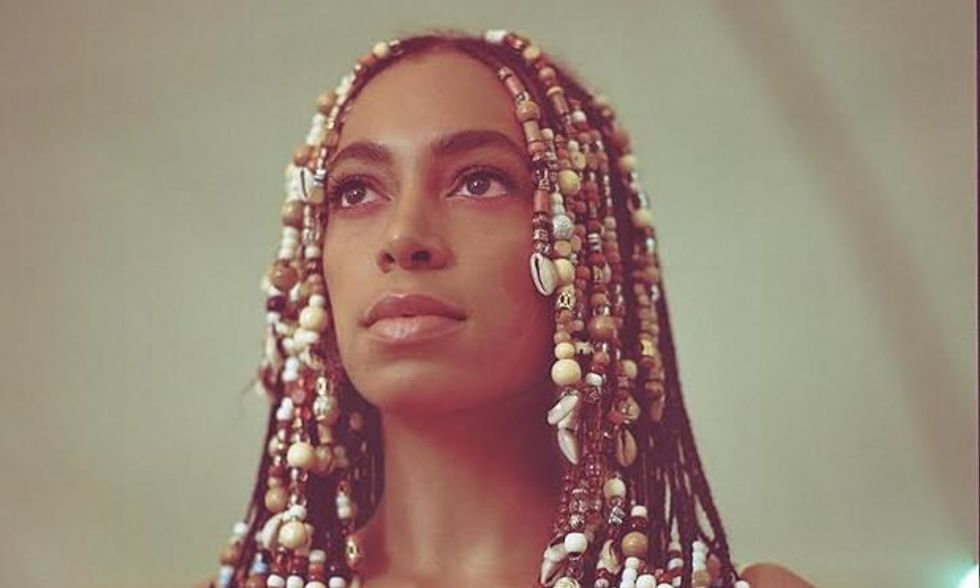 A Seat at the Table will forever be one of the best cultural turns in the black community this year. From the discovery of self-love, addressing black distress and struggle, and saying we have had enough, Solange has completely turned the conversation surrounding blackness through one album. From the inspirational interludes to "Cranes in the Sky" to "Mad" to "Don't Touch My Hair," the entire album was healing for the black community and dissected intersections of our culture and skin.
Add "A Seat at the Table" to your Spotify, Apple Music, or TIDAL today! You will never regret it.