In December 2016, construction for brand new science labs at Perimeter College's Alpharetta campus will be underway.
According to Perimeter College's science lab supervisor Dr. Jen Bon, construction design plans include four labs, two prep rooms and four offices, which will be added behind Building B of the Alpharetta campus. Each lab will be built to meet the particular needs of the four offered sciences: microbiology, anatomy paired with general biology, general chemistry and organic chemistry. The addition will install the four labs by November 2017 and have them available for classes starting January 2018.
As pictured below, a proposed second future addition would include two physics and astronomy labs and two environmental and geology labs.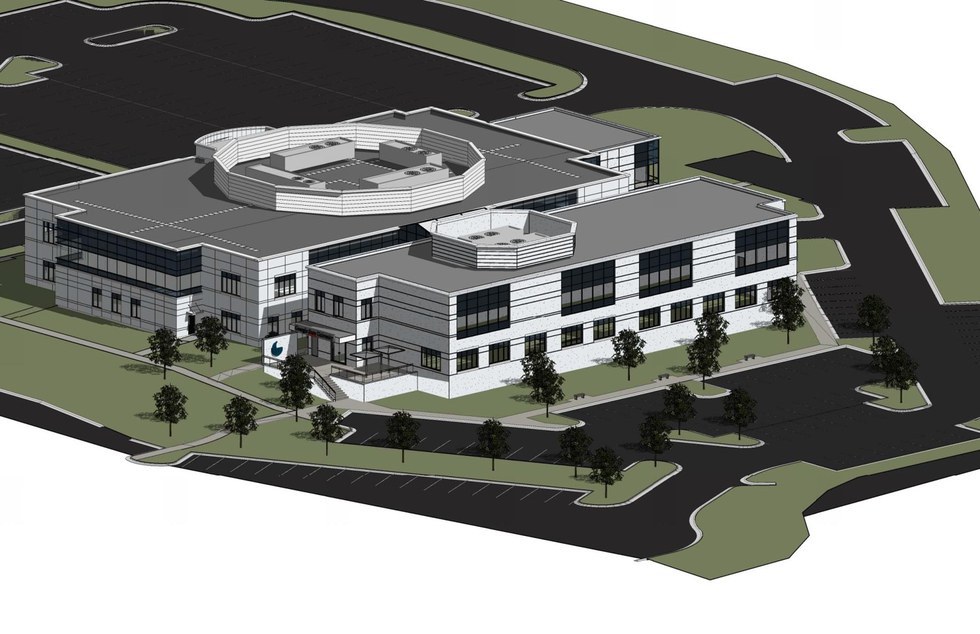 "Of course, offering more courses in the science department will also increase enrollment in other departments as students choose to stay on the Alpharetta campus for their entire Associate's degree," Bon said.
This prospect offers Perimeter students – especially those living in or near the Alpharetta area – the opportunity to easily take both a science lecture and lab class in the same building which will erase the difficulty of driving to another campus or a local high school.
For students like biology major Aliyah Evans at Alpharetta campus, driving to another location for lab class is a difficult hassle.
"I have two other classes before that, so I don't get much a break, and I'm usually tired by the time I get to lab," Evans said. She expects this addition will help her save time and money.
Speaking of money, it's expected that the new labs will pay for themselves with the help of the state legislature's General Obligation Bond. Plans for the $4.9 million project were approved by the USG Board of Regents and will be built based on the Chapman Griffin Lanier Sussenbach Architects, Inc. (CGLS) Architects firm's designs. According to Georgia State's senior project construction manager Derrick Patrick, a specific construction firm has not been chosen yet, but the project is scheduled to bid on November 17, 2016.
Considering the expected increase in enrollment, tuition monies and the state legislature grant will serve as revenue for the lab design and construction teams while also shouldering faculty salaries.
According to Perimeter's Associate Dean of Sciences Dr. Paulos Yohannes, "It is more complicated in terms of when this will pay for itself (the $4.9M construction cost). You have to consider increase in enrollment as a means of revenue for GSU while on the other hand you have expenditure in faculty salary and maintaining facility." Currently, Perimeter College's in-state tuition fee is $90.87 per credit hour, disregarding extra charges like technology, health, student support and institutional fees.
"If we consider an average of 20 students in one lab section, the tuition collected will be approximately $1817.40. We anticipate to have at least two lab sections in the morning and two in the afternoon/evening in each lab room. For the four labs, we expect 16 sections for the semester. For all 16 sections, we expect to collect approximately $29K in tuition," he said.
Those fees would be for the lab alone, and considering that a majority of the students taking the lab class also have to take a corresponding lecture course which will also be available on campus. Lab fees combined with the $272.61 cost of a three credit hour lecture "will be substantial" in covering the construction costs of the new labs, concludes Yohannes.
This addition is also great news for Alpharetta's Perimeter college faculty because their teaching plans will no longer be limited by where and when the labs are held.
"You can't teach organic chemistry without proper equipment like fume hoods, and high school labs aren't equipped with those things. The same is true of microbiology, you need autoclaves and incubators and other equipment external labs don't offer," Bon said.
And in terms of saving cash, lab rental fees will be eliminated, and a good chunk of the funds will go towards hiring additional faculty to offer more flexible science courses in the near future.
Cover Image Credit: GSU Design Team