Most commonly known as the "quintessential California band," the multi-genre magnetic sound of The Mowgli's is everything your playlists have been missing. These L.A. natives are no strangers to the music scene; The Mowgli's have been touring, singing and producing music together for over seven years now.
The multi-instrumental group consists of six pieces, all of which lend a hand to vocals. Katie Jayne Earl takes on lead vocals, Colin Louis Dieden and Josh Hogan on guitar, Matthew Di Panni on bass, Dave Applebaum on keys and Andy Warren on drums and percussion.
The Mowgli's are currently touring the country on The Maine's The Lovely, Little, Lonely World Tour, and I caught up with Earl while on the road to talk about the band's early career, singles, new music, touring, their latest album and what's next for them.
When you're a signed band, there's a lot more that goes into making music than you think. You are not only creating music for yourselves but for your label along with a whole other team of industry professionals. The Photo Finish Recording artists typically write a lot more songs than the select ones that actually make it onto most of their albums.
"We usually submit a bunch of our favorites, and then we wait for feedback from our team on what their favorites are," said Earl. "We try to put a message into every song we create, and then when we're collecting the songs. We sort of organically find a theme or a thread that ties the collection together."
In 2013, the band released their debut album, Waiting for the Dawn, a 13-song ensemble laced with tracks that emanated love, power and free spirits. This album ranked in at No. 4 on the Billboard Heatseekers Chart that year and sparked their hit song, "San Francisco." The band performed the song on "The Tonight Show With Jay Leno," "The Tonight Show With Jimmy Fallon," "Conan" and more.
"We used to travel to San Francisco quite a bit in our early days because it was a city far enough away from home but close enough that we could drive to and kind of reach out to a new audience," said Earl. "It was kind of the epicenter to the peace and love movement of the '60s and '70s, and it feels like that time is kind of coming full circle in some ways. We were just really inspired by the city of San Francisco."
In the next coming years, the band continued down the path to success as they toured the country playing festivals like Bonnaroo, SXSW and Lollapalooza. The group then went on to release their second studio album, Kids in Love, in 2015, which featured another chart-topping single, "I'm Good."
Oddly enough, this song was never intended to be on their album in the first place. It was originally written for an anti-bullying campaign. When the band's team heard that song, they knew they had to make a spot for it on the record.
"We really liked the idea of getting on board on an anti-bullying campaign, so we showed up to the studio with no intention of writing a song for our record," said Earl. "'I'm Good' was a really pleasant surprise because when we put it out as a single, it wasn't something we expected. We didn't plan on the song even being a part of our lives, and it ended up reaching a lot of people and I think doing a lot of really good things."
When it comes to making their music, The Mowgli's want every single part of what they produce to remind people to be a little bit nicer, to love themselves and to remind people that they're never truly alone in times that they feel isolated from the rest of the world.
"All of these things I think will make people feel better, and in times that we're in right now, that's really important," said Earl. "It's important that we feel more like a community and less like a bunch of individuals."
Their third studio album, Where'd Your Weekend Go?, wholeheartedly embodies this message, but also tackles the daunting thought of how fast time can go by in the blink of an eye. This is something the Mowgli's know all too well and have faced head on for many years.
Where'd Your Weekend Go? is actually a lyric off of a song called "So What" on the album. Time goes by so fast and spending this time as a lesser version of yourself is just not worth it. It's sort of like a metaphor for life. Life goes by so fast and the weekends just keep coming and going, as Earl puts it.
"Embrace it [time]," said Earl. "Try to spend that time being the best version of yourself and be present. It's a lesson that we're currently learning. We definitely don't mean to preach that to anybody because we are as guilty of it as anybody else, but it's a reminder to ourselves—if nothing else—that time is moving, and it's moving fast, and we need to embrace it and be present and conscious for it."
Just a couple months after the release of this album, it was announced that The Mowgli's and Beach Weather would be joining The Maine's The Lovely, Little, Lonely World Tour in April for performances all over the country, spanning from coast to coast.
"Beach Weather is such an awesome band, and they set such an awesome tone through the night," said Earl. "The Maine are such awesome guys, and they have some of the best fans I've ever seen. If nothing else, it's been incredibly inspiring to us as musicians to see a band like The Maine just crush it on stage every night. For bands like us who have just put out our third album and never really know what's coming next, it's very inspiring to see."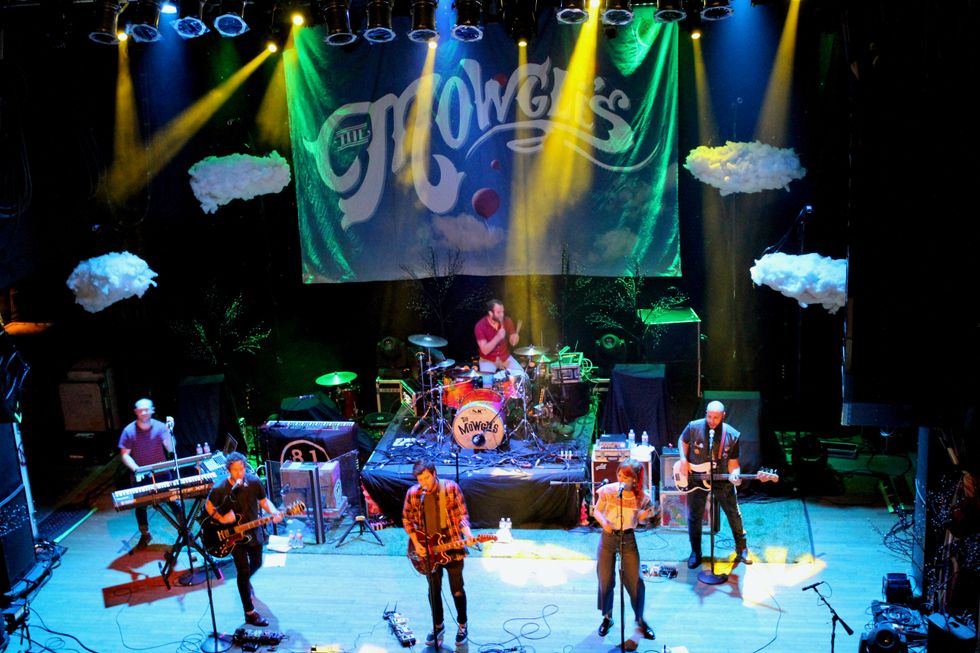 Image Credit: Melanie Ngo
Two weeks ago, the group kicked off their San Diego performance at the House of Blues San Diego. They started out their set with "Bad Dream," "Spacin Out" and "4 a.m," sending out nothing but feel-good, high-spirited vibes across the stage and into the audience. They then went on to play "Whatever Forever," their fan-favorite hit, "Say It, Just Say It," "Freakin' Me Out Now" and "Spiderweb" as the crowd swayed, danced along and belted out every lyric.
The Mowgli's continued with three more songs off of their newest album: "Bad Thing," "Automatic," "Alone Sometimes" and even surprised the crowd with a short rendition of The Killers' "All These Things That I've Done" that ended with a head-banging, heart-pumping guitar and drum solo.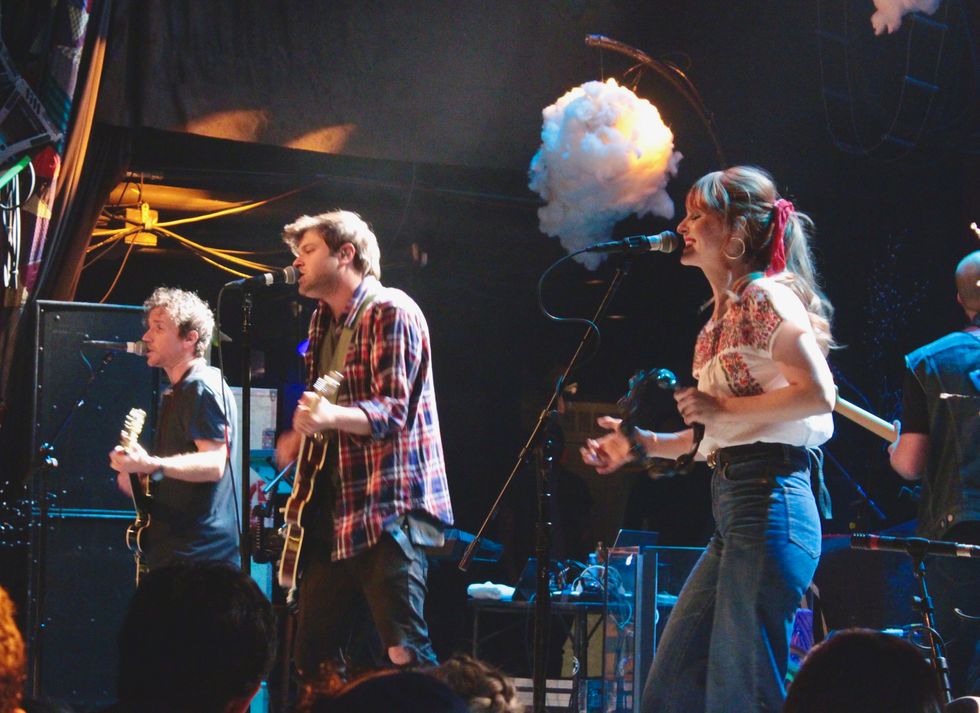 Image Credit: Melanie Ngo
The group finished out their set with their last two songs, "I'm Good" and the song that fundamentally changed their careers forever, "San Francisco." Before heading off stage, Earl, Dieden, Hogan, Di Panni, Applebaum and Warren rocked out with the ultimate jam session matched by flashing lights and cheering fans. I think it's safe to say they ended their set with a bang, leaving a memorable performance for the audience.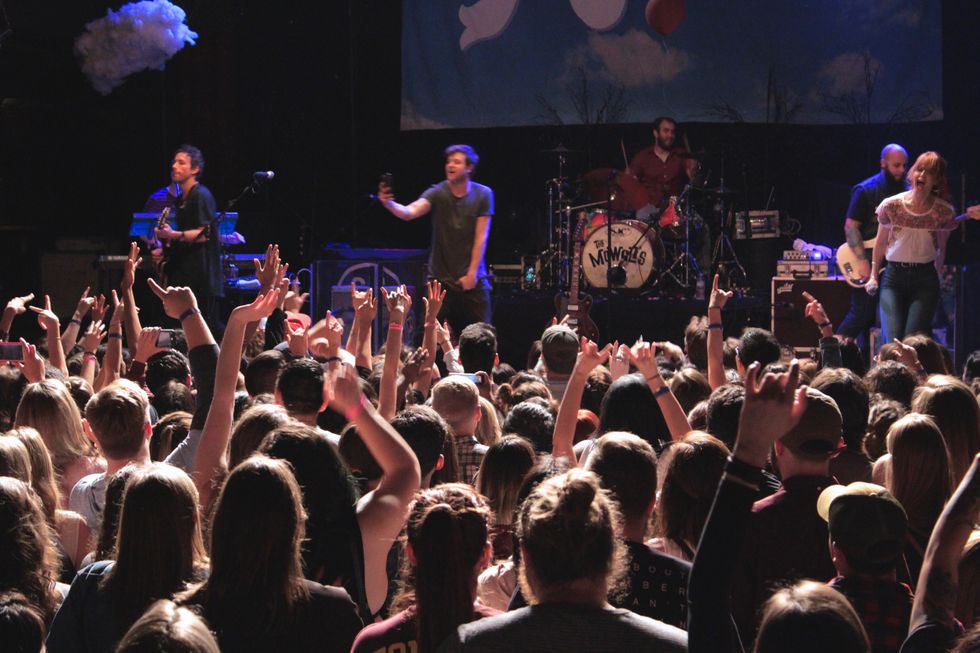 Image Credit: Melanie Ngo
The Mowgli's will continue on The Lovely, Little, Lonely World Tour for 12 more dates before making their way back to the West Coast to play a few California dates in June.
"We're really lucky because this tour is hitting all of the major players," said Earl. "We're going to be in New York City and Chicago, which is one of our favorite markets. We already had the opportunity to do Denver, and we got to play at the brand new House of Blues in Anaheim, so there's a number of really, really great venues and cities on this tour that we're just really, really excited about."
In the midst of all of the Coachella hype, the band dreams of spreading their wings and taking the stage at this three-day indie-fest.
"That's just about the biggest festival close to home for us, and it would just be an absolute dream to get to play it," said Earl. "We've all been fans to Coachella, but we've never had the opportunity to play as musicians, so that's definitely at the top of the list for me and I think the rest of the band, too."
When the band has some downtime on tour, they like to feed their wanderlust by exploring and traveling in whatever city they're in. One of their favorite things to do as a group is going out for group meals and dive into local cuisines.
"We're an adventurous bunch, and every city has something really unique to offer," said Earl. "Every city has its own quirks, and I think just exploring those and catching up with friends that we've met along the way is always something we look forward to when we're on tour. Each city we have a little community, a little group of people that we keep in touch with, and it's very exciting to connect with those people whenever we come back."
In the next coming years, you can expect to see the band continuing to tour and play shows all over the country.
"We're still spreading the word about who we are, what our mission is and trying to get our music out to as many people as possible, so that's what we'll be doing for the next foreseeable future," said Earl.
To keep up with The Mowgli's latest news, music and information about tour dates, check out their website. You can also follow the gang on the road by keeping up with all of their social media posts on Facebook, Twitter, Instagram and Tumblr. To stream their newest album, as well as some of their classics, you can follow them on Spotify.