If I hadn't been looking, I might have missed it. A tiny sign along the fence marked the spot off to the left among the trees. We turned into the driveway and my cousin reached out of the driver-side window to push the intercom button by the fence.
"Mackenzie Lowry, here reporting for Nomads. I spoke to Patsi via email?" I leaned over her toward the intercom.
"Come right in." The fence before us moved aside, welcoming us to Pine Tree Associates Family Nudist Club.
When I initially told my roommates how I would be spending my Saturday, they were a little confused, but not entirely surprised.
"A nudist club? Do people, like, live there?"
"No, it's more like summer camp, but naked."
The club started back in 1934, on the Keyes family farm, uniting people under a common interest of walking around in their birthday suits. At the time, Pine Tree was considered a "secret society" and kept on the DL. After a while, however, membership grew and the club became more official. Members must apply, be approved by the board, and pay annual fees to use the grounds. Today, Pine Tree is a proud supporter of the American Association for Nude Recreation – yes, that's a real thing.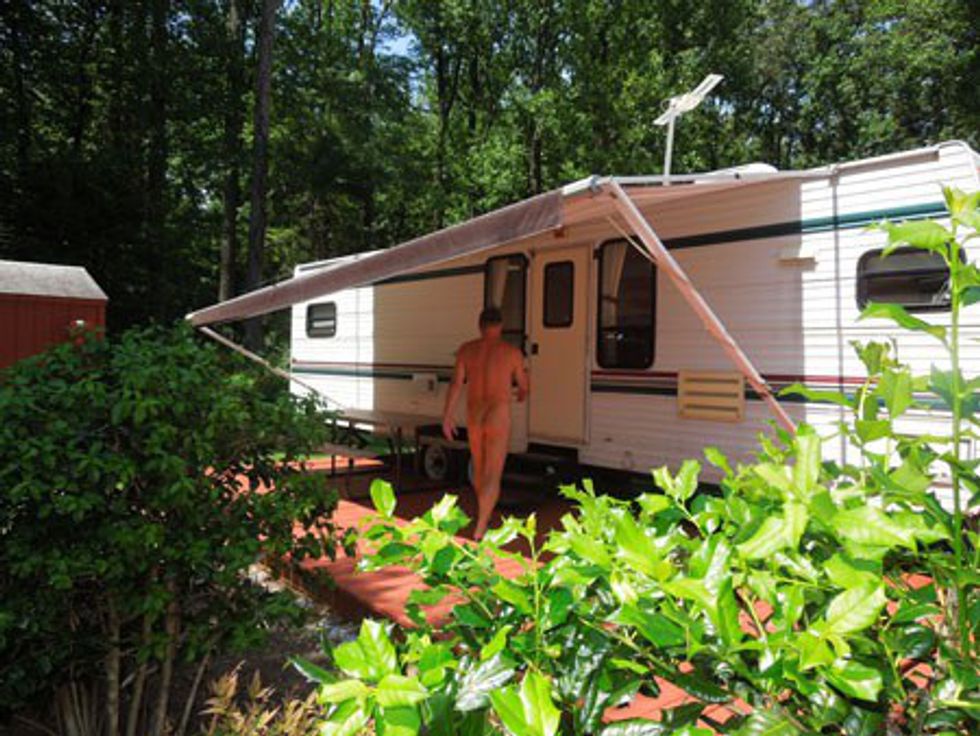 Even today though, the member's last names, occupations, and other details of their day-to-day life are kept separate from their lives at the club. Many members end up getting nicknames based on their personalities or accessories, such as "Cowboy Steve," who always wears a cowboy hat. This helps to keep their open lives at Pine Tree apart from their professional lives at home. The individuals at Pine Tree are definitely not ashamed of their nudist status, but they know that many outsiders aren't accepting or understanding of it.
Nicole* described it well: "Nudity in their mind so is linked to sexuality, but when you separate nudity from sexuality, you are free." Nicole and her husband Geoff*, both in their late-50s, have been members of Pine Tree since 2009. The couple, who were our tour guides for the day, first experienced nudism at a naked island in Greece. Since then, they've visited a number of different nudist establishments, but Pine Tree has been their favorite.
On the other hand, Patsi, General Manager at Pine Tree, had to get used to the nudist life. She married into it and was a little bit apprehensive at first, especially being a woman. But once she got into it, she fell in love with it. Naked, people aren't all that different from one another.
"That's the fun part," she says, "once people take their clothes off, everyone's the same."
Patsi sent us off to explore the grounds with Nicole and Geoff. Although clothing is normally forbidden on the premises, chilly weather prevented us from doing nude exploring outdoors. The couple began our tour in the camping area. Nicole and Geoff pointed to one trailer home, recalling the couple, both man and wife firefighters, who had built it just a few years ago. "The woman was out there, naked with a tool belt, hammering away," Nicole smiled, recounting the sight.
The way the club is set up, members can pay to rent a lot. They're allowed to add semi-permanent extensions as long as they start with a trailer and then expand upon that. Members of Pine Tree are free to live at the facility up to six months out of the year, but most just come stay Memorial Day to Labor Day.
"We call them 'snow birds' because they go south for the winter," Geoff laughed.
In addition to campgrounds and cabins, there are a number of other facilities at the club. The have both indoor and outdoor pools, hot tubs, gardens, a gym, and a playground for the kids (it is a family-friendly establishment). There's a sauna, tennis, visiting food trucks, and Pétanque, which Geoff describes as "a cross between bowling and shuffle board." The club even has it's own library, a little secluded room filled with that worn-book smell. After Memorial Day, they start having barbecues, pool parties, yoga classes, a visiting masseuse, talent shows, and Farmer's Markets. It's all the fun of a seasonal summer village like Lake Geoff or Ocean Beach, but in the nude.
Geoff and Nicole took my cousin and I through Keyes Hall. They waved at a few men in the indoor pool and stopped to point out the framed photos of the smiling naked board members. Downstairs in the changing room, we hung up our clothes and rinsed in the showers – club rule – before jumping into the hot tub. Naked.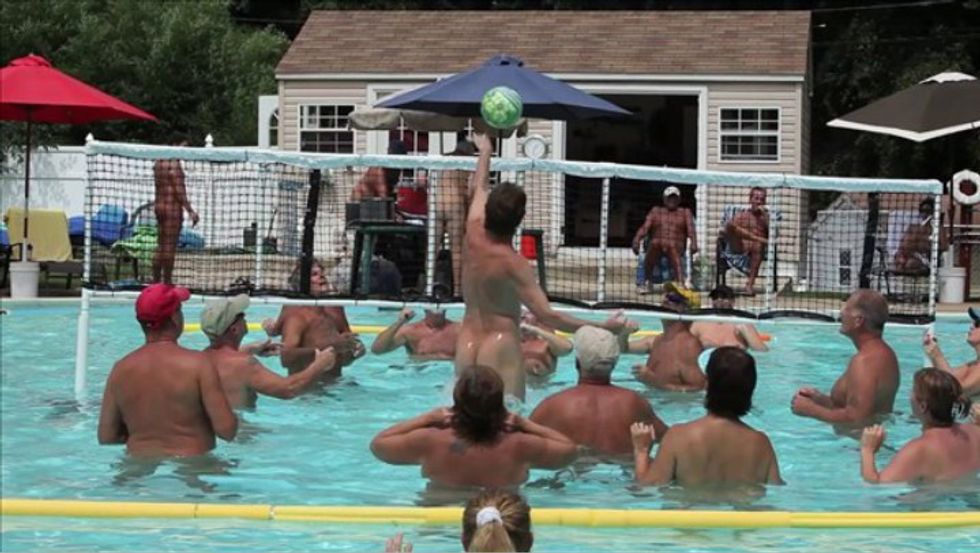 I anticipated weirdness, discomfort, or at least feeling awkward for a little while, but I was actually completely at ease. I stood naked with my cousin and these two people we just met and a few other strangers who we were never introduced to, but it didn't feel weird at all. No one stares; no one acts any differently. It's business as usual, but without the burden of clothes. It feels completely natural.
If you turned to a younger version of myself and told her that she would one day be getting naked at a nudist club in Maryland for a story, she may have laughed at you. Yet here I was, with no qualms about it. It was just how Nicole described it: freeing. It felt like a chance to let go, not only of the literal weight I was carrying, but also the weight of nudity as something to be ashamed of. In reality, it's only natural – it's how we were all born. Once it's separated from the negative ideas the world sticks to it, I begin to wonder why we don't all spend more time naked.
*Names have been changed to protect privacy.