Welcome back everybody! Here is the rest of your road trip! Have fun, and be safe!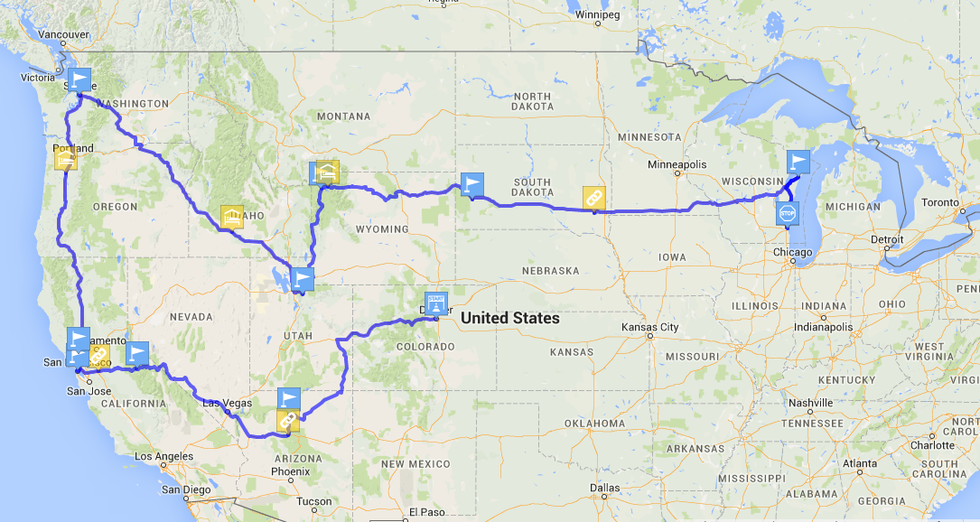 11. Grand Canyon National Park, Arizona
Some fun things to do at this beautiful natural phenomenon are hiking, mule riding, biking, and whitewater rafting. It would also be cool (if you are a person not afraid of heights) to go out on the glass floor above the canyon. There are also many museums and nature centers you can visit around the park. I would recommend spending one to two days visiting the park before continuing on.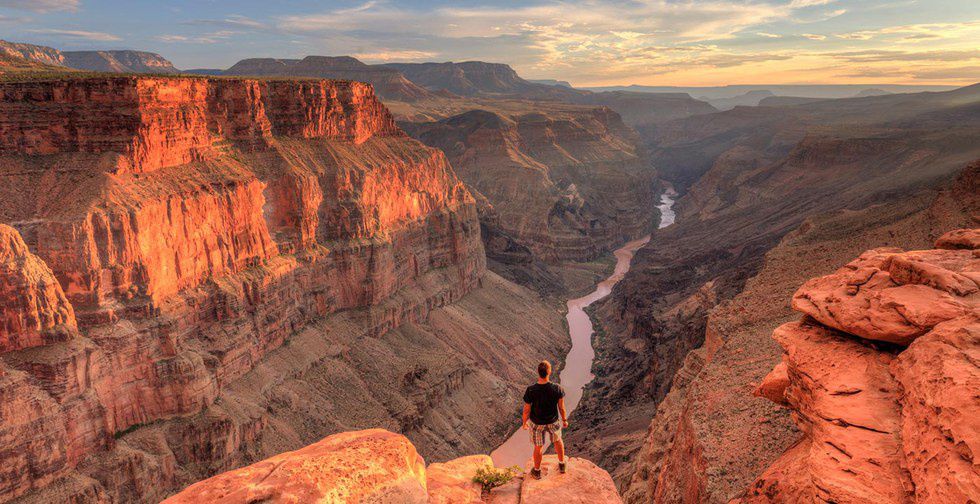 On your way to the next destination, another nature-filled park, your drive will be about 10 hours. Along the way is Las Vegas which you could add into the road trip if desired! This could also serve as a place to stay the night if you don't want to make the journey all in one day.
12. Yosemite National Park, California
Yay! Another national park! Yosemite is known for its giant sequoia trees and uniquely shaped cliffs, but there are many fun things to do here! Some of these include exploring by car, hiking, biking and horseback riding. Places you should visit within the park include Half Dome, El Capitan and Mirror Lake. I would again recommend spending one to two days here to explore.

This next trip keeps you within the state with a drive of only a little over four hours. This trip being so short can be done all at once or split up by an overnight stay in the middle.
13. San Francisco, California
This beautiful city, though known for its bridge, offers many other destinations and fun things to do as well. Good places to visit while you are here, besides the bridge, include Chinatown, Lombard Street, Fisherman's Wharf and Alcatraz Island. Fun activities around the city are biking, cable car riding, and a walk around Golden Gate Park. I think it would be good to stay two or three days here.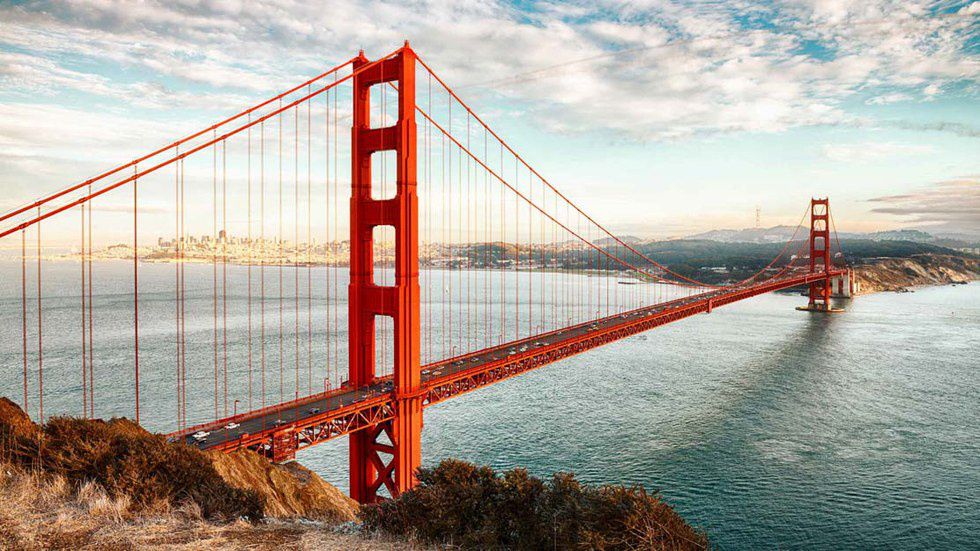 Finally, a short trip! This one will only take an hour, and you will be surprised by how little time this takes, and the change in scenery along the way. It is a very beautiful drive, and can be made after a day in San Francisco, or the morning after.
14. Napa Valley, California
This stop is more for adults than families. Many of the destinations (really all) involve the consumption of alcohol. There are many wineries to visit in the area, and there are rolling hills of grapes every way you look. Even if you do come with children, it will be very beautiful to see all of the scenery in the area. If you do not have children, i would recommend three or four days. If you have a family with you, I would recommend one day, or skipping this stop all together.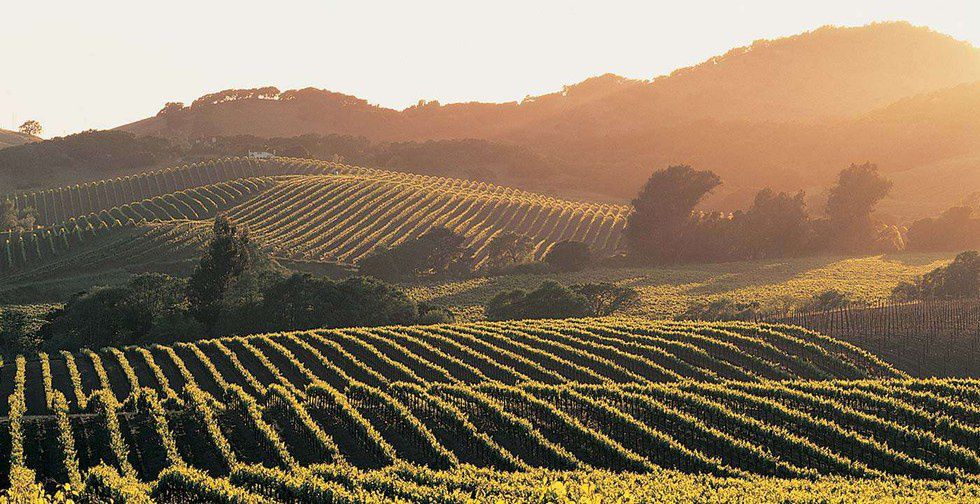 Oops, this leg of the journey is a bit longer, coming in around twelve hours. You will traveling through the rest of California, Oregon and Seattle. You will be traveling through Portland along the way, and this might be a good place to stay the night.
15. Seattle, Washington
This fun city had many cool places to visit. Some of these include the Space Needle, Pike Place Market and the zoo. There are also many parks and museums to visit in the area. A cool, little known fact is that there is also a rain forest in the area which you can explore. I would recommend spending two to three days here.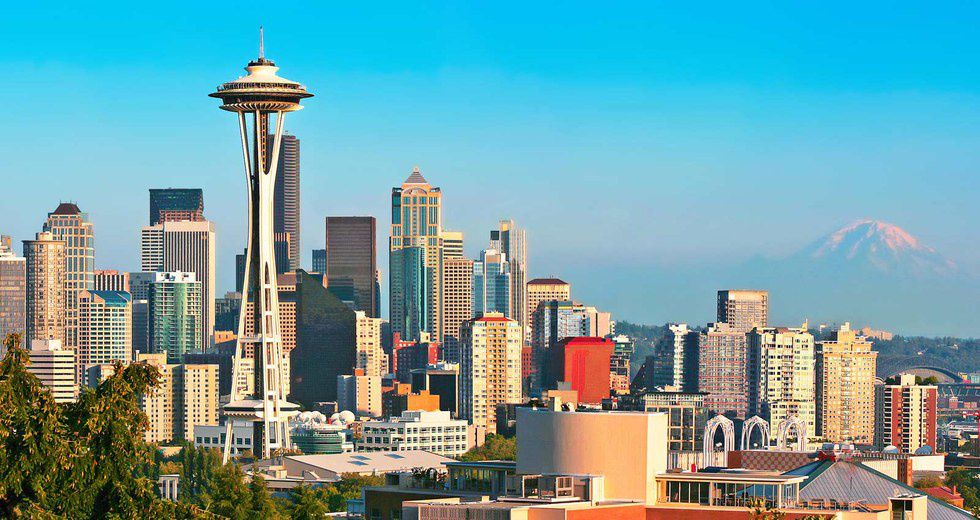 Taking about twelve and a half hours, this is another long one. Traveling through Washington, Idaho, Oregon and Utah, this will take you past many mountains and green forests. With a drive this long, it might be good to stop at a mid point to stay the night, or if you would rather be brave and take it all on at once.
16. Park City, Utah
Park City, though known for its winter activities, also offers fun summer activities. These include visiting the Olympic Park, Alpine Roller Coaster, river rafting, hiking and mountain biking. Park City also offers amazing views and scenery. I would recommend two to three days here.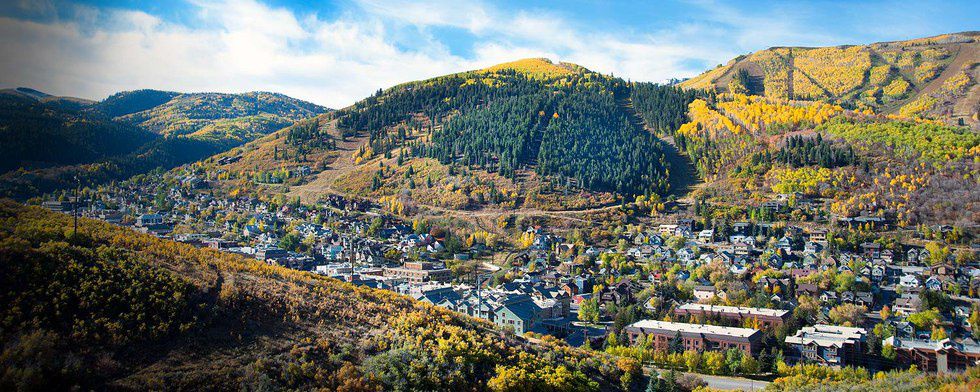 The journey, not coming in at quite so long this time, will be about five hours, and along the way, it might be fun to stop in Salt Lake City to see the Great Salt Lake and explore that a little. I am sure, you can make this drive all at one, and even have a little time to explore your next destination.
17. Yellowstone National Park, Wyoming
The last national park on our journey has been reached with Yellowstone National Park. This park is giant and will definitely take a few days to explore. This park offers camping, hiking, and swimming with fun places to see such as geysers, hot springs, and mountains. Fun fact, all of Yellowstone is over a dormant volcano which if erupts will cover all of North America with lava and ash. But anyway, I would recommend spending two to three days here.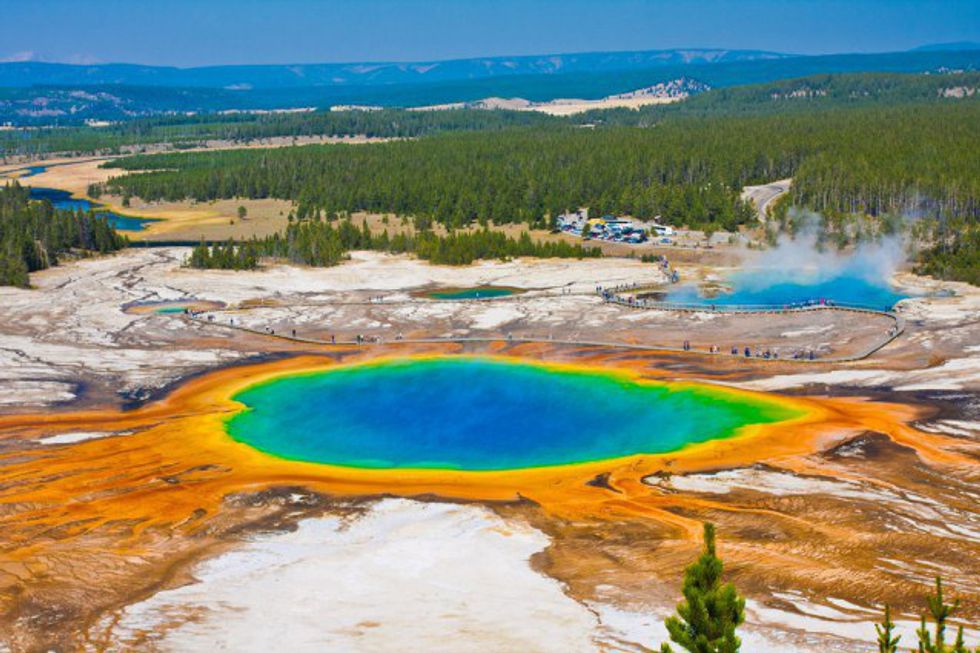 Seven hours shouldn't be so long after the other drives, right? The trip to the next destination will not take super long, and on the way you will be traveling through all of Wyoming. You will see many trees, and wildlife along the way. You should be able to do this all at once, staying the night near your next destination.
18. Mount Rushmore, South Dakota
Mount Rushmore is more of a stop along the way than a place to stay for a few days. It is a national monument meant to recognize a few of our presidents which shaped our country. You can stop and hike up to see the monument. I would recommend spending a few hours here.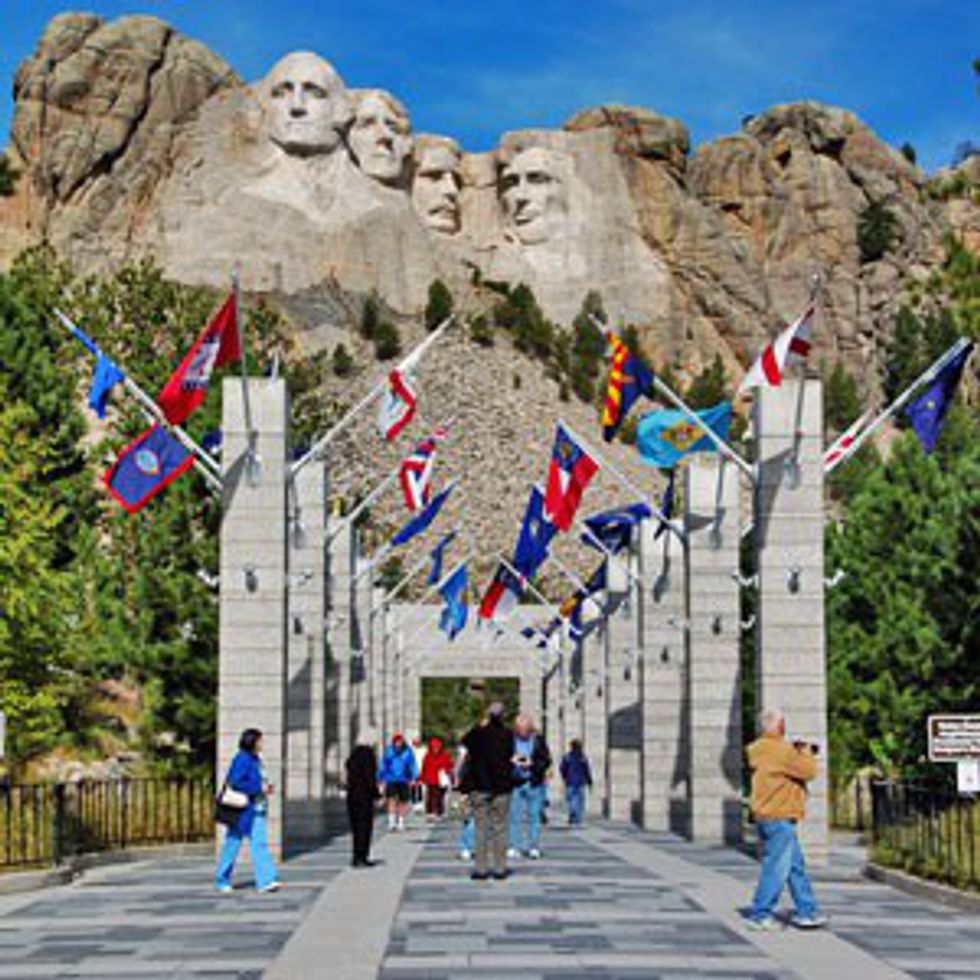 I'm sorry but this is another long one. Your second to last drive will be about fourteen hours, but you get to go through South Dakota, Minnesota and Wisconsin. I would recommend taking this driving in two days and then stopping somewhere along the way.
19. Door County, Wisconsin
Door County is an area in northern Wisconsin known for its stony beaches and coastal atmosphere. Some fun things to do here are ride ferries, bike ride and go camping. Some fun places to visit are Peninsula state park, and the many lighthouses in the area. I would recommend spending three or four days here just to relax.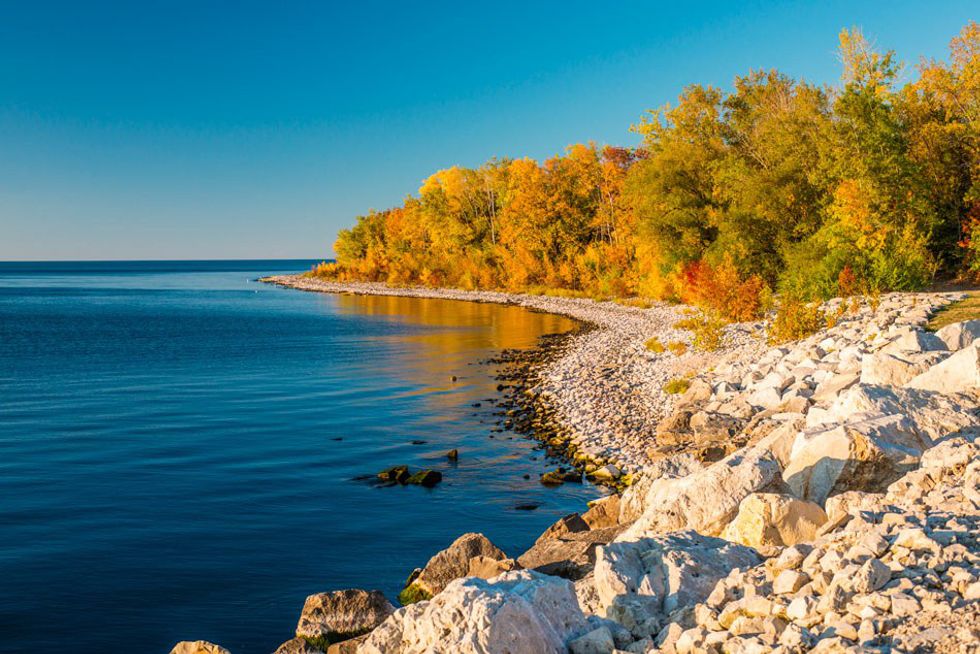 This is the last trip! You're almost home at this point, and will be at your home sweet home in about three hours. You can easily make this journey in one day!
20. Home!
You made it! Your month long trip is finally over, Be sure to take some time to relax before going on your next cross country trip. I am not sure if I mentioned this earlier, but take the trip in whichever order you want, and feel free to add or eliminate stops as you choose. Also, if you live somewhere other than Wisconsin, feel free to start and stop there!