Rihanna has got to be one of my top fashion icons. She wears whatever she wants, while looking fabulous. She does not care about the public's opinion and embodies confidence. From her notorious cotton candy pink dress from the 2015 Grammys to her fur draped dress from the 2015 Met Gala.
Look 1: Co-Ord Set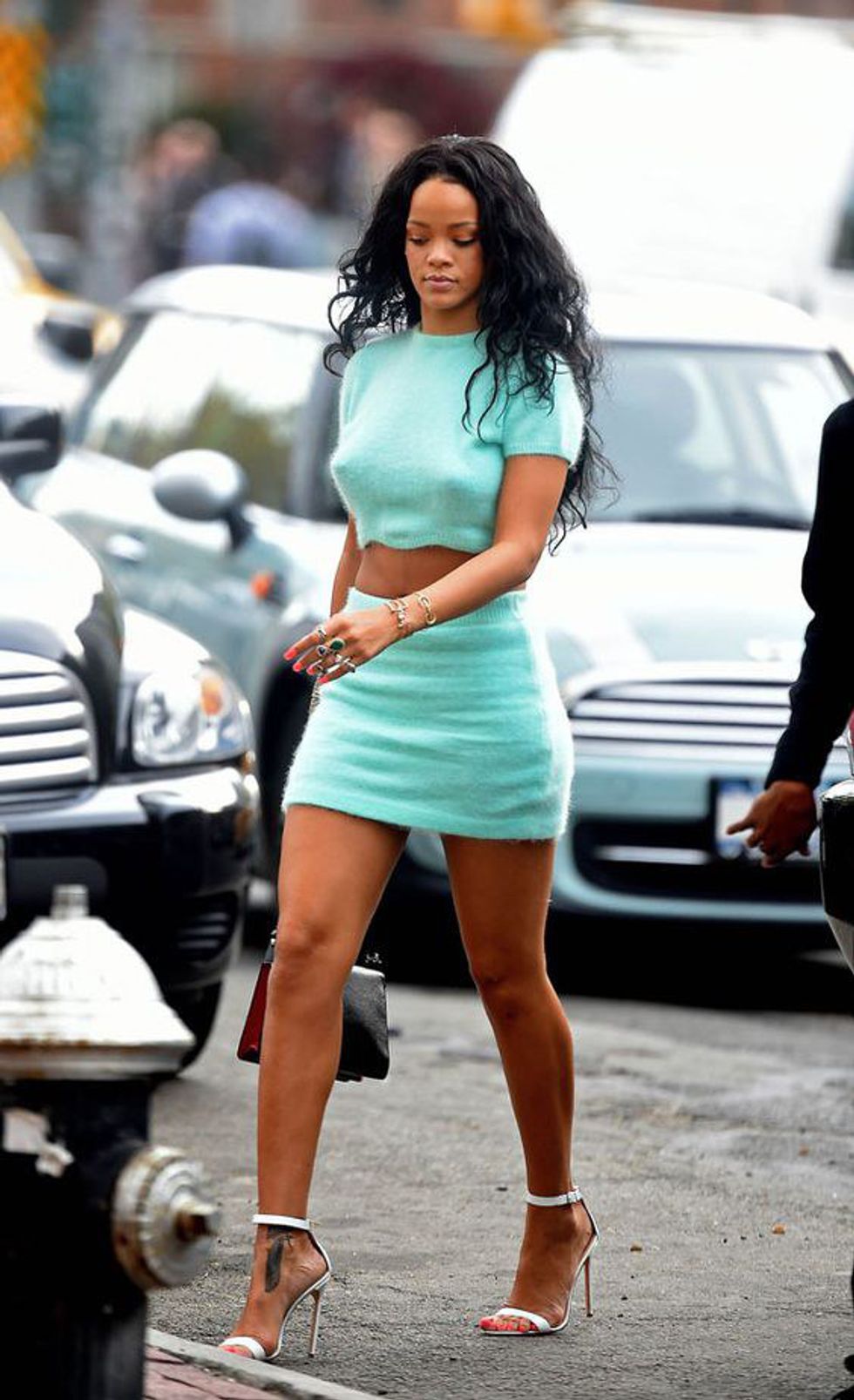 Co-ord sets are very on trend for the spring and summer, here we see Rihanna sporting a seafoam green one. One of the coolest things about her co ord, which may be hard to notice in this picture, is the texture of it. Her accessories include gold stacked rings, one which has a jewel that matches. You can find co-ord sets at stores such as Forever 21 and Zara.
Look 2: Slip And Denim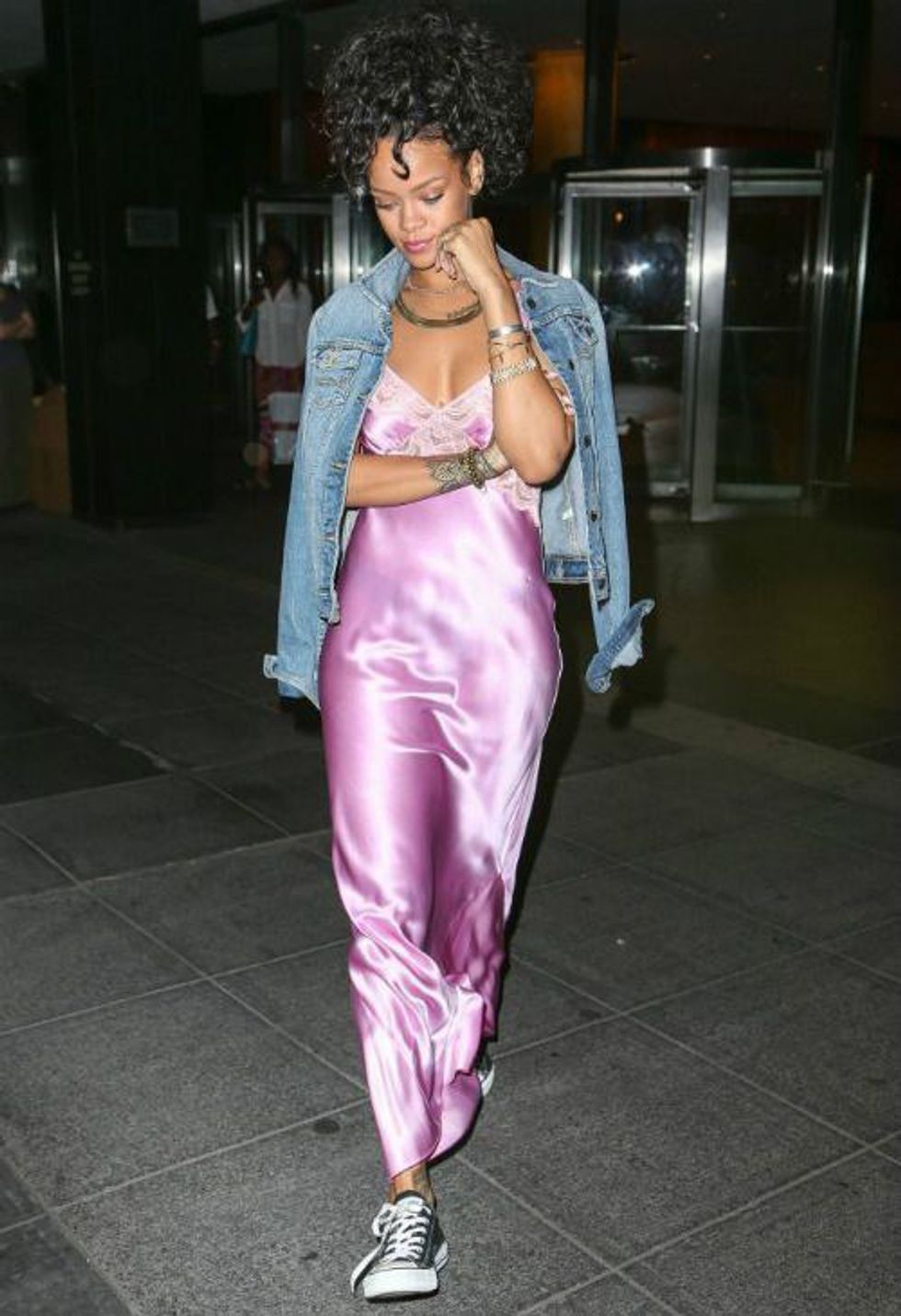 This look is pretty much the definition of Rihanna's style. Here she is wearing a pink slip dress with a denim jacket. Most people would wear slip dresses to bed, however the way Rihanna styles it makes it wearable for a night out. Her outfit may appear formal on its own, however the converse and denim jacket make it more casual.
Look 3: T-shirt Dress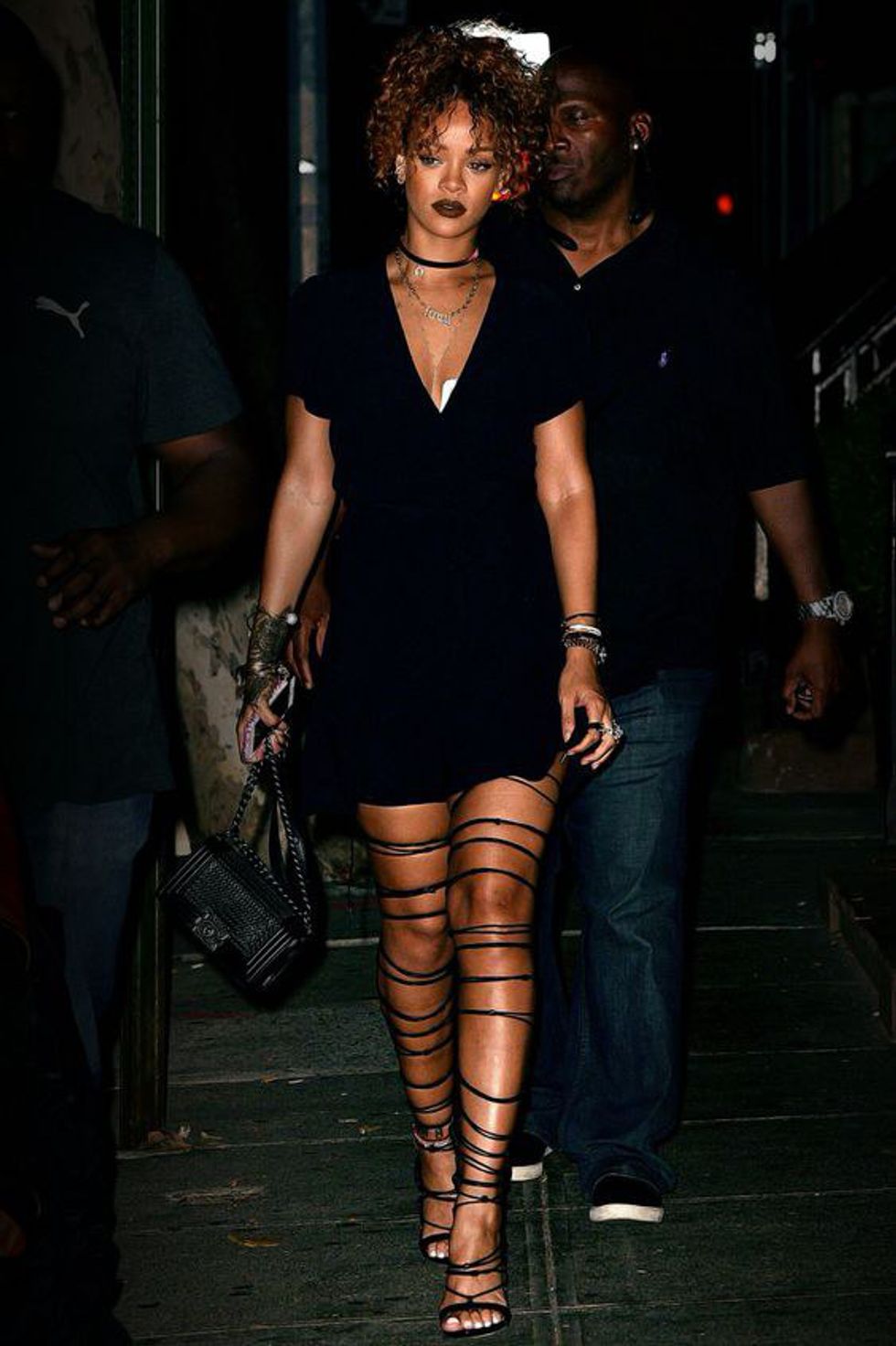 Rihanna is rocking a black t-shirt dress, the stand out piece in this look are her shoes. She keeps a black color scheme all around with her lipstick, bracelets, choker, and purse.
Look 4: Pretty In Pink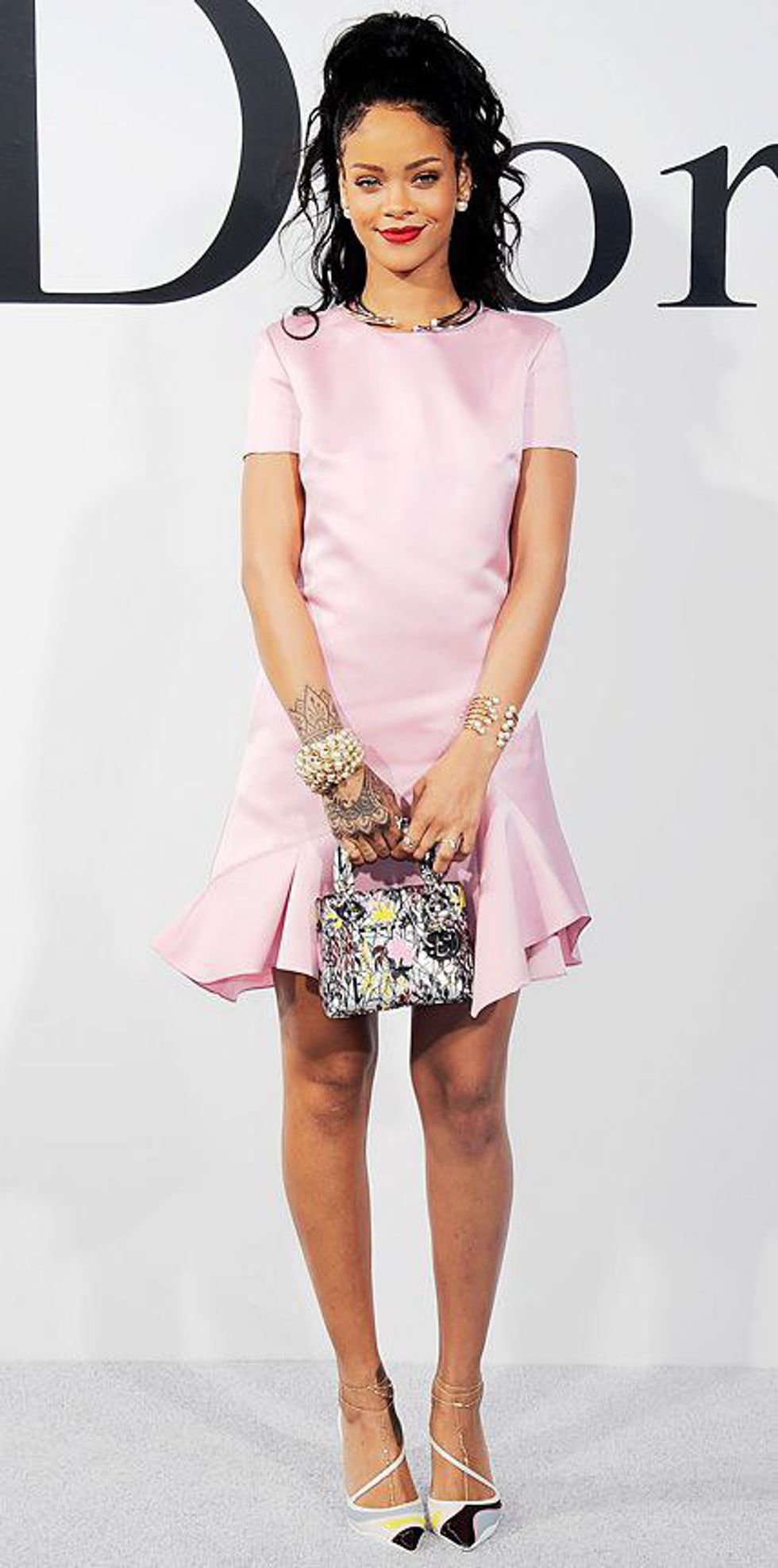 This outfit goes to show that Rihanna can pull anything off. While pink and red don't typically mesh well together, it looks amazing on her. Since the dress is so simple, she wears chunky bracelets and a necklace. My favorite part of the look is the bag, from the size to the color of it. I also am loving her hair slicked back into a high ponytail, this way more attention is drawn to her makeup. Something that may be difficult to notice are her anklets, they peak over her flats and add a touch of uniqueness.
Look 5: Silky Stripes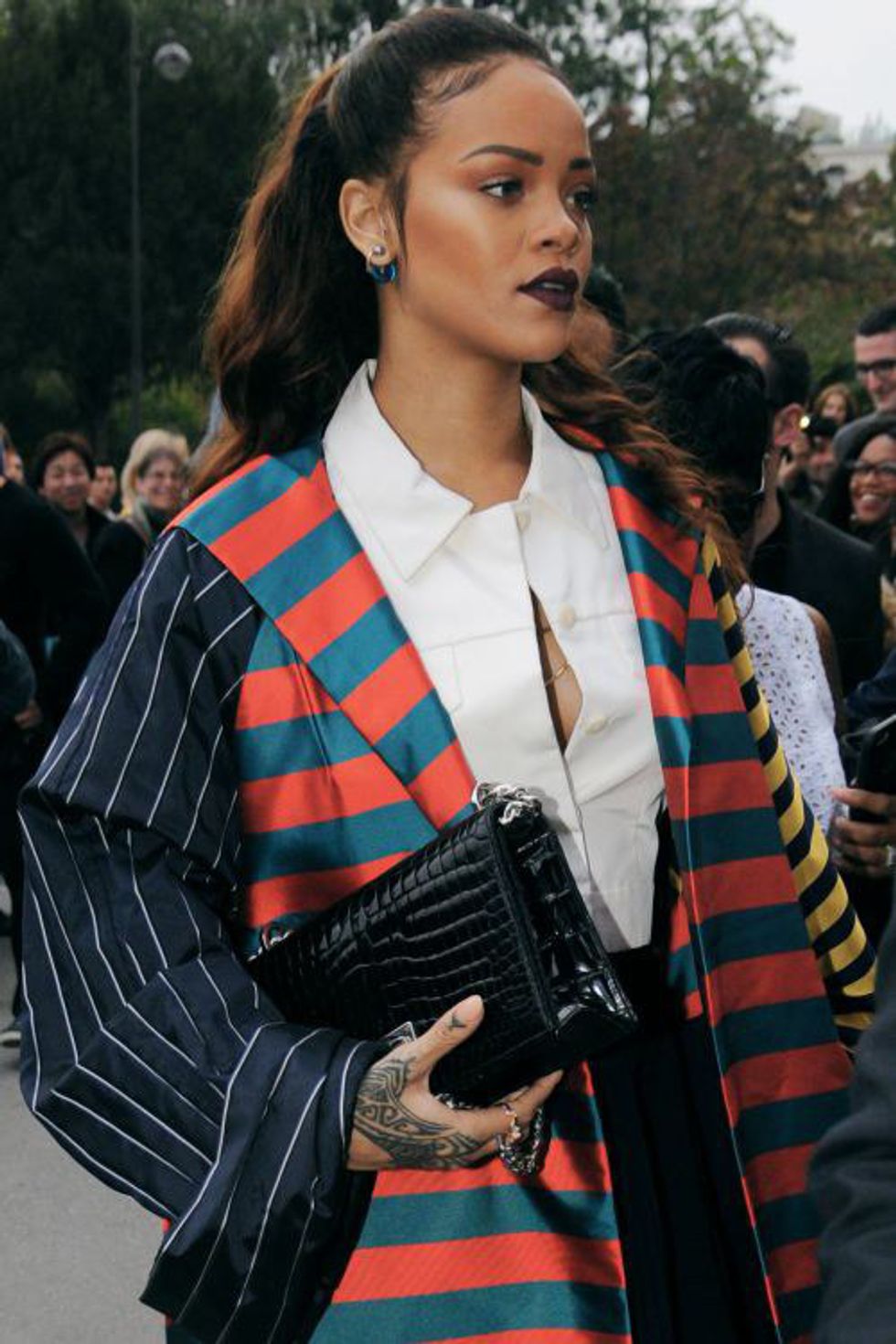 As we know Rihanna is not afraid to wear looks that are more daring. Here Rihanna clashes several different colors and styles of stripes. The material of her overcoat is a silk, she clashes patterns with a snake skin clutch. She goes for the dark lips which is a must for pretty much all of her looks.
Whenever you are deciding what to wear, remember that you can wear whatever you feel comfortable in, even if it may be daring