Pop culture fans from near and far descended upon downtown Providence last weekend for Rhode Island Comic Con, "The Biggest Show in the Smallest State!" An estimated 60,000 attendees took over the Dunkin' Donuts Center and Rhode Island Convention Center for the chance to meet some of the biggest names in the entertainment industry and celebrate New England's community of geeks.
The three-day convention kicked off Friday, November 10th to some disappointing news for fans of AMC's "The Walking Dead" and Marvel's "Avengers" franchise. Headliner Mark Ruffalo of "Thor: Ragnarok" had a last-minute cancellation, as did TWD headliners Norman Reedus, Tom Payne, Lennie James, and Khary Payton after being barred from appearing by AMC due to the show's filming of their season finale in Georgia.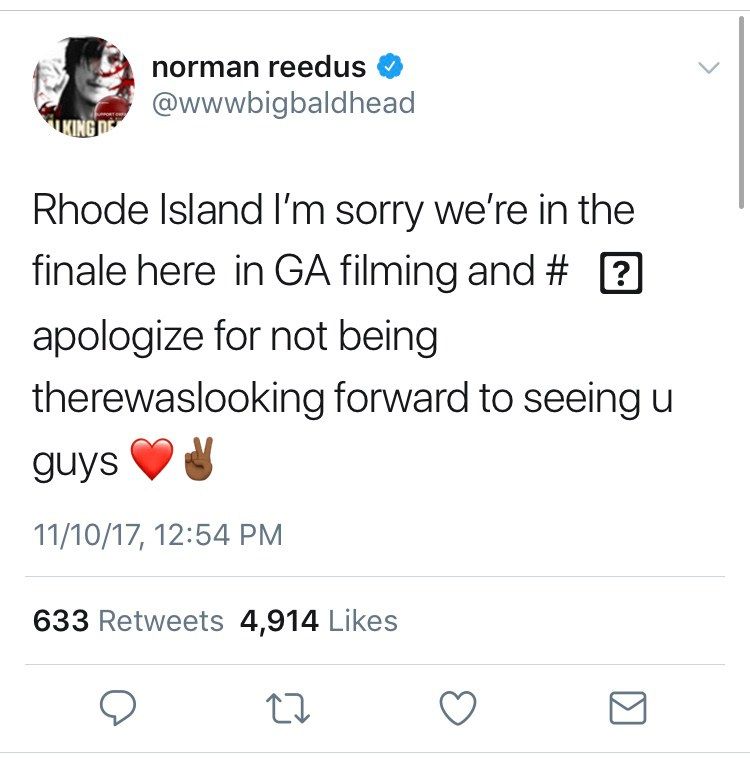 Late cancellations are unfortunately nothing new to the RICC scene. Just last year, headliner Kate Beckinsale of the "Underworld" franchise had to cancel her appearance due to a work conflict, as did the late "Star Wars" legend Carrie Fisher in 2015 after coming down with an illness.
Fans were understandably disappointed and frustrated, though RICC immediately began the process of refunding VIP, photo op, and autograph tickets for these guests. People have every right to be upset. It's a lose-lose situation for everyone involved, and I wish I had better consolation for disappointed fans. All I can say is that these things happen, and unfortunately in the convention world there's always risk of appearance conflicts, especially from such big-name talent.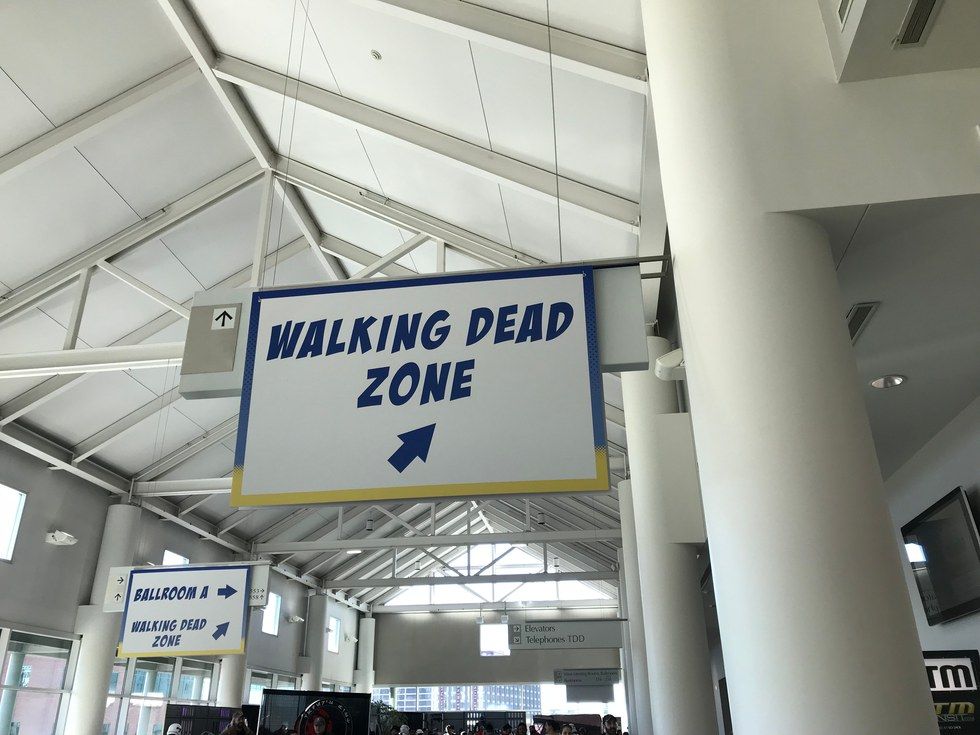 Nevertheless, RICC still delivered an impressive lineup for the weekend. Among the guests were Andy Serkis ("Lord of the Rings"), Sebastian Stan ("Captain America"), Gene Simmons (KISS), Robert Englund ("Nightmare on Elm Street"), Sean Astin ("Lord of the Rings"), and Jason Isaacs ("Harry Potter").
With over 100 guests, this was sure to be a packed show — and boy was it. This was my third year attending RICC, and anyone who has been in the past knows that chaotic crowds are always to be expected. As someone who has gone a few years in a row now, I can absolutely see the effort the show has made over time to get a handle on the massive crowds of people. Implementing one-way traffic in and out of the venue and exhibition halls really helped organization compared to years past. The system is still not perfect by any means — it took hours to get everyone inside the venue Saturday morning, the exhibition floors were tightly-packed and had people walking in every direction, and lengthy lines combined with busy guest schedules had attendees missing autograph and photo sessions.

Personally, I thought the show did the best with what they were given. The problem with being "the biggest show in the smallest state" is exactly that: RICC has simply grown too big for the space it's in. With the Dunkin' Donuts Center and the Convention Center being the state's premiere venues for events, there isn't really any place bigger for it to go. As of now, the only foreseeable solution I can see to this problem without reducing the amount of talent the show regularly brings is capping ticket sales earlier. It's unfortunate, but I'm not sure the show can safely continue on bringing in as many attendees as it does.
Aside from the crowds and lines, I had a fantastic day on Saturday. Before meeting guests, I browsed through the artists and vendors and was awed by all the incredible talent. Everything was so unique and innovative, and quite frankly I'm shocked I didn't drain my wallet right then and there.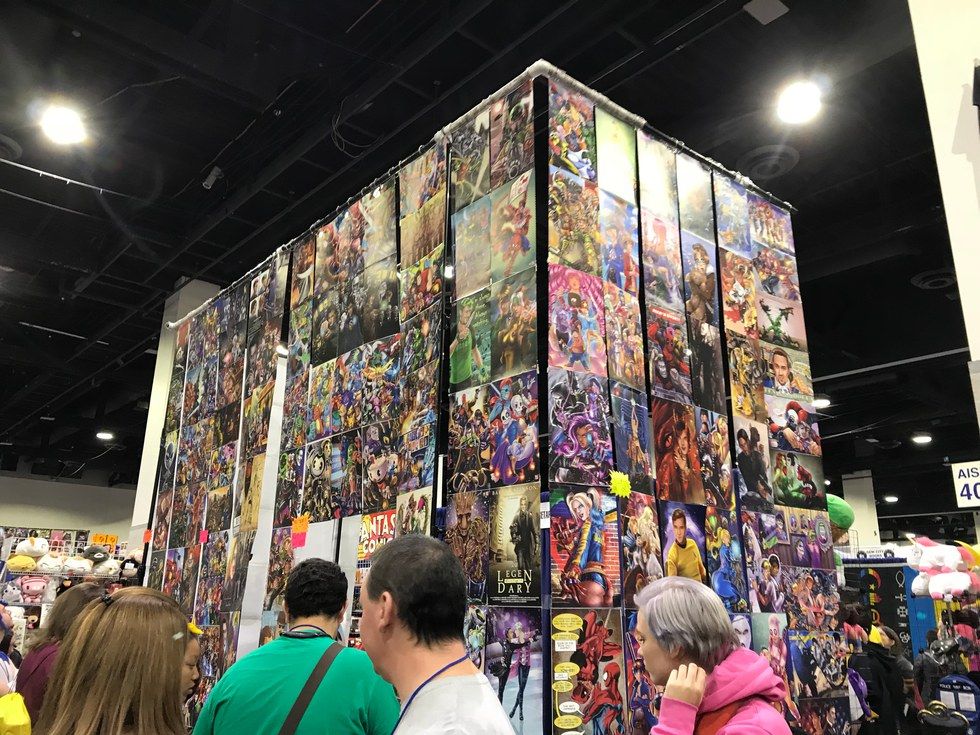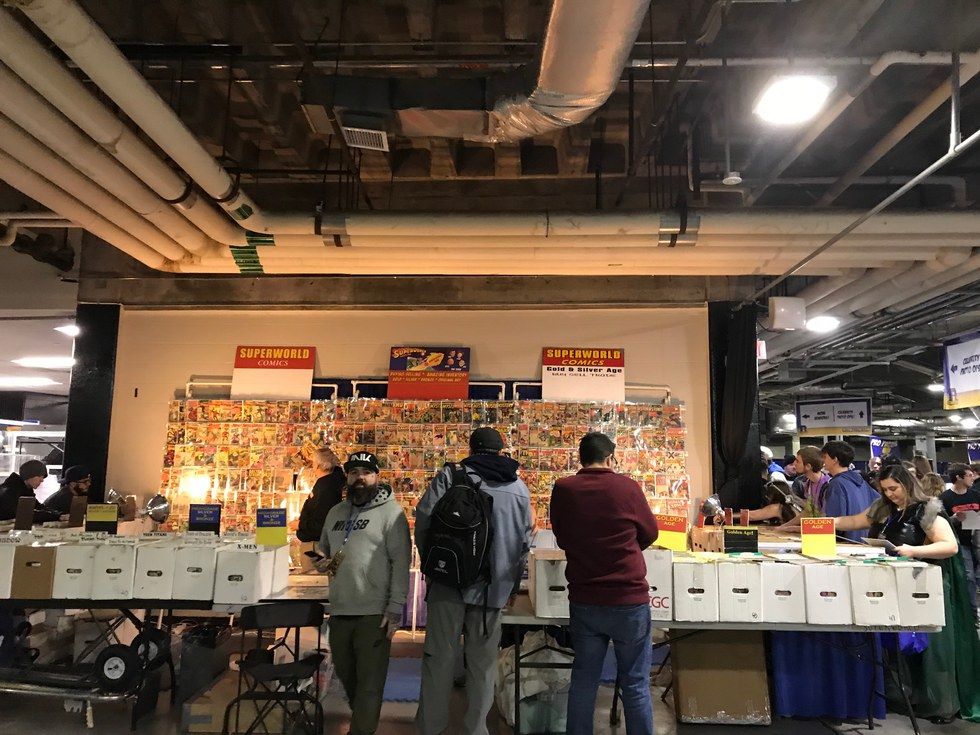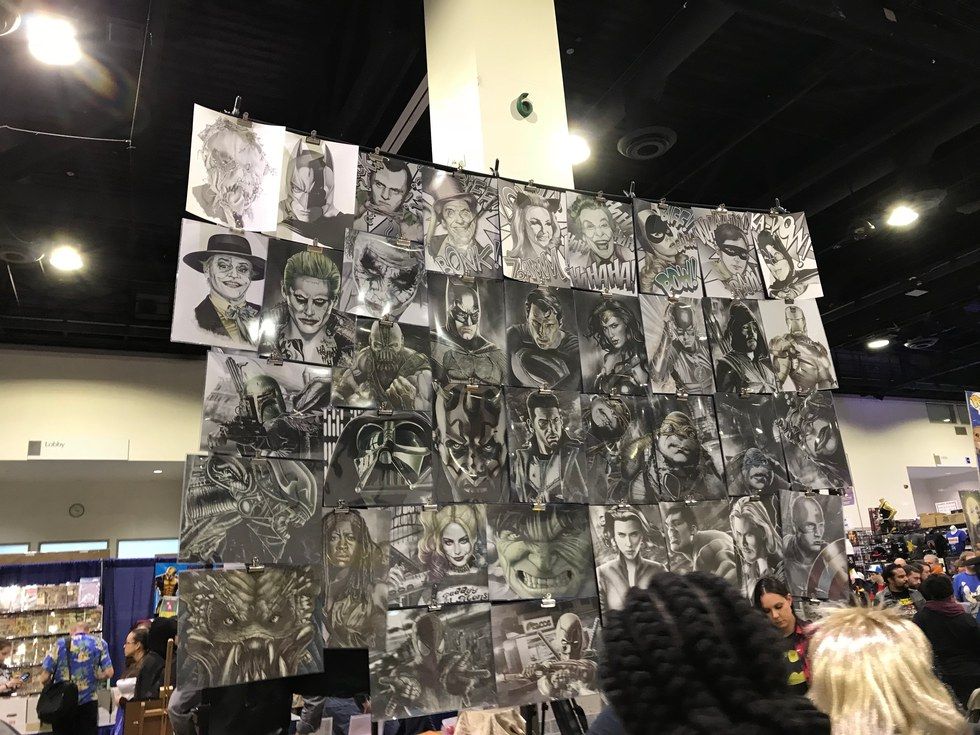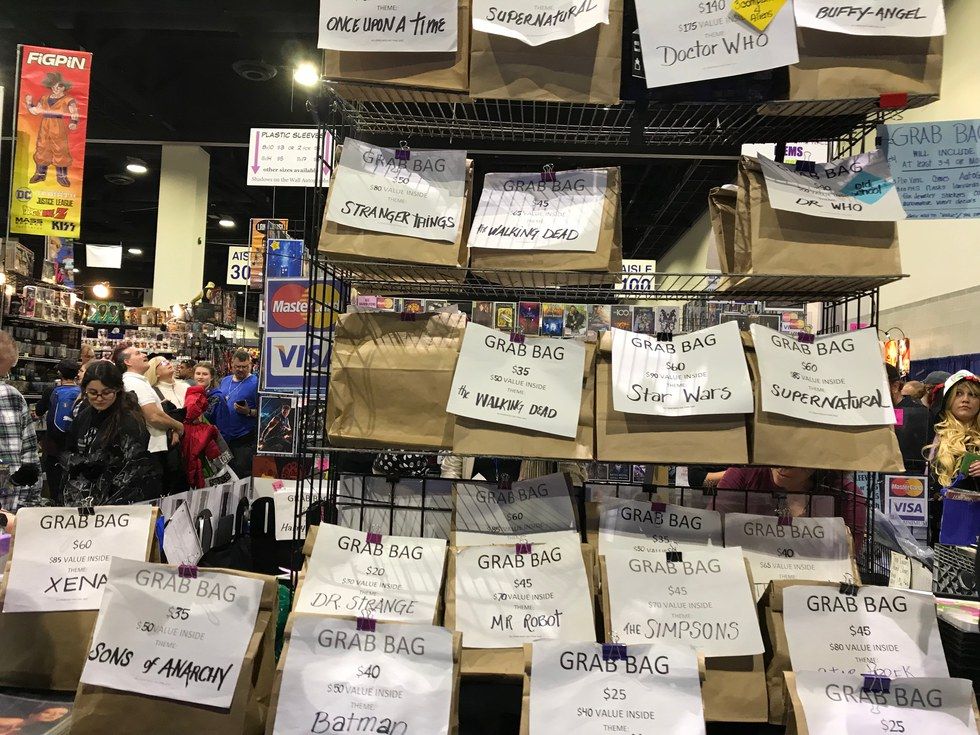 After browsing Artists' Alley, it was time for my most anticipated event of the day: the "Stranger Things" photo op with Sadie Sink, Caleb McLaughlin, and Gaten Matarazzo. Following numerous complaints about RICC's photo op company last year, the show decided to make the switch to Celeb Photo Ops. Additionally, in response to mass congestion in the photo op area last year, RICC moved photo ops to a large enclosed tent outside.
I thought this was an incredibly smart decision. With so little space to work with, RICC really got creative, and though a little chilly, it made for a much more enjoyable experience.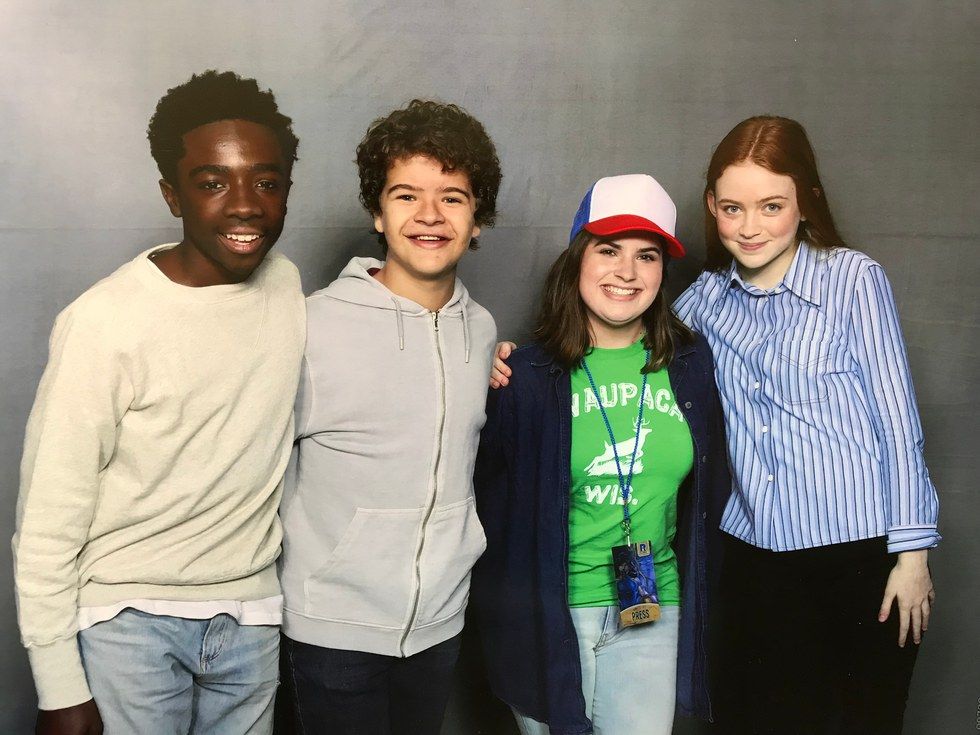 Celeb Photo Ops were unbelievably efficient, proactive, and helpful. I actually blinked in my first photo, and without any hesitation, I was rushed back to the front of the line for a retake. The staff was so kind and I did not hear one horror story of a photo op purchase gone wrong. Being an extremely fast-paced process, I didn't have much time with Sadie, Caleb, and Gaten, but the few seconds I had with them were nothing short of incredible. They were genuinely eager and excited to meet every single fan and were so kind, funny, welcoming, and professional.
After recovering from being totally starstruck, I attended my only panel of the day, "Cosplay and Consent" with cosplayers Jackson Juniper, Little Dove Cosplay, Serena Cosplay and Ask Kaylee Frye.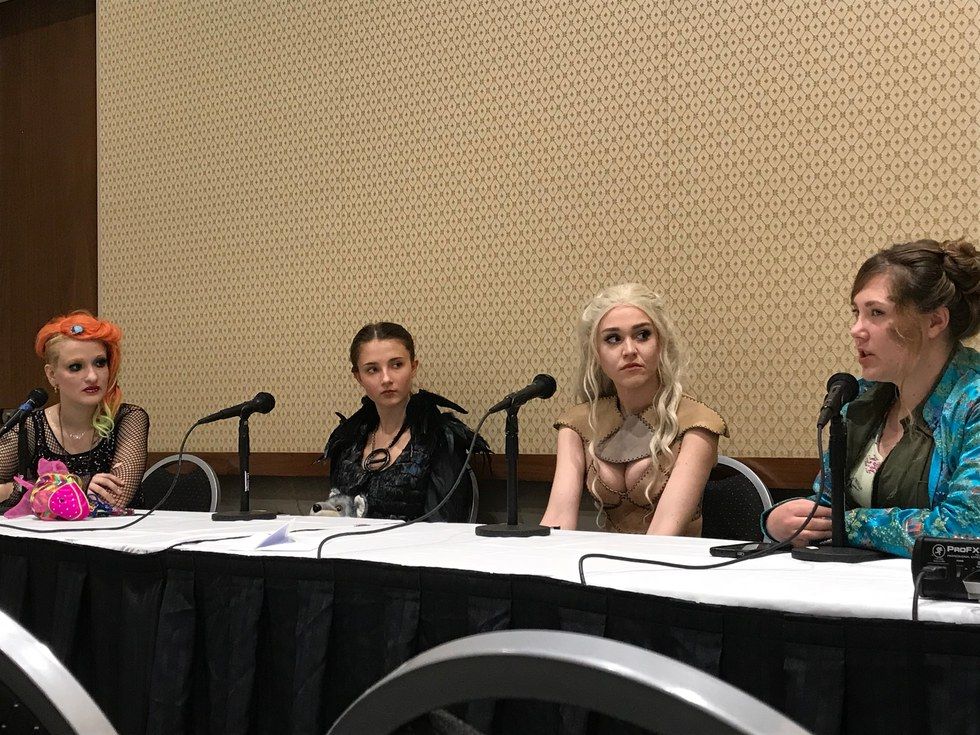 "Always feel free to ask questions. Ask questions and make sure there's mutual agreement." - Tess (Little Dove Cosplay)
This was an exceptional and timely discussion about the idea of consent as it relates to the cosplay community, what is and is not acceptable when interacting with these artists, and how to respect them. Each panelist shared their experiences with harassment at cons, how they react in such situations, and advice for people both inside and outside of the cosplay community to make sure cons can be safe and enjoyable for everyone.
My final stop of the day was meeting "Luke Cage" star Mike Colter at his table. It was a substantial wait, but completely worth it. Mike is an absolute legend as Luke Cage and I have so much admiration and respect for him. He was so down to earth and funny, and it was so surreal meeting someone who plays such a larger-than-life superhero.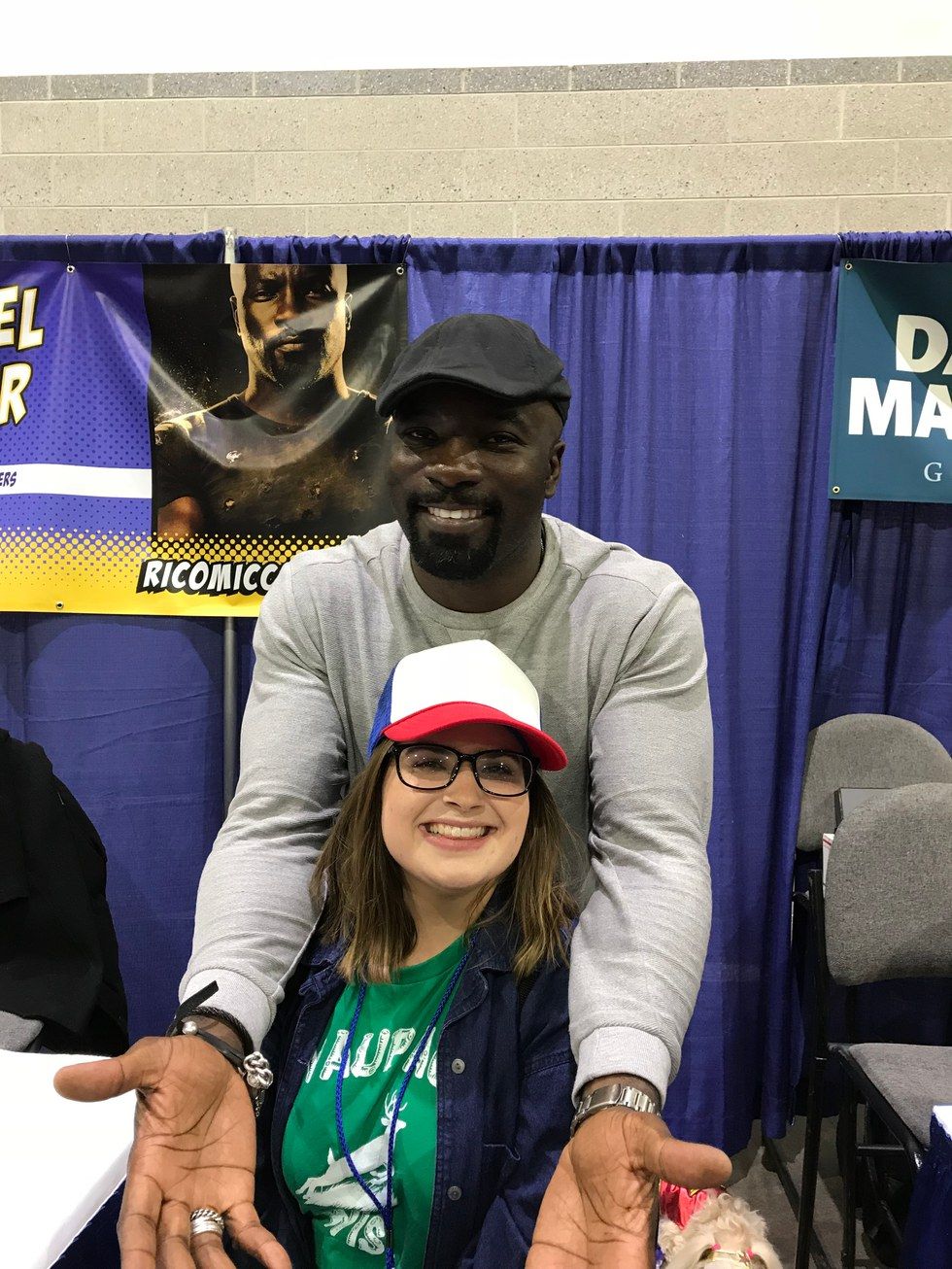 Overall, I had a great time at RICC 2017. Though it continues to have logistical issues, I do appreciate seeing the changes the show makes each year based on attendee feedback, the most notable improvement for me this year being the new photo op area. Despite some unfortunate cancellations, the show still delivered a fantastic and diverse lineup of guests from every corner of pop culture fandom. In the future, I hope to see more control of attendance to make the event as safe as it can be and to assure that fans have the opportunity to fit in everything they want to do.
Thank you to Altered Reality Entertainment for another unforgettable show, and I cannot wait to see what's in store for next year.
Experience Ratings for Saturday, November 11th at Rhode Island Comic Con 2017:

Foot traffic and organization: 3.5 / 5
Venue: 3 / 5
Guest interactions: 5 / 5
Panels and events: 5 / 5
Would I recommend?: Yes
Overall rating: 4 / 5
Cover Image Credit: Casey Wahl