*** Warning: Spoilers! ***

Last Friday, March 24th, I saw "Waitress" on Broadway, two days before Jessie Mueller left the show. I am so glad I finally got to see this musical because I have been wanting to for a very long time. I had first heard about it because it was the first big show that Mueller had done on Broadway since she won the Tony for playing Carole King in "Beautiful: The Carole King Musical." After I started listening to the music of "Waitress", all bets were off. The musical was different that a lot of classic shows and it was cool to hear the contrast. There was even musical contrast in the show between songs like Ogie's and most of the other characters more pop sounding music. But they all flowed evenly thanks to the musician and lyricist Sara Bareilles, who did an amazing job and who will actually be taking over the part of Jenna after Mueller. The story of this woman brought the whole audience to tears and gasps and when the final act came we were sobbing one minute and cheering the next.
The story revolves around Jenna, a small town pie baker and waitress stuck inside an abusive marriage. She has dreams of leaving her husband Earl, and opening up her own pie shop but throughout the show she is too terrified to leave him. These dreams are dashed when she finds out she's pregnant. Throw in some eccentric Dinner employees, a cute but nervous doctor, a lot of creativity, and pie and you have a hit. This musical also plays tribute to it's source material in very cute little ways, which I did not expect but enjoyed immensely.
My favorite thing about the musical was it's story, which came from a movie called, you guessed it, "Waitress." Written by the late Adrienne Shelley, for which the musical is dedicated to, it followed the same story line but switched some things and added others to keep it interesting. The affair between Jenna and her doctor is one that the audience actually roots for, through its bitter sweet moment and its jittery conversations. It was also great that Dr. Pomatter, the doctor and Jenna's love interest, could be the leading man in a show and still be sensitive and emotional. The affair is rooted for mostly because of Earl, Jenna's Husband. The hints to physical abuse don't come close to the emotionally and mentally abusive conversations, with Earl blaming Jenna for everything that happens in such backwards ways I don't even know how to describe it.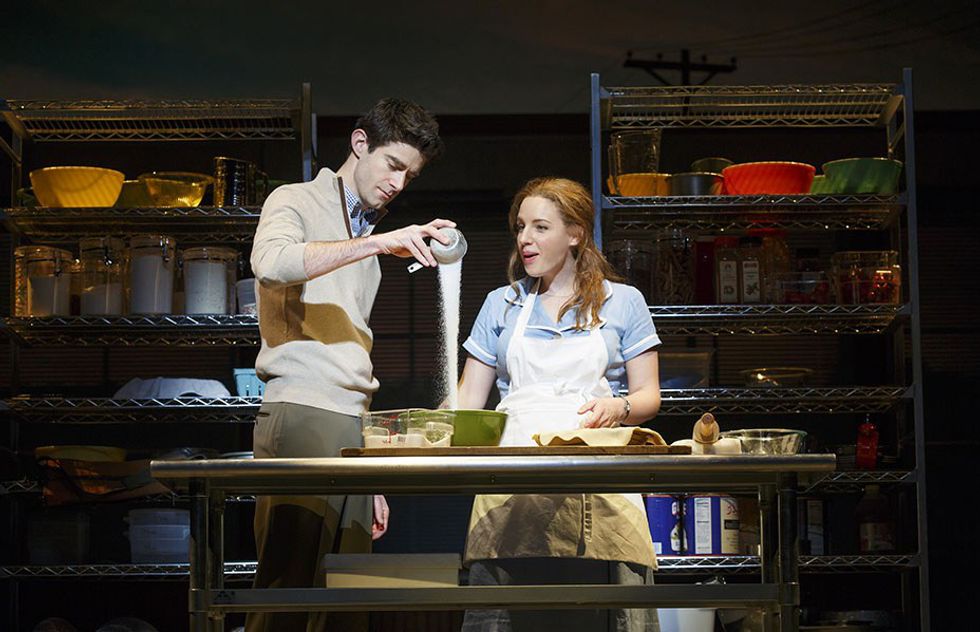 The sometimes horribly sad moments of Jenna's life (before it gets better) are balanced out by Jenna's friends and their respective others in the show. Her friend Becky and the cook Cal, who is their boss at the diner they work at have never really gotten along and their showdowns are legendary, with their witty and hilarious quips becoming some of the best parts of the show. They get even better when you find out that they are in a relationship. The other friend to Jenna is Dawn, the awkward, nervous, but beautifully sweet waitress with her eventual husband Ogie melting everyone's hearts with their sweet but hilarious songs.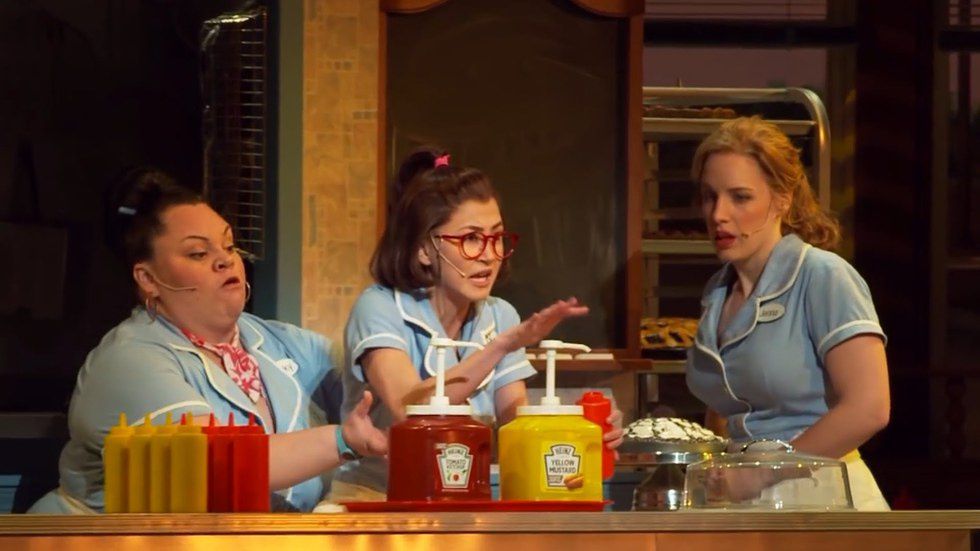 The entire cast was fabulous with Jessie Mueller as Jenna as well as Charity Angél Dawson as Becky, originally played by Keala Settle, a Broadway veteran. Dawn was played by Caitlin Houlahan, who originally was played by Kimiko Glenn from "Orange Is the New Black." Henry Gottfried was also a stand out as the understudy for Dr. Jim Pomatter, this being his first Broadway show which is incredible as well as Jeremy Morse, the understudy for Ogie who is one of the most funny men I have ever seen in action on stage.
This has become one of my favorite Broadway shows for good reason. Everyone should see this show because it has something for everyone. And they also serve little pies at intermission. What more could you possibly want!