I come back to by account on Odyssey from an exit due to indifferences with the site. I felt like every time I went on here and from all the news on here I saw on Facebook, everything felt so antifeminist and so geared towards heated talks on rejecting that image of liberalism and feminism. I think publications based around mostly college aged girls will have that "rejecting labels" theme, but I felt like my views were constantly under attack and misunderstood. I didn't want to continue having to write for sites that are very white washed and didn't understand the full picture. I felt like I needed to make a return after my last 2 articles on here were just the dreaded "list" articles which were all for fun and games to address something more serious. On here, we weren't supposed to go into such heated political talks, but this is something close to my heart, I need to say it.
Ok, so like what even is feminism, y'all?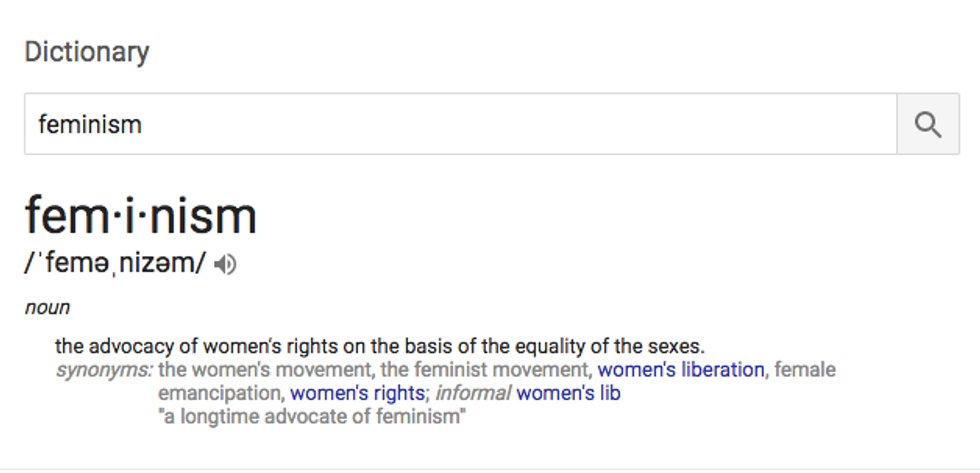 Screenshot from Google.com
I want to have this for anyone to reference when reading this piece. I am a feminist. I have been a feminist since the time I was born. I used to read about all the amazing achievements of women and I aspired to be like them. There was another response article to the article I am going to talk about I recommend checking out, as it's a little shorter and simpler but has a similar point.
I come back now as the article "I'm The Girl Who'd Rather Raise A Family Than A Feminist Protest Sign" triggered lots of emotions for me. This article reflected on how the writer rejects the label of feminism, how she doesn't understand why women keep fighting and how she wants the housewife image. One of which was disbelief. It was ignorant, it was laced with privilege. I really think the author missed the ball on what feminists and women activists have really done for our generation of women and why it's important to keep preserving it.
Let's begin.

The first thing that caught me was the sub headline of "You raise your protest picket signs and I'll raise my white picket fence." which is so misleading. In my women's studies class, we talked about how a lot of women reject the label of wanting to call themselves a feminist as many women feel like feminist just want to go out into the world and scream at men while burning our bras. That's not the case, most feminists believe that if the image you want for yourself is the typical housewife image, you have every right to it. It's what makes you who you are and that's perfectly fine. Thank a feminist for giving you the right to choose if you wanted to do that.
"So what's with all the hype? We are girl bosses, we can run the world, we don't need to fight the system anymore." This is really where your privilege is showing. What do you mean we don't need to fight anymore? Recently, our President announced that companies could refuse to pay for women's birth control. There is still a wage gap that impacts women, but especially women of color and marginalized women. Women still fear walking home at night. Women still get spoken over in meetings and in general conversations. I am an example of a girl who constantly gets spoken over by men. Women didn't stop fighting after their right to vote was legalized, women didn't stop fighting when we finally legalized abortion, women didn't stop fighting when the Violence Against Women's Act was put into place. To say that, it insults every generation of women to tell us not to fight the system anymore. The system right now is ran by a man who has said "grab them by the p***y" while appointing various people who could don't care about women.
I think you're a feminist, actually.
"And I'll support you in your endeavors and climb to the top of the corporate ladder. It doesn't matter what side you are on as long as we support each other, because we all need some girl power." Girl! That's the purpose of feminism, is to support one and other's goals and dreams. You said something feminist at the end, by the way. I have plenty of feminist friends who want to be stay at home mothers and I support it. My mother is one of the biggest feminists I know and she was a stay at home mom for about 10 years. There is nothing wrong with it. What's flawed about your article is you missed the point about why women are still fighting. Not many women have the platform and the privilege you and myself have, that's why we fight.
"I will have no problem taking my future husband's last name, and following his lead.
The Bible appoints men to be the head of a family, and for wives to submit to their husbands. (This can be interpreted in so many ways, so don't get your panties in a bunch at the word "submit"). God specifically made women to be gentle and caring, and we should not be afraid to embrace that. God created men to be leaders with the strength to carry the weight of a family.
However, in no way does this mean that the roles cannot be flipped. If you want to take on the responsibility, by all means, you go girl. But for me personally? I'm sensitive, I cry during horror movies, I'm afraid of basements and dark rooms. I, in no way, am strong enough to take on the tasks that men have been appointed to. And I'm okay with that."
Girl, I am glad you think roles can be flipped because my future partner and I will be equal, I will stand by that. It's fine if you don't want to do certain house roles, but don't try and take that away from women who don't agree with "tradition" as it varies for everyone. I am my own person. Do I plan on taking my future partners last name? No, probably not. However, that's my choice. If we took every literal word of the bible, we also couldn't wear jeans and cut my hair. Again, this is your right to determine how you want to life your best life, but it's something to think about.

So why am I fighting?

This goes back to why I keep fighting. I want to make a career of out that by becoming a human rights lawyer. I want to help women. I also want a family, you can have both. Making a statement of "we don't need to fight the system anymore." completely disregards what women have achieved and why women still fight. White women have privilege, I can acknowledge my own privilege. I use my platform to help marginalized women who don't have the privilege we have so they can also have the future you want, if they desiree. Our platform as women is to help bring other women up and help fight for them. You are disregarding that while there are some rights for women, there are so many more we still need to fight for. I wish we could give up simply because everything falls into place, but the reality is that won't happen. Problems don't go away by just giving up. I don't plan up giving up anytime soon. That goes with a million other amazing activists who also will not be giving up anytime soon. We rarely thank activists for everything they do, but without them, women wouldn't be where we are today and women would not be persisting.
I want to conclude with this, please consider the statements you made and how you should really thank what all your fellow sisters have done for you. You can have the image of the housewife life you want, but don't tell women to stop fighting when there is so much to fight for. I encourage you to join us. Like you said about supporting each other, support your other sisters of color, of other minorities, transgender sisters, sisters of various genders and so on. We want to create a future for your future daughter and future generations where women of any background can be fearless and incredible by doing whatever they please. I know we can do it. I want my future daughter to have so many amazing women to look up to so her future can be full and bright. I want to help as many people as I can. I want my future daughter to have any future she wants. That's why I fight and I will continue to raise my protest signs, call my politicians, organize and lobby.
Yes, you can do both! Let's kick ass together.