After six years, eight seasons, 256 episodes, and a movie, Regular Show, Cartoon Network's off-beat series that was anything but what its title may suggest, has finally come to an end, and boy, what a wonderfully strange run it has been.
Created by J. G. Qunitel, based off the characters from his short films: The Naïve Man from Lolliland and 2 in the AM PM, Regular Show sounds pretty like a pretty straightforward: Two twenty-three-year-old slackers work and live at the local park while trying to navigate their new adult lives and keep themselves from getting too bored. It sounds like the premise of any number of sitcoms, or maybe an early Kevin Smith film.It sounds, well, pretty regular .
Oh, did I mention Modecia and Rigby are an anthropomorphic blue jay and a raccoon? Oh, and their boss, Benson, he's a gumball machine. Not to mention the park's oldest (think over a century) employee, Skips, a yeti who skips everywhere; along with Muscle Man, a green "dude-bro" who loves "My Mom" jokes, and his partner, High-Five Ghost; and Pops, the big-headed son of the park owner, and whose secretly destined battle his evil twin brother to save reality itself.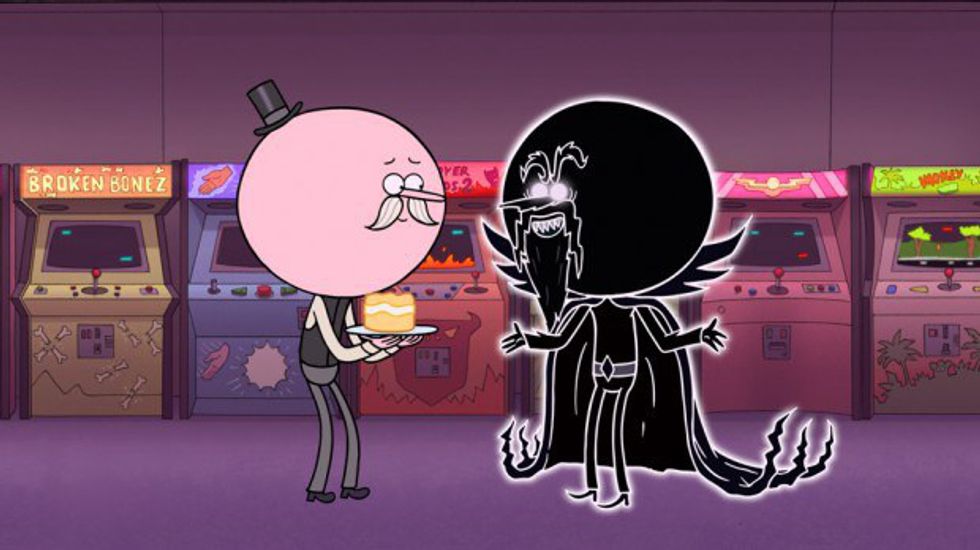 Okay, so maybe not so regular.
But that's what made the show so good; taking the mundane and turning it into the fantastical. It was a show where a premise as simple as trying to win a pair of fuzzy dice can turn into a shoot-out with animatronic band-turned diamond thieves. Where a competition to get the high score in an arcade game becomes a battle with a cosmic entity. And where a group of baby ducks can combine like Voltron into a human-duck hybrid with super strength. The Regular Show took the ordinary and made it extraordinary, often with hilarious results. Did I mention the personification of Death is an Australian biker and a recurring character?
This was a show where anything could happen, and it usually did. It used the medium of animation to its full potential, entertaining both children and adults alike.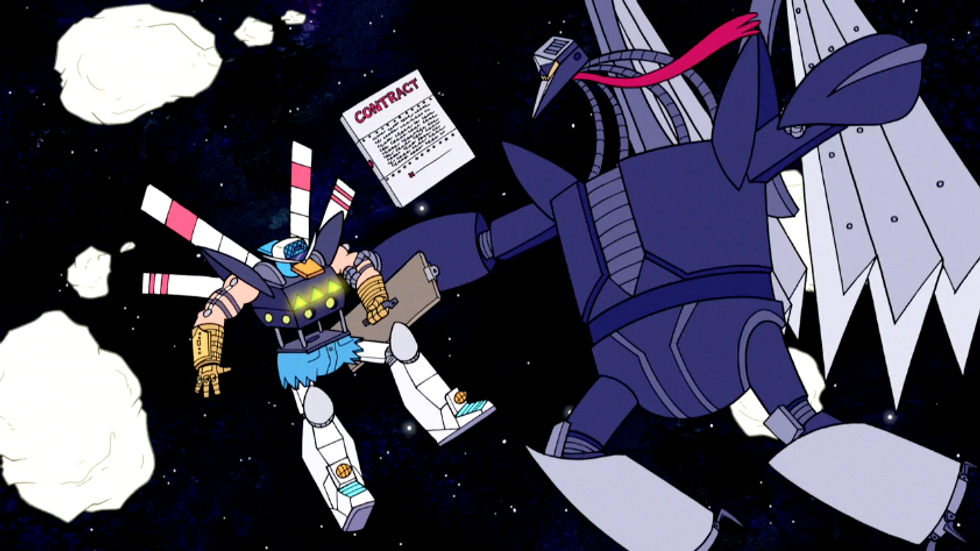 Perhaps its most impressive feat was that the show never felt like it was just for kids. Much like Pixar or Studio Ghibli films, Regular Show was something that could appeal to anyone of any age. Being on daytime Cartoon Network, the target audience was always children, but Although the audience ostensibly it never went too far, the creators always seemed to have fun poking at the barrier between what was appropriate for kids, and winking nods for adults. Although it was ostensibly set in modern day, in many ways the show was also a love letter to the 80's and 90's. Most episodes featured a song from a past decade, and the show would always make references to other shows and movies it's supposed young audience would never know. What other show would do an entire episode dedicated finding a missing trampoline (which was also Rigby's bed) in a garbage dump that was also a parody of the movie Labyrinth (complete with a spot-on David Bowie impersonation)? The Final Fight-esque video game that Mordecai and Rigby often play is so detailed, it could only have been thought up by people who actually grew up playing hours of beat-em-up games. The show was a loving tribute to by-gone eras, while always remembering to stay modern as well.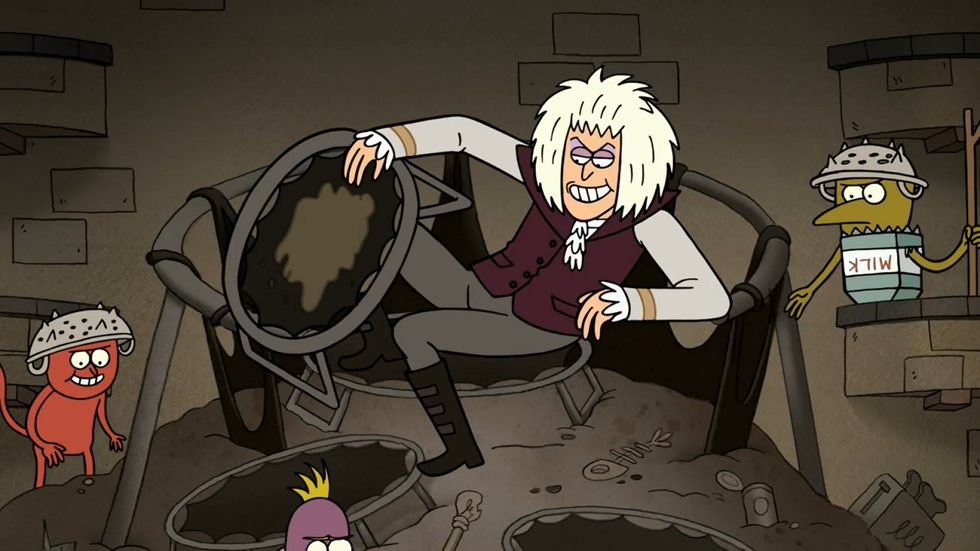 But what made Regular Show special was that amongst all the chaos and intergalactic shenanigans, it never lost its heart. Regular Show never forgot to make its characters feel like real people. Whether it was Mordecai's relationship problems, or Rigby going back to finally graduate high school, Regular Show was never afraid to deal with real problems. Benson may have started out as a strict supervisor, but even he eventually found love. Characters like Muscle Man and High-Five Ghost went from bullies, to friends, and as for Skips, well, when they finally revealed the reason why Skips loves to skip, it was surprisingly dark and emotional for a show that most would say was just "kid's stuff."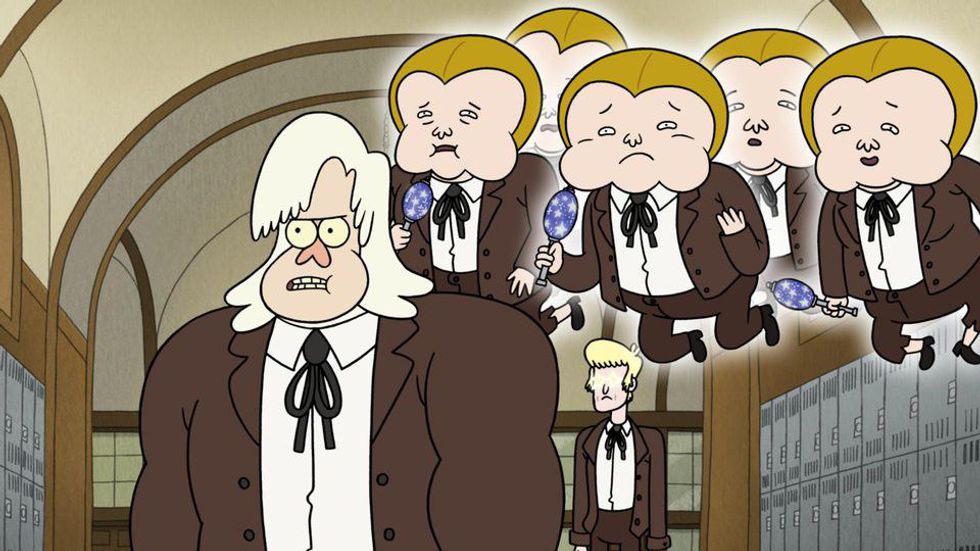 But above all, Regular Show was fun. Like any great cartoon show it was often just fun to watch these characters and their "regular" adventures. You never knew what would happen next. Sometimes it would just be non-stop laughs, and sometimes it would surprise you with more touching moments. In the closing scenes of the series, after Pops has sacrificed himself to stop his evil twin brother, we see a montage set to "We Could be Heroes" of the main cast over the next 25 years of their lives. I won't lie, it left me a little teary-eyed, a feat only a couple of shows have been able to do, both animated
or
live action.
Perhaps it's because I started watching it in my early twenties, the same age as Mordecai and Rigby that I was just able to relate to them and their struggle to just get through the adult world. At times, the show seemed to be channeling James Thurber in the way it showed how the ordinary world looks through the eyes of everyday people. The world that often can seem so boring, yet also strange and even scary. But in the end, what I'll always remember Regular Show for was that it made me appreciate the little things in life and that even the smallest of life's events are truly epic when you stop to consider them.
"Jolly good show!" Indeed.