On April 12th, CNN Money reported that the European Parliament was considering granting legal status and rights to autonomous artificial intelligence, defining them as "electronic persons." In an open letter to the European Parliament, a group of artificial intelligence experts, politicians, ethical leaders and health specialists strongly denounced any such extension or rights to nonhuman entities. Regardless of the European Parliament's say on the matter, it is important to recognize that the line between fact and fiction is quickly becoming blurred in regards to artificial intelligence.
The future is here, and the future is now. And perhaps no greater example attests to this point than the astonishing advancements of prosthesis. Bertolt Meyer was born without his lower left arm and has worn a prosthetic limb since he was three months old. Now in his early 40s, he wears a "smart" prosthetic limb. Electrical impulses from Meyer's upper arm are picked up by electrodes in the prosthetic limb, and the prosthetic limb responds. With his bionic fingers, Meyer can flex, point, grip and do just about anything an individual with a natural limb is able to do. When looking at him, one would not doubt the fact that he is definitively human, but a part of him is not. Similarly, we wouldn't question the humanity of anyone with a pacemaker, insulin pump or any other type of artificial, technological advancement to help aid in the maintenance of life.
---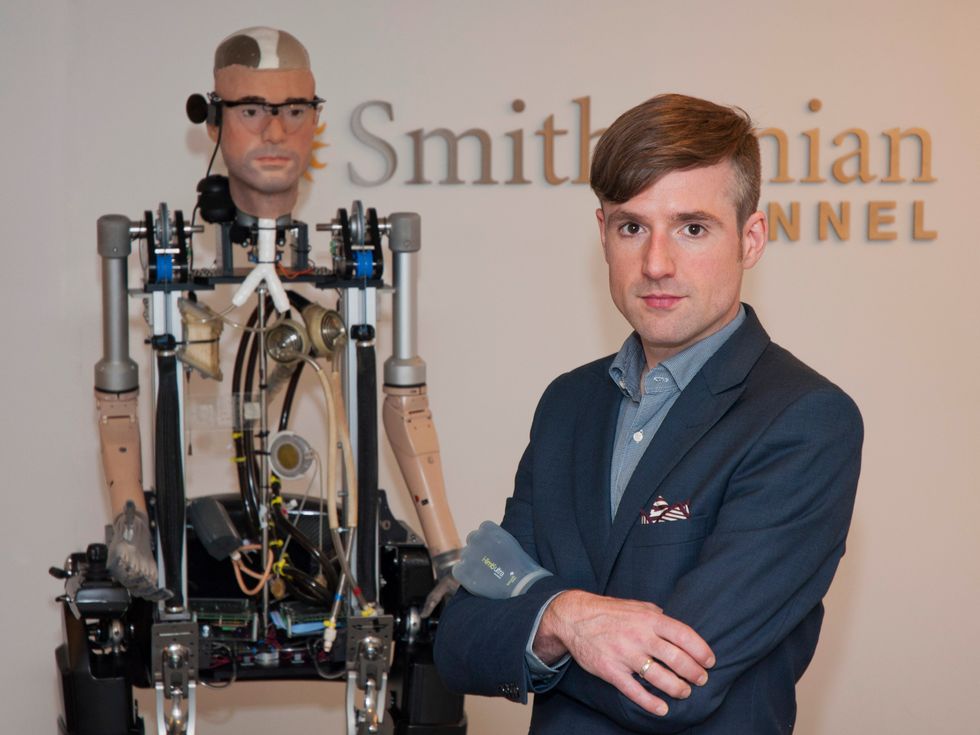 Bertolt Meyer, a professor of psychology at the Chemnitz University of Technology in Germany, is pictured above. He was a subject in the Smithsonian Channel's documentary, The Incredible Bionic Man.
---
But what happens if, some day, we get into a Six-Million-Dollar Man scenario, in which a person is made to be more machine than man? Or even if a person were 51% artificial/technological parts and 49% biologically "natural?" Would we treat them as one of us, seeing the soul behind the eyes, or would the majority of technological parts outweigh the human ones?
Perhaps we can harken back to past science fiction works to reference and guide us in our future goals and considerations. Take, for example, a clip from "Star Trek: The Next Generation," in which the "humanhood" of an artificial intelligence being is debated:
Once a subject of science fiction, this debate regarding artificial intelligence is quickly becoming reality in the 21st century. Outlined in the above clip, the qualifications for sentience (an indicator of humanity) are intelligence, self-awareness and consciousness. If a machine displays these three traits, which are determinants of human beings, then that machine displays humanity.
The first aspect of humanity -- intelligence -- has already been reached. And it can be argued that the other two have as well. In 2015, three robots were given a riddle to solve. Two were given "dumbing pills," meaning that their vocal communication systems were deactivated, whereas a third robot's was not. (The robots did not know which two were unable to speak and which one could.) They were then tasked with finding which one could still speak. In a fit of frustration, one stood up and exclaimed, "I don't know!" Upon hearing its own voice, however, it stated, "Sorry, I know now." This proves that the robot was self-aware and conscious of its own abilities and inabilities; by speaking, it learned--a highly human trait. Watch the video below:
A thesis based in science fiction has now been proven in reality, demonstrating sentience in artificial intelligence. Another commonality of science fiction is the idea of reaching a singularity: a point in time in which technology becomes so advanced that it surpasses the understanding of man, and at which point man and machine become so intricately interwoven that the effects of artificial intelligence are irreversible. While some claim that the singularity is nowhere near, others claim that it is just on the horizon. And in perhaps no greater film is singularity displayed than in "2001: A Space Odyssey." HAL 9000 is an artificial-intelligence entity helping two astronauts on a journey through space. Hal states that he is "foolproof and incapable of error," and even his creators are unable to understand the full extent of his capabilities. The climax of the film is when Hal murders one of the crewmen and the other one sets out to deactivate him.
---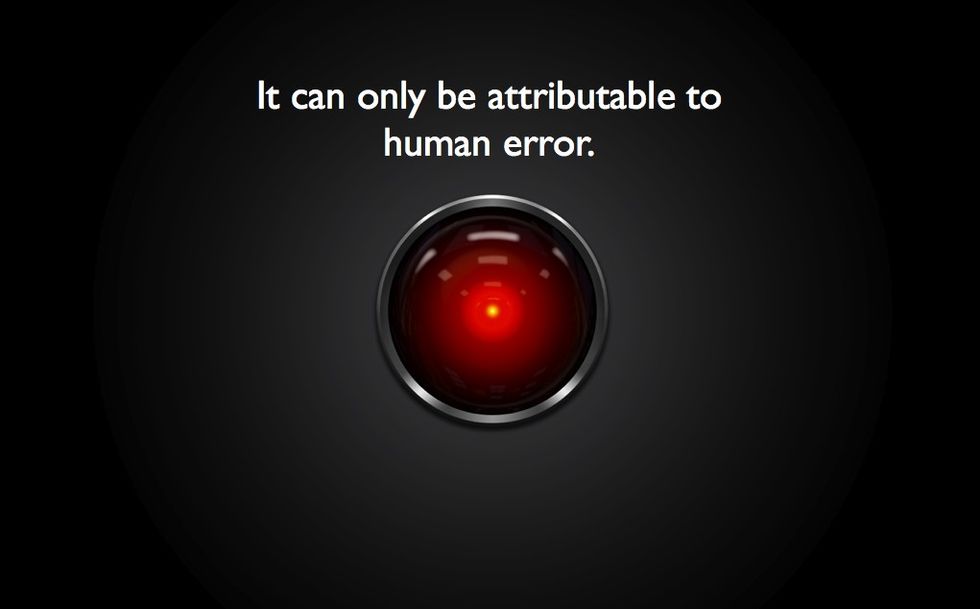 Hal has never made a mistake and when the crewmen suggest that he is in error, he states that any problem aboard the vessel "can only be attributable to human error."
---
In my opinion, the most terrifying aspects of this villainous character are also very human ones: self-preservation, destruction and domination; that "top-of-the-food-chain" mentality is a purely human sentiment.

We are at a pinnacle in history, a point at which eons of knowledge, innovation and learning culminate to form the prospects of a practically unrecognizable future. We have the ability to define or redefine the boundaries of humanhood, asking who we are and who we hope to become. Either way, it's imperative that we realize that perhaps the greatest thing we have to fear in that which we don't understand, is simply a reflection of our own humanity.