Whether you've just graduated and are looking to join the working world, are making summer plans between school years or are even just looking to prove your adulthood to your parents while you still live at home, you are an adult. Eventually, you won't be a coddled student anymore, and you'll find yourself homeless and unemployed. There won't be dorms or dining halls, and there certainly won't be a full-time staff devoted to feeding you and cleaning your communal bathroom. Despite all the blogs devoted to advice on adulting, you're still going to have a lot to learn. Here are the basic steps to adulting. Follow them in order—I learned this the hard way—and hopefully you'll be a little more responsible than I was.
1. Get a job
In order to survive in The Real World, you need a reliable source of income. At the bare minimum, you'll be paying for a safe place to sleep at night and enough food to sustain life, and if you're like most young adults, at least a few social outings. This stage starts with applications—dozens and dozens of applications, both online and on paper. After the first four, they'll all start to look the same and you'll probably find yourself doubting whether you truly know how to use Microsoft Office beyond picking fun PowerPoint themes. You'll get a few interviews, and, if you're lucky, a call-back. In the end, you might end up with a single job offer—and it might be something boring or tedious or even hard labor. Remember to consider all your options before making any commitments, and please please please remember to check your email! Every day! Every hour if you need to! Eventually, you'll find yourself with a job, and then you can celebrate with a nice bottle of sparkling grape juice.
2. Get an apartment
After you've got a job (or are willing to commit yourself to the task of finding a job no matter what), you can start looking for a place to live. This is actually just as hard as getting a job. If you're planning on studying/working/volunteering/interning/hanging out at your college during the summer, start early. Yes, this means you should have a job lined up as early as possible, too. You'll want to know how much money you're earning before choosing an apartment you won't be able to afford. Look up bus routes if the apartment is far from wherever you're working or studying. Find out how far it is to the nearest grocery store (and remember you'll have to carry heavy bags of food). Once you've found The One, there's more paperwork to be signed, and then you're free to celebrate with more sparkling grape juice.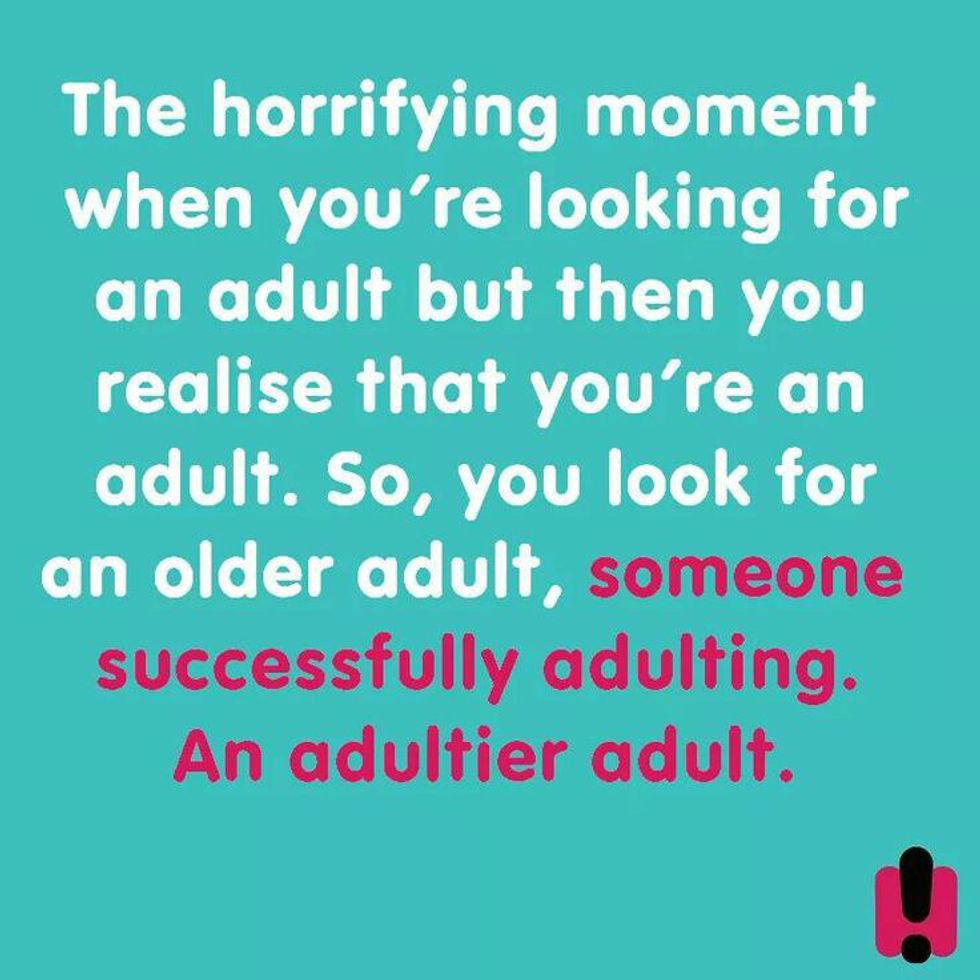 3. Dun. Dun. Duuuun. It's moving day.
Whether you're moving from your parents' house or a college dorm, you probably have a lot of stuff. (This is a good time to sort through it all and donate/sell/discard stuff you don't need anymore, but more about that later.) You're going to need boxes to pack it in. If you're a shopaholic pack-rat like me, you probably have dozens of boxes from all the stuff you've ordered from Amazon Prime; otherwise, you'll need to go buy boxes. I know, it seems like they should be free, but this is The Real World. Nothing is free. Whether you're moving from one dorm to another, or across the country, it's going to suck. There's no way around it; moving is awful. It's just about the worst thing I have ever done, and I dread moving back to school in August. But once it's over, you'll be able to celebrate again—if you can find anything to celebrate with! Hopefully you labelled your boxes, but we all know how this goes…
4. Eat. Sleep. Work. Succeed.
This is it. You made it. If everything else has gone right, you're now a functional adult. As long as you can keep working, earn enough money to pay the bills (and hopefully start putting some away in savings) and feed yourself properly, you're surviving! You're a Real Adult now, and if you can figure out budgeting, you're bound to become a successful Real Adult who has time and money for hobbies and a social life outside of work. The Real World isn't as scary as you once thought, and now that you've proven that you can handle it for a day, a week or a month at a time, it'll only get easier. Congrats on becoming a Real Adult; you already know how I would recommend celebrating (more grape juice, in case you forgot).