In today's society men and women dress without a care in the world. Men wear pants sagging below their rears (or even lower, because that makes sense), giant shirts that swallow them whole, and many who can't even dress appropriately for an interview. Women wear clothing that leaves little to the imagination and makeup so extreme you can't even recognize them when they take it off. Ladies and Gentlemen this is not okay. Why is this being portrayed as okay!?
Let's start by focusing on the men, why? because I am a mother of two very handsome little guys and they will not be raised to act or dress the way men do today. To begin, I am not by any means bashing anyone who cannot afford to dress appropriately for interviews. There is an exception to those circumstance, however, there isn't an excuse for the inappropriate behavior and dress used out in the real world. Men I am not saying you need to wear a suit and tie everywhere you go like in the 1950s. I am telling you that it is not by any means attractive or appropriate for the world to see your boxers/briefs/tidywidys/underwear (or lack thereof). This goes for women as well, women shouldn't be seen flaunting their underwear in public either.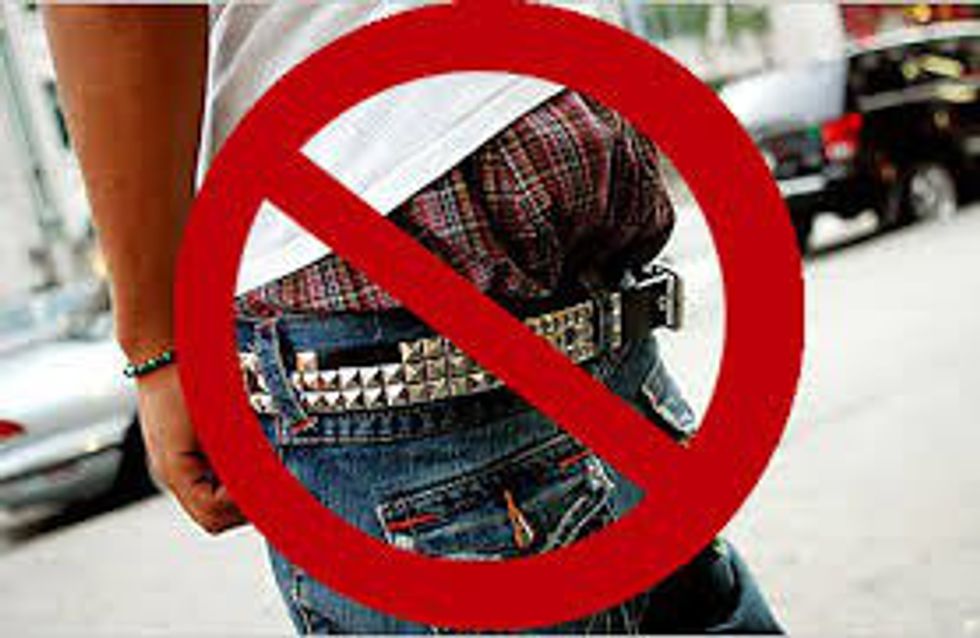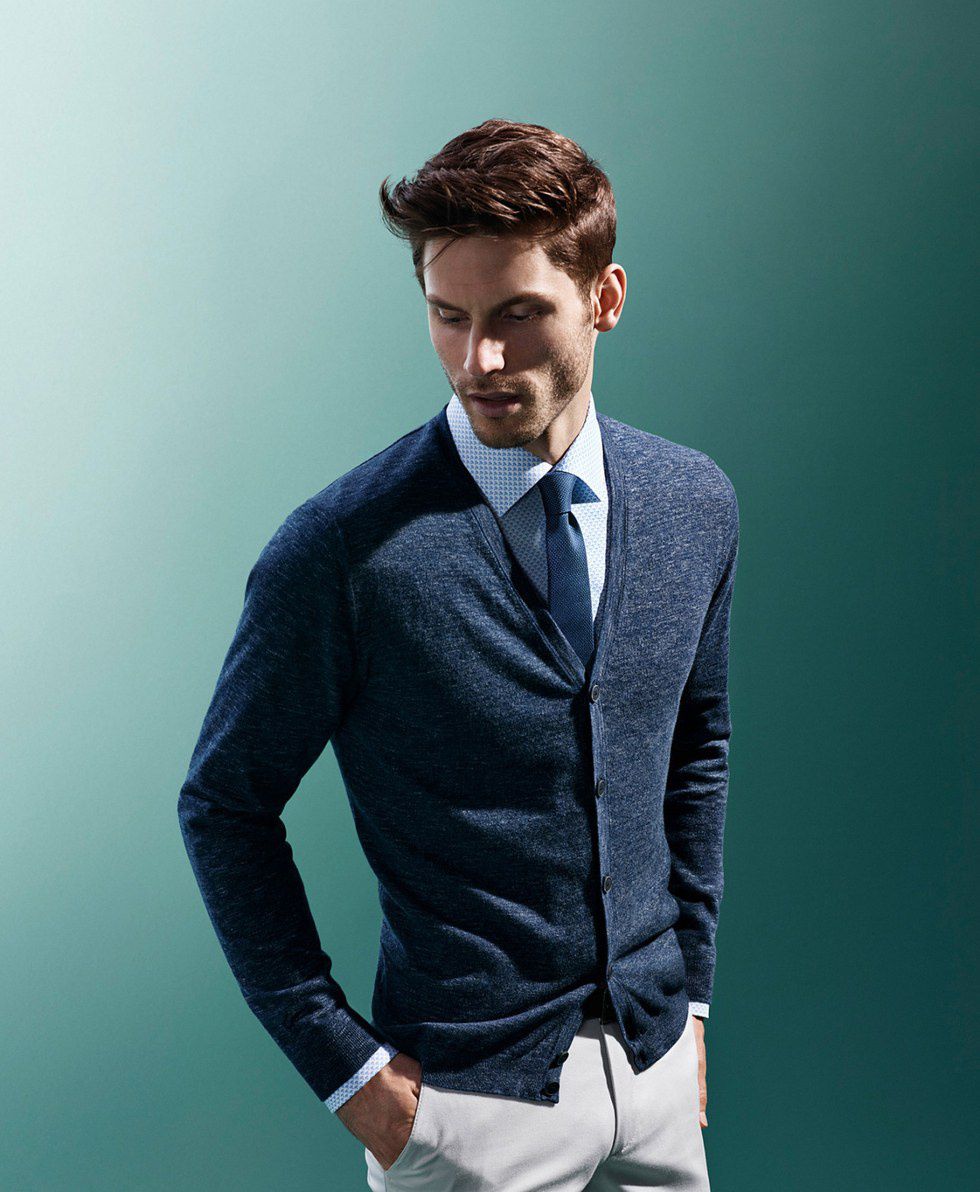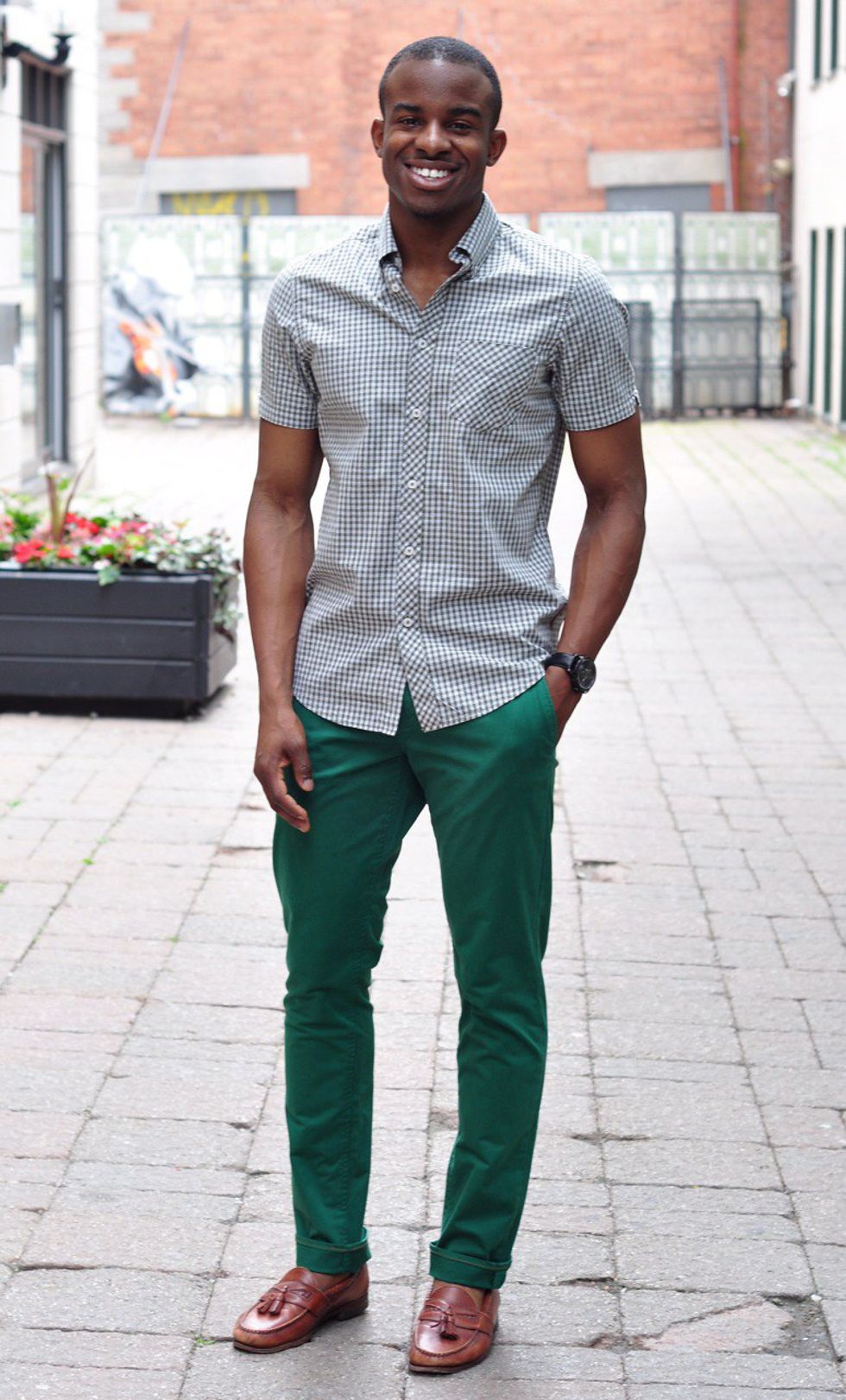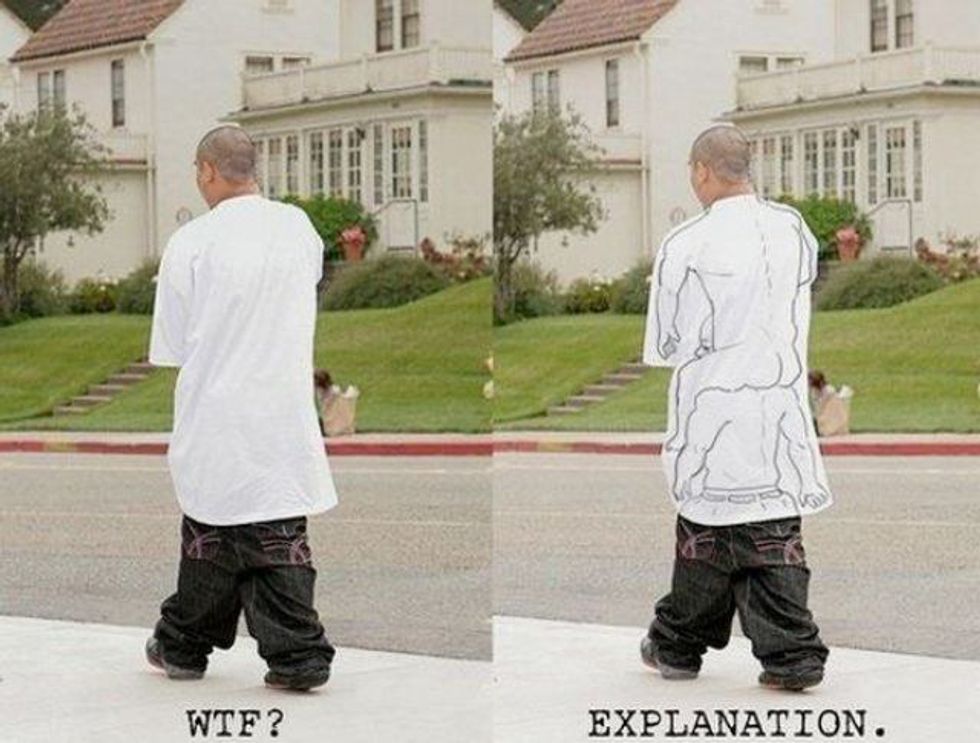 So from the photo's you can see this applies to everyman. There is no race that does it more than another, so this is not an attack. So as you can see above there are ways to dress appropriately without looking ridiculous. Gentlemen, women find it attractive to see you like the two pictures on the top next to the no sagging photo. Also, do you realize that how you dress and how you speak can be an immediate determination of your character?
Ladies, you're up! Dressing up is obviously fun for us and wearing makeup is a part of that. But makeup is designed to accentuate your natural beauty not to cover it all up. Yes, I realized we as women think we see flaws that don't actually exist and so we may get a little crazy with our makeup. The following photo was found on Google: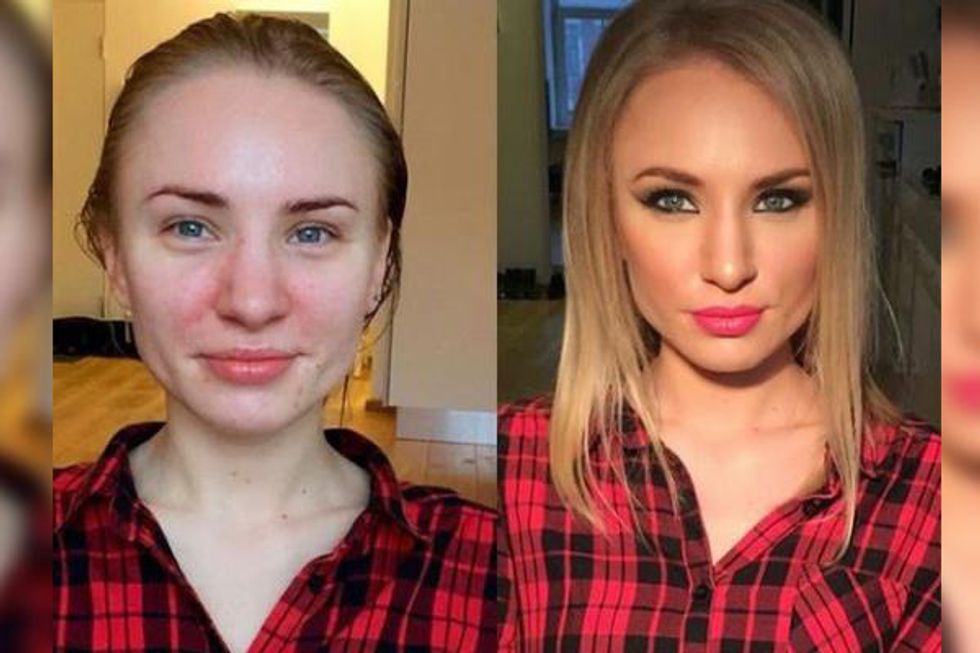 Ladies, this intensity of make up is not needed. Why do you think the above picture receives the reaction from men of: "I went to bed with one woman and woke up to a completely different one." Women have even been divorced within the first few days of their marriage because men felt deceived and cheated. Women, remember if he can't love you like the image on the left he shouldn't be given the chance to love you on the right. So since we have addressed the makeup situation let's talk about wardrobe.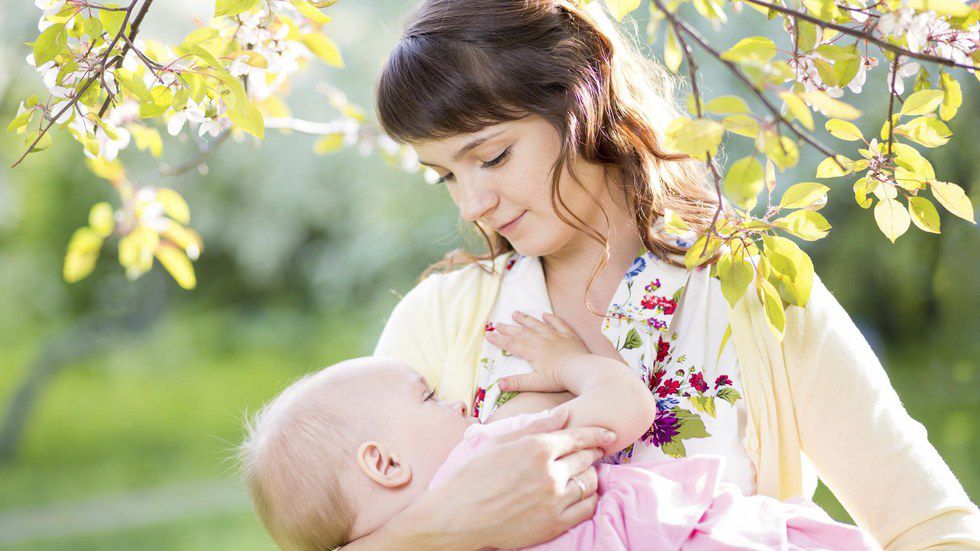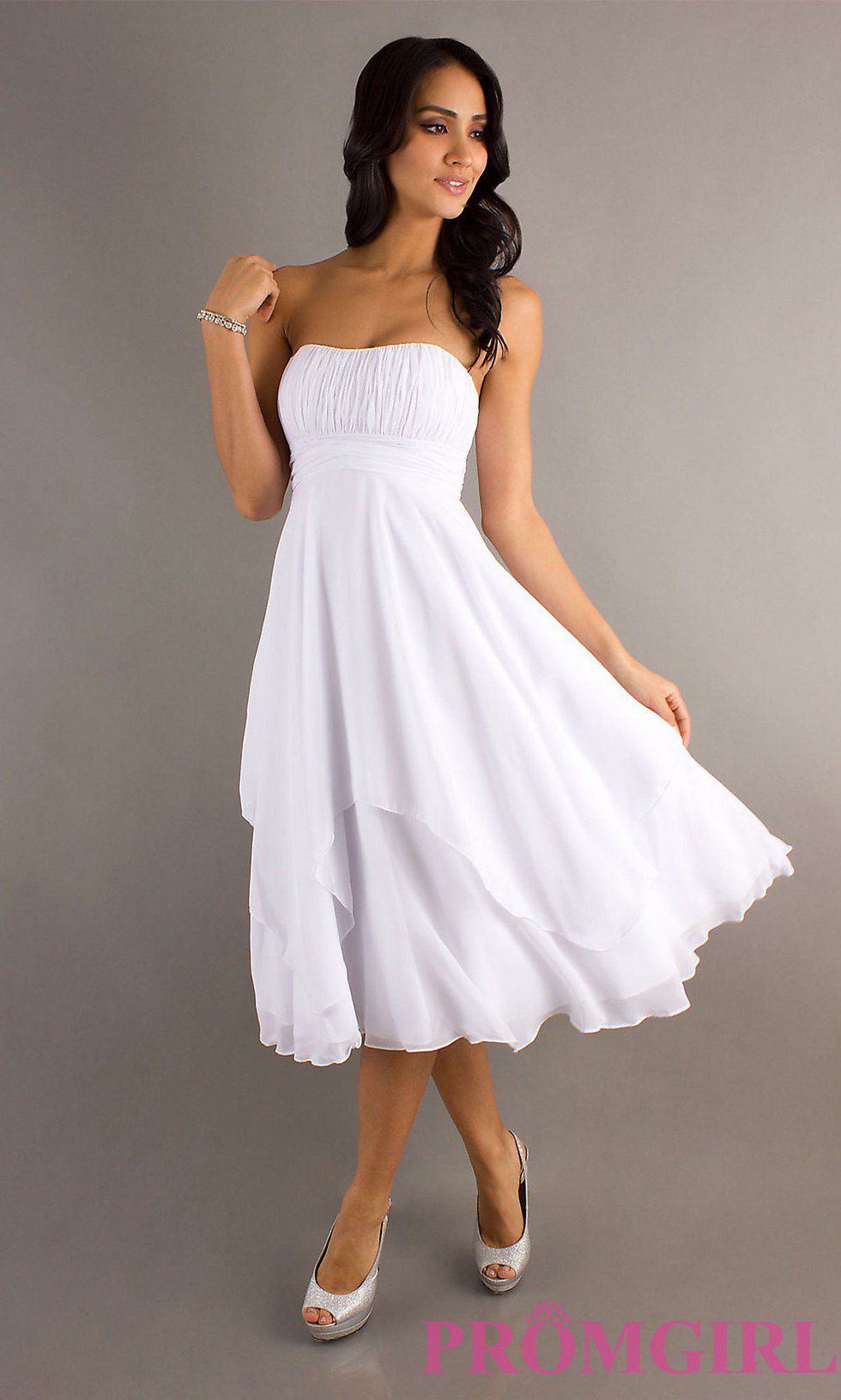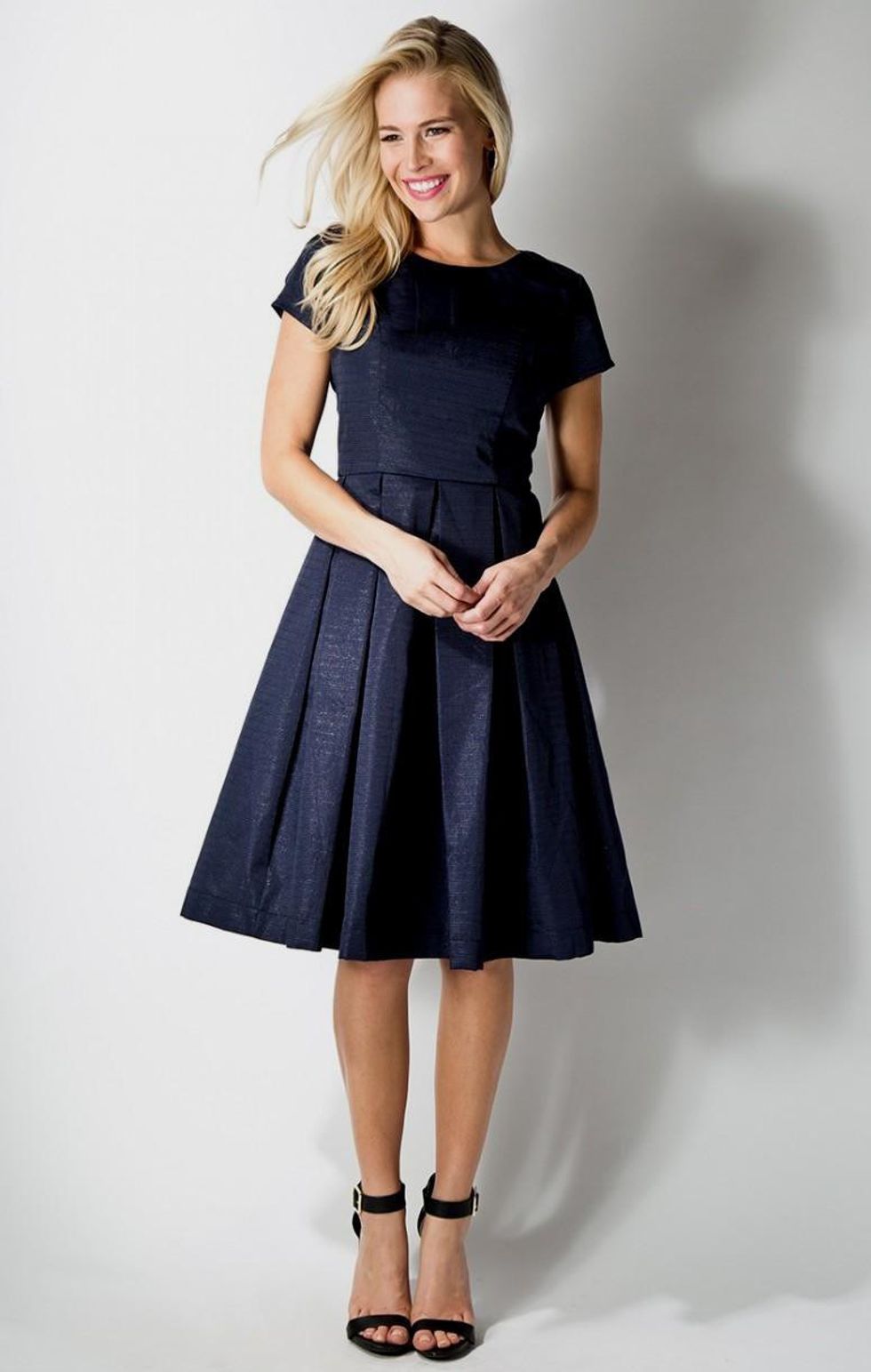 Modesty comes in all forms for ladies. The above photos cover a range of ideas for women to realize that covering up just a bit helps leave more to the imagination. Wouldn't you like for your significant other to be surprised a little when he/she undresses you when you are both ready? The below photos show the things that women wear that is just not appropriate: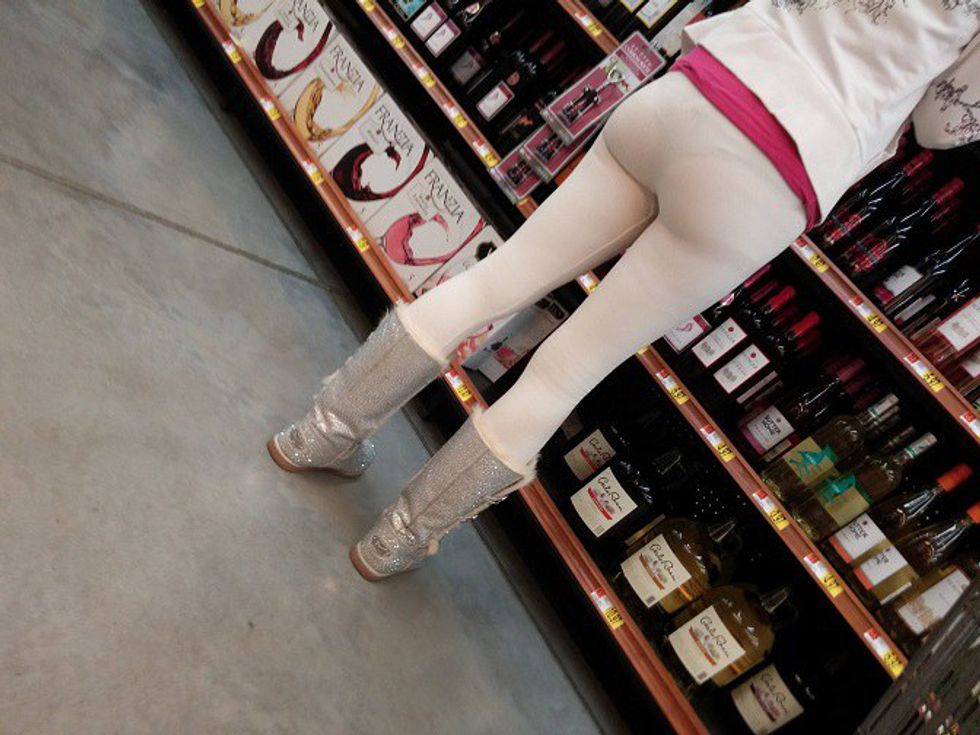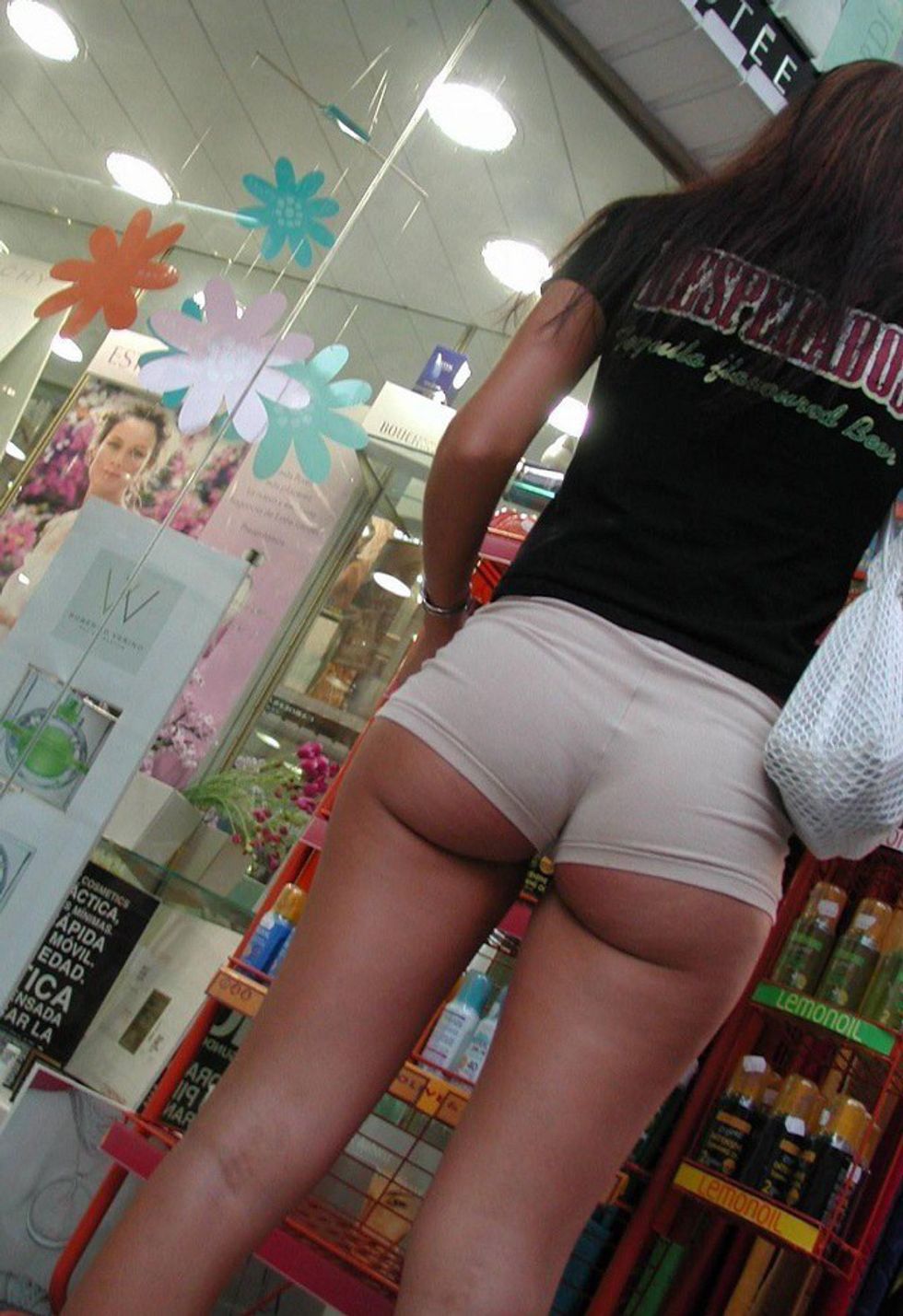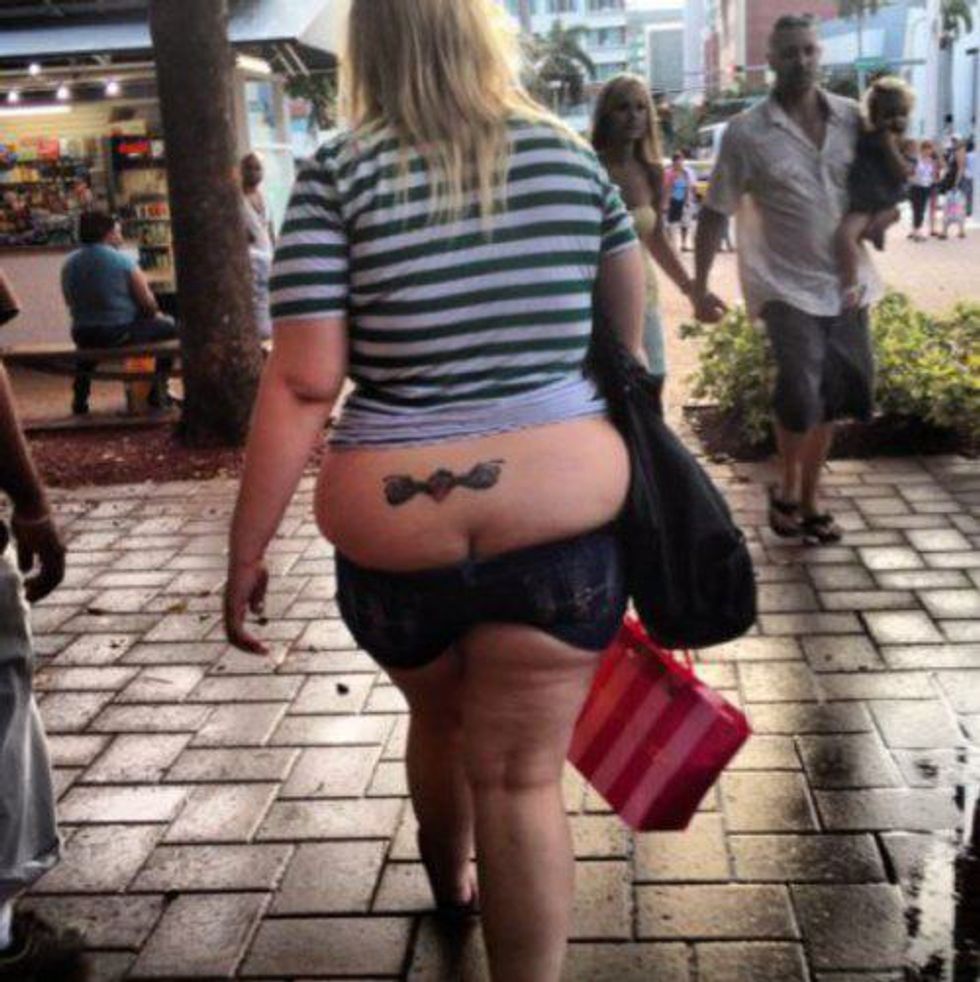 Now, I will be 100% honest, I LOVE leggings as pants! But there is an appropriate way to wear them as pants. Ladies if you wish to wear leggings as pants (many of us do) make sure your top is long enough to cover your lady bits. Men and even other women do not want to see your camel-toe or what style/color undies you are wearing. So just wear a slightly longer shirt, tunics are amazing! Shorts... Well I am not a shorts lady but I will tell you this... Your shorts should be longer than your lady bits. It is terrifying how many parents are allowing there 12 year old daughters wear shorts like the above middle photo with the booty hanging out. I have personally come across girls wearing shorts even shorter that I am unsure how you don't even see their actual lady bits. You can rock short shorts and daisy dukes without showing your goods to the world. Final photo, so much wrong here. Ladies just because they make an item of clothing in your size doesn't mean it's going to fit. Every store seems to have different sizing. I personally may wear a size 8 at one store and an 18 at another. Try your clothes on at the store, don't waste your money! Men and other gals don't want to see your booty hanging out from both parts of your pants. Yes, I fully understand trying on clothing is tedious and frustrating and in some circumstances leaves you in tears. Don't give up because there is clothing out there that will flatter you so much that you wont even recognize yourself.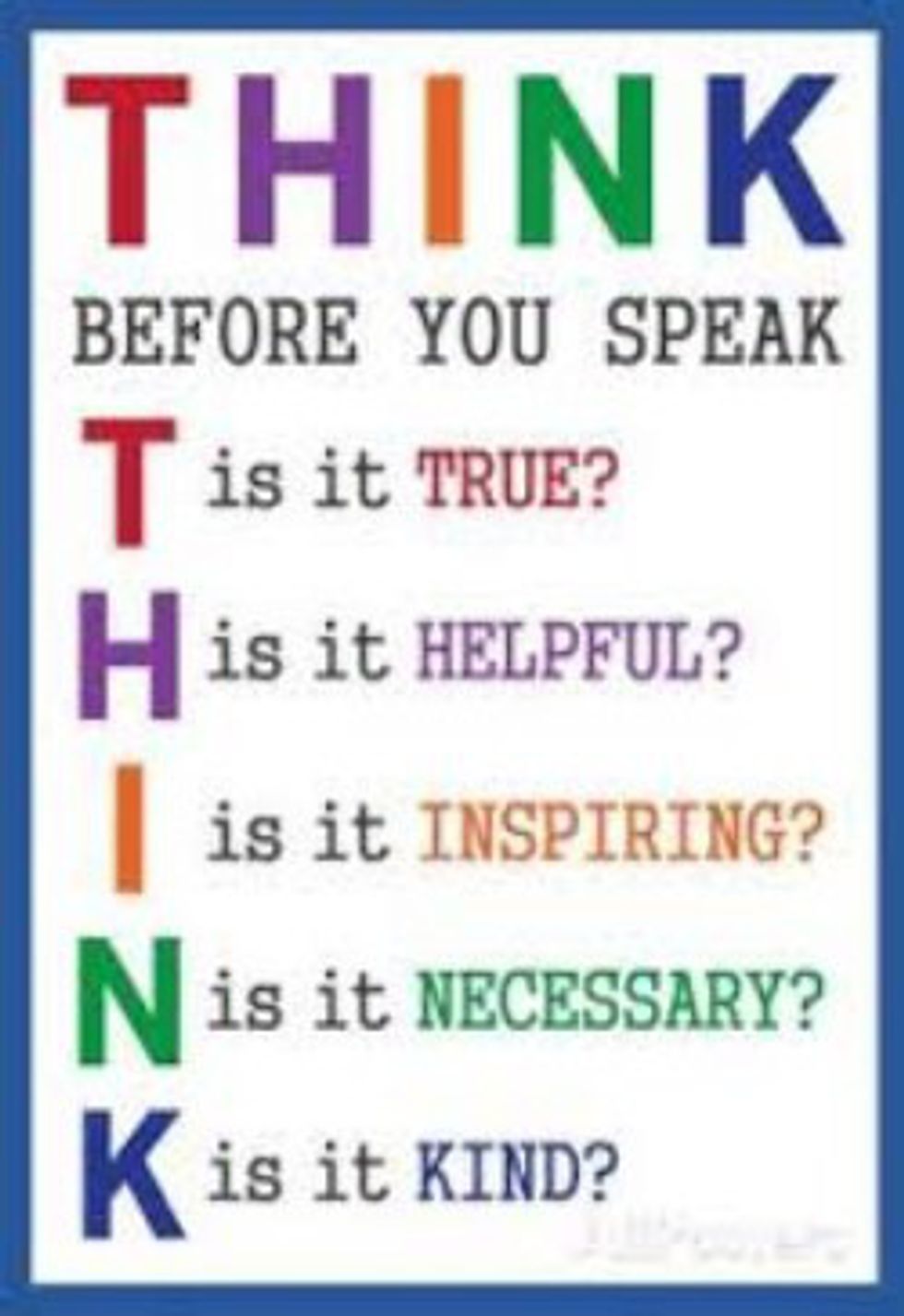 Finally, lets talk about language. Language is a big issue in our society regarding what is appropriate and what's not. This is for both men and women and really should be addressed. Profanity, sexual innuendoes, and even sarcasm have a time and a place. We do not need to throw the "F-bomb" around every 2 seconds nor many of the other words out there. So many times I have been at the store checking out and hear 2 coworkers having a personal conversation (go ahead I don't really care as long as you're also doing your job). The moment profanity and the "n-word" start I have to speak up because they are speaking in front of my kids. So just think before you speak, ensure that what you're about to say is in context and is appropriate for the situation/crowd you're speaking in.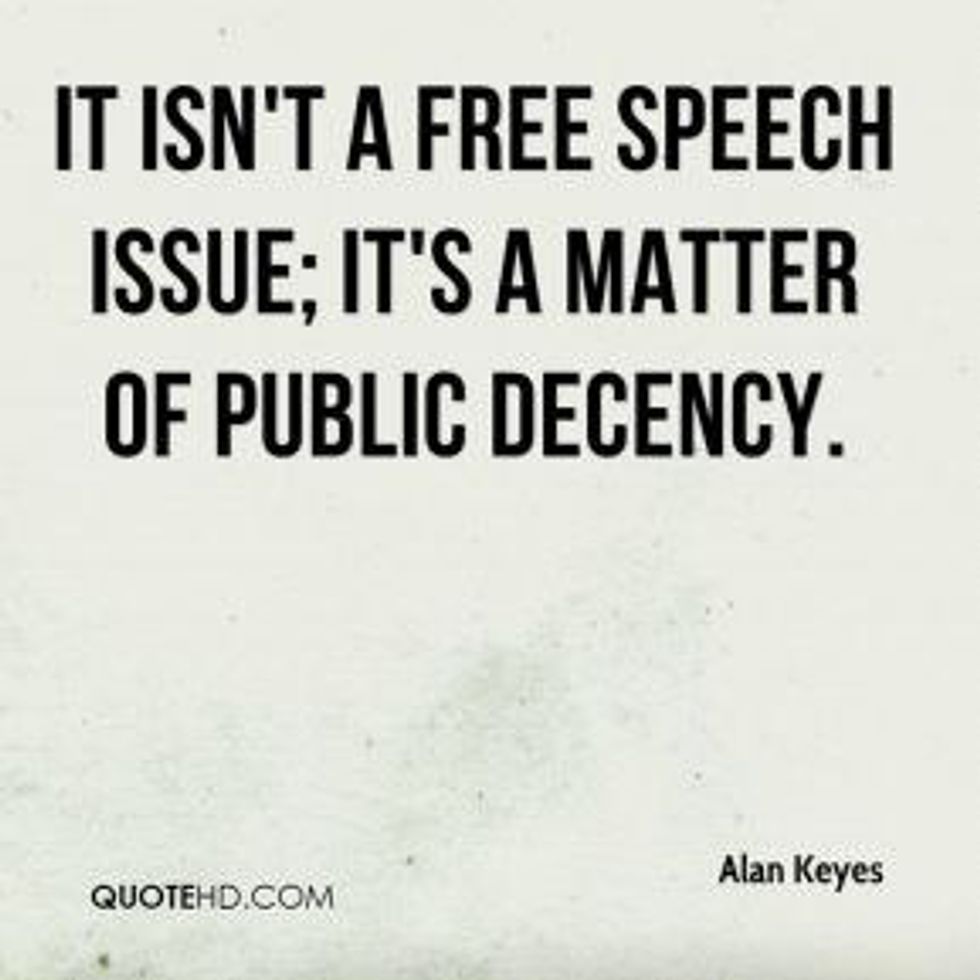 Ladies and Gentlemen, what happened to public decency? It simply has been forgotten much like common sense and therefore it needs to be reintegrated into our society. Dress to impress, speak to be heard, and make a change. We are the world we leave behind. I for one have begun with myself and now my sons. They are courteous, they dress to impress, and most importantly they know when and where certain behaviors are accepted.