I, for one, have always loved a good mystery book, movie or TV show. They leave me anxious, but not just any anxiety, it's the kind that is accelerating and leaves me wanting more. Some may say that it's a show that has been dragged on for too long, but I love shows that are aired for years at a time. It not only creates a fan/family base between the actors and fans among themselves, but it also allows viewers to have people to look up to or to grow up with. Plus, the Liars also have a great sense of style with their outfits and makeup. *May be a few spoilers*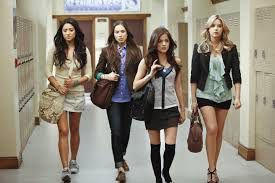 We meet the girls when they are just sophomores in high school, missing their best friend who went missing a year before hand. They all come back together once Allison has a remembrance ceremony, but it's something that would change their lives forever. At the same time they all receive a text message from the mysterious "A." To some teenagers, I don't think a text message would be so frightening, but these girls have secrets they haven't even told to each other, and the crazy part is that "A" knows every single one of them. The girls began jumping at the sound of a cell phone and were scared for their lives as the seasons progressed.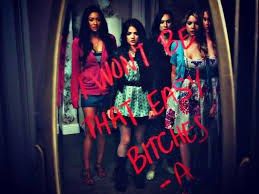 "A" was not your average bully; it was deadly and the girls' reputations could be ruined forever. The mystery makes you want to keep watching, along with the romance. It's dramatic and heartwarming all at once. It may be a stereotype for high school, but what's different is that these girls stay together through thick and thin, whereas I think some friends would have left.
The Liars sacrifice their love lives while trying to defeat "A," which will also bring you to tears when you think "A" has almost won. The entire show has its twists and turns, and if you love watching shows that are unpredictable, this is your show. There are some people that may "die" or go "missing" and maybe they could come back. We just never know with PLL.
Now for those of you who think that it's a waste of time to watch all six seasons on Netflix and then wait for the seventh, I say that's crazy! Not everyone has time to watch shows I suppose, but once you start, you get hooked--there is no going back. It makes you think and almost use your brain trying to figure out who did what and who's really behind the hoodie. Could this creepy creature be a Liar herself, or could it be the missing Allie. Maybe it could be a lone figure whom we haven't met yet.
I will say it will take your breath away if you watch it until the end. It's an emotional roller coaster, and that is why I love it so much. It will warm your heart with friendship, scare your pants off with anxiety, and make you laugh with the sarcasm. I promise you, you won't be disappointed once you get hooked on this show.