We all love a good offending moment. Looking for new ways to offend people? Tired of the same-old words that used to get a good gasp from your parents, your best friend, or your coworkers? Listen. We need to stop living our lives with the mindset that we should not say anything that could make people upset or insulted. No more walking on eggshells. Say (and do) whatever the fr*ck you want.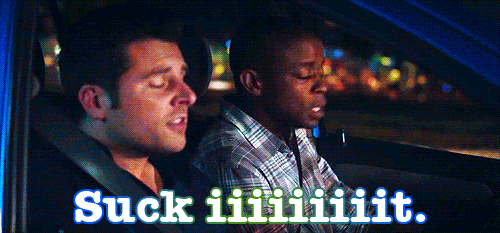 Here's how you can offend someone this year:
1. Like the President of the United States.
2. Hate the President of the United States.
3. Be the President of the United States.
4. Take an insensitive video in a forest known for the suicides that occur there.
5. Win a Grammy for a song that objectifies women's bodies.
6. Defend a victim of sexual assault.
7. Defend a sexual assault predator.
8. Be a woman.
9. Be a man.
10. Be a feminist.
11. Don't be a feminist.
12. Catcall women.
13. Attack Jesus.
14. Put pineapple on pizza.
15. Assume that someone else is paying.
16. Be unsure of what you are ordering when you reach the fast-food counter.
17. Make jokes about another person's ethnicity.
18. Be on your phone in the middle of a conversation.
19. Be too sensitive.
20. Don't be sensitive enough.
21. Don't get offended by any of these things.
Have you committed any of these "offenses"? If so, shame on you.

Actually, shame on us.
There is obviously a lesson to be learned here. It's found in the Bible, in John 8. A woman, labeled only by the sins she has committed, is brought in front of Jesus. This little lady was discovered in the act of adultery, and the Pharisees "made her stand before the group [of people]" who had gathered at the temple to hear Jesus speak.
The Pharisees are hoping to trap Jesus and to do so, they present the woman and say, "In the Law, Moses commanded us to stone such women. Now, what do you say?"
The Pharisees are shocked when Jesus says these next words:
"Let any one of you who is without sin be the first to throw a stone at her."
Obviously, no one in this crowd is without sin. One by one, the crowd members leave, and it is only Jesus and the woman left over. Now, Jesus does not leave the woman alone; He tells her to "go, and leave your life of sin."
He tells her to change her old ways, but He gives her grace over the sins of her past. Justice is important when someone has been wronged, but we should not stay in guilt. We must deal with grace, not hate.
Here's the point I am trying to make: we get SO easily offended by things that people say and do around us, and we feel that we have to constantly make rough drafts and pre-prints of what we will say to others. There are inexcusable statements, and there are stupid phrases.
There are illegal activities, and there are ignorant actions. We cannot condemn every person who has committed something we do not agree with because chances are we have done some very offensive things ourselves. What we should do is remember the grace that Jesus showed to the woman in the temple and to each of us.
Here are some things that are worth getting offended over at any time:
1. Be offended by someone using all of the hot water in the shower.
2. Be offended by the use of the n-word no matter the situation.

3. Be offended by the treatment of minorities in our communities.
4. Be offended by the human trafficking happening under our noses in America.
But don't get offended for offense's sake. DO something.
And do it with grace.