CNN recently published an article entitled "This 'bee' drone is a robotic flower pollinator," which caused a number of people to question Plan Bee's message. A project by Anna Haldewang, a student at Savannah College of Art and Design in Georgia, Plan Bee is indeed a drone that mimics all that a honeybee does, pollination, cross-pollination and all. It does not, however, mimic a honeybee's physical look, outside of the black and yellow coloring.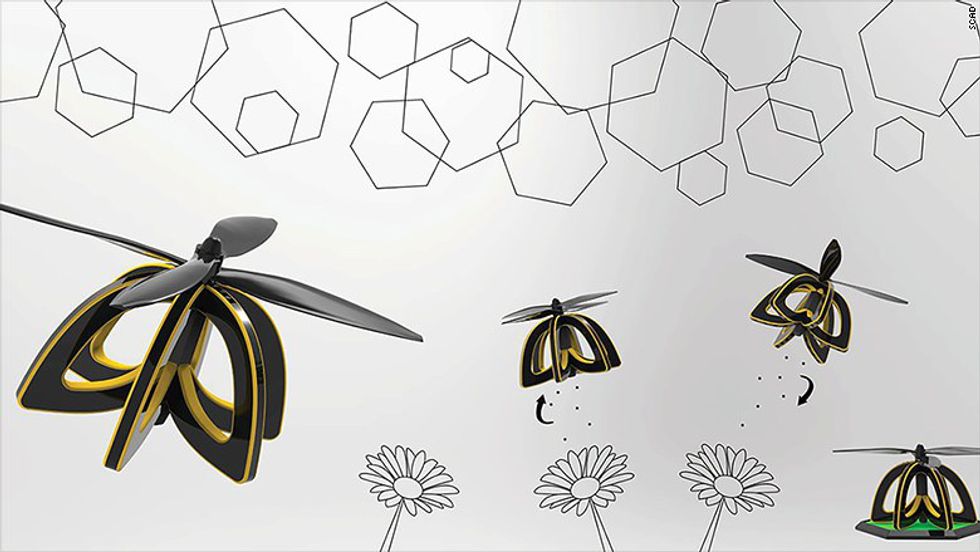 Due in large part to Colony Collapse Disorder (CCD), honeybee populations have been on the decline for years. In fact, Elina L. Niño of The Conversation reports that, though "CCD is no longer causing large-scale colony death in North America...beekeepers all over the United States are still reporting troubling colony losses—as high as 45 percent annually. Because of this troubling news, it's fair to assume that the birth of Plan Bee stems from a loss of hope—the name itself implies it. However, according to Ms. Haldewang, Plan Bee is first and foremost an appreciation for a honeybee's art. She wants her creation to showcase the processes honeybees undergo on the path to pollination. In other words, Plan Bee is an educational tool instead and not an excuse for mankind's folly.
But that doesn't mean it can't be. So, people's worries about Plan Bee aren't unfounded. According to the CNN article, the dean of school and design at SCAD, Victor Emoli commented: "[Plan Bee] could conceivably be used in large-scale farming, even in hydroponic farming," in the future. This remark, in essence, questions a honeybee's validity in the coming years. Will we be in a world where robotic insects and animals keep our dying planet alive? Will we allow climate change, a destruction of biodiversity, pollution, etc. to continue, because we'll have creations like Plan Bee to depend on?
It sounds like a dystopian universe straight out of a sci-fi novel.
However, this article isn't to demonize Plan Bee either. After all, approximately 75 percent of global crop production and 90 percent of wild flowering plants depend on pollinators, according to the IPBES. Without honeybees, melons, apples, avocados, cucumbers, mangoes, strawberries, and more would either become nonexistent or extremely hard to come by. In the wake of a honeybee extinction, what other choice would we have besides Plan Bee?
The real question would be whether or not we'd learn from our mistakes.