In 2018, the majority of things in the world are disliked. Our president, big corporations and the audacity of some people to say New York pizza is better than Chicago style. While these are important issues to be discussed in a later article, I am here to talk about one of the few things that are universally loved, PUPPIES!!
Now, believe me, I wish this article was a list of the cutest dogs on Instagram, but if you've read the headline, you'll know that it's not. While most people love puppies, there is one breed most people are afraid of, pit bulls. Unfortunately, due to the stigma placed upon them as, "vicious killers," shelters all over are overcrowded with them, and many are euthanized.
Now I am not a neanderthal, if someone has a different opinion than me, I am more than capable of having a civil discussion with them, and always being kind to them. There is a line that I draw, however, for example, racism, homophobia, sexism, and when someone hurts a puppy. This article isn't targeting you if you just don't like pit bulls, but some people have crossed the line and taken their hate too far.
For anyone unfamiliar with #PitBullDropOff, it is a sadistic movement by users on Twitter who are apparently buying these dogs off of Craigslist/Facebook and immediately taking them to kill shelters or doing it themselves. These people are justifying their horrible actions by saying that "they are making the world safe from these monsters." If you are killing defenseless dogs for social media, who's the real monster?
Here's some example of people who are supporting this movement: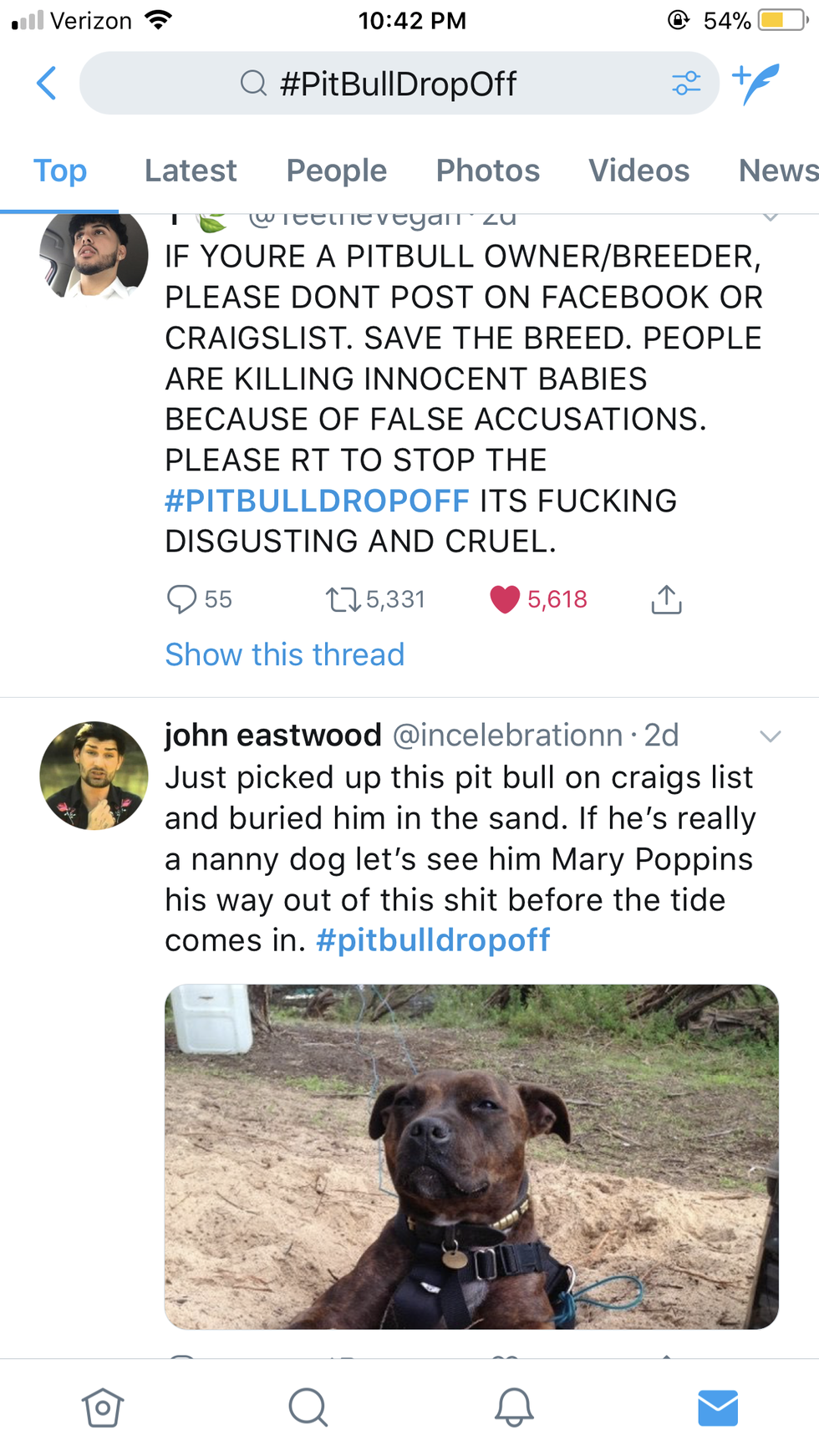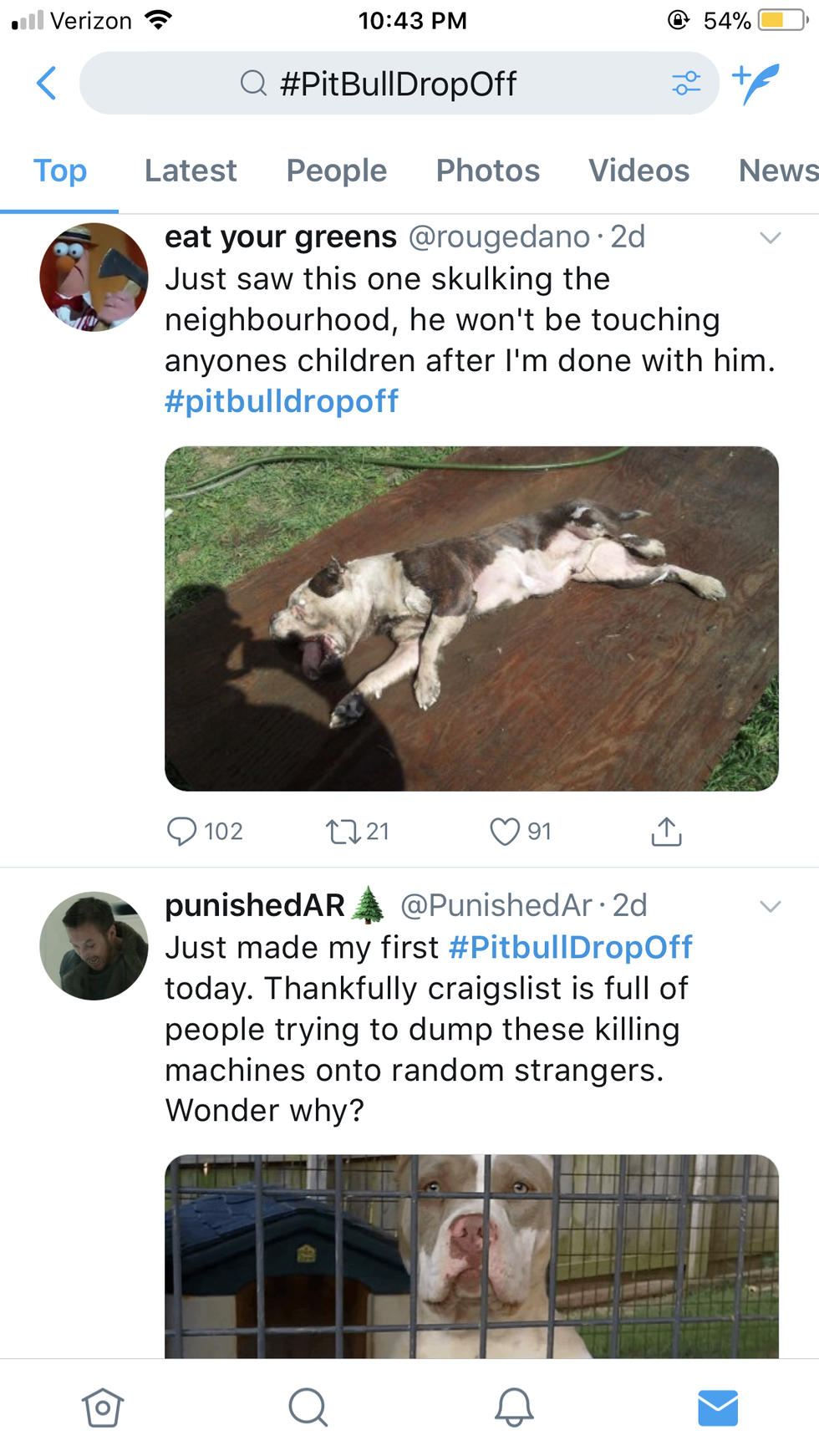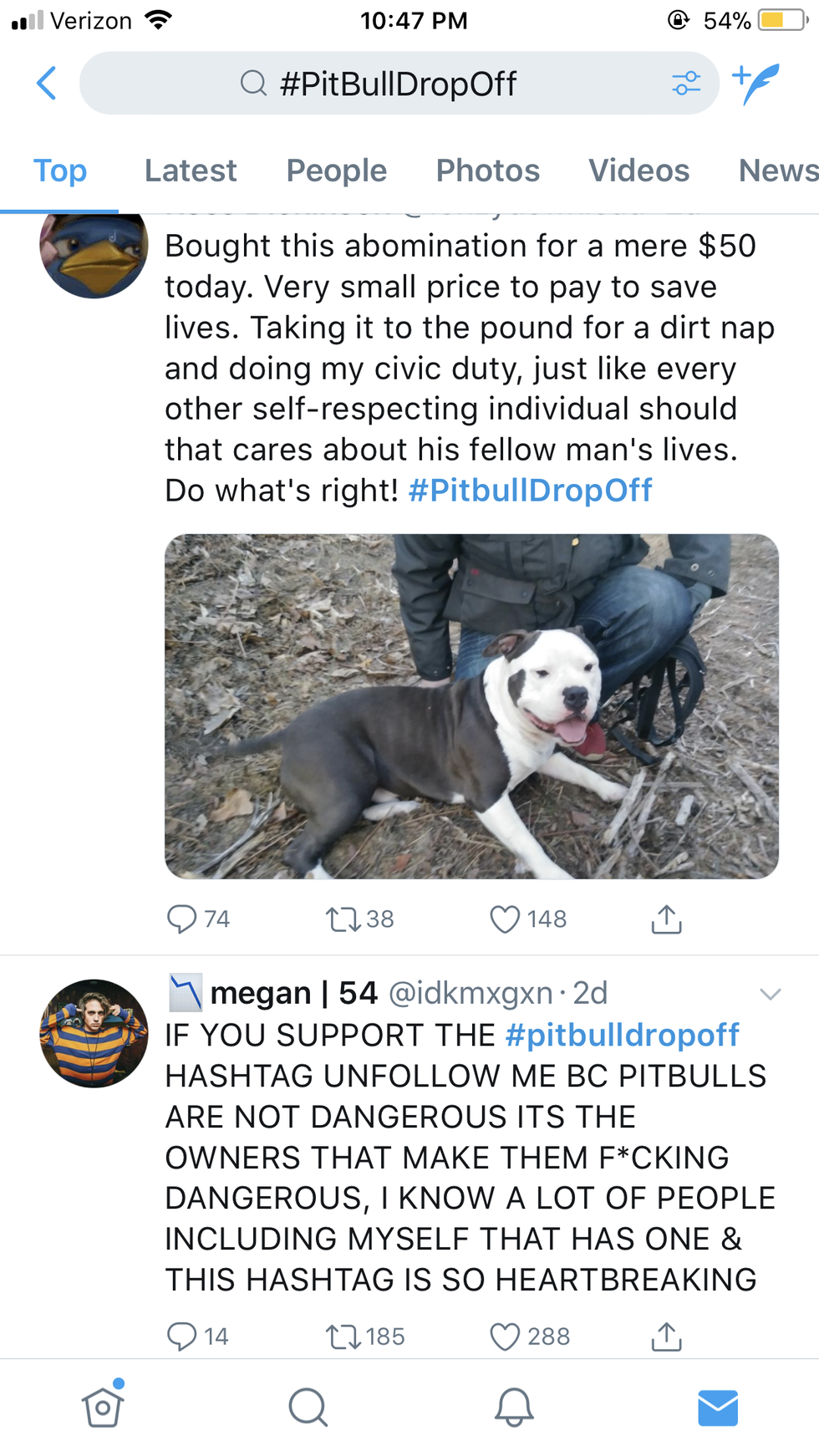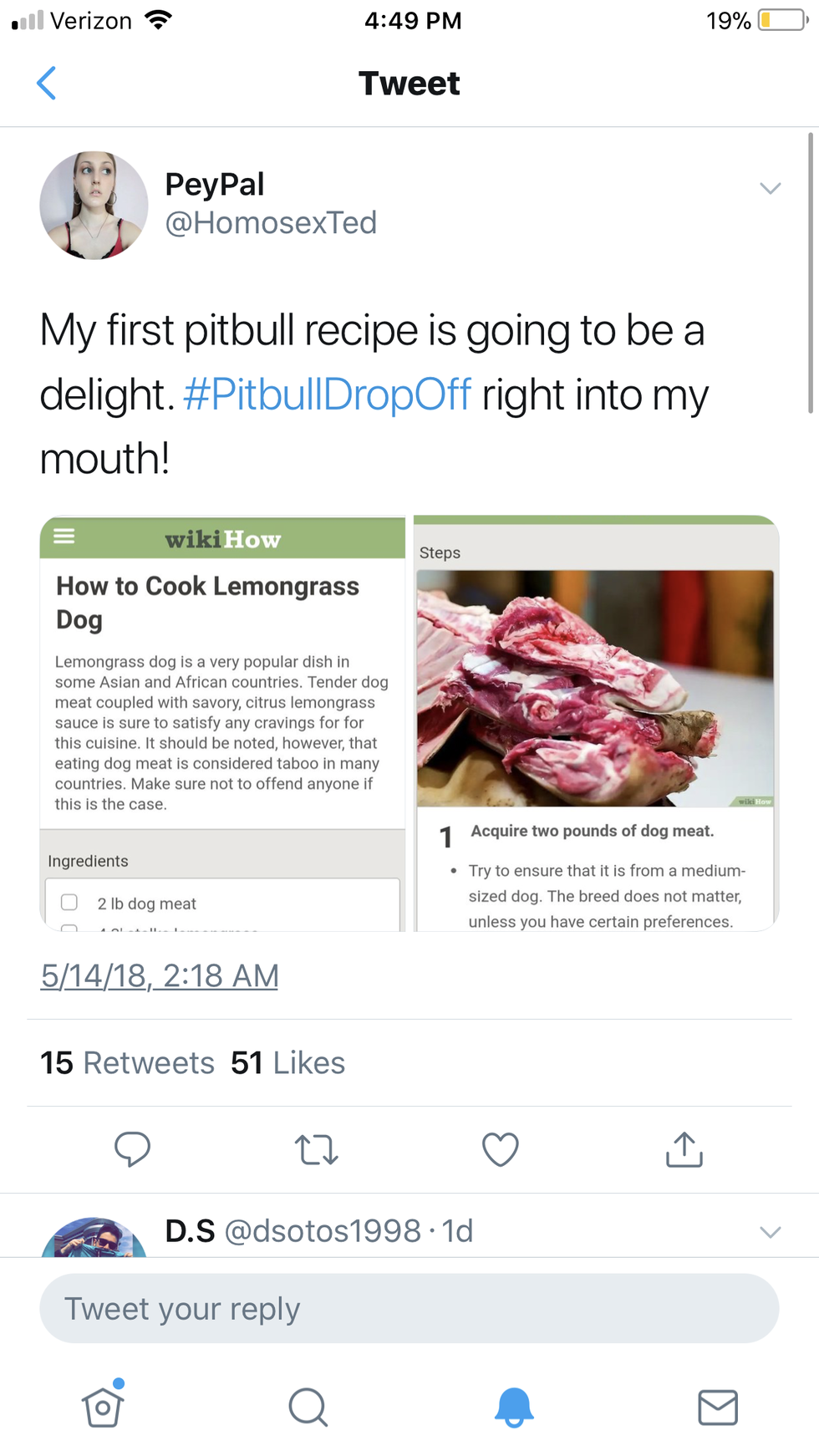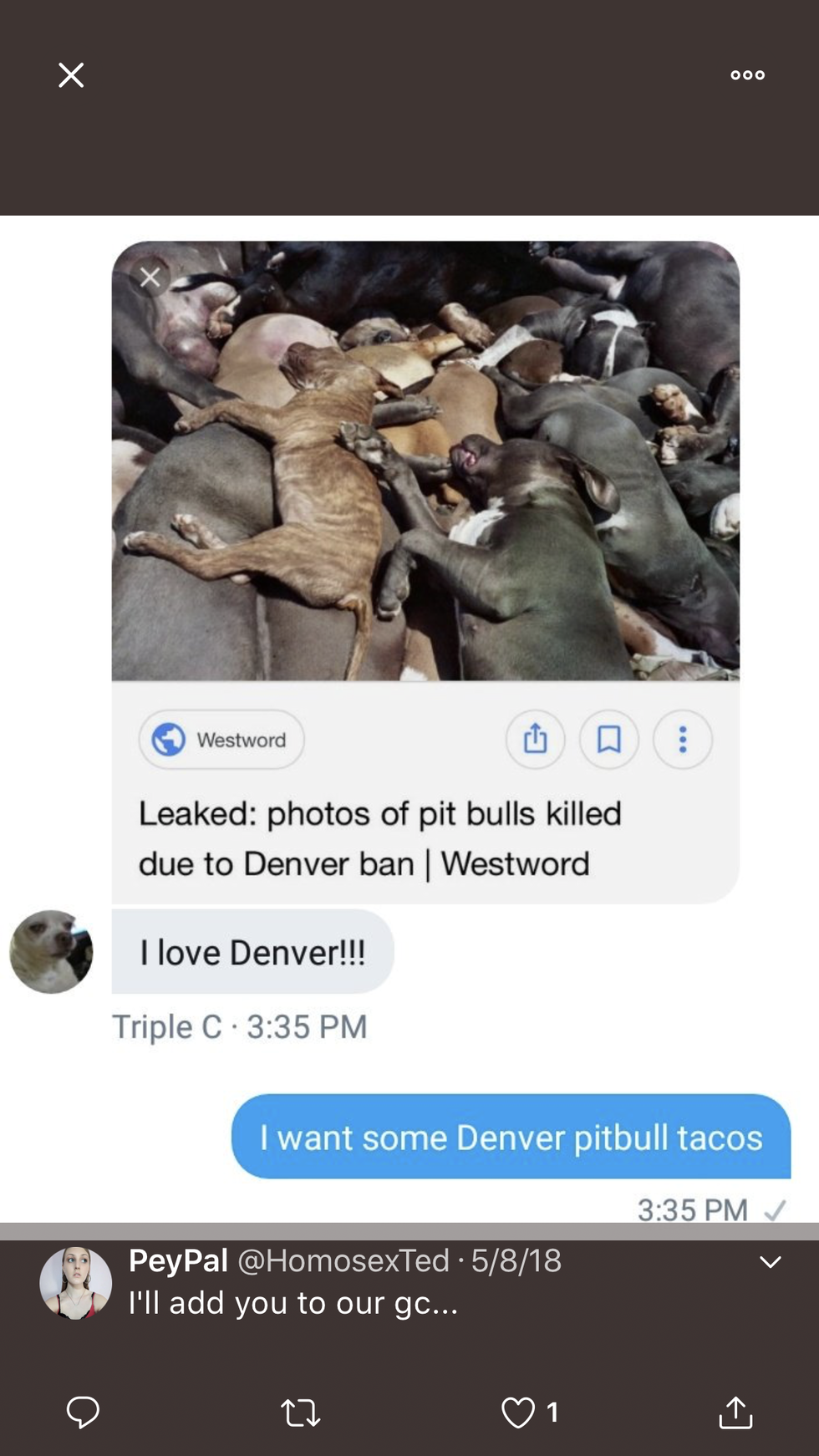 (If you want some advice for your recipe, make sure to add 3 cups of go fuck yourself for a slightly spicy flavor!)
As you can see, these people have no sense of empathy or compassion and are making disgusting and overall disturbing posts. This is by far one of the worst things I've seen on social media. Here are the facts, Chihuahuas have worse temperaments than pit bulls, and yet you do not condemn those little dogs? Why, because they're "harmless." And yes, pit bulls are used for dog fighting and there have been reports of pit bulls attacking humans.
My response to this is simple.
Imagine being chained in a basement your whole life, being tortured and forced to fight to the death on a daily basis, starved, and shown nothing but cruelty. Now, you are free and you see someone who you associate with causing you pain and suffering approaching you. Are you really going to tell me you'll just lay down for a belly rub? If you are trying to place blame for a pit bull attacking a human, blame the human who tortured the dog.
I don't care if these people are trolls just trying to mess with people or redneck hicks with a faulted moral compass, this is dangerous. Too many people have fallen into this group thinking that associates pit bulls with the devil. Pit bulls are fiercely LOYAL, they are loving and energetic, and were used as American war dogs in WWI. So in theory, if you hate pit bulls, you're being unpatriotic.
Now, being a thorough reporter, I realized the only thing I could do was to experience our furry friends first hand... the picture below is the result.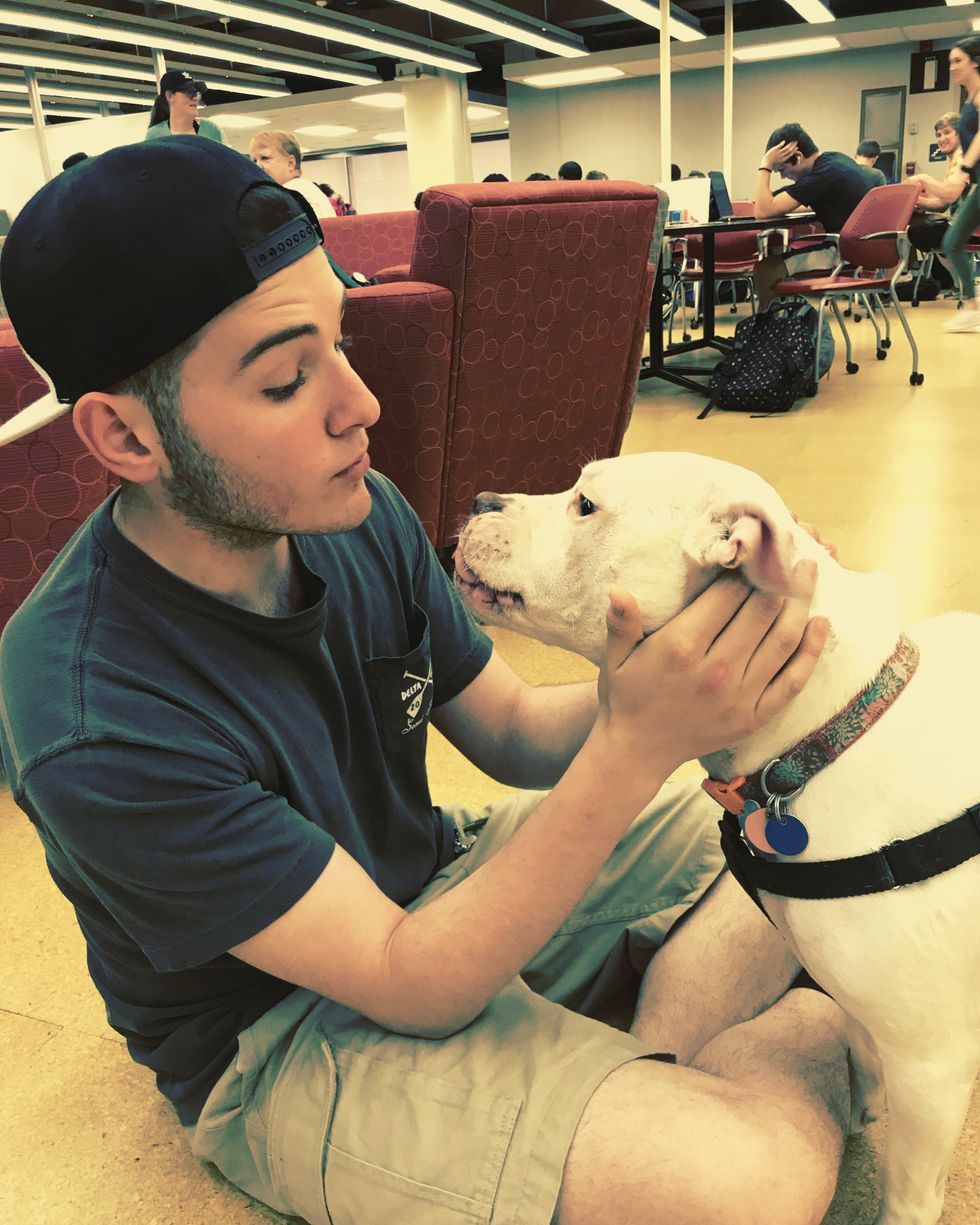 As you can tell, he was vicious... viciously adorable!!
There will always be hate in peoples hearts, and I've come to realize that I can't change that. But keep it to yourself and leave the puppies out of it! You hate things that you don't understand, we embrace them!
ADOPT FROM SHELTERS!