This past Saturday, April 2nd, there were some major food comas and belly rubbing going on. This was because Delta Zeta and Phi Kappa Psi put on an awesome philanthropy that involved competitive tailgate toss and delicious grub. If you're from Chicago, like myself (okay fine, I'm from the suburbs), you may commonly refer to this game as "bags" or "bagg-o." I know from my hoosier friends, it usually goes by "corn hole" or "tailgate toss." Whatever you want to call it, it makes for a fun day when you're helping kids from the Boys and Girls Club and The Painted Turtle Camp. Can we please get some snaps for DZ and Phi Psi? *snapping* Wait, there's more. Let's talk moola. At the end of the day, DZ and Phi Psi raised $5,056 for The Boys and Girls Club and Painted Turtle Camp. Can we get a HECK YEAH? Kudos to both houses!
Let's get to what everyone really wants to know. WHO won the competition? Well, turns out we had a hostess with the most-ess. Two of Phi Psi's own, Brenden Seren and Tyler Prentowski, won the tailgate toss! Their photo is below.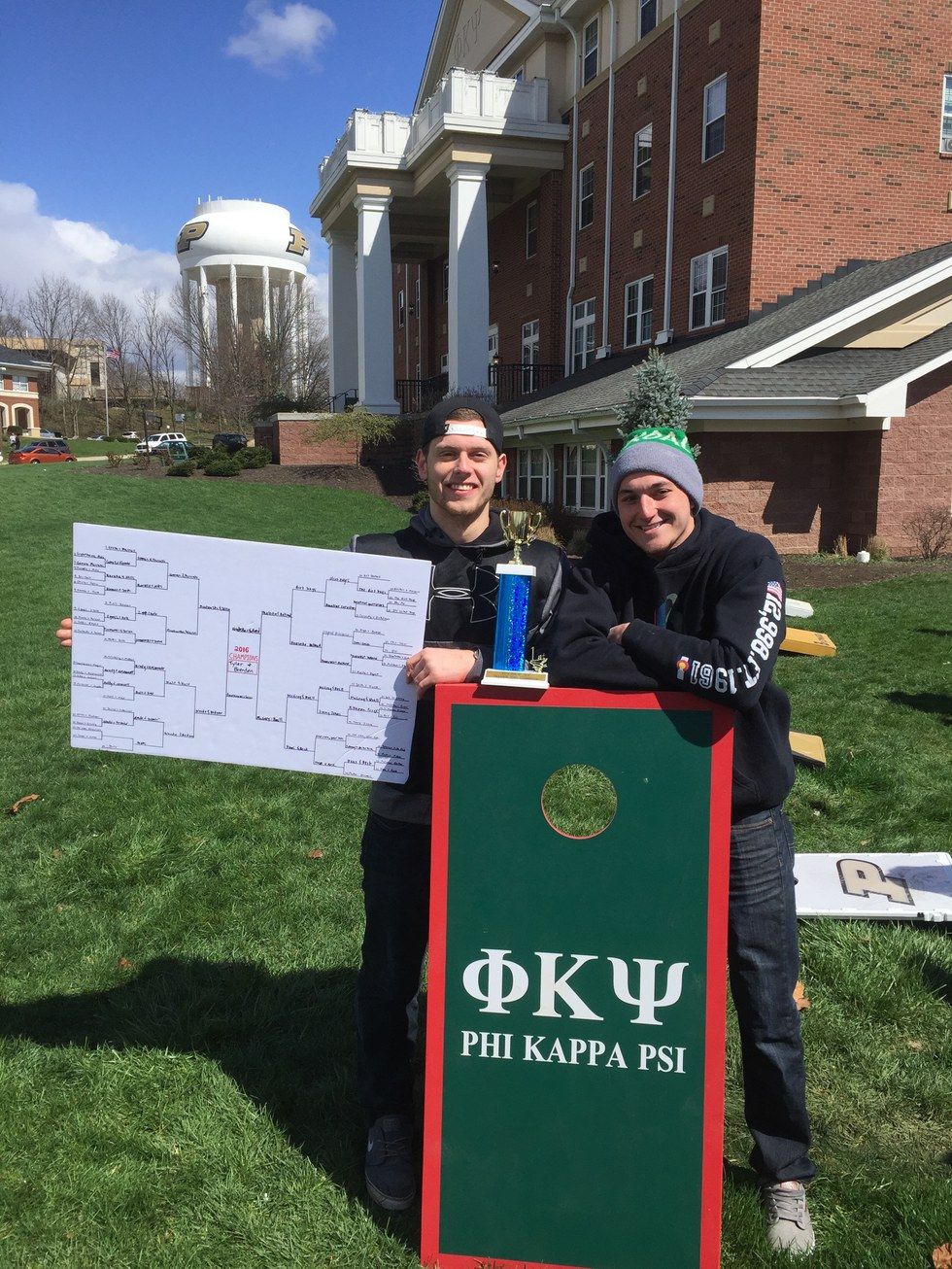 Tyler Luzinski, Phi Psi's philanthropy chairman, provided this quote from the event:
"The tailgate toss was not only an incredibly successful philanthropy as far as money raised but it was also a ton of fun. We had 49 teams from over 15 different chapters play in the tournament, which was way more than we expected considering this was the first time doing the event. Despite the weather ranging from 50 mph gusts and hail to sunny and clear, all the players in the tournament stuck it out and the games were incredibly competitive. A special thanks to the ladies of Delta Zeta, brothers of Phi Kappa Psi, all of the teams that signed up to play, people that came to eat, and all the parents and alumni that donated. Because of everyone's combined efforts, we were able to raise over $5,000 dollars for the Lyn Treece Boys and Girls Club and the Painted Turtle Camp, shattering our goal! I'm already excited to see who takes home the trophy in 2017!"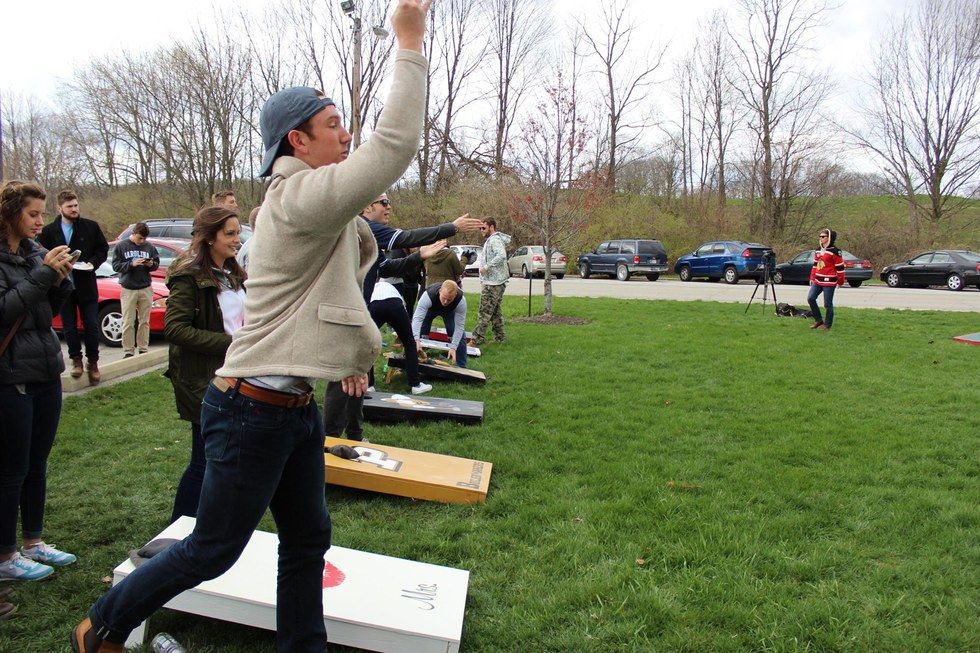 Tyler's partner in all of this, Hallee Willis, philanthropy chair of DZ, quoted specifically on the good grub that was devoured at the event:
"College Chefs did an excellent job with the food. We had hot-dogs, hamburgers, chips and cookies. They turned out great!"
Food and games were enough to make it awesome event. But wait. CHILDREN. Is this not the cutest thing you've ever seen? He clearly just sunk one for 3 points.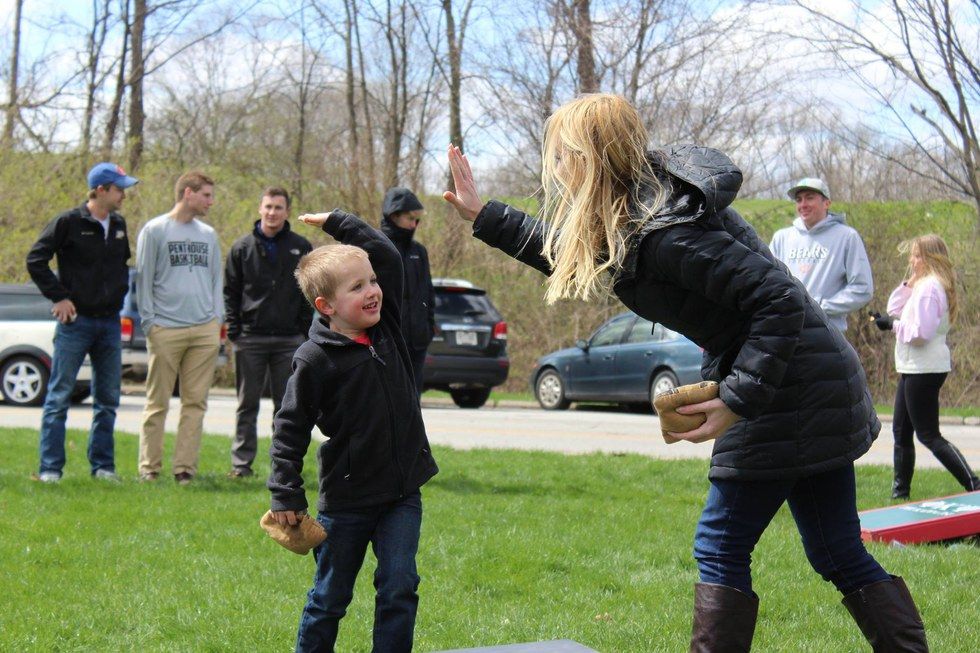 Amazing job to both Delta Zeta and Phi Kappa Psi for putting on a stellar philanthropy this past weekend!
All photo credit goes to Carly Klonowski. Also a special thanks to both philanthropy chairmen for providing info from the event!
College Chefs is the creative food solution exclusively for fraternities and sororities around the U.S. A culinary company first, their Chefs are world-class talents whose backgrounds range from former restaurant owners to genuine, trained foodies who are just looking to break into the industry. Talk to your House Manager & get your house to make the switch to College Chefs!
Cover Image Credit: Carly Klonowski