Now that I am a sophomore and no longer need a meal plan to sustain myself, I have to put at least decent effort to cook for my friends and myself. Luckily, making basic food is not too complicated. When I want to impress some friends, however, there is an art to leaving an impression while still being new to fixing a meal. Today, I will be introducing a very simple dessert that is easy, cheap, and tastes extremely good. Panna Cotta is an Italian dessert that means "cooked cream" and is essentially just that. One of the reasons this dessert is so convenient for college is that it requires only a few simple ingredients and is quite literally as easy as boiling water. I have made panna cotta several times and this is the best recipe I have found by far. It treats your sweet tooth and has the perfect texture of being as close to a liquid as a solid is going to get.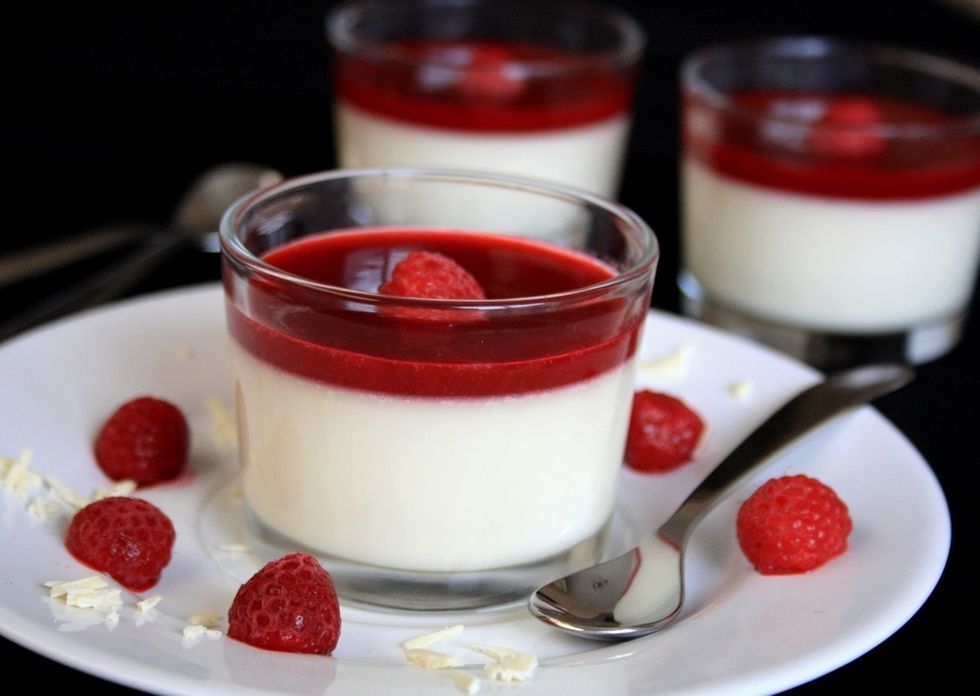 A list of what you will need for the panna cotta:
2.5 cups of heavy cream
1.5 cups of whole milk
5 table spoons of sugar
1 packet on unflavored gelatin
A splash of vanilla
Also, here is some of the equipment that you will need to have as well. Iam adding this because I realize how difficult it can sometimes be to find equipment on campus.
Stove
Refrigerator
Medium Saucepan
Measuring equipment
Small dishes or cups for the panna cotta to set in
Lastly, for some extra flavor, you can also add some homemade sauce on top using fruit. I have no real or exact measurements for this, but if you just have a cup or so of berries, a little water, and some corn starch, you will be fine.
First, mix the milk, cream, sugar, and vanilla into the sauce pan and bring to a simmer. Then, turn the heat off and whisk in the gelatin. Once everything has been combined, pour the mixture into the small dishes or cups. Refrigerate this for four hours or overnight. Honestly, the longer it chills, the better. Hopefully, by the time you take it out, the panna cotta will jiggle like Jell-O without being too watery. It really is that simple.
If you want to add some fruit sauce to the panna cotta, I recommend waiting until the dessert has set before you start this part of the recipe. One of the better parts of having the berries is the sensation of the cool panna cotta and the warm sauce mixing together in your mouth. You do not want to ruin that by having the berries get cold.
To make the berry sauce, simply pour the amount of fruit you have into a sauce pan and add some water. However, do not add so much water that the product will end up watery; the tops of the berries should still be above the water. Honestly, you do not have to add much at all. You can add a little sugar or vanilla at this point, but I prefer the contrast of sweet and slightly sour for the final dessert. Turn the heat to low and stir the water and berries constantly. Mash the berries up a little near the end and add a small amount of corn starch. "Small" is the key word, here. A pinch is usually enough. One the sauce has thickened slightly, pour it over the panna cotta. All that is left to do is enjoy.
Even though it takes forever to set, you will no doubt impress your friends with this easy recipe. Everything you need for roughly four servings only costs about 15 dollars. The taste is great, but the fact that people will think you know what you're doing in a kitchen is even sweeter.