My parents adopted a new puppy recently. His name is Kenai and he is undoubtedly a Good Boy™. We have no idea what breed he is (something along the lines of a Doberman/Labrador mix...or maybe a Shepherd mix...or a hound…) He's incredibly cuddly, not super great at the housebreaking thing, and has the most pathetic bark I have ever heard. He is pictured below, during a trip to the lake.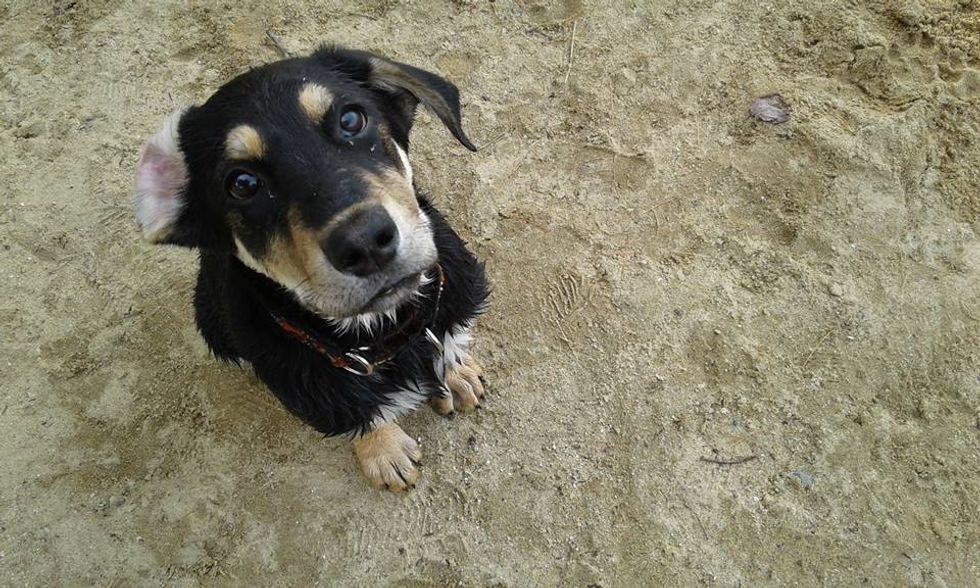 In falling in love with this pupper, I have found myself saying fresh goodbyes to my boy. Kota died a year and a half ago and I still miss him every day. If there is a heaven, I know he's up there. And I know he's waiting.
If you are very, very lucky in this world, you are blessed with a best friend or two. Sometimes that friend is human. Other times that friend is a dog. When I was eight I held my best friend just moments after he was born. The night before Christmas Eve, my parents brought him home. After my brother, he was the best Christmas gift I have ever received.
We chose the name Dakota, which means "friend to all" in a Native American tongue. We had no idea how well he would come to fill that name. He truly loved everyone. Ferociously loyal, loving and gentle with everyone he met.
Through the years he remained MY dog. He would sleep beside my bed every night. He always laid close enough that I could have my hand on him from the bed. On the nights when I had nightmares he would climb into my bed with me until I fell asleep. He always put himself between me and danger, whether that meant standing between me and the road when we walked places or pushing himself between me and other, less friendly dogs.
He was very angry when I went away to school, and when I went home for Christmas break he showed me his distaste by ignoring my existence for a solid week. He was always very stubborn and passive aggressive. As a puppy he had extreme separation anxiety, chewing apart both the interior of my mother's car and part of a door frame on separate occasions.
Despite his sometimes-destructive behavior, Kota was extraordinarily tolerant. He put up with all of my whims. On various occasions he sported capes, tiaras, and socks. He never failed to be the Toto to my Dorothy. When I was twelve he donated his talents to the Streetcar Company production of Annie. A better Sandy has never been found. He knew it was his job and he took it very seriously. He stood next to me when I sang Tomorrow, with a smile on his face. A couple years later he appeared on stage again in The Miracle Worker.
He hated swimming with a passion, but if I was in the water he would worriedly paddle after me, which almost always resulted in him nearly drowning me with his frantic pawing. When we went on walks down the dirt roads near my house, he would prance beside me, no matter my pace. He never needed a leash.
Shortly after the spring semester started, Dakota stopped eating. Preliminary tests showed signs of lymph node swelling, and further investigation revealed that Kota had Lymphoma. Irish Wolfhounds have a predisposition to the disease, and apparently the other 56 breeds in his genetics didn't cancel that out.
My boy lived a good life. He loved in a way that I hope I can learn to duplicate. I could have spent every day for the rest of my life loving him and never have had enough time with Kota. He knew every one of my secrets.
My best friend died today. The world will never be the same.
-Sharleigh Thomson, February 2016
Kota, wherever you are, Kenai is not a replacement. You have not been forgotten. You are a part of me everywhere I go. I think of you when I stand in the wings, and every time it snows.
You are still my boy.
<3
PS. I still think you were a cuter puppy.