If you have a Netflix account or grew up in the 2000's, you know about the show One Tree Hill . For nine seasons, the CW teen drama brought attention to real life problems and issues teens and young adults go through. I still re-watch the show all the time and planned on attending the reunion convention next spring.
But the truth has come out and the heart that we had in the show has been broken.
Earlier this week, the news broke that the creator of the show, Mark Schwahn, had been accused of sexual misconduct while working on the popular show. A former writer and her colleagues took to Twitter, without naming him, and described the ordeals they went through during their first writing jobs that involved inappropriate touching, sexual advances, and even have male writers tell them that they were hired by Schwahn based on their looks. Audrey Wauchope felt compelled after an executive producer of the Flash, Super Girl, and Green Arrow has suspended after sexual harassment and abuse came to light from nineteen people.
But she wasn't the only victim.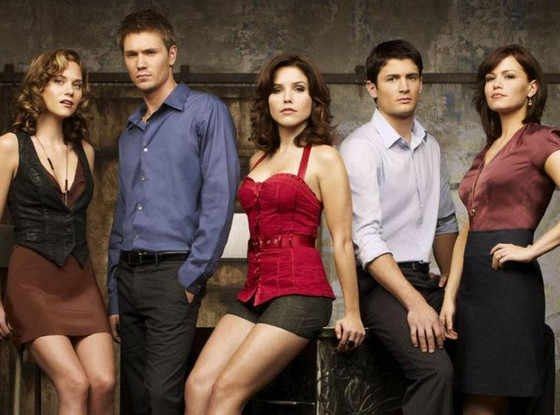 Monday night, One of the show's lead actresses, Sophia Bush, posted a written joint statement to Twitter signed by the entire female cast and crew of the show detailing all they were enduring during the series run and after the show wrapped. They were traumatized by way they were treated stated that it ranged from disturbing to illegal. Several women are still in therapy for post-traumatic stress. They brought their concerns to production directors and were told to keep quiet or the show would be canceled.
"All of the female cast members of 'One Tree Hill' have chosen this forum to stand together in support of Audrey Wauchope and one another. To use terminology that has become familiar as the systemic reality of sexual harassment and assault has come more and more to light, Mark Schwahn's behavior over the duration of the filming of One Tree Hill was something of an 'open secret,'" the letter reads.
It continued, "Many of us were put in uncomfortable positions and had to swiftly learn to fight back, sometimes physically, because it was made clear to us that the supervisors in the room were not the protectors they were supposed to be ... And a few of us were put in positions where we felt physically unsafe. More than one woman on our show had her career trajectory threatened."
"We want Tree Hill to remain the place 'where everything's better and everything's safe' for our fans; some of whom have said that the show quite literally saved their lives. But the reality is, no space is safe when it has an underlying and infectious cancer. We have worked at taking our power back, making the conventions our own, and relishing in the good memories. But there is more work to be done."

In the past three days, their male co-stars including Chad Micheal Murray, James Lafferty, and Lee Norris, have spoken up online in support of their castmates and how change needs to be brought to our society regarding respect towards women in all industries. Schwahn has been suspended from his latest TV show, The Royals, on the E Network and the network has to do a full investigation regarding possible harassment on set.
Let me just say this as a fan of the show, He may have written the show but the loyal and hard-working cast and crew that put in their all every day for nine years are what made One Tree Hill what it is. The eighteen women who have been traumatized and manipulated by this monster were brave and should be praised for coming forward with their truths. The recent news to break Hollywood has shed light on a continuing problem in our society that needs to stop.
Cover Image Credit: Unsplash