This past weekend all my dreams came true: I went to The Wizarding World of Harry Potter at Universal Studios Hollywood. Though no official letter from Hogwarts School of Witchcraft and Wizardry arrived by the thousands to my cupboard under the stairs like it did for Harry (sad face), I was lucky enough to walk through the theme park alongside my oldest brother. Said brother is half the reason I fell in love with J.K. Rowling's magical world; the other half of credit rightfully goes to my sister. Both made sure I fell in love with the books as soon as I could start reading, and for that, I'm eternally grateful. I had a lot of thoughts while I walked through the streets of Hogsmeade and because I realize not everyone is as obsessed as I am, here are only some of them:
1. OMG. It's actually happening. We're here.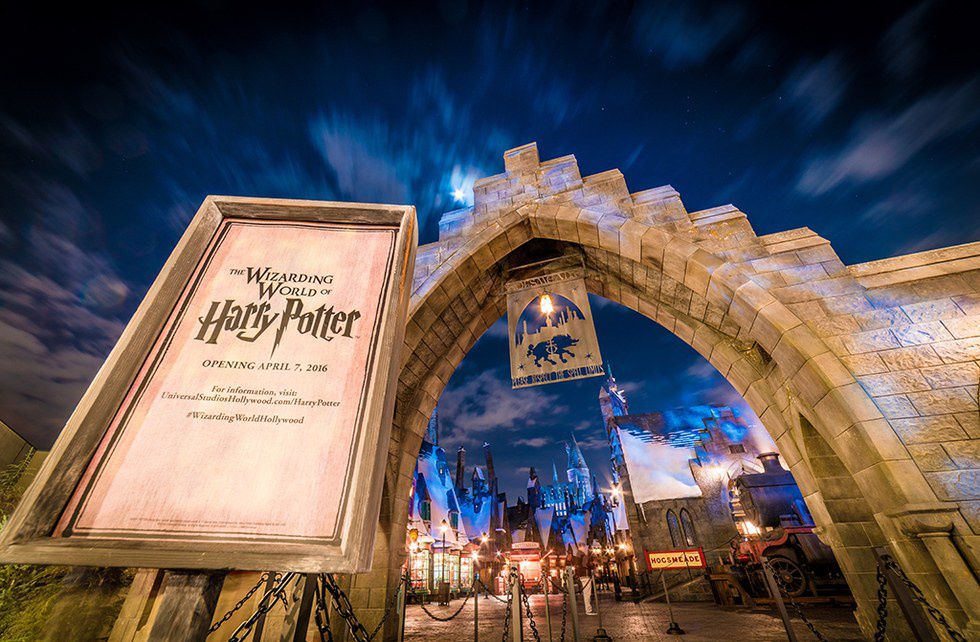 My eyes glazed over the gray stone bricks and saw the little, subtle sign to Hogsmeade and my heart skipped a few beats. I really can't remember life without Harry Potter, and now, here I am, walking through the thick of it. A Friday morning doesn't really getter better than this.
2. Oh look! There's the Hogwarts Express!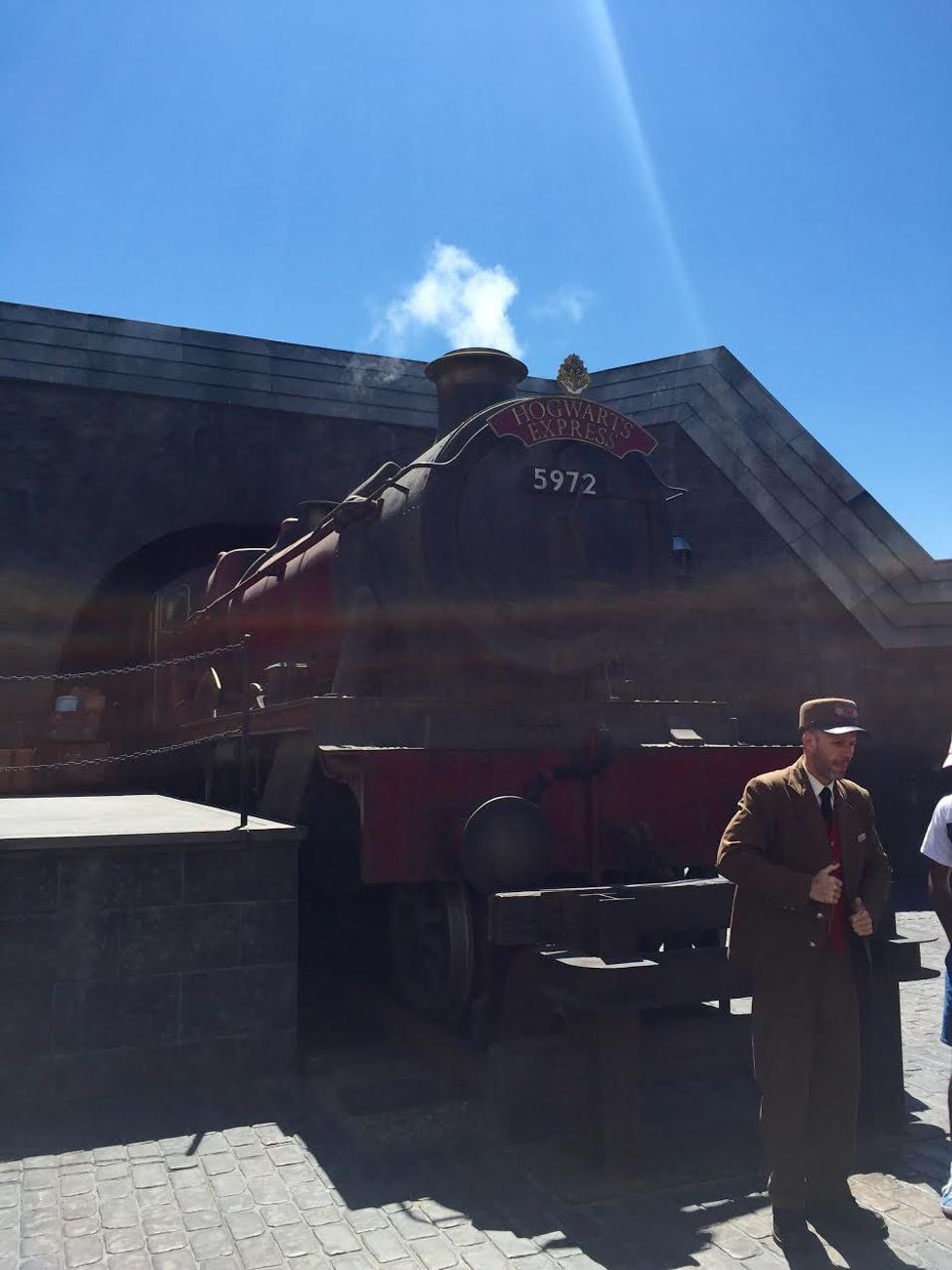 (Internal freakout as I remember how many times I wished I could hop on and sit in Harry, Hermione and Ron's cart and eat chocolate frogs with them.)


3. What do I want to do first?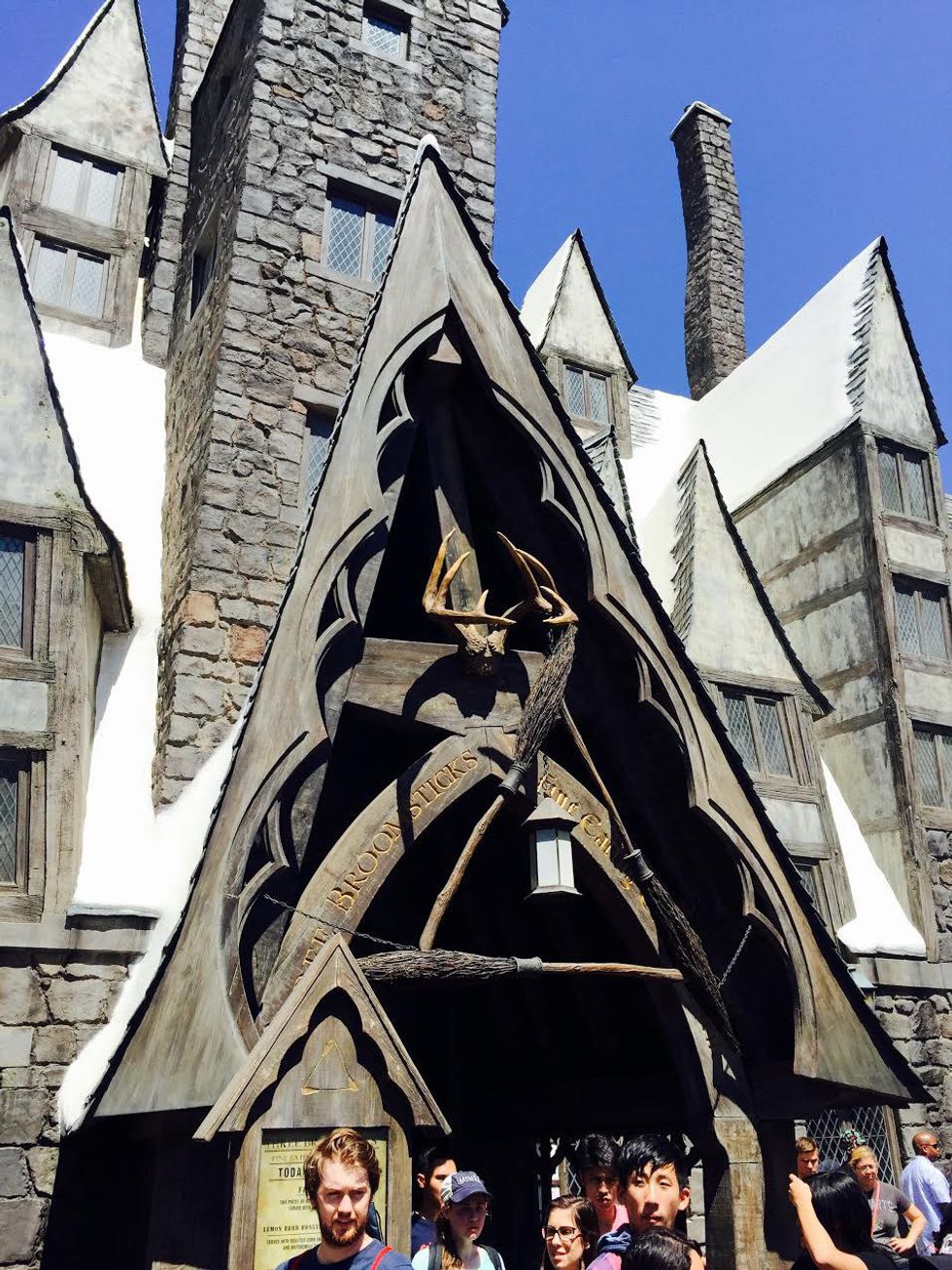 At first I catch sight of Three Broomsticks, and then the Butterbeer cart and then the Owl Post and then Ollivander's (though that's technically in Diagon Alley, we'll let it slide). I'm so overwhelmed and happy all at the same time.
4. Oh look again! It's just the most wonderful place on Earth: Hogwarts.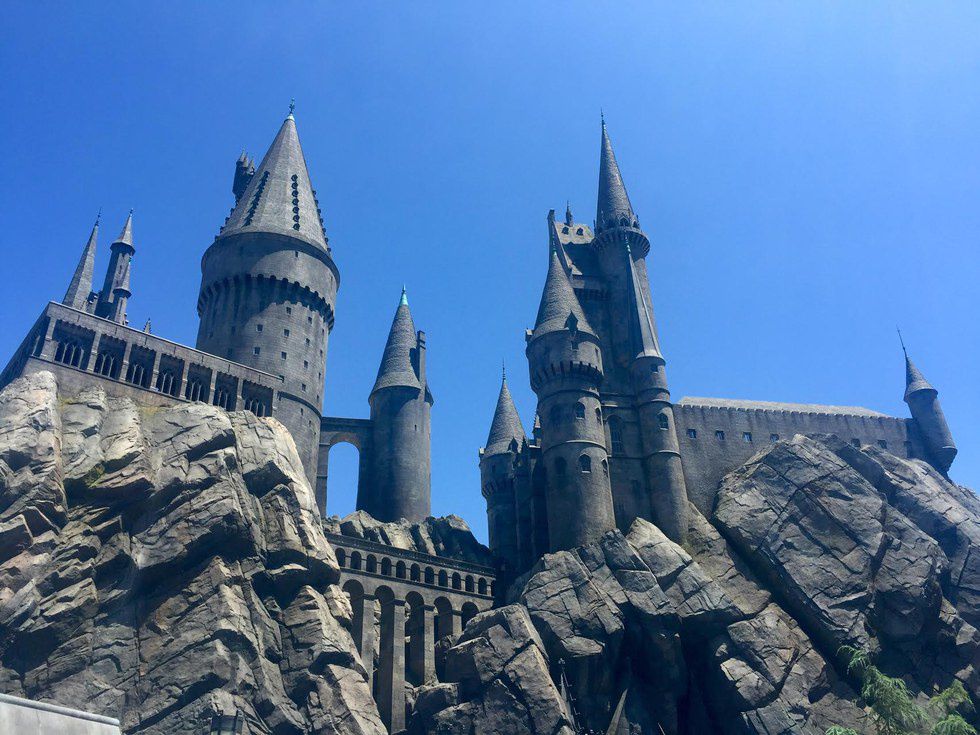 I was far too casual earlier about the fact that I never received a letter to Hogwarts in the mail. I'm still convinced it's coming. So, to see in the flesh a perfectly detailed replica of Hogwarts, I all about lost it. Billy and I immediately each took a photo and just looked at it for awhile in silent awe.
5. Wow, I don't even mind standing in line in such a magical place.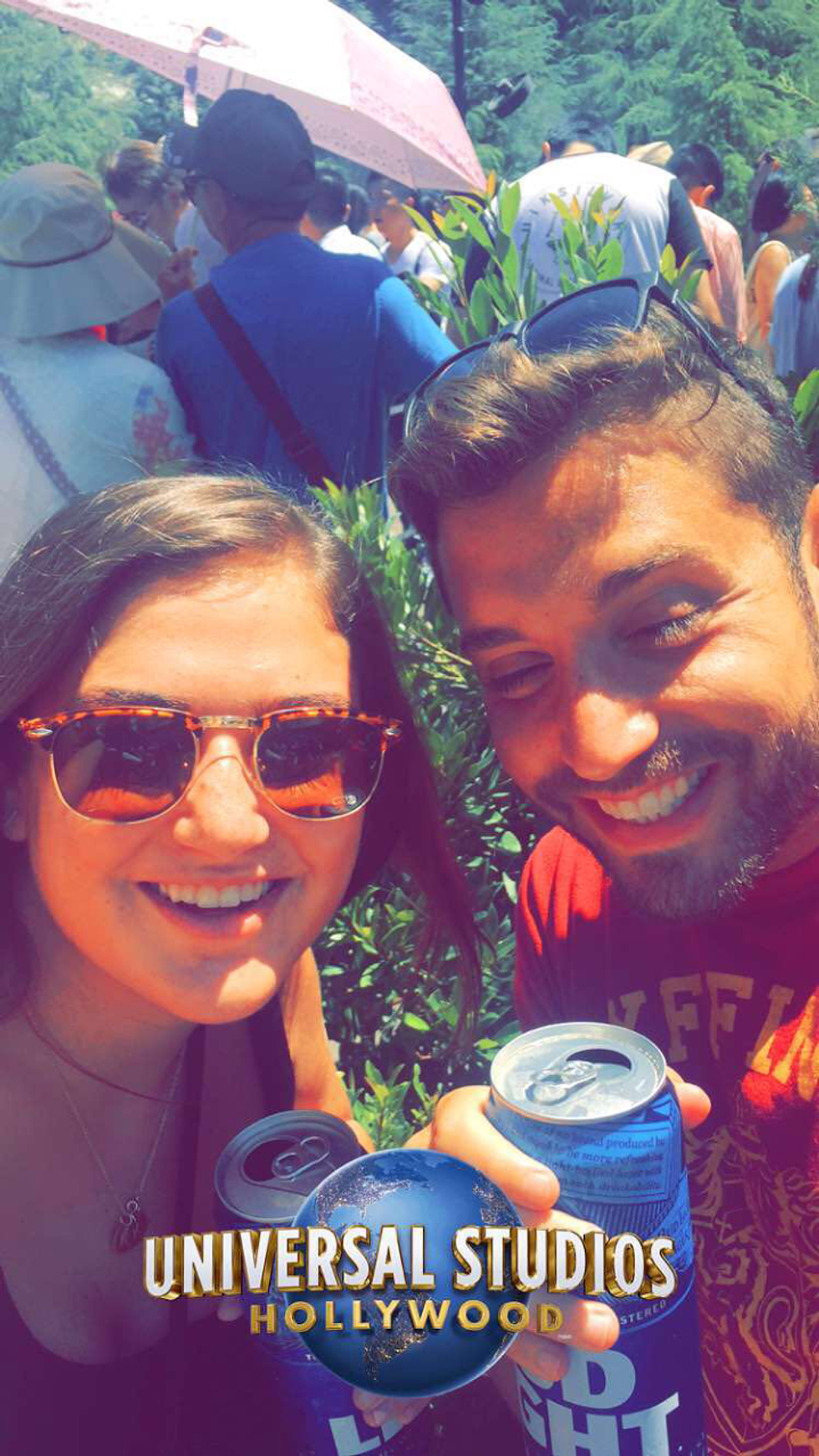 Not only was the weaving line up to Hogwarts short, it gave us a magnificent view of the beautiful school the entire time. Though not visible in this photo, it's there. (My selfie camera is broken so this picture was freehand, cough Billy's eyes cough.) To make it a bit more bearable, we picked up a few Bud Lights. Absolutely zero complaints from these two Hogsmeade-goers. (FYI: Everything in the castle was just as you remember it in the books and movies: moving portraits and Dumbledore's office and all, but I can't ruin all of the magic of it in this post.)
6. This is truly the most magical place in the world. (Besides maybe the actual set in London.)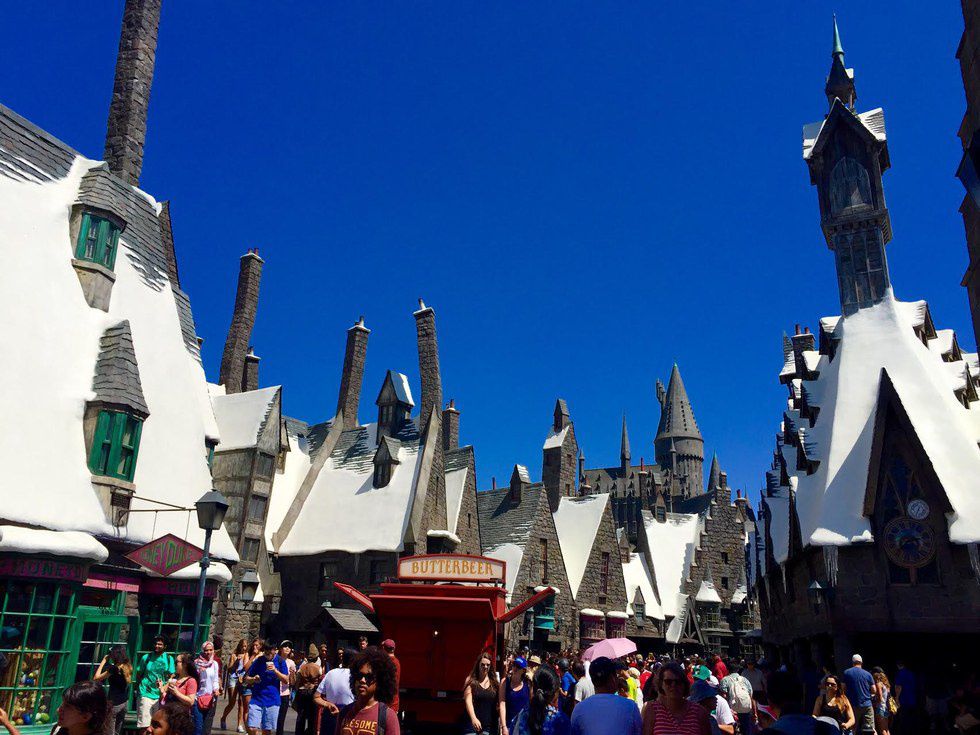 Final thoughts: I never want to leave. It's all so perfect. I want to buy everything but it's so expensive (sad face). OMG they have an a cappella group dressed up as the Hogwarts choir holding frogs. Every single detail is so perfect! Why hasn't my letter come yet? I never want to leave.