Today a frenzy crossed the Chapman campus as a new shop in Old Towne Orange went up this week. There had been signs posted around the area that the streets would be closed for the filming of something called "Spring Fever" and small business owners in the area grew curious. Some were upset that their business would be interfered with due to the filming, others enjoyed the atmosphere. The building they had leased was formerly a cosmetology school and a new sign that read "The Butchery on Main" went up within the last few weeks, leaving the community to assume that there would be a new butchery moving in sometime soon.
Looky lous and residents were thrilled to find out that "Spring Fever" was actually the filming of FX's award winning anthology series "American Horror Story", and that "The Butchery on Main" was actually a set. There were extras clothed in winter apparel while filming in nearly 100 degree weather in Orange, CA, along with the heavy hitters Sarah Paulson and Evan Peters. The scene was of a group of protesters with signs bearing Paulsen's face on them that read "Murderer". The extras then mobbed the hatchback Paulsen emerged from in front of "The Butchery on Main".
Chapman is no stranger to the filming of movies and television shows on and near it's campus. We have had an episode of Parks and Recreation filmed on campus and in the circle back in 2013. The 2006 film Accepted was also filmed on Chapman's campus. While the latest for American Horror Story is not directly on campus, the school is excited about the stomping grounds of Old Towne acting as a character within the show as well. The anthology is known for giving the filming locations personality of their own, and this isn't the first time Orange has been used as a backdrop for them. The 2012 season, Asylum, utilized the Old Towne Courthouse for a setting. Most famously within the series is Murder House in Los Angeles, and is still available to move into today, though none of the ghosts come with it. Several of the students who were in Orange today poked around at the filming to get a glimpse of their favorite actors, and Paulson even went as far as taking photos with fans between scenes.
It's said that the building on Glassell and Chapman has been leased for the next several months for filming purposes. The upcoming 7th season is based around the 2016 election cycle, which has been confirmed by Ryan Murphy, one of the creators. He has also released sketches of the new creature within the story, a brutal looking elephant in a suit, and has said he would like there to be a Trump figure within the narrative.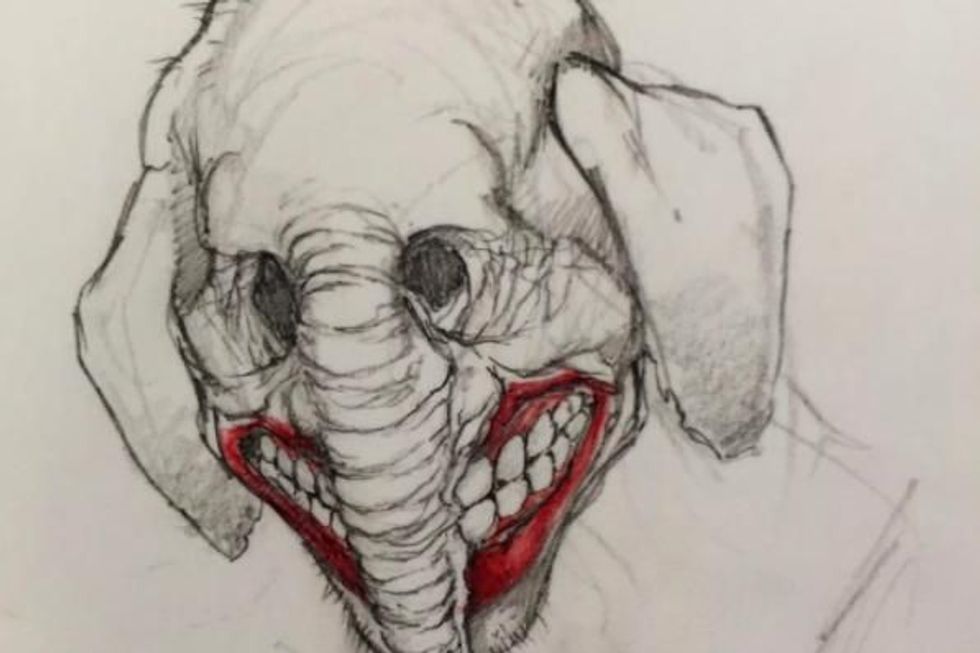 Murphy has never been subtle with his rhetoric and fans are anxiously awaiting the release of American Horror Story: Election (pending). Personally, I'm ready to lurk around the new set and enjoy it while FX uses my stomping ground for filming. Happy hunting AHS fans