It's the age-old debate, which one is better "Parks and Rec" or "The Office?"
Both are great, classic, hilarious and charming in their own right, and although some people disagree, the styles aren't the same (only the format). The characters are of their own creations, storylines uniquely theirs and the dynamics diverse. So, how do the two match up?
"Parks and Recreation"
Story: For most of the show's run it's all about building a park. Does it happen? I think. But most importantly, it's very much about the character's lives and, by extension, jobs. Yes, there are some bad episodes but what show doesn't have some of those?

3.5/5
Characters: Everyone is so different and dynamic, it's great! Each one is their unique self and not perfect. From Andy to Leslie to Ron to Donna each one is lovable in their own way, even Jerry. I mean Garry. Plus, no one is really portrayed in a way with actions that extremely contradict themselves. Yes, it took a little while for the writers to figure out the characters, but they eventually got there (and it was really only one character).
4.5/5
Relationships: the "Parks and Recreation" gang have such sweet, personal relationships. They really care about each other and help each other in their life goals. Truly, they seem more like a family than friends, and it's sweet to watch them help each other reach their goals.
5/5
Overall: 13/15
"The Office"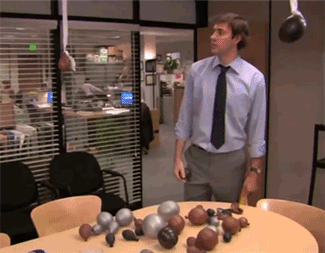 Giphy
Story: The Scranton Branch was a good branch to follow (I mean lol, of course, it was because they made it), and weirdly, the best branch (inaccurate with beginning but that's sitcoms for you). It followed the branch the whole way through. However, there were some bad episodes and some just not good storylines.

3.5/5
Characters: The characters were unique, but not all of them were actually that lovable. We all love Michael, Jim, Pam, Dwight, Angela, but they weren't always the best people. Actually, a lot of the characters have some problematic moments (Dwight kills Angela's cat, and a few years down the road she lies to him). Yet, we still love them (except Toby).
4/5
Relationships: Yes, the Scranton gang seem to care about each other, but do they actually? There are a lot of times when all anyone wants to do is hide from someone (usually Michael), which doesn't scream very family to me. Yes, the dinner party is a hilarious episode, but does anyone care about anyone else? Not really. It is only in the finale that everyone gets nostalgic about the past and missing their friendships.
3/5
Overall: 10.5/20
Much to many people's chagrin, "Parks and Recreation" is overall the better show.