For some people, a change of perspective can take a lifetime. For Odyssey creator Jany Gonzalez, it only took one trip to the DMV for her entire life to change.
The University of Rochester student was renewing her license when she noticed the option to be an organ donor on the form.
"I was looking at the paper and saw you could just mark the box," Gonzalez said. "I asked the DMV people if it was really that easy, and they said yes, so I thought if it was that easy, everyone must do it."
But Gonzalez soon realized not everyone was so keen on checking the box. She asked friends if they also opted to be organ donors, and many of them had not.
"Everyone had these misconceptions like, they won't try hard to save your life or something," Gonzalez said. "It didn't make sense to me, that's so sad when there are people like this coworker I knew, whose husband was waiting on a heart transplant. It just hit home."
After talking with her friends, Gonzalez took immediately to Odyssey to dispel any myths connected with becoming an organ donor, and to help people like her coworker's husband.
She created the post, "Reasons Not To Be An Organ Donor," for initial shock factor and intrigue. The post addresses general concerns and misconceptions about becoming an organ donor and pleads with its readers to consider how many people they would be saving:
You could be the reason a father is able to dance with his daughter at her wedding. You could be the reason a 7-year-old girl is able to see the colors of a sprouting bundle of flowers on a fresh spring day. You could be the reason a mom is writing out invitations for her son's eighth birthday party instead of making funeral arrangements.
Gonzalez was hoping to get a few hundred shares and spread awareness, but within days her article picked up momentum and the post garnered many more pageviews than expected.
"I woke up one morning and I had over 100,000 shares," Gonzalez said. "It just kept going and going. I freaked out."
Gonzalez's friends were reaching out to her thanking her for changing their perspective, and some even told her they became organ donors soon after. She was also receiving hundreds of messages and comments from people from all around the world who related to her article: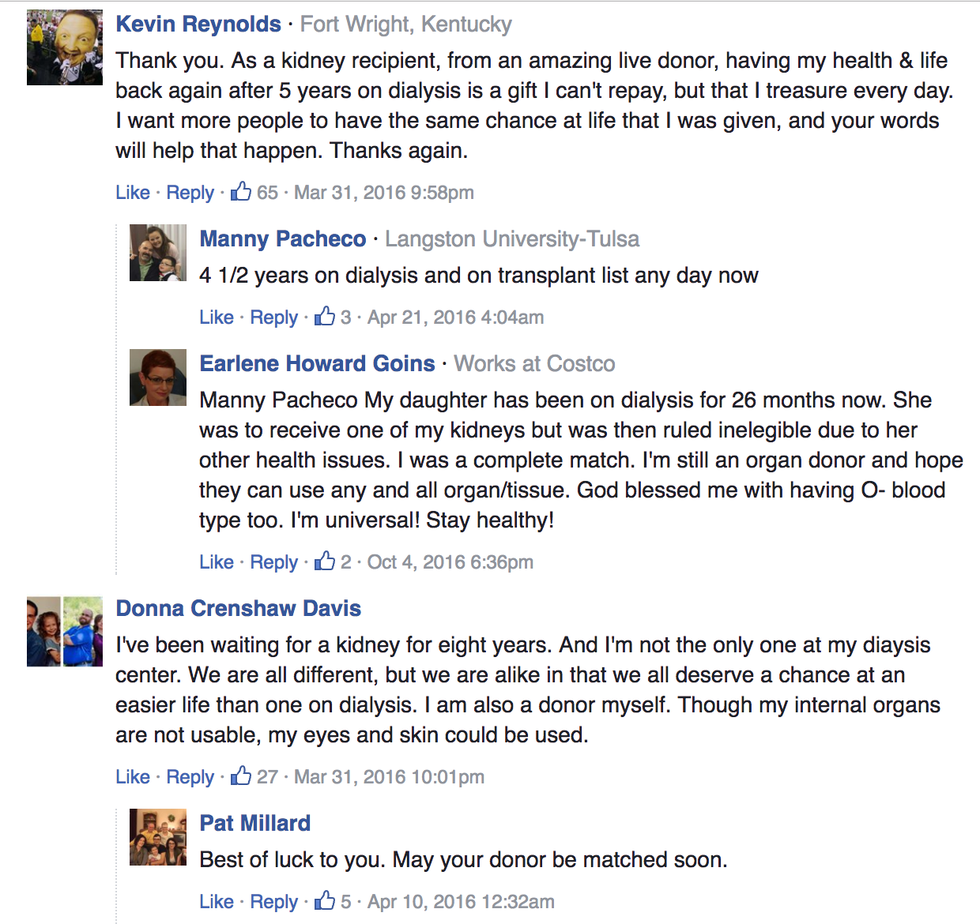 Despite being written in March 2016, Gonzalez's post went viral multiple times a month since, including January 2017.
"It just recently it blew up again. It just makes me feel so good because all I wanted was to reach a few hundred people and get others to change their status to organ donors, and I ended up actually changing lives," Gonzalez said.
Ultimately, she still wants to reach as many people as she can about the benefits of becoming an organ donor.
"There is such a long list of people waiting for organs," Gonzalez said. "It's silly not to help out when it doesn't affect you while you're alive."
OrganDonor.gov reports that over 119,000 men, women and children are currently on the national waiting list for a transplant, and 22 people die each day waiting for one.
Gonzalez is proud of the work she's done with Odyssey, and doesn't plan to stop anytime soon, especially now that she knows how her article touched so many.
"Before I started all of this, you think that you're just one person, you won't make a huge difference. You think only your friends will see it," Gonzalez said. "The reality is, if you're passionate enough about something and you want to make a widespread impact, you can do it as long as you just go for it."