Imagine attending a party at an apartment complex across from campus, and suddenly hearing gunshots just a few feet from where you're standing.
Saginaw Valley State University student Miah Cooper found herself in the midst of a shooting around 1:50 a.m. on Sunday, September 11, and escaped the premises unscathed while five others were injured.
Almost a thousand people attended the party and quickly scattered after the gunman opened fire. A few hundred people, Cooper included, were eyewitnesses, and stayed to give their accounts to police. "I didn't get home until after 4:30 a.m.," Cooper said.
She woke up at 11 a.m., distressed. Her first instinct was to retell what happened on Odyssey, and to start the healing process of her community. "I felt compelled to write about it," she said.
She submitted her post within two hours.
Cooper's mission was not only to unify the student body, but also to give peace of mind to worried parents and grandparents:
My school is my safe place. My school is not dangerous. My school is not violent, but the world is. So on this day — and every day — I stand with my Saginaw Valley State University — because we are Cardinal Strong.
"I felt that the way I'd worded it, it would be able to help so many people who were there who were scared," she said. "My biggest concern was that yes, it was scary, but that didn't make me any less proud of being at SVSU."
Within the next 24 hours, her story was resonating so much with other SVSU students and faculty that they started sharing the article on social media. Cooper, whose only intention was to help heal those who had been affected by the shooting, was blown away to find her article was garnering thousands of shares within just a few days of being posted.
"I didn't expect a thousand shares and I definitely didn't expect 7,000."
Multiple students, alumni and family members of SVSU students and faculty thanked Cooper in Facebook comments and messages for helping ease their fears about the shooting, and for reminding them that SVSU is still an incredible place.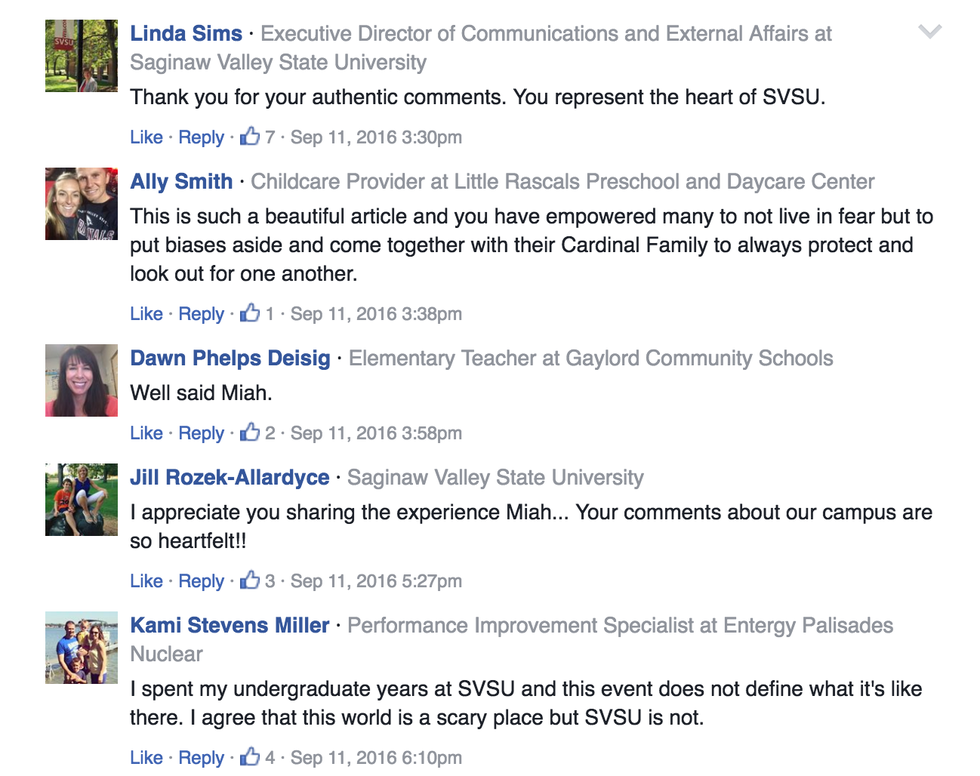 "This is such a beautiful article and you have empowered many to not live in fear but to put biases aside and come together with their Cardinal Family to always protect and look out for one another," commented reader Ally Smith.

As several news outlets reported on the shooting, ABC12 approached Cooper directly about her Odyssey post, and requested an interview with her.
"I felt pretty great being on the news and the way my story got shared," Cooper said. "A lot of people now recognize me, and I have no idea who they are. They'll be like 'You were the girl who wrote about the shooting,' and they'll read my other articles and say 'I love the one you wrote about your dad.'"
After Cooper's interview, the dean of her college quickly recognized her as a true leader on campus and invited her to his office.
Cooper, whose major is secondary education with a minor in communications, was previously told she may not graduate on time because her minor was not considered "teachable."
After her visit, the dean made some connections and adjusted the program so Cooper could graduate on time.
"He said 'I could tell the way you write, the way you talk in the news, that there needs to be a teacher like you in the world.' That wouldn't have happened for me had it not been for Odyssey."
Almost a month later, Cooper is continuing to make an impact with recent Odyssey articles like "For All You Boys With Baby Sisters" and "20 Things I've Learned Before 21," but her coverage on the shooting forever proved how powerful her voice could be.
"To be given a platform to be able to share what happened to me is so incredible."
Cover Image Credit:
ABC12