Oakland molds a very strategic perspective and ambition. One that wakes people up. One that makes you want to share that with the world. One that makes you want to strive for your passions, whatever they may be.
This is the point my next feature Oakland native Miss Sasha Berliner drove home.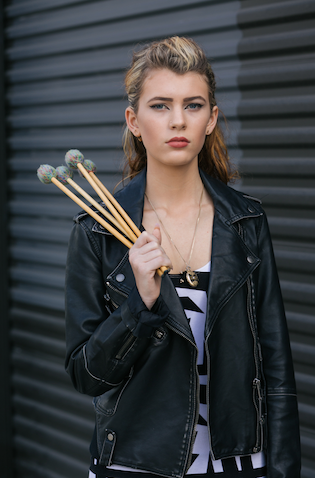 She is a recent graduate of the Oakland School for the Arts with a concentration in Instrumental Studies. She will be attending The New School on a 70 percent merit-based scholarship for Jazz Studies. She hopes to also integrate composition, business and teaching into her college experience.
She has accomplished a plethora of pre-professional goals - as a musician - that many young individuals never even get the chance to know about. She is an extremely blessed and talented young woman.
In her interview, she was quite honest and blunt about her own experiences and perspective in Oakland.
Interview
---
How have your hardships guided you toward success?
I cannot speak that much about race or class personally because I grew up middle class and obviously I have racial privilege. But I will say that having gone to school and spent the majority of my time in Oakland has woken me up to the kind of injustices, implicit or explicit, intersectional or not, that other people face and I don't. Oakland is a mixed city in terms of demographics and varying artistic abilities, and it's a very inspiring and awareness-provoking area to be. It has helped me realize what I can do in my position of privilege to help bring more awareness to the kind of awful things I see my friends experience every day, be it racial slurs, racial profiling, the resurgence of white supremacy by master rhetoricians, police brutality, struggling to pay rent, any number of things. While I may be the most privileged kind of woman, I am still a woman, and there are many difficulties that come with that. Trying to pursue music as a woman has definitely tested my resilience and confidence, and in the end, it's definitely made me a stronger person. Everyone's always tried to control my future, try and tell me what I need to do with my life. It's very important to learn from others' experiences and take them into consideration when I go off to create my own path of success. But men in particular have always told me from a young age I'm going to be successful because I play well and I'm cute and pretty and I would sell great as an image. Few have recognized my talents independently of my looks and that caused me for a long time to put more focus on my appearance than mastering my instrument or creating beautiful music. No woman should need looks to get by in the music industry. When I started focusing more on just my music, artistic expression, building a mastery in my instrument, people stopped factoring my appearance into my talents. Even then, the sexualization still exists. I think what I've overcome so far has furthered my success, and I hope that the fighting I'll have to do in the future will do so too.
How did you find your passion?
I found my passion for music initially just from growing up on it. It was an inseparable part of my childhood. I was listening to music of all different genres and styles all the time. My dad was also a bass player so he inspired my brother and I to pick up instruments. I joined a rock music performance program when I was about 8 years old playing drums, and it sort of took off from there. I knew I always wanted to perform. Picking up the vibraphone in the eighth grade when I first started studying jazz and other closely related genres like latin-jazz or Brazilian music, R&B, funk, and fusion definitely furthered that. While I wrote songs before the eighth grade, vibraphone triggered my passion for composing because it forced me to explore music theory and the infinite amount of melodic and harmonic possibilities I could put into my own music. I also have dealt with mental illness, something that makes the process of mastering an instrument actually made more severe, but it helped me turn my personal issues and constant self-deprecation into beautiful music, even if I always thought I could do better, perform better, play better and compose better. It became a form of therapy I couldn't give up, especially as I realized the rewards of being a musician to be so much greater than the consequences, no matter how severe they got.
Tell me more about your experiences at Oakland School For the Arts and maybe some future plans.
I go to an arts high school in Oakland, so of course I am involved in making art in high school. My emphasis is in the jazz portion of the instrumental music department at my school. I am and have been involved in numerous extracurricular music programs like San Francisco Rock Project earlier in high school, Oakland Public Conservatory, SF Jazz High School All Stars, and Oakland Youth Orchestra, and got involved in local radio stations like 94.1 KPFA. I do spend a lot of time composing music and developing my skill sets on my own, and I frequently play gigs with other musicians around the area. I also love writing poems, spoken word, and short stories on the side, potentially part of a dream to make a book on my personal experiences in the music world in the future. I am highly interested in fashion and beauty as well, politics, economics, psychology, all of which I research and engage in in my free time. Fashion and beauty is more just for fun, but the last three are all things I believe will make me a better, more informed citizen the more I study them. They are fascinating subjects as well.
What do you plan to do with your major?
For my major I plan to do some sort of music performance or education. I know the education degree is more applicable to getting a job, but I like the amount of intensive studying, learning, and networking that occurs in the performance degrees. I'm still contemplating which one I want to go for, so I don't know what I'll do with it yet. Ultimately, I would just love to perform and compose, bring something new to the music world in terms of sound and message, and help others do the same in the future (the teaching aspect). What is your music if you can only use it to gain validation for yourself?
How is your career path looking at the moment?
I honestly don't have much of a clue. Music is unpredictable and opportunities often come completely out of the blue. It is looking like I'll keep performing and studying my instrument to the point of mastery (which may take a lifetime), I'll find out ways to not only keep composing music, but compose music with or without others that serves a greater good like delivering a political message. I'll get involved with other musicians and work together with them to create something beautiful, something I'm hoping a new location or networking will help me achieve further than I already have with the people here in the Bay, and I'll find a way to give back to the community that has helped me get this far in the first place. All I know is that I definitely want to do music, and I'll do anything to make that happen. It's already starting to happen that way, and I hope it can only progress further down that path from here on out.
You can listen to her new album "Gold" here: https://soundcloud.com/sashaberlinermusic/sets/gol... (My EP link, also can listen on spotify, buy forever from iTunes, CD Baby)
A short film biography of Sasha, created and filmed by Tiger Leet:
My message for Oakland at this day and age is that we are still a beautiful light with a deeper issue at hand. We need to recognize our talents and our beauty and not simply give it up with violence and mediocrity. Sasha is one of the countless examples of what Oakland has the potential to do to the mind, body and soul. Oakland has so much to offer, but there's no one really showcasing this place that hosts the next greats. The next great artists, great politicians, and musicians and teachers. As a place of rich potency, I hope we continue the trend of greatness.
#prayforoakland #oaklandsfinest
Cover Image Credit: Mazzarella Arts