I walked into the Art Institute of Chicago last year. It had been a while since I had been there. My family liked to go to big cities while on vacation and attempt to see all of the coolest museums and monuments. We're that kind of family. My mother loves good art. My dad is into the sciences. So we spend most of our time at science museums and art museums. Go figure.
I was on a choir trip during the spring semester last year and ended up wandering around Chicago before performance night. There was a Van Gogh exhibit I was particularly interested in at the Art Institute, but I wanted to see the other parts of the museum as well. I knew what I liked, which made art museums fairly easy to navigate. Yes, I could have just sat there in front of a famous piece of artwork and critiqued it for hours, but I'm a fast person. I wanted to see as much as I could, starting with the modern art.
I love contemporary art. There's something fun about the different mediums used as opposed to marble and canvas. Art I can touch and hear and sometimes even smell. Art I can walk through and interact with. That kind of art is fun. I had a particular memory of a chess set on the upper levels made of pieces of bronze that I found particularly cool as a kid and wanted to see again, so I made my way up to the contemporary art area and wandered around for a bit.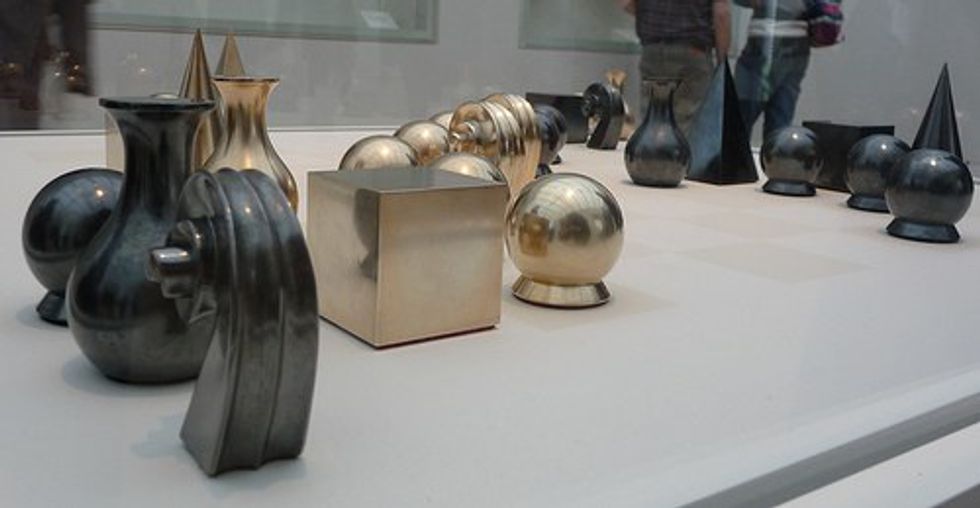 Now, contemporary art and the Modernist movement are two very different things, if you didn't already know. Contemporary art refers to anything from postmodern art to anything made in the present time period. Modern art was created from around 1860 to the 1970s. And it's weird. It is so utterly bizarre that I spent most of my time walking through the halls in mild disgust. I had forgotten the way Modern art, and even a lot of postmodern art, made me feel: uncomfortable.
This generally is the way that Modern art seems to be because that was what it was trying to be. It's like now, when we describe someone as trying be 'edgy' or 'new', especially as it got later into the 20th century, or something along those lines. The Modern art movement came in and sent artists into a time period of experimentation. They wanted to try something new, something no one had ever seen before. And in their excitement, they seemed to have lost their way.
There's nothing wrong with experimentation. Getting new ideas is a good thing. But losing what makes art…well…art is just degrading to the rest of the artists. The problem with Modernism was that everything traditional had been thrown aside to cater to the artists emotions. No longer could someone look at a painting and be able to interpret it on their own. Oh no. The artist obviously had to explain their work to the world, in extreme detail, because there's no way that anyone else could understand it without them telling the public what it was they were trying to convey.
Art became less about communication and more about the artist's emotions thrown into media, and that's where it loses people.
Art is art because it leaves people feeling creative and having seen something that the artist was trying to convey. Impressionistic art came with depictions of light and angles and movement. Pointillism took single dots and made them into masterpieces. What did the Modernist and even Postmodernist art do besides confuse people? Art suddenly had to be edgy and angry and make people uncomfortable and awkward and confused about what to do with themselves. Art wasn't beautiful anymore. It was a mess of emotions, trying to portray something far and beyond the beauty of the world.
Not all Modern art is terrible, though. In fact, Modern art as a whole is often incredible art. It's where we got some great pieces of Van Gogh, Picasso and other artists who were trying something new. The problem came really from the philosophy. People were angry and upset and confused after the destruction from World War I. They expressed it through their medias, and it came out the same way with the same emotions that had gone in: ugly. But at the same time, I can look at a piece by Alexander Calder, who worked mostly with surrealism and kinetic art during the time of Modernism — though not directly correlating with its philosophies — and be content with the fact that his mobiles are beautiful and yeah, actually do kind of look like a fish if looked at properly, and lend nicely to the movement of an actual fish.
As I walked through the contemporary art wing, I finally stumbled upon that chess board. It was still pretty cool. The pieces were all different geometrical shapes in bronze, and I wanted to make something like it to put in my room. I'm not very good at chess, but I think it's a cool piece. I looked past it and saw yet another statue of a human body in a grotesque position — the person seemingly wailing — and reminded myself that not everything in museums is art. And sometimes finding the gems takes a while, but they're worth it.